How to Fix iPhone X Screen Goes Black During Call
I made a phone call on my new iPhone X. The screen didn't light up after I finished it. I tried to press the power button but it remained unresponsive. How to fix iPhone X black screen during call?
Some users have reported that their iPhone X goes black when on a call and doesn't recover after call ends. iPhone screen goes black during call problem is a very common and can be caused by various reasons related to software and hardware factors. No need to worry. Here are some feasible methods of fixing black screen during call on iPhone X (10)/XR/XS Max, iPhone 11, iPhone 12 or new iPhone 13.
How to Fix iPhone X Screen Goes Black When Making A Call
Tip 1. Remove Any Screen Protector or Case from iPhone
If your iPhone X screen is protected with a screen protector or case, it could lead to the problem of iPhone 10 screen goes black during a call, especially when you use a mismatched protector.
So, you can remove the screen protector and test if the iPhone screen still goes black during calls.
Tip 2. Plug into Power Supply to Solve iPhone X Screen Goes Black During Call
When you encounter iPhone X black screen stuck when on a call, what comes to your mind firstly is that your iPhone runs out of battery. So you need to plug into the power supply to see if it comes back to normal.
Tip 3. Uncover the Sensor to Fix iPhone X Screen Goes Black During Call
Since every smartphone has a sensor on the receiver. If something blocks the sensor, the screen LCD will be turned off and the screen will go black. Therefore, you need to check if anything covers the sensor next to the receiver. If it does, uncovering the sensor will solve "iPhone screen goes black during call" issue. Uncovering the sensor includes cleaning outside of the sensor, as some dust will shadow the sensor.
Tip 4. Hard Reset iPhone X to Fix Screen Going Black During Calls
Sometimes, that iPhone X screen stays black during call can be resulted from malfunctioning sensor or iPhone stuck on black screen. If this happens, you can perform hard reset to adjust the sensor and get iPhone X out of black screen stuck.
Press and quickly release Volume Up button
Press and quickly release Volume Down button
Press and hold Side (Power) button until you see the Apple logo appears. Then your iPhone will boot up.
Tip 5. Turn Off Reduce Motion on iPhone
Reduce Motion can influence the sensing speed of iPhone when it is turn on. Therefore, we suggest that you disable reduce motion to test whether it is the reason why your iPhone XR screen black during phone call.
1. Go to Settings > General on iPhone.

2. In Accessibility, toggle off Reduce Motion if it is turned on.
Tip 6. Efficient and Time-saving Way to Fix iPhone Screen Goes Black During Call without Data Loss
If all the basic troubleshooting tips above failed to fix iPhone XS screen goes black during calls, there might be something wrong with the iOS system. A professional iOS system recovery tool, UltFone iOS System Repair, is highly recommended to fix all kinds of iOS stuck, like iPhone stuck in black screen/fix recovery mode loop/DFU mode/Apple logo without losing data.
Step 1 Download and install UltFone iOS System Repair. Connect iPhone to the computer via a lighting cable. Open this software and click "Start" to proceed .

Step 2 Then you'll enter a new screen, click "Download" to download the newest firmware package.

Step 3 Once the firmware package is downloaded successfully, click "Start Standard Repair" to repair the operating system.

Step 4 After the system repair is done, your iPhone will restarted. Try making a call to see whether the screen black issue has solved.
Tip 7. Restore iPhone to Factory Settings
The last resort is to restore iPhone. However, don't forget to backup iPhone to computer before you perform a factory restore. You can either go to Settings to erase iPhone to settings, or go to iTunes and click Restore iPhone...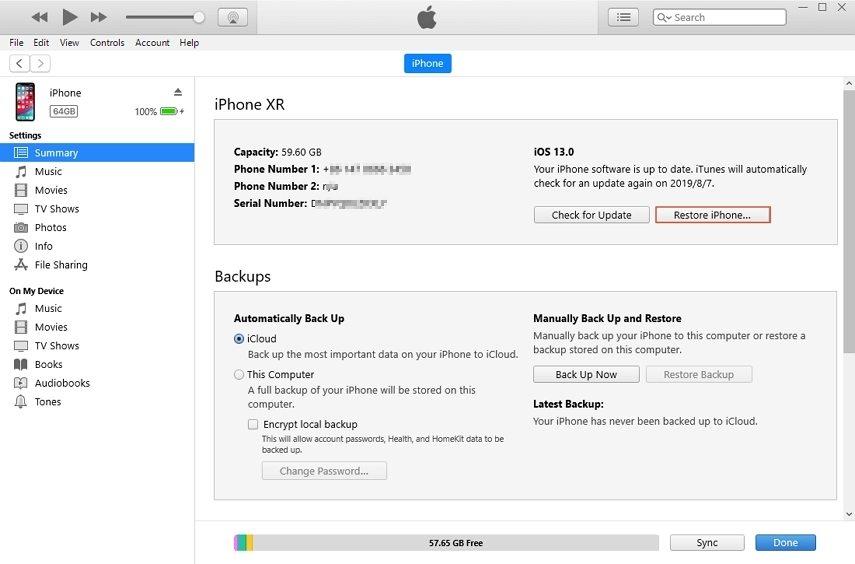 Bottom Line
With all the methods above, you can easily find the causes and fix iPhone XR/XS/X screen goes black when on call. UltFone iOS System Repair is the recommended way to fix iPhone system malfunctions without data loss. If you have other questions, please leave your comment below.