How to Wipe an iPad
iPads have been some of the most productive gadgets to have ever been launched and millions use them for work in their daily lives. Most people store their personal as well as professional data on their iPads so they can get access to it anytime they want. There comes a time though when you need to erase the data on your iPad. If you have not done so before, you will learn how to wipe an iPad today in the following guide.
There are various ways to wipe iPad and the following guide shows four of the easiest ways to completely erase all data on an iPad. If you have any files that you wish to keep, please make sure you back them up or you will lose them forever and will never get a chance to get them back.
The following guide should work for most iPad models including iPad Pro, iPad Air2/Air, iPad Mini 4/3/2, and the variations of these models.
Method 1. Wipe an iPad without Passcode or iTunes
If you are to wipe your iPad using the built-in options on your device, you are going to need to enter the passcode for the device. If you have forgotten the passcode, you can't launch the settings app and thus can't wipe your iPad. Fortunately, there is a software called UltFone iPad System Repair that allows you to erase an iPad even when you do not remember the passcode of your device. All you need to do is connect your iPad to your computer and the software will take care of the rest for you.
The Outstanding Features of Using UltFone iOS System Repair to Factory Reset iPad
The simple way wipe iPad without using any password.
Ease iPad without iTunes when iTunes cannot recognize your device.
Wipe an iPad stuck Apple logo, black screen, etc.
Easily fix serious iOS related issues like recovery mode stuck, DFU mode stuck, etc.
Works with iPad Pro/Air/4/3/2, iPad mini 4/3/2 and the latest iOS 12.
How to Wipe an iPad to Factory Settings Without a Passcode
If the software fits your requirement, the following shows how to wipe an iPad without passcode using the aforementioned software:
Step 1 Download and open the software on your computer. Plug-in your iPad to your computer using a suitable cable. Choose "Reset Device" from the main interface.

Step 2 From the following screen, choose "Factory Reset" and click on Factory Reset button to continue.

Step 3 Before factory reset iPad, you should now be on the screen where it asks you to download a firmware for your iPad. Click on the Download button to start the download process.

Step 4 Wait while the firmware is being downloaded to your computer. When it's done, click on the Start Reset button in the software to start erasing your iPad.
Method 2. Wipe All Personal Data and Erase iPad from Settings (Remember Passcode)
If downloading a third-party software is too much of a hassle for you, you can use the built-in erase option on your iPad to wipe off all the data on your device. However, keep in mind that this will require you to enter your passcode and you must be able to recall it. The following is how to completely wipe an iPad from the Settings app:
Step 1. Launch the Settings app on your iPad by tapping on its icon on your springboard.
Step 2. When the settings app launches, open the General menu and tap on the option that says Reset. It should be at the bottom of your screen.
Step 3. When the settings app launches, open the General menu and tap on the option that says Reset. It should be at the bottom of your screen. Follow the instructions shown on your screen and your iPad will be completely wiped off.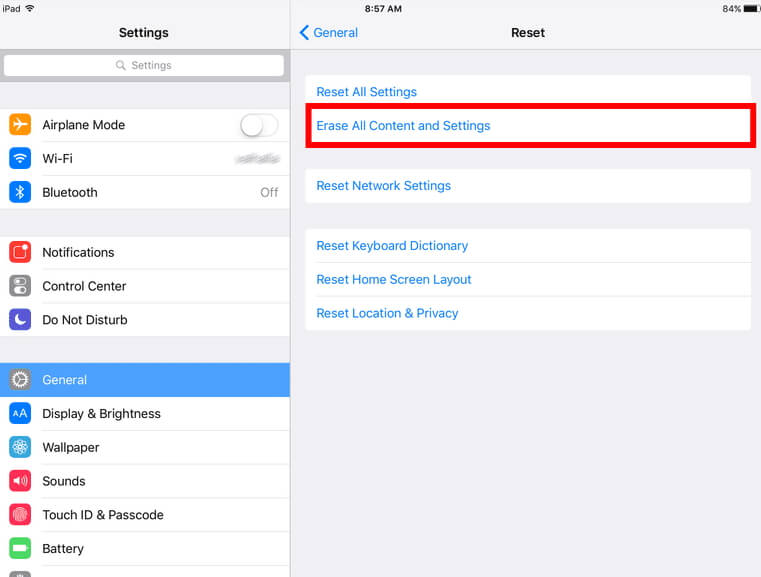 Advantages:
A free way to wipe your iPad.
Disadvantages:
Do not work in resetting iPad, if the device is dead.
You cannot erase your iPad if you forgot your passcode.
Method 3. Remotely Wipe an iPad Using Find My iPhone
If you don't have access to your iPad or the above methods did not help you wipe your iPad, you can make use of the Find My iPhone feature to erase your iPad. It will work even when you don't have access to your device as it utilizes Internet to establish a connection and process commands on your iPad. Here's how to remotely wipe an iPad using Find My iPhone:
Step 1: Open the iCloud website and log-in to your account. Click on Find iPhone on the following screen.

Step 2: When the Find iPhone screen opens, select All Devices at the top, click on your iPad.

Step 3: Lastly, hit the option that says Erase iPad. The feature will wipe off your iPad remotely soon.
Advantages:
You can remotely wipe your iPad free.
Disadvantages:
If your device has not enabled the 'Find My iPhone', then you cannot wipe your iPad using this method.
Method 4. Wipe and Reset an iPad Using iTunes
If iTunes is your preferred way of performing tasks on your iPad, you can use the app to wipe off your iPad.
All you need to do is connect your iPad to your computer, launch the iTunes app, select your device in the app, and click on the button that says Restore iPad. iTunes will start erasing your iPad and soon your iPad will be clean of any data.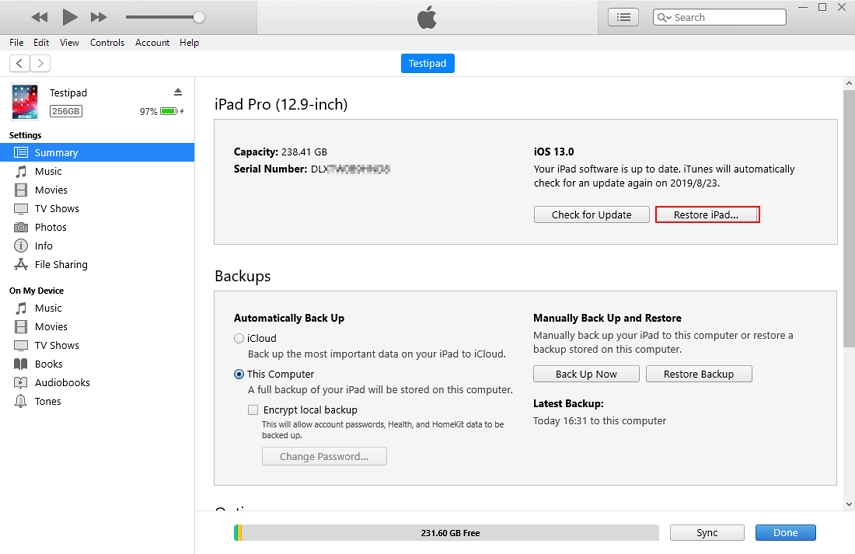 Disadvantages:
You may encounter iTunes errors when restoring
iTunes may fail to recognize your iPad if your iPad is stuck or dead
The process is quite lengthy and time consuming.
The Bottom Line
If you want to get rid of all data on your iPad at once, the above guide should teach you how to wipe an iPad so you can remove all data from your device. It shows multiple methods of doing that in case you are not comfortable with just any one particular method.