How to Fix iPad Won't Connect to Internet - iPadOS 16 Supported
If you're trying to use the Internet on your iPad but your iPad says no internet connection. You must be frustrated as this does not allow you to access any Internet powered services on your device.
Sometimes, the iPad not connecting to internet even though WiFi is on. Issues like this have become common for many iPad users and the following guide shows some of the ways you could fix the issue for good.
Check These Methods to Fix iPad Not Connecting to Internet
Method 1: Rejoin a Network to Fix iPad No Internet Connection
Sometimes, it may occur that your iPad is not fully registered on the network it has been connected to and re-joining the network may resolve the problem. The following shows how you can re-join a network so you don't see the no Internet connection on your iPad message anymore.
Open the Settings menu from the main screen of your iPad and tap on Wi-Fi. It will open the Wi-Fi settings menu on your device.

When the Wi-Fi settings page opens, turn the toggle for Wi-Fi option to the OFF position and it will disable Wi-Fi on your device.

After a few seconds, turn the Wi-Fi toggle to the ON position to enable Wi-Fi on your iPad. Then, tap on the network you want to connect to, enter in a password if required, and you will be good to go.
Your iPad should now be connected to the Internet and you should be able to access all the Internet powered apps.
Method 2: Reset Network Settings When iPad Connected to Wifi but No Internet
If you have iPad connected to Wifi but no Internet, then it's likely there's an issue with the network settings on your device. If you are not sure what settings to change, you can reset all the settings to their default and the following shows how to do that:
1. Launch the Settings menu on your iPad and tap on General to open general iPad settings screen.

2. On the General settings screen, you will find an option saying Reset. Tap on it and then tap on Reset Network Settings on the following screen to reset all the network settings to the factory ones.
Now that the network settings have been reset to default, you should not face any issues connecting to the Internet on your iPad. Give connecting to the Internet a try and it should work.
Method 3: Hard Reset iPad to Fix Internet Issue
If your iPad says not connected to Internet but it is, try to hard reset your iPad. The steps are as follows:
Force restart iPad with Face ID such as iPad 2018 iPad Pro, you need to:
Press and quickly release the Volume Up button.
Press and quickly release the Volume Down button.
Press and hold the Top button until your iPad restarts.
Force restart an iPad with Home button such as iPad Air, you need to press and hold both the Home and Side (or Top) buttons for at least 10 seconds, untile you see the Apple logo.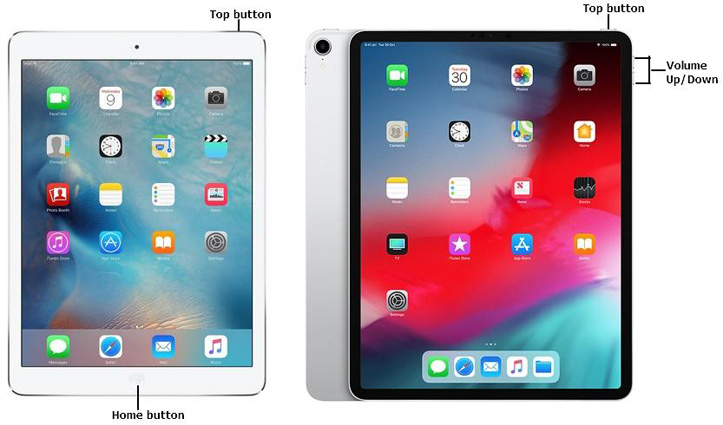 Ultimate Solution: 100% Fix iPad Not Connecting to WiFi without Data Loss
If none of the above troubleshooting methods fix iPad does not connect to internet, the issue likely lies in the OS of your iPad. To repair iPad system, you will need a professional software like UltFone iPad System Repair. It is capable of fixing iPad system issues without causing data loss. Follow the steps below to fix iPad won't connect to internet or iPad won't connect to WiFi effectively.
Features:
Repair more than 150 iOS system issues such as Apple ID password not working, the reboot loop, hotspot not working ios 14, Apple logo, and blank screen without losing data.
Single Click to enter and exit recovery mode on iPhone/iPad/iPod.
Reset iPhone/iPad/iPod Touch even if you don't have password/iTunes/Finder
Downgrade from iOS 15 without iTunes.
Support all iOS versions and iPhone models, including the latest iPhone 13 series and iOS 15.
Step 1 Download, install, and launch UltFone iOS/iPadOS System Repair on your computer, and connect your iPad to computer via original Apple lightning cable.

Step 2 From the main interface of this iPad system repair program, click on Start button on "iOS System Repair" function.

Step 3 On the following screen, you will see the two repair modes. You can choose the "Standard Repair Mode" to fix iPad won't connect to Internet issue. Just ensure that your iPad has at least 800MB free storage.

Step 4 You can either import the firmware of your device if you have already downloaded it or you can use the UltFone iOS System Repair application to download it. I recommend you to download firmware package online to ensure that you will have the latest OS.

Step 5 When the firwmare package is downloaded successfully, click "Start Stardard Repair", The app will begin to repair your iPad and you should see the following on your screen. Within a few minutes, your iPad should be repaired.
After system repair, your iPad will restart and you can now try connecting to a Wi-Fi network to see if you can then access the Internet. Most likely, you can be able to surf the Internet without any issue.
The Bottom Line
We hope the above guide helps you fix the no Internet connection on iPad issue. If nothing works, you have the option to fix iPad won't connect to internet or wifi using iPad System Repair software.