Top 6 Ways to Fix Safari Crashing Issues in iOS 16/15/14 for iPhone/iPad/iPod
iOS 16/15/14 safari issues iPhone 11 Pro max? So today safari started giving me a an error that I haven't seen. This occurs on most all websites "A problem repeatedly occurred.. then listed the website"
Safari is a very convenient internet browser for iOS users, but there are a lot issues you may meet like the user above when launching or surfing the internet with Safari that it would sometimes frozen or crash, especially after users update their iPhone/iPad/iPod to iOS 16/15/14 public beta. In order to fix Safari crashing on iOS 16/15/14 beta , here we prepared 6 solutions to help your out of trouble.
Solution 1: Remove Smart Battery Case
Smart battery case is complained by users to have bugs with Sarafi crash on iPhone 11 Pro and iPhone 11 Pro Max especially on iOS 16/15/14. What you can do is just remove Smart Battery Case from your iPhone, wait for a few seconds, and then reseat the battery case, now Safari should be back to normal. Some users may not use Smart Battery Case but still encounter with Safari crash issue. Just try other methods listed below.
Solution 2: Restart iOS Device and Re-open Safari
A restart operation is always helped in many iOS system issues, you can first press the Power button of your iPhone/iPad/iPod, when "slide to power off" appear, swipe to turn your iOS device off. Then press Power button again to restart it.
After restart the device, you can open your Safari again to check whether it is workable or not.
Solution 3: Clear Safari Caches and History Data
After a long time of using Safari, a lot of junk files and temp files would contain in your iPhone. Data like caches, history, cookies and logs would influence the working experience of Safari and lead to Safari crash and stuck.
Go to: Settings >> Safari, slide down and find "Clear History and Website Data".
Tap "Clear History and Data" from the pop-up window to confirm your choice and get these caches and history data cleared to let Safari back to normal.
Solution 4: Close Over Many Safari Tabs to Fix Safari Crash
When users open too many Safari tabs, you will surely feel that the speed of Safari is slow and even crashes. If possible, you can choose to close those tabs which are unused.
Tap the icon on the lower right corner, and you will see the interface below, you can tap "X" or swipe to close the useless taps.
Solution 5: Enter/Exit Recovery Mode to Fix iOS 16/15/14 Safari Issues
A process through enter/exit recovery mode can help to fix kinds of iOS issues, if there is exact problem with Safari that cause the crash or freeze, you then can use a free tool, UltFone iOS System Repair tool to fix the problem. This software can help to fix various iOS issues in only one-click.
Launch the program and connect your iPhone/iPad/iPod with computer, and you will see there are three options on the main page. Click "Enter Recovery Mode", and wait for iTunes and USB icons appear on your iPhone screen.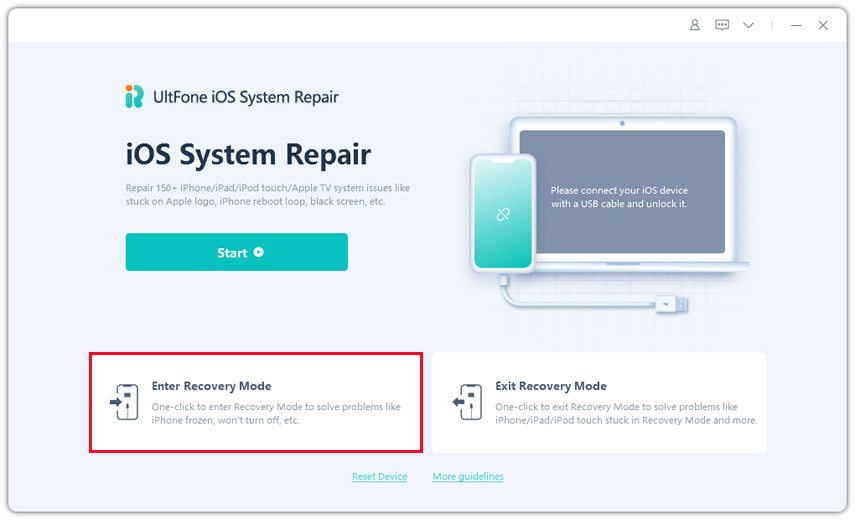 When the second option "Exit Recovery Mode" is highlight, click it and your iOS device will automatically restart in seconds. Then you can try to use Safari again to check.
Solution 6: Fix iOS 16/15/14 Safari Crashing by Repairing Operating System
Except for basically repair settings and data of Safari, if you still troubled by Safari crash on iOS 16/15/14, then you might consider whether the operating system of your iPhone/iPad/iPod goes wrong or not. If so, we suggest you to try to get the problematic operating system repaired by using UltFone iOS System Repair, too, it can help to fix all kinds of iOS issues without any data loss.
Fix more than 150 iOS system problems like Safari crash, Chrome crash, Gmail crash or freeze after iOS 16/15 update.
Fix common problems like stucking on Apple logo and spinning wheel when upgrading to iOS 16.
Downgrade 16 to iOS 15 if you do not like the new system.
All iOS system versions are supported: iOS 7, iOS 8, iOS 9, iOS 10, iOS 11, iOS 12, iOS 13, iOS 14, iOS 15 and iOS 16.
Support all models including iPhone 11 Pro Max/iPhone 11 Pro/iPhone X/iPhone 7/iPhone 7 Plus and also iPad/iPod.
UltFone iOS system repair tool is available for both Windows and Mac.
From the main menu of UltFone iOS System Repair, you are required to choose "Fix All iOS Issues", the program will detect the condition of the iOS device and you may see the interface below.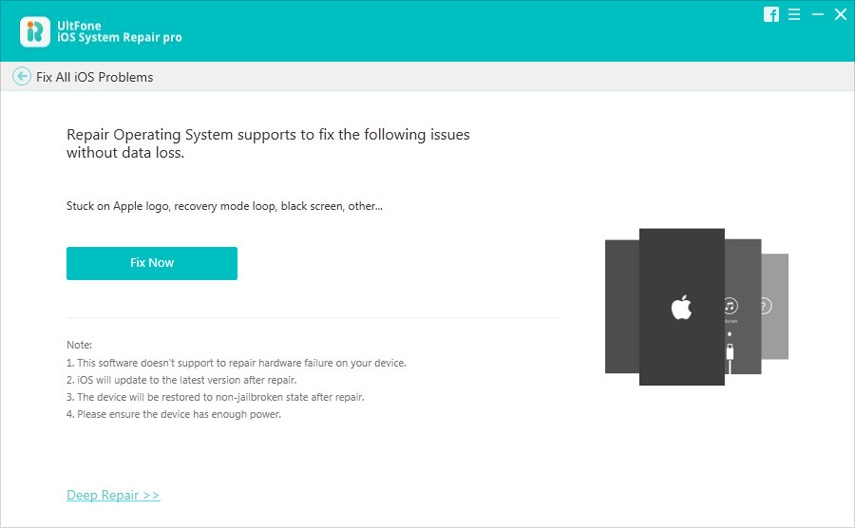 No matter your iOS device performs well or not, you are able to get it repaired and give it a better performance. Just follow the steps UltFone iOS System Repair give to you, download/import firmware and start repair.
People also ask about Safari Crash/Slow/Not Responding
1. Which cause Safari to quit unexpectedly?
You may get the issue Safari quiting unexpectedly and wonder why this happen. In fact this issue is caused by Safari extensions, internet plugins, and add-ons. So after knowing the reasons, you can try to turn off Safari extensions and remove plugins or add-ons to solve this problem.
2. How to fix Safari slow?
Your network connection or your iOS system may cause Safari slow. You can clear Safari caches and update Safari to the newest version to fix slow Safari.
Besides, before iOS 16 official version released, you can also consider to downgrade iOS system from iOS iOS 16/15/14 to iOS 13 to fix kinds of problem which you meet after update your iOS device to iOS 16/15/14.
That's all about how to fix Safari crash issue after iOS 16/15/14 update, if you meet with this problem like 403 forbidden error on Safari, you can also try UltFone iOS System Repair for help.