Top 11 Solutions to iPhone Heating Up after iOS 16/15/14 Update
I have 11 pro with iOS 16/15 beta. It runs well mostly, but the phone is always warm to the touch, it doesn't get crazy hot, but enough to make me worried about my battery health. Can anyone help me?
A lot of iPhone users fedback that they've encountered the same problem that iPhone got abnormally warm after upgrading to the latest iOS version. This is definitely something cannot be ignored for it will cause iPhone to freeze, restart, shorten the life of iPhone battery, and even cause iPhone to explode. Wondering what should you do if your iPhone gets hot? Well, in this artilce, I'd like to share with you the most helpful solutions to iPhone heating up after iOS 16/15/14 upgrade.
Why Does My iPhone Heat Up after iOS Update?
As a smart phone, iPhone is essentially a micro computer. When the CPU is working at high speed, it will naturally generate heat. However, if your iPhone burns seriously, in addition to the temperature factor, it's mainly due to the following reasons:
1. Upgraded your iPhone to an unstable iOS version, like iOS 16/15 beta.
2. Running multiple graphic intensive apps. The CPU will heat up when it runs continuously at high load, such as playing 3D games, videos and tranferring a large amount of data and so on.
3. Playing games or making calls while charging. Inputting and Outputting mobile phone battery simultaneously will not only lose double power, but also damage the battery performance.
4. Using poor quality lithium battery. Replacing a low-quality iPhone battery can also easily cause the phone to heat up
5. App crash and failure. Sometimes the abnormal operation of some apps will take up a lot of memory and cause CPU run under high load.
6. Using protective cases or other coverings. Equipped with some low-quality protective cases may affect iPhone heat dissipation and cause the phone to become hot.
7. Installed incompatible plugins during jailreak. After jailbreaking, some installed plugins will reside in the background and automatically start up at boot, which may cause iPhone get warm.
Common Solutions to iPhone Heating Issue after iOS 16/15/14 Update
iPhone heating issue may not be caused by a single reason, so you may have to try several methods at the same time. Note that most of these methods can only alleviate iPhone overheating issue, but not eradicate it completely.
1. Restart iPhone
Restarting iPhone is probably the first way that most people will think of when their iPhone performs abnormally. Lisewise, it can also help in this situation. Check here and learn how to restart different models of iPhone.
2. Remove iPhone Case
Many people like to decorate their iPhones with exquisite phone cases, however, certain iPhone case materials are not conducive to cool down iPhone. Thus, you'd better remove the phone case or replace it with one with good heat dissipation effect.
3. Stop Using iPhone While Charging
As we've mentioned above, comsuming iPhone battery while charging can lead iPhone to generate more heat. In order to avoid causing unnecessary danger, you'd better not do so. And your phone may return to normal temperature after you not doing so.
4. Close Backgroud Apps
Do you have the habit of closing apps running in the background in time? If not, then it may be the culprit. It's a big burden for CPU to run multiple apps, especially graphics intensive ones simultaneously, thus there's no wonder it gets hot. To avoid this phenomenon, you should follow the steps to close some unimportant background apps.
If you're using an iPhone with a home button, then just continuously press the home button twice and swipe up the app cards to close them.

If you're using an iPhone without a home button, then just swipe up the screen from its bottom to the middle, and swipe up to remove the apps not in use now.
5. Disable Background App Refresh
Well, what's annoying to know is that even though we manually close the background apps, it may still be automatically refreshed in the background and your iPhone overheating issue can still not be resolved. At this time, you should go to Settings > General > Background App Refresh, and disable Background App Refresh.
Or you can check the most battery consuming apps in Settings > Battery > Battery Usage, and selectively don't refresh these apps.
6. Disable Location Services
Many apps will require require to determine your location while using them. However, it may put a severe strain on CPU and keep your iPhone warm. You can follow the steps below to turn it off first and turn it on when you need it.
Step 1. Open Settings.
Step 2. Go to Privacy.

Step 3. Tap on Location Services and choose to turn it off.
7. Turn On Low Battery Mode on iPhone
You may be wondering why you should use low power mode to alleviate the problem of iPhone heating up after iOS update. Well, it's related to how low power mode achieves its effect. By turning on low power mode, some power-hungry features like auto download, "hey siri" and mail fetch will be automatically disabled and accordingly iPhone will generate less heat.
Below is how to turn on low battery mode:
Way 1. Go to Settings > Battery > Turn on Low Power Mode.
Way 2. Swipe down from the top of your iPhone screen and tap on the battery icon.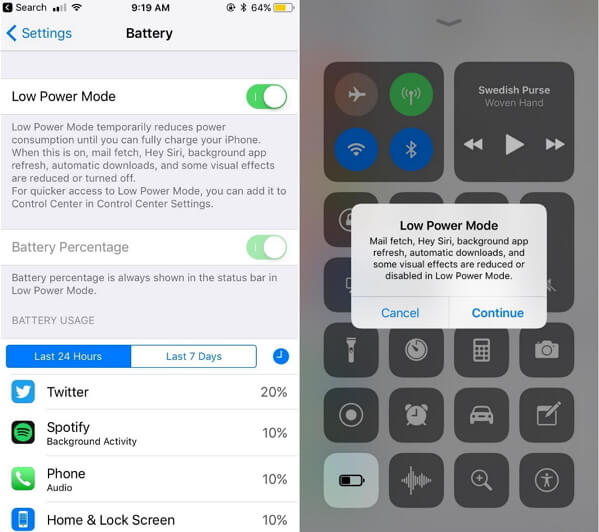 8. Turn Off Bluetooth and AirDrop
It's easy to overlook that turning off Bluetooth and Airdrop features can really make a difference on cooling down your devices and below is how to turn off Bluetooth and Airdrop:
Step 1. Swipe down from the top of the screen.

Step 2. Tap on Bluetooth and Airdrop icons to disable the two features.
9. Upgrade to the Latest iOS Version
As the consequent release of iOS 16/15 beta versions, some problems that appeared in the previous released version have been resolved in the later released one. You can follow the steps below to upgrade iOS version and check whether your problem still exists.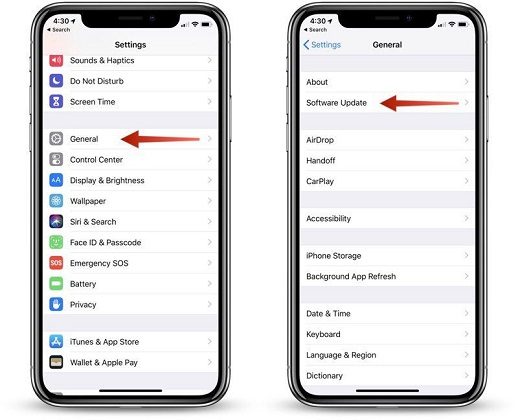 10. Reset All Settings
At any time, reset all settings could be your last solution to any iPhone problem, cause it'll restore your iPhone to factory settings as well as wipe all the data on your device.
Step 1. Open Settings.
Step 2. Go to General option.

Step 3. Click Reset and choose Reset All Settings.
It's recommended to backup your important data in advance whether through iCloud, iTunes or iOS Data Manager. And compared with iCloud and iTunes, UltFone iOS Data Manager can probide you with a more flexible way to backup, preview and restore data with unlimited storage space.
1-Click Solution to iPhone Overheating without Data Loss
Compared with all the above methods, UltFone iOS System Repair will solve your iPhone overheating issue permanently and safely without data loss. Its working principle is to downgrade your iPhone to the latest stable iOS 16 version by reinstalling the system firmware. You don't need to know any background knowledge in advance, what you need to do in the whole process is just a couple of clicks and then your iPhone will get rid of overheating issue. Moreover, the software also supports the following features:
1-click to free enter and exit recovery mode.
Fix 150+ system crash and software glitches on iPhone/iPad/iPod Touch without data loss.
Fix 200+ iTunes errors without data loss.
Here's the step by step guide:
Step 1 Launch the software on your computer, connect your device and computer with a USB cable and then select the "Repairing Operating System" option.

Step 2 In the next screen, click on the "Fix Now" button to proceed, then follow the on-screen prompts to download or import firmware package.

Step 3When the download is finished, click on the "Repair Now" button and the software will automatically start to repair the iOS 16 heating issue.
The Bottom Line
In a nutshell, in this article, we've provided you with 10 common solutions to temporarily relieve your iPhone heating up issue after iOS 16/15 update. Nevertheless, if you want to permanently get rid of this headache, then you can ask UltFone iOS System Repair for quick and professional help.