All-Round Solutions to iPhone Keyboard Lag Bug on iOS 16/15/14
Hello there! After I updated my iPhone 11 Pro to iOS 16/15 Beta, the keyboard is laggy and slow to respond while I'm typing on Notes, FB Messenger, WhatsApp, iMessages... How can I fix this issue?
Rencently we've received a lot of feedback complaining the poor performance of keyboard in iOS 14/15/16 beta. Although we all know that it's just a beta, the keyboard lag is quite a common issue that happens frequently in previous iOS versions. Luckily, it's not a tricky one, you can solve iPhone keyboard lag on iOS 16/15/14 easily by using the methods in this article.
What to Do with iPhone Keyboard Lag in iOS 16/15/14
Keyboard lag refers when keyboard can't respond as fast as we can type. If it happens to you after you upgrade to iOS 16/15/14, then it probably has something to do with the keyboard settings. If so, it's recommended that you try the following two methods first.
1. Reset Keyboard Dictionary
One direct solution to iPhone keyboard lag iOS 16/15/14 is reset keyboard dictionary. But keep in mind that by doing so, all the custom words will be wiped and your keyboard settings will be restored to the default mode. Below are the specific steps:
Step 1. Find Settings App on your device and open it.

Step 2. Go to General settings.

Step 3. Scroll down and tap on Reset option.

Step 4. Tap on Reset Keyboard Dictionary.

Step 5. Enter your passcode as the devices requires, and then confirm your operation.
2. Disable Predictive Keyboard
Predictive keyboard is a feature that supports to predict the next words you're typing according to the words you've already typed. Of course, this feature can really bring us convenience and save time, but when it affects the respond speed of keyboard, it's recommended to turn it off. And here's how to do:
Step 1. Open Setting App on your device.

Step 2. Tap on General.

Step 3. Go to Keyboard.

Step 4. Switch off Predictive option.
What to Do if iPhone Keyboard is Freezes in iOS 16/15/14
It's often the case that iPhone keyboard is frozen while you're typing in messages instead of just delaying a second or so. If it happends to you, then you'd better choose the following two methods to handle it.
1. Close and Reopen Problematic App
Chances are that it's just a software glitch and you can easily fix it by closing the app temporarily and then reopening it:
Step 1. Enter the control center by double clicking the home button (if you have) or swiping up from the bottom of your iPhone screen.

Step 2. Swipe right or left to choose the problemativ app you're using. Usually, it's on the first position.

Step 3. Swipe up to close it and reopen it later.
2. Perform a force restart
If the above method doesn't work on your device, it's time for you to perform a force restart. Remember that at any time, force restart your iPhone could serve as an alternative method:
For iPhone 8 and later models: Press the volume up and down button respectively and then long press the side button until the Apple logo appears.
For iPhone 7 and 7 Plus: Press and hold volume down and power button simultaneously until the Apple logo appears.
For iPhone 6 and earlier models: Press and hold the home and power buttons at the same time and then long press the side button until the Apple logo appears.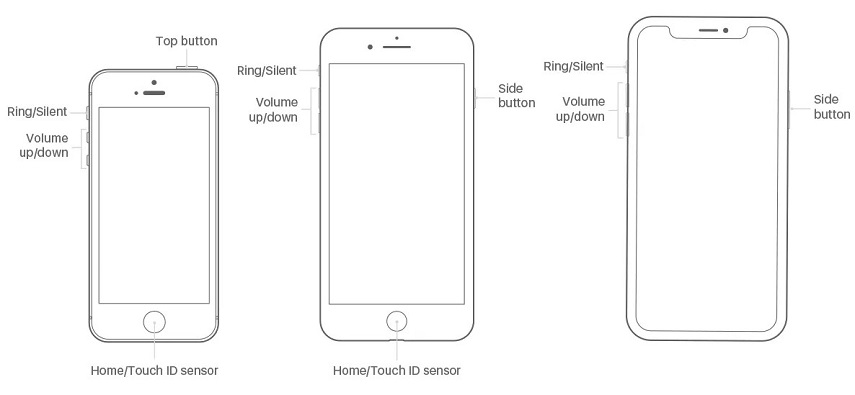 What to Do if iPhone Keyboard Disappears after iOS 16/15 Update
Both my wife's (iPhone 11, iOS 16/15) and me (iPhone 12, iOS 16/15) had the same glitch where the keyboard randomly disappeared for a split second when sending a chat in Whatsapp.
If your iPhone keyboard is laggy on iOS 16/15/14 and even doesn't appear, there's great possibility that something is wrong with the operating system. At this time, the right thing to do is restore your device whether from iTunes or iCloud backup, depending on which one you use to backup.
Note that if you don't have a previous backup, you can directly move on to the next part.
1. Restore iPhone from iTunes
Step 1. Connect your iPhone to a computer with a USB cable and iTunes will pop up automatically.

Step 2. Locate your device and the choose summary.

Step 3. Click on the "Restore Backup" button.

Step 4. Select the backup you want to restore and then click "Restore".
2. Restore iPhone from iCloud
Step 1. Go to Settings > General > Reset > Erase All Content and Settings.

Step 2. Your device will reboot after the step 1 and then you can choose "Restore from iCloud Backup" when set up your device.

Step 3. Sign in your iCloud Account and choose the backup you want to restore in iCloud.

Step 4. Select the backup you want to restore and then click "Restore".
What to Do if the Above Methods to Fix iOS 16/15/14 Keyboard Lagging Fail
If all the above methods fail, there're two ways left for you. Either you send your iPhone offline for repair, which will cost you a lot of money and time, or you can get help from professional third-party software-UltFone iOS System Repair. Compared with traditional way, it's super effecient and allow you to solve iOS 16/15 keyboard glitch by yourself only with a couple of clicks.
Here's the step by step guide:
Step 1 Launch the software on your computer, connect your device to a computer with the charging cable and then click the "Start" button in the main interface.

Step 2 Click on the "Standard Repair" button to proceed, then follow the on-screen instructions to download or import firmware package.

Step 3After downloading the firmware, click on the "Start Standard Repair" button and the software will automatically start to repair Keyboard lag in iOS 16/15/14 issue.
The Bottom Line
To conclude, in this article, we've provided you various solutions to iPhone keyboard lag iOS 16/15/14 issue according to different situations you might encounter. And if common methods cannot help, do not forget that UltFone iOS System Repair will serve as your ultimate weapon.