How to Fix Siri Not Working on iPhone 13/7/7 Plus [iOS 16 Supported]
"iPhone 13/7 Plus Siri not picking up my voice? Recently I purchased the new iPhone 13/7 Plus, 128GB variant. Long story short, at set up, I was asked to set up Siri, with the usual voice recognition of saying 'Hey Siri' a few times. Anyone else encountering Siri not hearing me on iPhone 13/7 issue?"
-from Official Apple Support Communities
Siri, short for Speech Interpretation and Recognition Interface, is an intelligent voice activated personal assistant designed by Apple Inc. There are a bunch of users who report that Siri not working on iPhone 13, 7/7 Plus in iOS 16/15 and offline Siri not working on iOS 16/15. In this troubleshooting guide, we will go over top 14 methods that could help you figure out.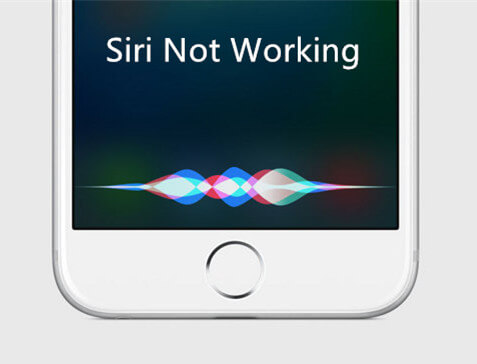 Method 1. Turn Siri Off and On
If Siri is not responsive when you attempt to wake it up, according to experience, you need to check out if it is enabled. All you have to do is to open Settings, find out Siri and access it. If it is turned off, drag the button to turn it on. If it is turned on, then try to turn it off, wait for a while and then turn it on again.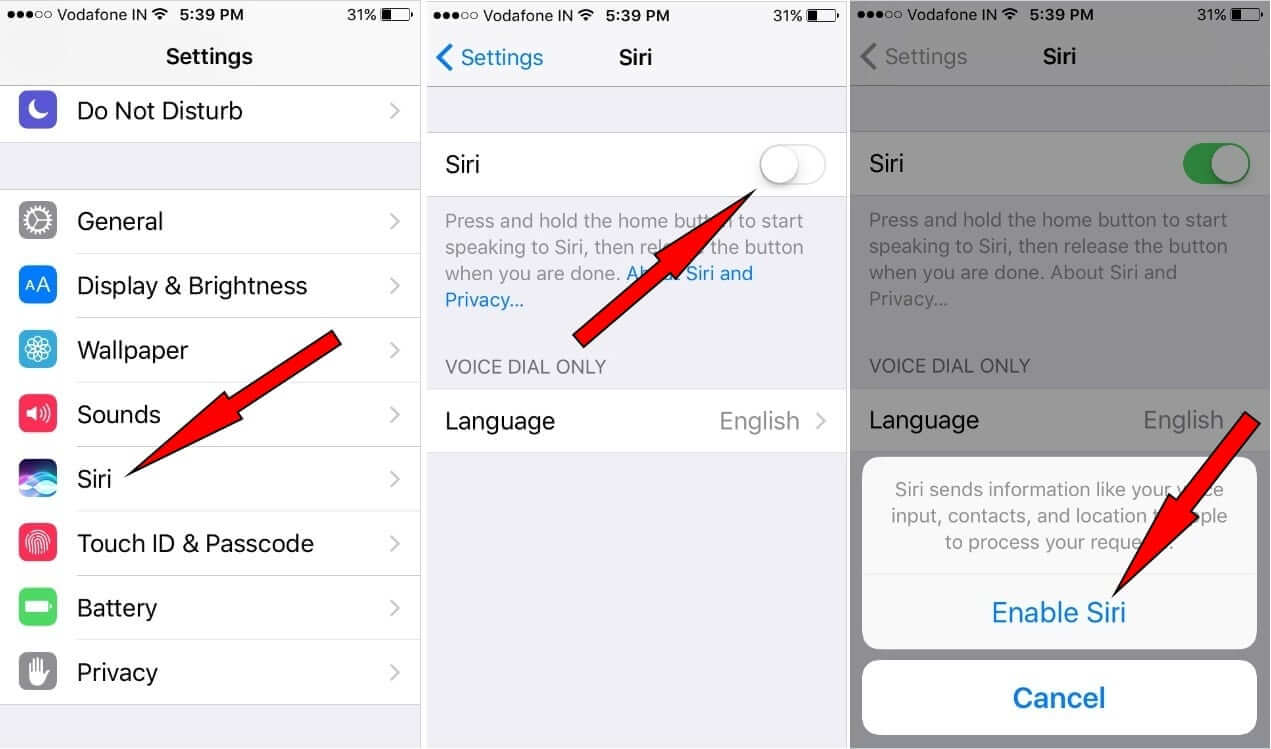 Method 2. Enable Hey Siri
Hey Siri not working on iPhone 13, iPhone7 Plus or iPhone 7? You may need to check if Hey Siri is enabled on your iPhone. If it is disabled, switch to turn it on, otherwise, restart Hey Siri. You can access Hey Siri by taping Settings > Siri > Allow "Hey Siri". Once this is done, you are able to say "Hey Siri, how's the weather?" and other similar questions, then it will answer you.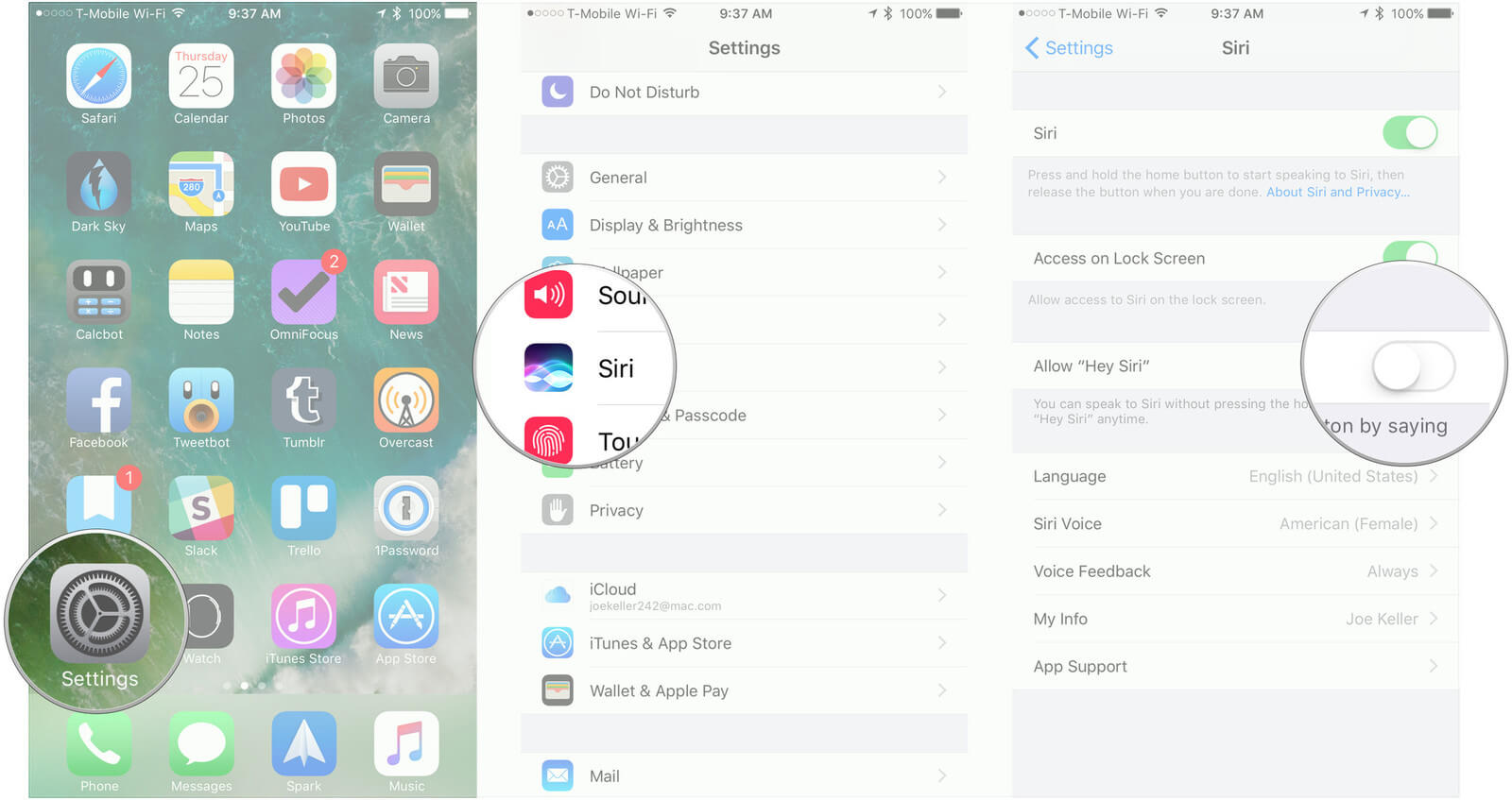 Method 3. Check Your Dictation
Siri not picking up voice on iPhone 13/7? It is possible that dictation is not working on iPhone, no matter it is iOS 16/15, 12, 11, etc. To deal with this problem, just turn it on or off with like this. Go to Settings, then tap on General, scroll down and touch Keyboard, and then toggle off Enable Diction and toggle it on.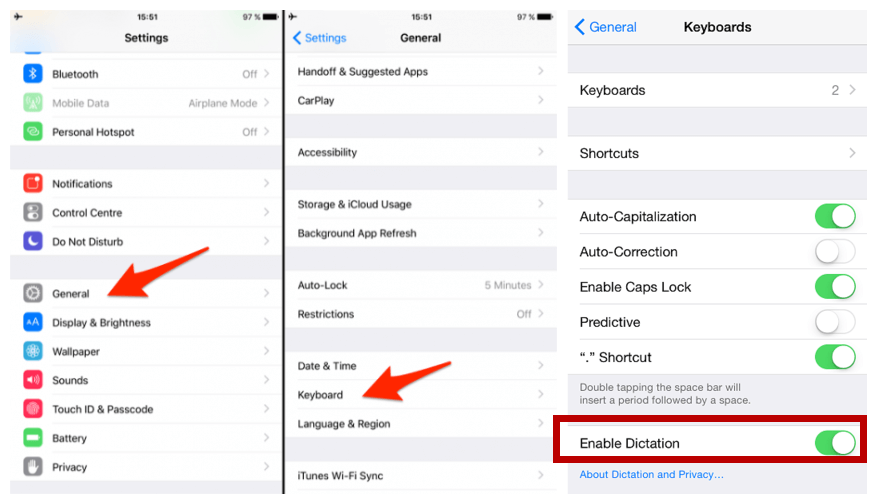 Method 4. Check Microphone and Speaker
Siri microphone not working? It is likely that your iPhone microphone and speaker are not working, so that Siri may not hear from you. To test microphone, launch Voice Memo app and record your voice, then play back the record content and check if you can hear your voice clearly.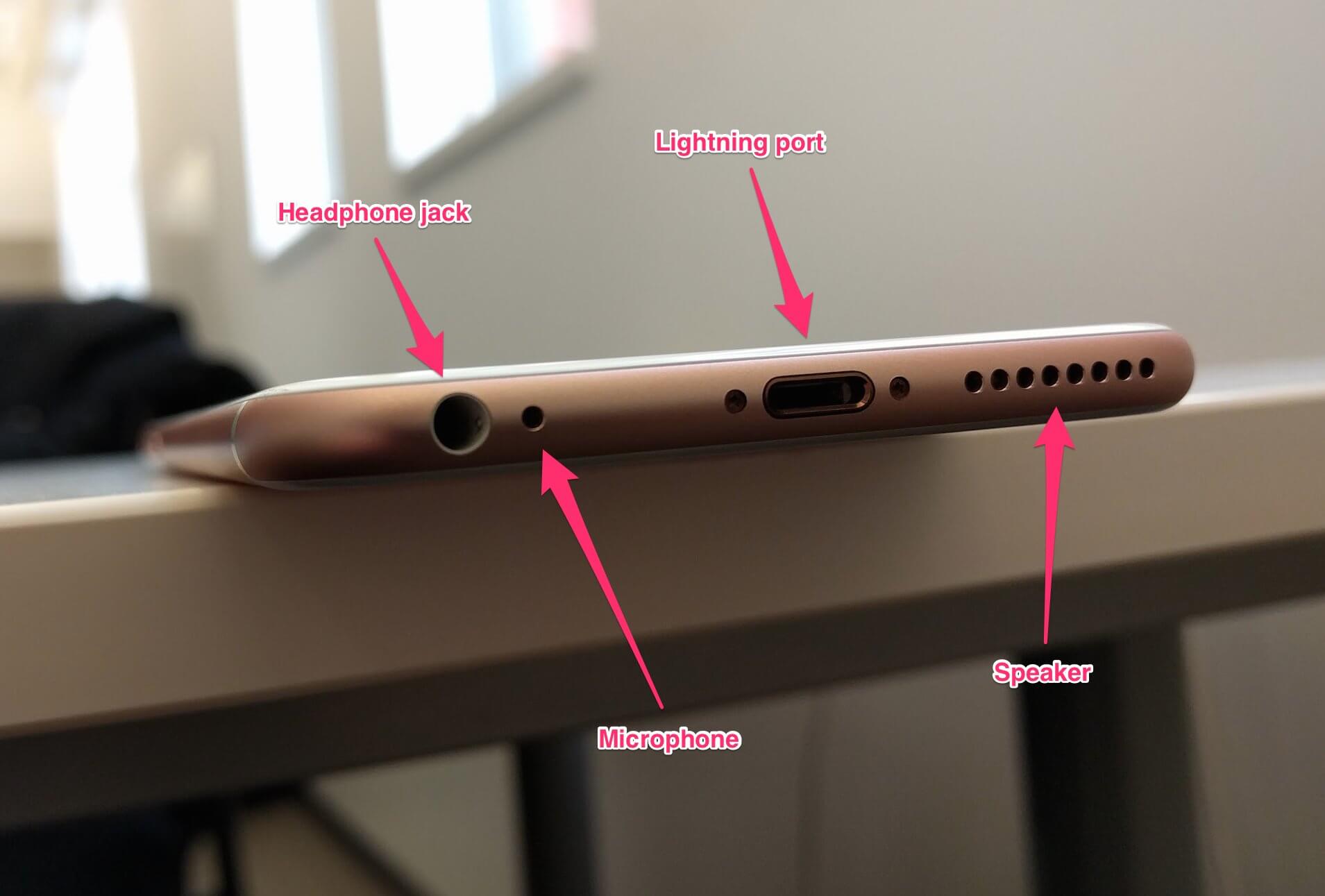 Method 5. Check Language and Pronunciation
You have to make sure Siri is set to the correct language. For iOS 10+, this could be found by taping Settings > Siri > Language. The more you speak and use Siri, the more perfect results will be. Therefore, if it has no response to you, perhaps your language and pronunciation is not in the way Siri understands. Therefore, you need to be sure that you are precise with what you actually would like Siri to do on your iPhone 13, iPhone 7/7 Plus.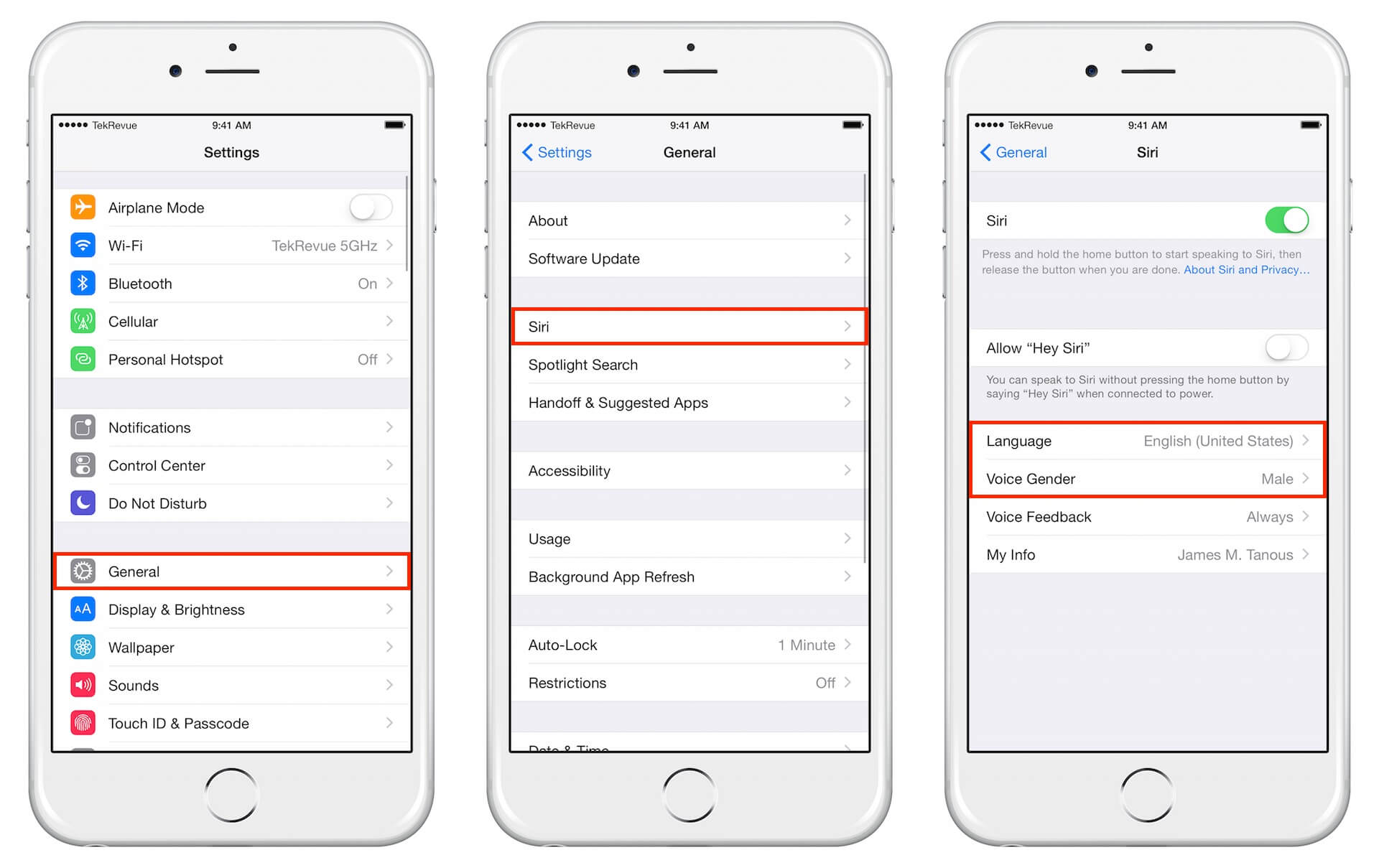 Method 6. Check Internet Connection
There is no denying that Wi-Fi is faster than Cellular Data when it comes to Internet connection. For that case, if you are using Cellular Data on iPhone 13/7, just switch it to wireless connection in order to use Siri normally. Then don't forget to access Siri.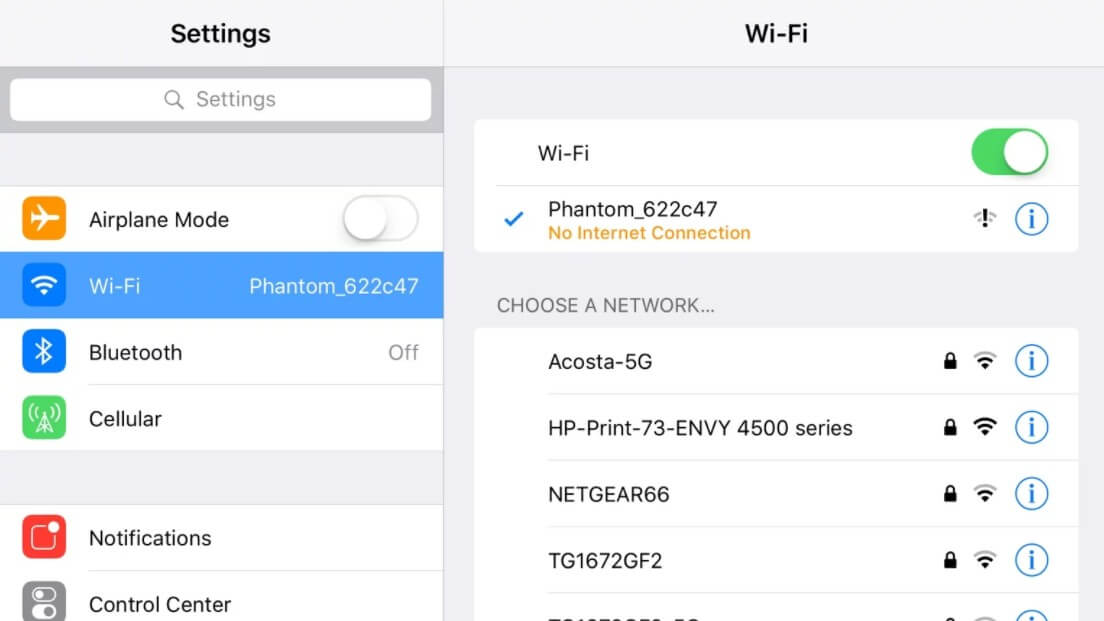 You could also attempt to toggle on Airplane Mode, then turn it back off. This is about to reset network connection. If there is any network issue, this method will resolve it. The steps are Settings > toggle on Airplane Mode, then turn it off after a few seconds.
Method 7. Check iPhone iPhone 13/7 Restrictions
Be sure that you have not enabled Restriction option on your iPhone 13/7 and disabled Siri. You can go to Settings > General > Restrictions > toggle on Siri & Dictation. Then you can test whether Siri is normal to use or not.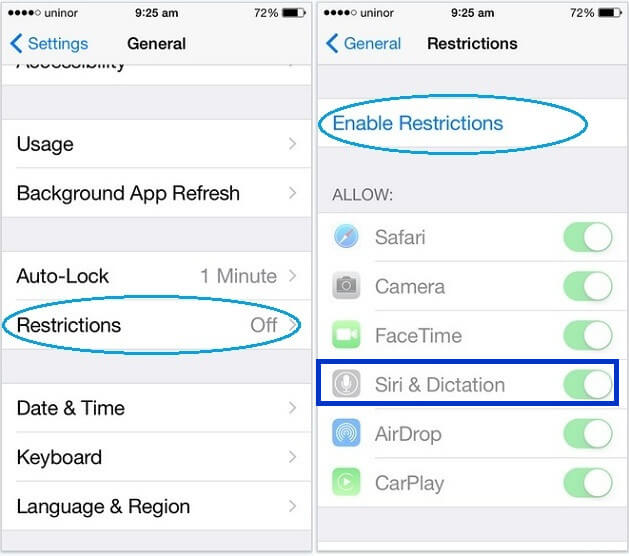 Method 8. Turn Off Low Power Mode
Siri may not be working if you set iPhone 13/7 Low Power Mode enabled. In order to turn it off, go to settings, scroll down the screen and find Battery. Then tap it on. On the Battery screen, turn off Low Power Mode. If the iPhone 7 battery life is less than 25%, connect your phone to power source.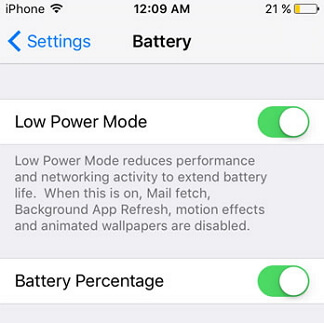 Method 9. Update iOS to Latest Version
Siri not working on iOS 16/15? You have to make sure your Apple device is running the latest iOS version. If there is an update available, update it. You can update iOS edition with wireless by doing this, taping Settings > General > Software Update. Then click Download and Install button, finally update to latest iOS.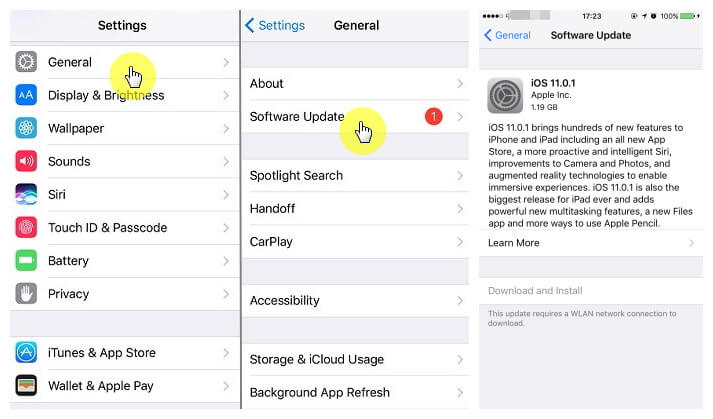 Method 10. Reset Network Settings
Siri is close relationship with network connection. Therefore, you can try to fix Siri not working problem by resetting network. Here is what you need to do: Navigate to Settings, tap on General, touch Reset, hit Reset Network Settings.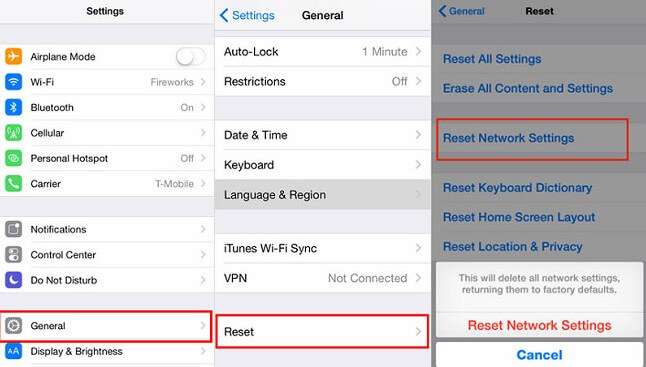 Method 11. Force Restart iPhone 13/7
Restarting iPhone is one of the frequently-used options to fix tons of stuck. For iPhone 13/7 users, if to press power button doesn't let iPhone reboot, then you could just press and hold Sleep/Wake and Volume down buttons at the same time, then the device will be force restart.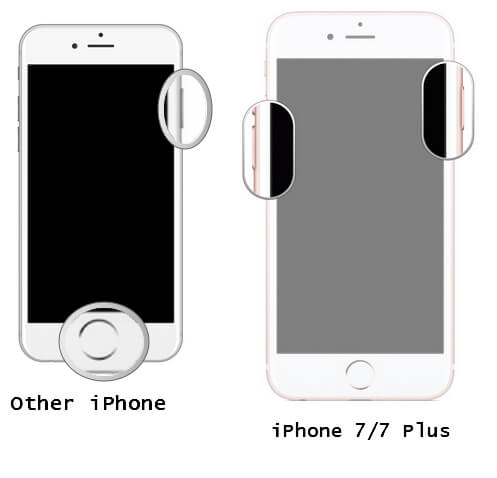 However, if you are still mixed with different force restarting ways, I highly recommend you to take advantage of free UltFone iOS System Repair (ReiBoot) to restart any iPhone model with just one click. The brief steps are:
Step 1. Free download, install and launch this software to your PC/Mac.
Step 2. Connect iPhone to computer. UltFone iOS System Repair (ReiBoot) will recognize your phone.
Step 3. Tap on "Enter Recovery Mode", wait for it, and then click "Exit Recovery Mode", finally your iPhone 13/7 will be forced restart.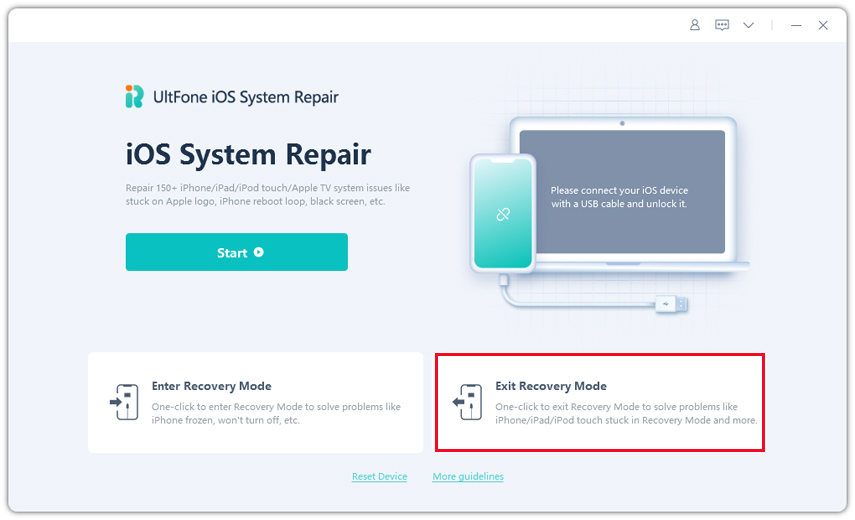 Method 12. Backup and Restore with iTunes
While rebooting doesn't work, then you can try to backup data and restore iPhone with iTunes. Once the iPhone 13/7 is restored, try to use Siri and Hey Siri on the phone. If your iPhone 13/7 is jailbroken, mere rebooting will not help. The steps are:
1.Open iTunes, connect iPhone 13/7 to iTunes via cable.
2.Once connection is finished, click on the small phone icon on the left side of the screen.
3.Click Summary and then you can see Restore iPhone button on the right side.
4.Tap on it and follow the instructions to restore.

Method 13. Recover iPhone System to Fix All iOS Issues (No Data Loss)
Siri not working after iOS 16 update? UltFone iOS System Repair (ReiBoot) Pro is actually a well-known and technical tool to repair most of the iOS and Apple device stuck without losing data, which contain Siri not working, screen black or blue screen, reboot loop, frozen or hung iPhone, etc. Here's how to fix:
Step 1. Open UltFone iOS System Repair (ReiBoot) to PC/Mac and connect an iPhone/iPad/iPod touch to computer via USB cable. Choose Fix All iOS Stuck, and then Fix Now.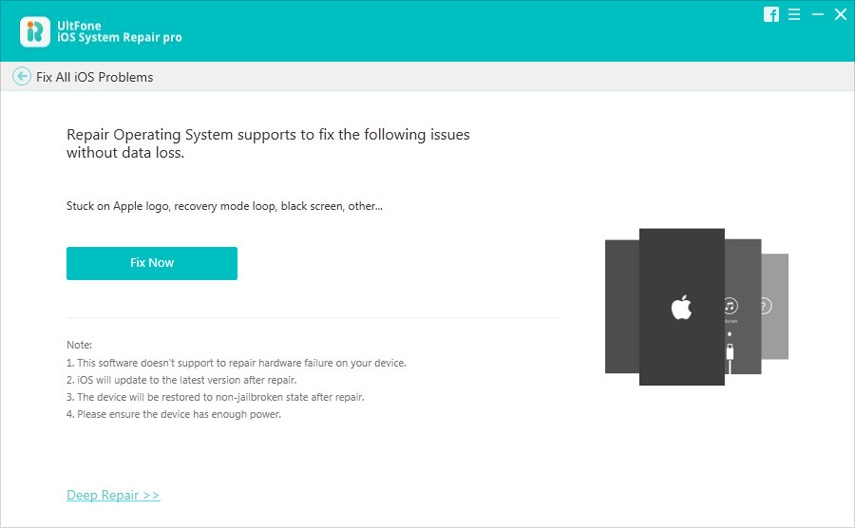 Step 2. Import or download Firmware Package online, then click Start Repair button to begin repairing. After it is done, your device will reboot automatically and get back to normal.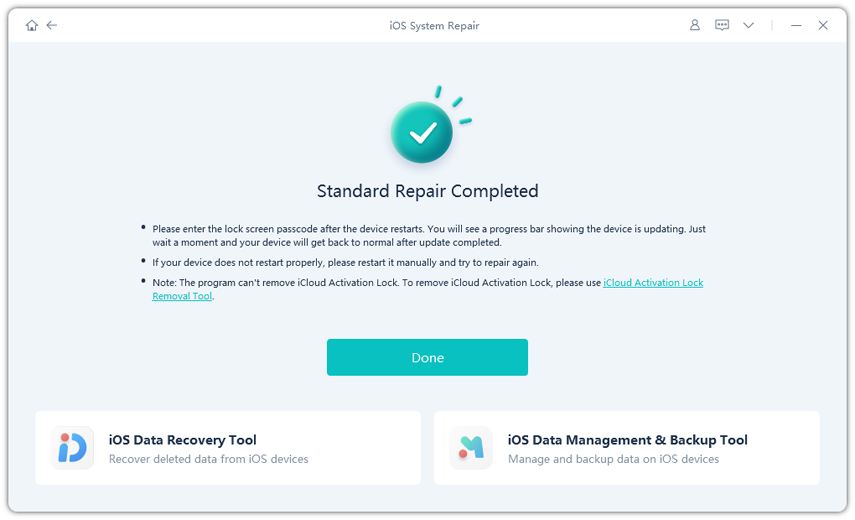 Method 14. Contact Apple Support
If all the former methods are still not working, then I have to suggest you take your iPhone 13/7 to Apple physical store and the staff will tell you what's going on. If the phone is under limited warranty, you can get a fix free of charge, otherwise, pay for it if you care about Siri very much.

In spite of how useful and convenient Siri could be, it is sometimes quite overnice. Only if you treat it as your friends and have a harmonious talk with it, can it be friendly and efficient to you. Hopefully after the ways above, you have been getting Siri and Hey Siri working as you look forward to.