How Long Does iOS 14/15/16 Take to Download and Install on iPhone 6S/7/8/XR/11/12
One of the most often raised concerns about the upgrading procedure is that some users have stated that it takes time to download the update. So precisely how long does iOS 16 take to download? If this is your concern too, don't stroll other than this guide. Here we will walk through how long does it take to download iOS 14/15/16 and what to do if your iPhone/iPad is stuck downloading the update. Let's deep dive in !!!
Part 1. How Long Does iOS 16/15/14/13 Take to Download?
The question of how long does iOS 16 takes to download may be a bit difficult to answer because the time it takes varies from device to device. In general, updating your iPhone/iPad to a new iOS version takes roughly 30 minutes, however, the exact time depends on your internet speed and device storage.
If downloading an iOS update takes too long or if the procedure fails in the middle, there may be some issues with the upgrading process. Here we provided some solutions to the question "Why is my update taking so long?" , and you can continue reading to learn more.
Indeed, depending on the conditions, not all iPhones take the same time. Still, we'll show you how long the latest iOS 16 upgrade takes, just for reference.
Step 1: When you click the Download button, it will begin estimating how much time is left, and the progress bar will appear. The Install Now button will be visible once iOS 16 has been downloaded. As you can see, the entire download normally takes about 5-15 minutes.

Step 2: Finally, it took 13 minutes to finish the update after hitting Install Now to Restart. And it took around 28 minutes for the whole iOS update to complete.
Part 2. Why is iOS 14/15/16 Downloading So Slow?
When preparing your iPhone for a software update, ensure that you have a stable WiFi connection, and that cellular data is not enabled for an iOS software update. Simultaneously, you must keep the battery charged or the USB cord connected. So, if your iPhone is taking too long to update, consider the following possibilities:
1. Internet Connectivity
The Internet speed of the iPhone is perhaps the most critical aspect in deciding the length of an iOS 14/15/16 update. We recommend that you upgrade to iOS 14/15/16 via a WiFi network. The iOS 14/15/16 software upgrade will take longer to download if your Internet connection is sluggish or sporadic.
2. Region (Update Size)
The user's location is another crucial factor that determines how long does it take to install iOS 14 or 15/16 beta. Not all Apple services are accessible in every country. While the majority of iPhone customers will see an iOS 14/15/16 software update file size of 4,79 GB, others will just need to download 2,83 GB to get iOS 14/15/16. That's because they're getting a trimmed-down version that excludes services that aren't available in their area.
3. iPhone Model
The iPhone model might also influence the size of the iOS 14/15/16 download file. Older compatible iPhone models can get a more pared-down version of the new iOS that works best with the resources available on their iPhones.
4. Available Storage Space
If your iPhone's available storage is at capacity for the iOS 14/15/16 update, it will attempt to offload apps to free up storage space. As a result, the iOS 14/15/16 software update will take longer to complete.
5. Moment Of Update
As iOS 16/15 beta is still in its early stages, the time you attempt to update is also critical. Many people are currently upgrading to the new version, which can quickly overload Apple's servers during peak hours. According to our experience, the optimal time to upload is in the early morning, when most people are still asleep, and the automatic updates have enough time to complete.
Part 3. How Do I Speed Up iOS 14/15/16 Download?
It would be unfortunate if the iOS 14/15/16 update takes forever. And if your device update has been stuck for an extended period, the update procedure is quite likely to have gone wrong. For the time being, you can attempt the following tips to fix the device.
Way 1. Fix iPhone Update Takes Forever with UltFone iOS System Repair
When an iOS 16/15 beta update takes forever, it indicates that you won't update your iPhone normally. You may also encounter iPhone won't update issues such as iPhone stuck on verifying update, stuck on preparing update, or update requested, etc. Then you can't miss trying UltFone iOS System Repair, a comprehensive iOS repair tool. It can assist you in repairing most system issues, including all of these iPhone update stuck issues.
Top-notch features of UltFone iOS System Repair:
1-Click to free enter & exit recovery mode on iPhone/iPad/iPod.
Repair 150+ iOS system issues such as the Apple logo, reboot loop, and black screen without losing data.
Reset iPhone/iPad/iPod Touch without using password, iTunes, or Finder.
Downgrade from iOS 16/15 beta without iTunes.
Support all iOS versions and iPhone models.
Step 1 First, download and launch the tool on your computer, and then connect your device to it. Once done, click Start to enter the iOS system repair module.

Note: To ensure a successful iOS system repair, we strongly advise you to connect your iOS device to your computer using the Apple original lightning USB connector.

Step 2 Now, click on the Standard Repair button to proceed.

Step 3 Before you begin the system repair, you must first click the Download button to obtain the automatically matched firmware package for your device. You can alter the saved path by choosing Browse and navigating to a different location to save the firmware package.

Step 4 After successfully downloading the firmware package, click Start Standard Repair to resolve the iOS 14/15/16 beta takes forever on your iOS device.

Step 5When the repairing completes, your iOS device will immediately reboot, and everything will return to normal.
Way 2. Force Restart Your Device
When your iPhone is stuck in the download process, it may not fix on its own, however, merely restarting your iPhone may resolve the issue. Please follow the guide to force restart your iPhone and see whether it works.
Way 3. Check Your Network Connection
Sometimes, a slow or unstable network might sometimes cause the iOS 14/15/16 update to freeze. It is critical for you to connect to a stable and robust network, so the update can complete successfully.
Way 4. Check Your iPhone Storage Space
Another possibility for your iOS 14/15/16 update downloading process being stalled is a lack of storage space on your iPhone/iPad. The iOS 14/15/16 update requires at least 2GB of capacity, so check your device storage if the download is taking too long.
First, go to the device Settings and then tap on General and check your iPhone Storage, if you're running low on storage, you may free up some space by uninstalling useless apps. After you've finished freeing up space, try downloading the iOS update file again.
Way 5. Check Apple Server Status
If the previous 4 ways do not resolve the issue of the update taking so long, or if the update still does not complete, you may need to investigate issues with the Apple server. You can visit the page to see whether there's something wrong with the Apple server.
Extra Tip: Backup Your Phone First Before Updating to A New iOS Version
If you decide to update your iPhone to the new iOS version, please back up your data beforehand to protect yourself from unexpected data loss. Not sure which data tool to use to backup your device? Then we highly recommend you to use UltFone iOS Data Manager, which is an all-in-one iPhone data management tool. UltFone iOS Data Manager can backup, restore, transfer, and manage all your data on iOS devices. With UltFone iOS Data Manager, you will never have to worry about tedious tasks when dealing with iOS data.
Export images from an iOS device to a PC with a single click.
Simpler operation than iTunes (Import/export/delete/edit).
Backup and restore 30+ file types from your iPhone/iPad/iPod touch without the need for a network.
Compatible with the latest iPhone 12 series as well as iOS 16/15/iPadOS 15.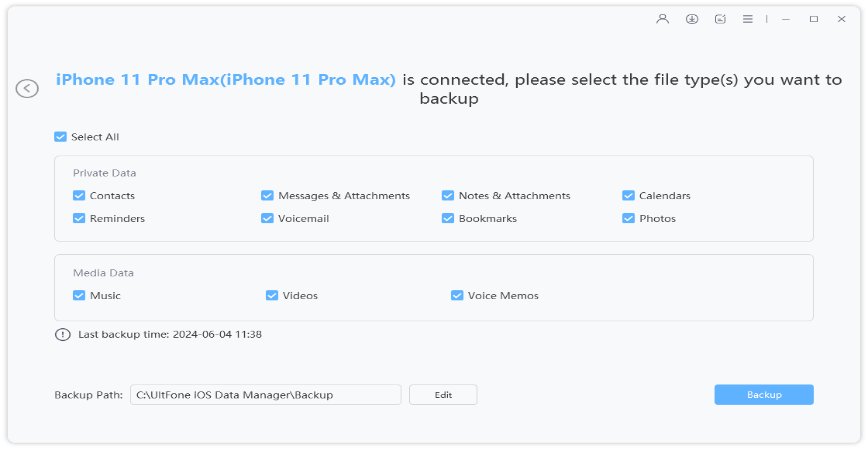 People Also Ask about iOS Update on iPhone
1. Is iOS 16/15 Beta Available for Download?
iOS 16/15 is now in a public beta. That means the operating system is still being tested and tweaked to be ready for a significant public release later this year, most likely alongside the next iPhone. That also implies that there are flaws. It's quite typical that the beta process should allow Apple to iron out any issues over the next few months.
2. Is it Worthy to Download and Install iOS 16/15 Beta?
Currently, iOS 16/15 is in a public beta. We don't recommend installing iOS 16/15 on your primary iPhone because the problems may render it abnormal for simple operations.
Conclusion
So, here we have learned how long does iOS 16 take to download and the most effective ways to fix your iOS device if it becomes stuck or frozen while updating to iOS 14/15/16. Hope this article will come to your aid. And if you want a hassle-free and seamless experience in the first place, seek aid from UltFone iOS System Repair!