How to Download and Install iOS 15/on iPhone/iPad
When a new iOS is available, quiet a lot of people want to experience the new features of this new software or download it to fix some bugs the former one brought. However, when trying to download or install iOS 15 on iPhone or iPad, some user encountered problems, such as iPhone stuck on downloading, update request, verifying update etc. In this article, we'll list out the common situations in a failed update and show you all possible solutions.
Part 1: Common iPhone Not Updating Issues on iOS 15
1. Software Is Not Available
iOS 15 software update not showing up? Go to Settings -> General -> Software Update but still no new updates even you know there should be one? This issue may occur when you are still using a beta software or your device is not compatible with newest software.
2. Taking Forever to Download
Some users complained that when they download iOS 15 from iTunes or OTA, the process takes for hours. When force quit the process and start over, same problem happen again. Unstable network may be the major reason for this problem.
3. iPhone Stuck on Verifying Update Screen
Download the new software successfully but iPhone stuck on "Verifying Update"? Many users have encountered this issue but don't have a clear understanding. When millions of people update their device at the same time, Apple servers will get congested and stuck on verifying state.
4. iOS 15 Download Frozen on iPhone
iPhone becomes unresponsive during the software downloading process is another common issue during iOS update. Server busy, memory shortage or software conflict can all lead to the downloading hung issue.
5. Cannot Install iOS 15 Not Enough Storage
When try to install the new update, some users get a message saying there's not enough storage on iPhone. After checking or deleting some files, the problem still exists. This notice may appear when the storage is low, but mostly a software glitch is there.
Part 2: How to Fix Cannot Update to iOS 15 on iPhone/iPad
1. Force Restart iPhone
A force reboot will fix many issues on iPhone, you should try to restart your device when you are unable to install update on iOS 15.
For iPhone 6 and older Models:
Press the home button and the power button at the same time. Keep pressing the buttons until you see the Apple logo and let the restarting process finish.
For iPhone 7 and 7 Plus:
Press the Power button and volume down button simultaneously and hold them. Let go of the buttons when you see the Apple logo on the screen.
For iPhone 8 and later Models:
For the new models, you have to quickly press the volume up button, and then follow the same process with volume down button. At last, press the side button and hold it until the screen turns off and the Apple logo pops up on the screen.
2. Delete iOS Beta Version
Some users have developer account and are able to install the beta version before iOS 15 is available. However, when forgot to delete the beta version, they will not be able to install the newest software.
Go to Settings -> General, scroll down and find the iOS Beta Software Profile, tap on "Delete Profile" and then reboot your device.
3. Wait and Retry
When many users are trying to update software at the same time, Apple service will be overloaded. If the software update failed on iOS 15 repeatedly in a specific period, wait for some time and have another try.
4. Free Up Space on iPhone/iPad
Storage shortage is also one of the possible reasons that cause the iPhone cannot download the update. You can manually delete some large files; uninstall the unwanted apps to free up some space. But make sure to back up your iPhone first in case you delete some important data.
5. Reset Network Settings
Network is another important reason you should take into consideration when an error occurred downloading or installing iOS 15. Check your Wi-Fi connection and make sure it's working. If you still cannot finish the process, go to Settings -> General -> Reset and choose Reset Network Settings.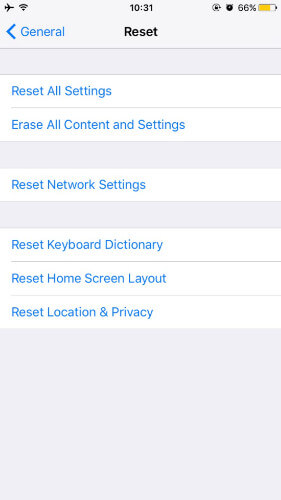 6. Update iPhone without Third-party Tool
If the above methods failed to work, you should update iPhone software in other ways. One of the easy ways to upgrade iOS system is using UltFone iOS System Repair, a professional and efficient tool to upgrade iPhone, iPad or iPod to iOS 15 and newer versions with only one click.
Step 1 Download and install this iOS system repair tool on your Mac or PC, connect iPhone to computer and choose Repair Operating System once the device is recognized.

Step 2 Click Fix Now button in the next screen. This system repair tool not only can update iOS and downgrade from iOS beta, but also fix 150+ system issues that you may occur during update, backup or restore. The best part is that it won't cause data loss.

Step 3 In the next screen, plesae click Download button to download the latest ipsw file that is matching with your device.

Step 4 After the firmware is downloaded, you can click Repair Now button to start installing the latest ipsw file to your device.
After system repairing is completed, your device has been updated to latest iOS.
Summary
This article has shown you the common iPhone software update problems on iOS 15 and introduced 6 easy ways to fix them. If you still have any questions about this post or the software mentioned above, contact us by commenting below.