How to Downgrade iOS 16 without iTunes
WWDC 2022 has announced to release new iOS 16. No doubt the most awaited iOS version had come out and people must have updated their iDevices to the most recent version of iOS. Currently iOS 16 developer is available and lots of people have instaleld iOS 16 profile to grab new features. However, some people are regretting their decision of updating and hence are willing to downgrade their iOS the earlier one. In the below article, we will see how to downgrade iOS without iTunes free.
Part 1: Safely Backup iPhone to iCloud Before Downgrading
Before getting to the actual solution and into knowing how to install IPSW without iTunes, let us first get to know how to backup your iPhone safely before downgrading process. You can backup your iPhone safely to iCloud n just few simple steps. Follow below guide to know safely backup iPhone to iCloud.
Step 1: Firstly, connect your iDevice to a strong Wi-Fi network. It is necessary to have a good Wi-Fi network throughout the process of backing to aovis any kind of issues.
Step 2: Now navigate to Settings >> [your name]. Simply click option iCloud and next click on iCloud Backup.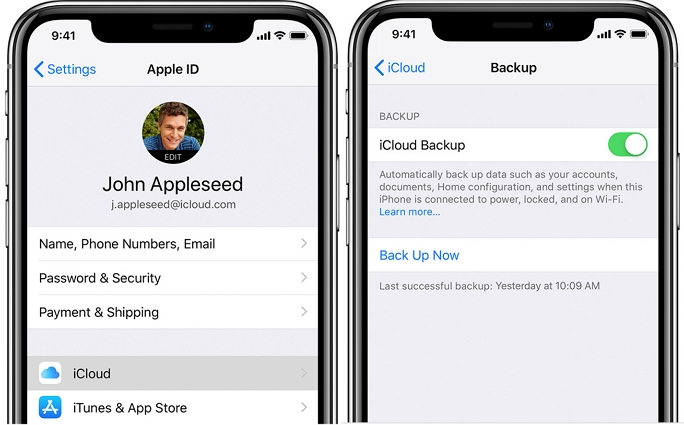 Step 3: Now click option Back Up Now. Take care that you device is not disconnected from your Wi-Fi network unless and until the backing procedure is completed.
Step 4: To check the backing process progress and verify if the backup is completed, simply navigate to Settings >> [your name] >> iCloud >> iCloud Backup. Simply check the date as well as the time in section Back Up Now (of the last backup).
Related Read:
Part 2: How to Downgrade iOS 16 without iTunes
Now that we are done with backing of our device, we are free to downgrade the iOS of your device to the earlier version as per your requirement. For this, we recommend iOS System Repair to remove iOS beta profile. This is professional iOS repair tool not only can be used to uninstall iOS beta and roll back to Apple official iOS version, but fix iOS update and downgrade related issues such as stuck in Apple loog, black screen of death, loading screen, etc. Follow below simple steps to know how to downgrade iOS no iTunes.
Step 1 Install and then run the software on your computer. Select Repair Operating System function from the main interface.

Step 2 Click Fix Now in the next screen, and this program will display your device info and the latest iOS version that it supports at present. You just need to click the Download button to download the firmware package.

Step 3 When the firmware package is downloaded successfully, click Repair Now button. It will starts removing the iOS 16 from your device.

Step 4 Wait for the repair process to complete. Your device will restart and roll back to iOS 13 successfully.
FAQs about Downgrade iOS
1.Should I download iOS 16?
Apple currently only releases the developer version. This version will undoubtedly have many problems, and Apple will not be responsible for any problems caused by the developer version. Therefore, we do not recommend that you install iOS 16 on your main iPhone. We recommend that you can install it on a secondary device, or wait for the public version which will be available in July.
2. Can I downgrade iOS 16 without data loss?
Actually there is no way to downgrade iOS without data loss. As the data layout is different in different iOS versions, it is impossible to keep data intact after downgrade from a higher iOS version.
3. Can I go back to an older version of iOS?
UltFone iOS System Repair will downgrade iOS to the latest official iOS version. This is because Apple has stopped signing the older iOS versions once a new version is available.
4. How to downgrade iOS 16 with iTunes?
The steps to downgrade iOS with iTunes are:
Step 1. Launch iTunes on Windows or Mac.
Step 2. download the official ipsw file from https://ipsw.me/. Please choose the compatible version according to your device model.
Step 3. Connect your device to computer.
Step 4. On the Summary tab, tap on "Restore iPhone", in the meanwhile, press the Shift key (Windows) or Option key (Mac) and locate the IPSW file you've downloaded in the previous step.
Step 5: iTunes will verify and install this IPSW file to your device.
The Bottom Line
The article above has shown how to remove iOS 16 on iPhone without iTunes with simple steps. We have also seen how to backup the iOS device in just few steps. Hope we have helped you out. We highly recommend UltFone iOS System Repair for best and ultimate results. Let us know your feedback if any in below comments.