How to Delete Books from iBooks Permanently 2023
I have several iBooks that I have no interest in reading again. I want to delete them completely, but have only been successful in hiding them. I don't even want them in my iCloud storage now, but can't figure out what to do. I have iOS 14 and probably hundreds of books.
A library of books is sitting in your pocket with iBooks available. This app, pre-installed by Apple, enables you to read your favorite books wherever you are or whenever you are convenient. While enjoying the great joy it brings to us, you will find there are troubles with attempt to delete purchased iBooks, such as cannot delete books from iBooks on iPad/iPhone, and these increasing books are taking up much space on your devices. Here you can find ways to hide purchased books in iBooks app, and also provide solutions on how to permanently delete books from ibooks on iPad/iPhone iOS 14/13.
Three parts will be covered in this tutorial:
Part 1: How to Delete Book in iBooks on iPhone/iPad/iPod Touch
Here is Apple's native way to help delete a book from iBooks on iOS devices.
1. Launch iBooks App on your iPhone/iPad/iPod touch.

2. Find "Select" in the top right corner and choose a book you no longer need.

3. Tab the red icon "Delete" when you have made the choice. An option will pop up as below:
And then the selected copy will be removed from your device.
Note: If iBooks Sync Collections (Setting > iBooks > Sync Collections) is enabled, it will prompt "Delete From All Devices" and "Delete This Copy". Feel free to decide which way to head up.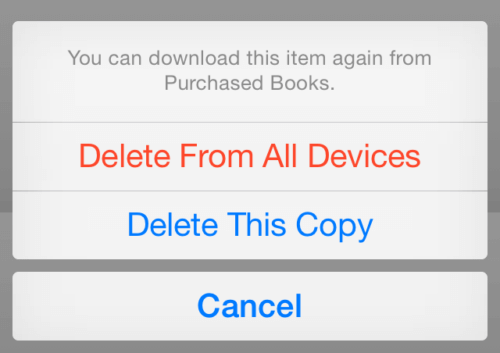 However, you can only remove free books from iBooks by this way. The purchased books from iBook/iTunes store still appear on the bookshelf with a cloud icon on the top right corner. This is because Apple's policy will not allow you to delete purchase history, and you can redownload purchased books at any time with a simple click to the cloud icon.
The only way to make they disappeared from your sight is to hide books in iBooks with iCould badge. Tap "All Books" right above My Books page. Slide "Hide iCloud Books" and the bookshelf will be empty. This is the best you can do on the devices so far.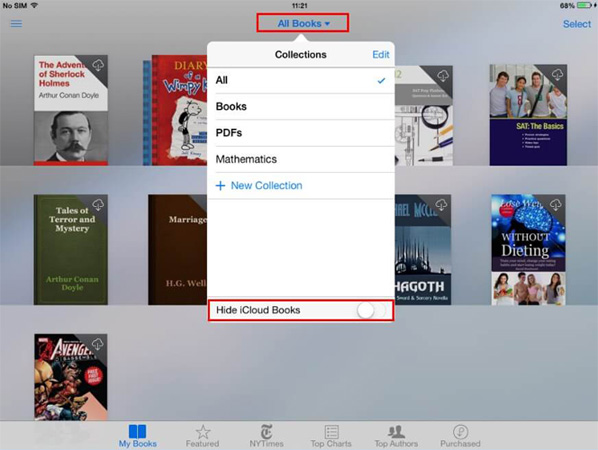 If you want to totally delete purchased books from iBooks, you should try a professional iOS management tool to get iBooks files off your devices. Read on to the part 2 section below.
Part 2: How to Delete Books from iBooks Permanently
UltFone iOS Data Manager aims to provide a better and easier way for iOS users to manage iBooks files. It's been highly praised by our customers for perfect compatibility with iOS 14/13/12 and under devices. Here we will show you how to get unwanted iBooks deleted using this software.
Firstly, please download and install this software to a PC or Mac computer. It works with different Windows and Mac systems.
After installing this software, follow the steps below to start deleting books from iBook.
Step 1 Launch this software and connect your iPhone/iPad/iPod touch with the USB cable. Find "Manage" tab on the home page.

Step 2 Click "Books" and then all book files, including PDFs and ePubs, will be listed on the page. Select all or the books you want to remove.

Step 3

Open iBooks on you iPhone/iPad and these deleted books disappear from the bookshelf.
That is all. You'll find it is quite easy to remove book from iBooks. Except for the function to delete purchased iBooks files, UltFone iOS Data Manager also offers a great convenience for you to transfer iBooks, backup iPhone to computer for free, transfer photos and even iOS repairing can also be achieved with this powerful software.
Part 3: Hide Purchase Books in iBooks
If you have synced your iPhone or iPad with iCloud, one thing you need paying attention to is that you cannot delete purchased books from iTunes. Downloaded books may appear on iTunes store even you have removed them from iOS devices. The only solution is to hide iBooks purchase history.
1. Launch iTunes on your PC or iBooks on Mac and log in if promoted.

2. Find "Quick Links" on the middle right. Click "Purchased" and select "Books" and you will see the iCloud books.

3. Click the little X on upper left when moving your mouse to a purchased book. You will be prompted to confirm whether to hide the book. Choose "Hide" then settled.
The Bottom Line
There are many situations you want to delete books from iBooks permanently. Regular support you find on forum may not help, you will find iBooks won't let you delete books because those are individual cases. Thus we recommend professional iOS Data Manager tool to help you remove unwanted books from iBooks. Try it now and find more surprise!