Unable to Complete Touch ID Setup. Please Go Back and Try Again [Fixed]
When you are met with this notification that bears "unable to complete Touch ID set up. Please go back and try again", we understand this can be very annoying for users. For whatever a user's reason might be of using Touch ID, it is quite a reliable and fast means of unlocking your iPhone. This error has mostly shown up on iPhone 6 and when users have tried updating their iPhone.
5 Solutions to Fix Unable to Complete Touch ID - iOS 14/13/12 Supported
Though the root cause to this problem could be quite a simple one therefore there is no reason to panic or rush to the store. You can still use your iPhone after trouble shooting this issue. Follow any of the methods enlisted in the following and your Touch id will be back to normal in no time. These solutions are easy to follow and are assured of not making any major changes to your device. Let's get into them!
Solution 1: Fix ""Unable to Complete Touch ID Setup"" with Tool [No Data Loss]
Error reports on your iPhone may give you a jolt but with software repair tools like UltFone on your side, you can sigh with relief. UltFone iOS System Repair tool boasts of being able to repair 150+ issues related to iOS. It only takes one click to resolve issues like a reboot loop, your iPhone getting stuck on the Apple Logo, a black screen blocking your iPhone main screen or your iPhone getting disabled entirely. UltFone works on resolving these issues without any loss of data on your iPhone. The software is compatible with all iPhone series including iPhone 12/11/X/8/7/6/5, as well as iOS 14/iPadOS 14/tvOS 14.
Step 1: Download the UltFone tool on your PC/Mac and connect your iPhone. Activate the "Repair Operating System" feature.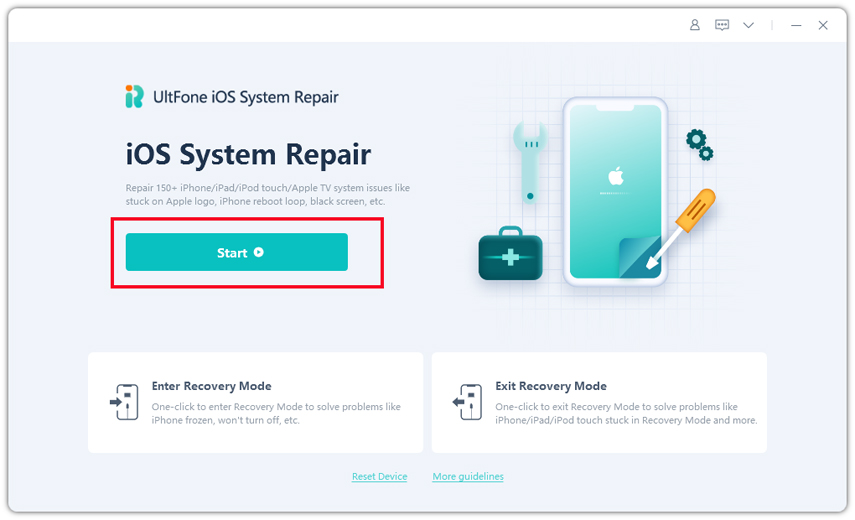 Step 2: Then choose standard repair or deep repair, here we choose standard repair. In case, the software is unable to detect any device, the UltFone tool will guide through the steps to get your device in Recovery Mode then the device will be detected.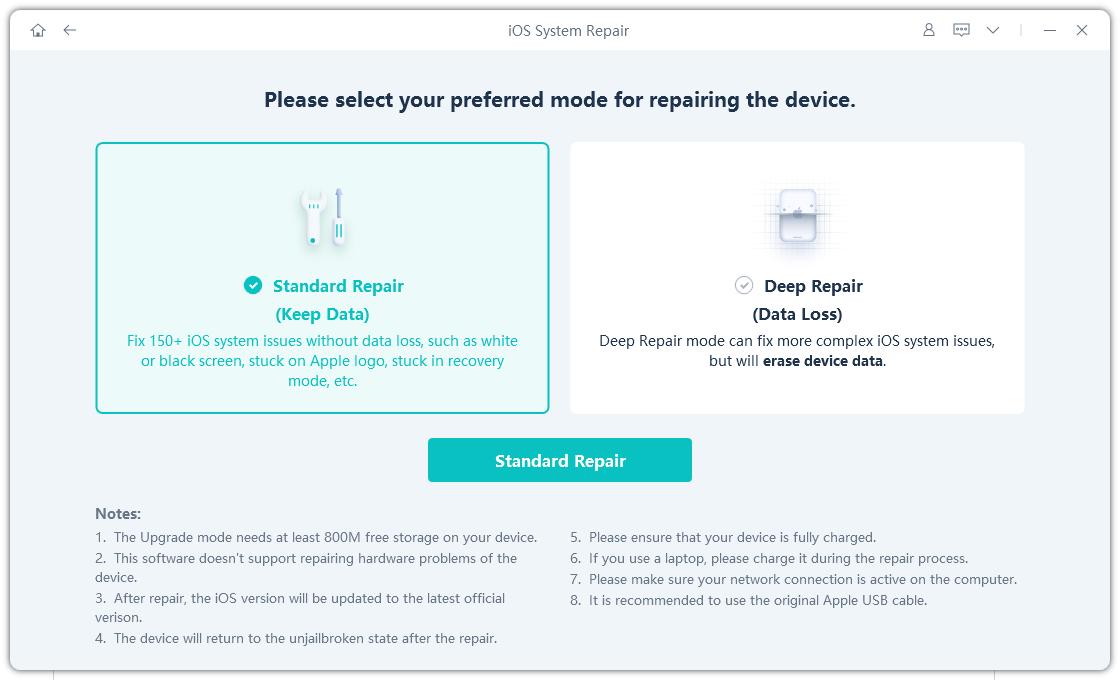 Step 3: The tool will recommend firmware option which you can download and activate by matching that with the glitch/system-malfunction at hand. You can change the location to save firmware pacakge in another location by click on Browse option.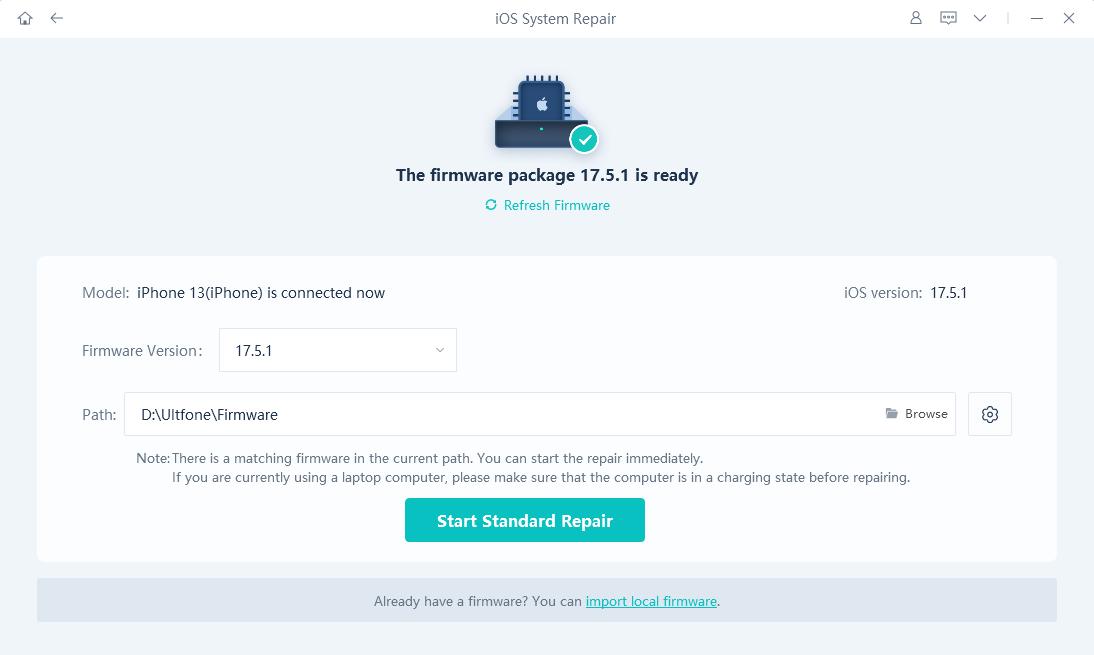 Step 4: Once the firmware has been installed, you can click on 'start standard repair' to begin the procedure for repairing your iOS.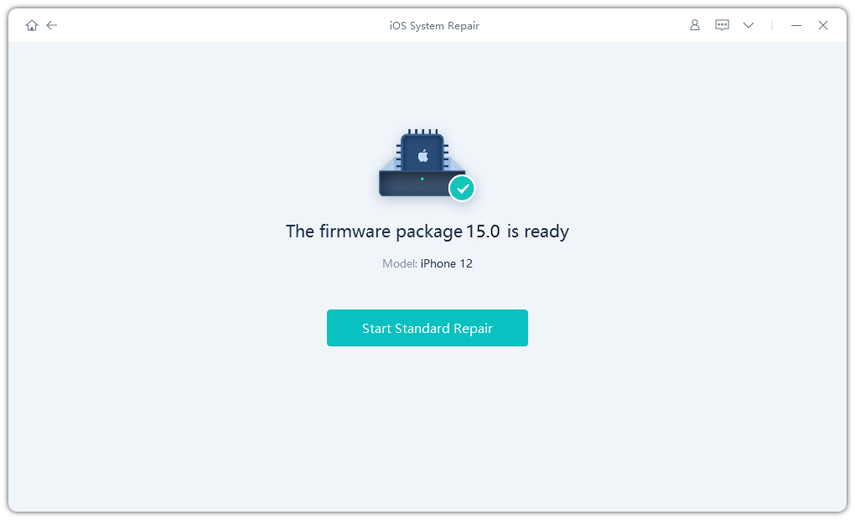 Step 5: At the end of the repairing procedure, your iPhone will automatically reboot and your device will be back to normal.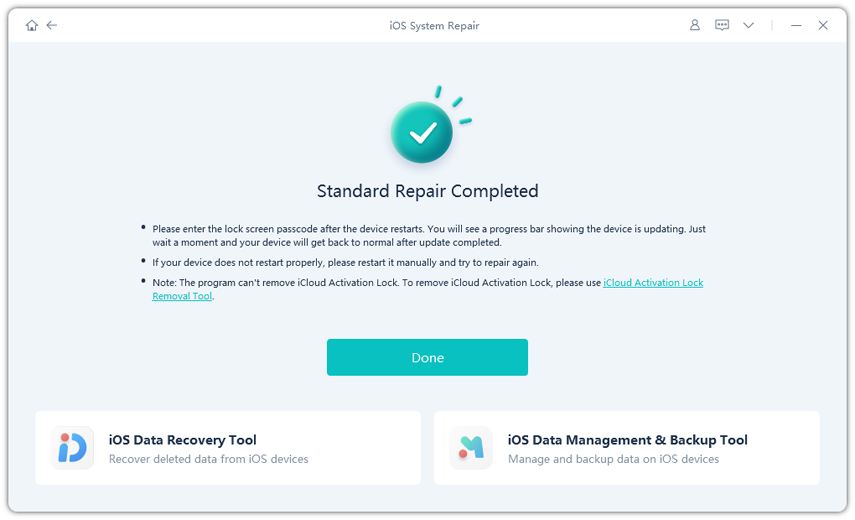 Solution 2: Hard Boot iPhone
If the fingerprint sensor on your iPhone is not working, maybe because the sensor has dirt over, otherwise your device would probably show you the report "Unable to complete Touch ID setup. Please go back and try again." Now, is probably a good time to Hard Reboot. This method does not take up much of your time unlike the other methods and usually restores your iPhone to its full potential while also unblocking Touch id without any data loss. However, this method has only a 50% success rate.
If you use an iPhone 6, hold it in your hand and hold down the 'home' and 'power' button together. Let go when the Apple Logo has finally appeared on the screen of your device which would come on in a few seconds.

In case you have an iPhone 7 or 7 Plus then the same method applies. Except in this case you hold the 'Volume Down' and 'Power' button.

With the iPhone 8 or later versions like X/11/12, it gets slightly complicated. In this case, you need to tap and release the 'Volume Up' button and then long press the 'Volume Down' button and 'Power' button. Hold them and wait for the Apple Logo to shows up on the iPhone screen.

Solution 3: Restore iPhone with iTunes when "Unable to Complete Touch ID Setup. Please go back and try again." Pop up

If the "unable to complete Touch ID setup" notification becomes a tad bit more annoying to resolve then you can try restoring your iPhone using iTunes. This however will restore your device to its standard factory settings thereby erasing all data from your phone. This is the part which most users would wish to avoid and we understand how losing all your precious data would make you feel. It is however a step reserved as a last resort so if all else fails, you can still fix your iPhone if the situation demands it be done quickly. This tip has 70% success rate on average and has a fair chance of returning your device to normal.

Step 1: Use a lightning cable to connect your iPhone to your PC and then launch iTunes.

Step 2: Open the main interface of iTunes on your PC and click on the symbol of your device being displayed to the left.

Step 3: To the left of the interface, click on 'summary' option and then click 'Restore iPhone'. Now wait for a while for the system to reboot. Once your iPhone restarts, your Touch ID should be restored.

Solution 4: Check and Change Touch ID Settings or Use another Finger

There are a couple of other causes why your iPhone might be prompting the "Unable to complete Touch ID setup" error. It could be that your Touch Id settings on your iPhone is not adjusted appropriately.

Step 1: Enter the settings and open 'Touch ID & Passcode'. Now enter your Passcode to proceed to the next step.

Step 2: Disable iPhone Unlock and iTunes & App Store by flipping the virtual key to off.

Step 3: Now reboot your iPhone.

Step 4: Go back to settings and enter your passcode in Touch ID & Passcode.

Step 5: Reactivate iPhone Unblock and iTunes & App Store and now retry Touch ID. It should be functioning normally again.

You can also use this method for a different purpose, which is to add a new fingerprint in order to reactivate Touch ID.

Step 1: Repeat Step 1 by going to settings, opening Touch ID & Passcode and enter your passcode.

Step 2: Deactivate the passcode and then tap on the 'Add a Fingerprint' option.

Step 3: Also note, you can add maximum 5 fingerprints and if you already have all 5 of them saved then you will need to remove one of them to add a new one.

Step 4: Follow the on-screen instructions to save your finger prints and after completion tap on continue.

This should be enough to fix the 'unable to complete Touch ID setup' error.

Solution 5: Update to the Latest iOS Version

If your old iOS software is showing glitches it may be because Apple has released an updated version that would resolve your Touch Id issues. If you hit the wall of 'Unable to complete Touch ID setup' try updating your iPhone iOS with the following steps.

Step 1: Launch the settings on your iPhone and iPad.

Step 2: Open 'Software Update' section in your General settings.

Step 3: If your device detects any new available update, it will display the 'install' option. Click on it to install now.

Step 4: Follow the instructions displayed on your screen to complete the installation process.

Step 5: Restart your iPhone and then retry Touch Id to see if it's functioning.

Sum up

In the near future if you are still facing the 'Unable to complete Touch ID setup' then you can try out any of the other alternative methods. Each of the tips mentioned above has its own benefits in bypassing Touch ID and can give promising results. If you are facing the issue just follow the above mentioned steps and your iPhone should be working just fine.