How to Fix iPhone 7/7 Plus Touch Screen Won't Work/Responsive Issue
I am using iPhone 7 at the moment but 3 months back, the iPhone 7 touch screen not working suddenly. Although iPhone is an excellent device but some issues still exists with the device which will make you frustrated when the problem happened.
Thankfully, I had a friend who was an expert on iOS device who helped me to fix it. So, this may not be much but if your iPhone 7/7 plus touch screen not working then you can use the following fixes to get the device up and running again.
Way 1: Reboot Your iPhone 7/7 Plus
First, you need to reboot or restart the device, if iPhone 7 plus screen not working. This is a common practice, if you have any issues with the device then you should restart the device, this is the first course of action you can take in such situations.
So, here' how to reboot iPhone 7 or 7 Plus:
Take out your iPhone 7 or 7 Plus, hold the Power button along with the Volume Down button.
Hold it until the Apple Logo is visible on the screen again, then you can let go the buttons.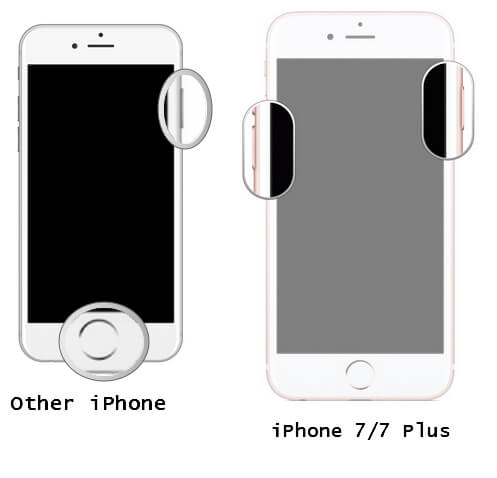 Simply, use this procedure to reboot the device; possibly it will fix the problems with the touch screen, if not then move on to the next procedure.
Way 2: Free Up Limited Space
If your iPhone storage is full or the device is just filled with junk files then the iPhone will run slow or even lag. It is not iPhone 7 screen won't work, the device is just responding very slowly to your touch; it is not a fault of the touchscreen.
So, basically, if you just clear the junk files then the performance of the device will increase. Here's how to do it:
Go to "General" from Settings on your iPhone 7.
Then, tap on "Storage & iCloud Usage".
The following screen will tell you how much space is used and how much is remaining.
If you tap on "Manage Storage" then you will be shown the details of how much space the apps are using.
From here you will be able to delete some unnecessary contents and app that will eventually speed up the device.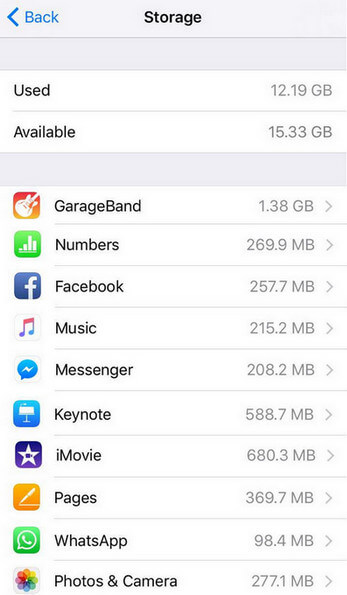 Quite possibly, it is not a touchscreen but a storage issue which can be fixed easily by deleting some junk files and apps.
Way 3: Adjust 3D Touch Settings
If iPhone 7 screen not responding even after applying the fixes then it is not your typical touchscreen problem. But it is possible that a bit of adjustment to the 3D touch settings could revert things back to normal.
Here's how to adjust 3D settings:
Open your iPhone 7 and go to Settings.
Then, head for "General" and from there go to "Accessibility".
Inside "Accessibility" you will find "3D Touch" with a Slider.
You need to use that Slide to adjust the sensitivity level.
You can also deactivate the feature from the same screen.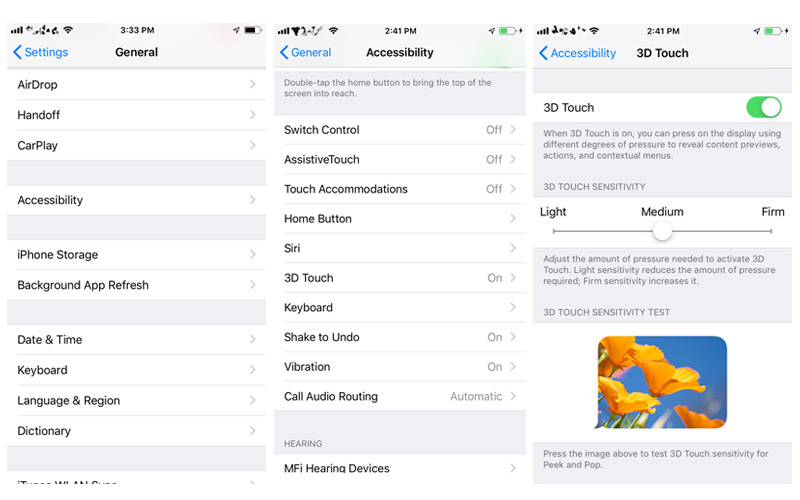 Possibly a bit of adjustment with the 3D Touch Settings will fix the problem with the touch screen of iPhone 7.
Way 4: Update iOS on iPhone
It is possible that your iPhone 7 screen unresponsive because you need an immediate update of your iOS. It has happened to quite a few users when iOS needs an update, your iPhone may start lagging or it may even shut down some important functions of the device. The usual way of updating an iOS is called OTA. It means Over-the-Air update; it requires a strong Wi-Fi connection.
Here's how to make an OTA update:
Step 1: Usually, the iOS update takes a significantly long time, so, make sure that your device is connected to a power source.
Step 2: Go to Settings app, then, tap on "General" and head straight for "Software Updates".
Step 3: iOS will immediately start checking for available updates. If it is available, then you will get a "Download" option. Tap on "Download", the update will start downloading, then install it.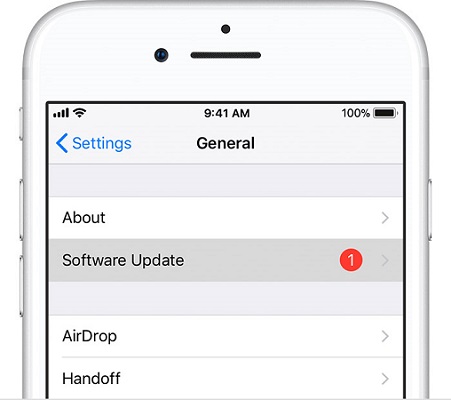 Way 5: Ultimate Fix: Repair iOS System to Fix iPhone Touch Screen Problem
When the iPhone 7/iPhone 7 plus touch screen not working, I will guess it could be the system glitch. Thus, you can use iOS System Repair to fix iOS to normal. This system repair software is able to fix most of iOS problems effectively, such as iPhone black screen of death, iPhone 7 freezing, iPhone 7 won't turn on, etc. Most of all, it won't cause a bit of data loss in your device. Let's see how it fix the iPhone 7 or iPhone 7 Plus touch screen not responding or not working.
Step 1: Connect your iPhone to computer, and choose Repair Operating System feature on the main interface.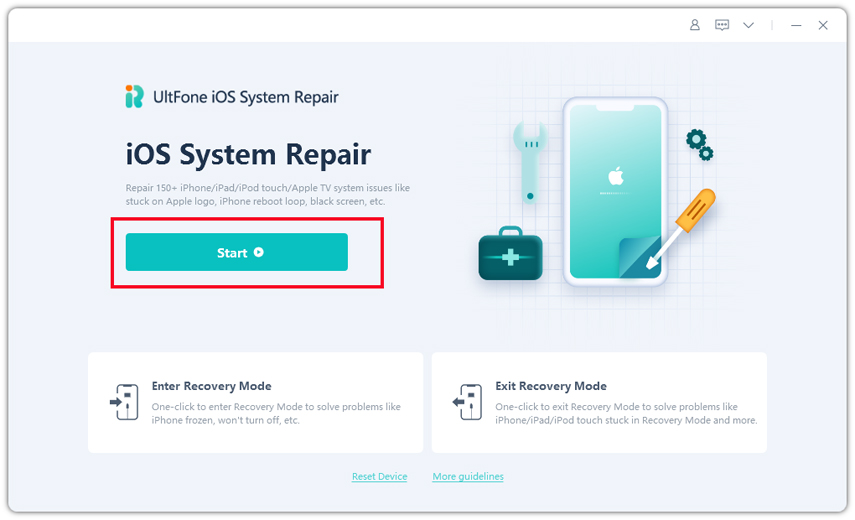 Step 2: Prior to repair, you need to download the firmware package for iOS system recovery.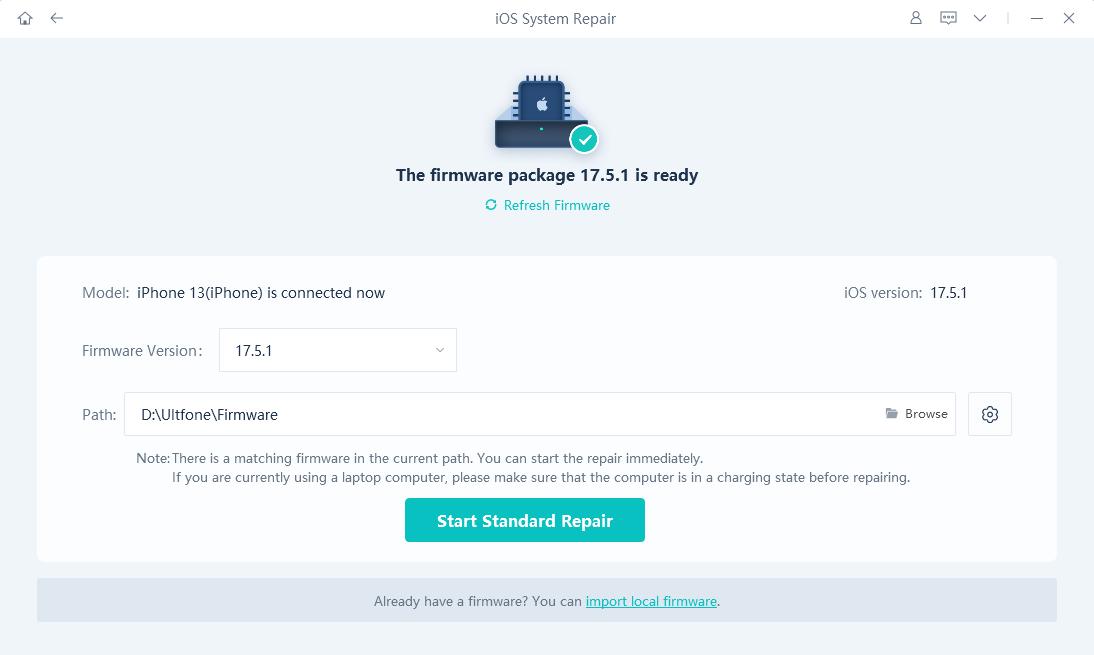 Step 3: With the firmware package, you can start repairing iOS system.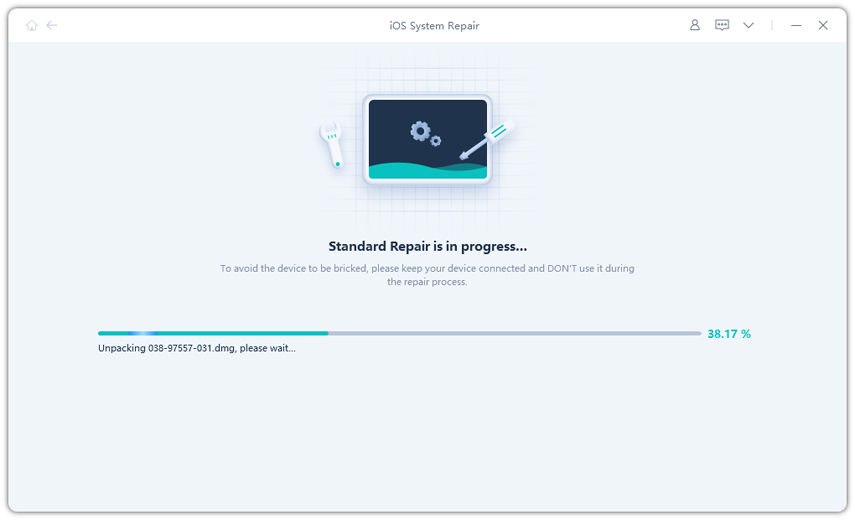 That is the simple steps to fix iPhone 7 touch screen not working problem.
Conclusion
Hope the above tips can help you repair iPhone touch screen issue. For system issues, UltFone iOS System Repair is the top recommended method to fix iOS to normal without data loss. Nevertheless, even after all these fixes, the touch screen still doesn't respond, then quite possibly it is a hardware problem. Maybe the touchscreen of the iPhone is damaged in some way, so, just take the device to the nearest Apple Support Centre and the experts will replace the damaged touch screen.