Fixed: Unable to Activate Touch ID on This iPhone/iPad
Q: Unable to activate Touch ID on iPhone
My Touch ID is not working on my Iphone 6s, I did everything suggested on the net how to resolve it but to no avail. I tried several forced power of and restart but still the prompt out message "unable to activate touch id on this phone" come out. My ios is updated to 10.2. Also noticed that my 100% battery is fast to drain than to my usual usage. I need an immediate reply from this problem as it make me unease on this regard. I searched for an answer but i read thousands of complaints but has no confirmed solution. Does Apple did some action to this? Are waiting to come up this problem to international television? Do a reliable answer as soon as possible.
Touch ID has been a popular method of unlocking your iPhone and authenticating purchases in other apps, but ever since Apple came up with Face ID in 2017 - its predecessor began to show complications. Apple moved ahead to immediately resolve this issue for it was being reported by users and had probably administered a fix to the bug. Anyhow, if that didn't help we have here a list of more promising methods to try out when you're unable to activate touch ID.
Part 1: Why You Get 'Unable to Activate Touch ID on This iPhone' Error?
Touch ID is still quite commonly in use as there are exceptions among users who still find Touch ID a more unique and trustworthy biometric security protocol than the Face ID. Also, iPhone users owning models prior to iPhone X can get better response from the Touch ID app. Many users are reporting that they are being met with an error report saying- "unable to activate Touch ID on this iPhone". This can be for a couple of possible reasons.
One of them being the most obvious, your iPhone sensor is unable to complete its scan due to your finger or pad being covered in mist, sweat or dirt. A simple problem like that has a pretty simple solution, just wipe the sensor clean and you're back on track.
It could also be that your iPhone is incompatible with the updated iOS version and you need to download the latest version in order to access it.
In more unlikely of circumstances, the error report could also mean that your iPhone needs to be running Phone Unlock or iTunes & App store in the background for you to be able to use Touch ID.
Part 2: 6 Solutions to 'Unable to Activate Touch ID on This iPhone/iPad'
After knowing the reasons of why you get 'unable to activate Touch ID on this iPhone' error, let's have a look at the solutions one by one.
Method 1: Activate Touch ID from Settings on iPhone
On seeing the error report "Unable to activate touch ID" displayed on your iPhone, the first best step of resolving it would be from your phone's setting option.
Here a few simplified steps you can follow that do not require any pre-requisites or technical skills.
Step 1: Click on the "Settings icon from your iPhone menu or drop down menu. Go to security options. Follow the thread to go to the Touch ID and Passcode.
Step 2: You will be asked to enter your alternate password which you had to set back when you were setting up Touch ID.
Step 3: After applying the alternate password, you will proceed to the next screen where you can apply a new fingerprint sample and then click 'Add a Fingerprint'.
Step 4: Place your finger over the scanner but ensure that both are clean and dry.
Step 5: Now you can restart your device. Your Touch ID should be functioning faultlessly again.
Method 2: Turn Passcode on and Off
If you tried restarting the phone and it hasn't refreshed your Touch ID, you can revive it by turning it off and on by resetting the passcode.
Step 1: Go to the settings on your iPhone.
Step 2: Open the Touch ID & Passcode and enter your current code in.
Step 3: Now turn your Passcode Off and then put in your new Passcode.
Step 4: After waiting for a couple of minutes, turn your passcode on again.
Step 5: After resetting your passcode, your Touch ID should work again.
Method 3: Update iPhone to the Latest Version
As mentioned earlier, issue with touch ID could be the result of iPhone's outdated version. Whenever Apple introduces the latest update to their iOS, it affects the functioning of the older versions which is quite a common phenomenon. This would mean that you may experience slight difficulty when accessing features like Touch ID on your iPhone. A simple solution to this would be to update your iOS to the latest compatible version. There are two simple methods to this approach.
Update iPhone via Settings
Step 1: Access the settings on your iPhone.
Step 2: Go to General options and click on Software Update at the bottom of the list.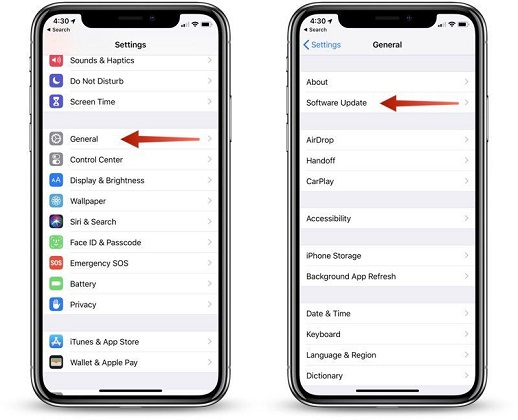 Step 3: Download and install the latest version and wait for the process to get completed.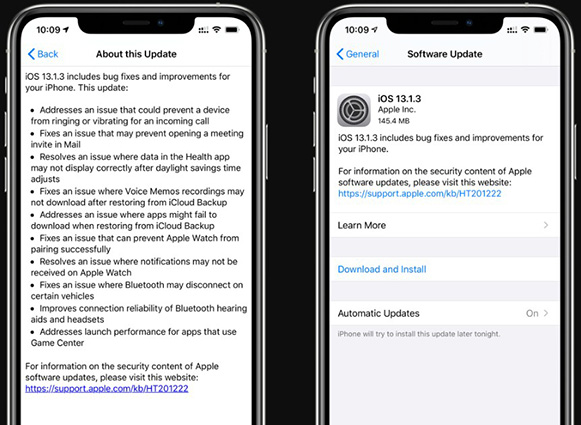 Upgrade iPhone Via iTunes
Step 1: Open the iTunes app.
Step 2: Connect your iPhone to your computer to complete this process.
Step 3: By clicking on the device icon on iTunes screen open the summary section.
Step 4: You will need to check for updates and click on the 'Download and Update' option. It should take you a little amount of time to be fully updated. Best not to interrupt this process.
Step 5: Restart your iPhone and then reactivate your Touch ID and it should function as usual.
Method 4: Fix Touch ID Issue Via Reset All Setting
Sometimes the applications on your device can make changes to your settings which could occasionally cause disruption in your device's daily functions. Resetting your iPhones settings has a greater chances of fixing unable to activate touch id issue and making everything work normal again.
Step 1: Open settings and click on General settings.
Step 2: Go to Reset and click on Reset All Settings.
Step 3: Enter your password to confirm the change.
Method 5: Hard Reboot iPhone/iPad
If the previously mentioned methods are taking too much time which you are unable to afford, a quicker method would be to use a Hard Reboot for restoring your iPhone's efficiency and unlocking Touch ID.
This is by far the easiest method to use. All you need to do is press and hold the sleep/wake button and the Home button together. After a few sec you will see the Apple Logo.
If you're using iPhone 7/7 Plus, press "Volme Down" instead of Home button.
In case you have iPhone 8 and above models, the steps vary a little. Quick press Volume up and then volume down. Lastly, long press Power button until Apple logo appears.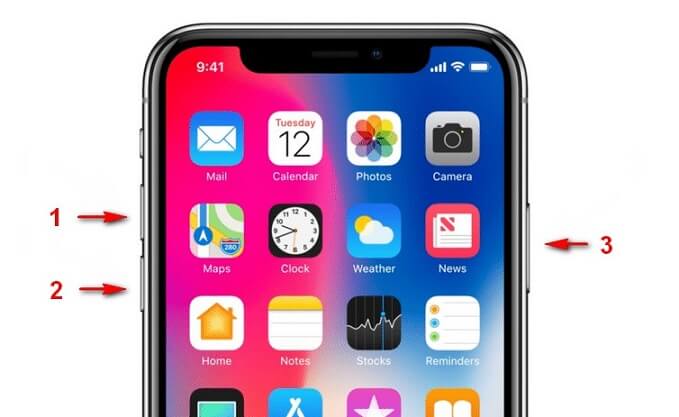 Method 6: The Ultimate Solution to 'Unable to Activate Touch ID on This iPhone/iPad'
If you are looking forward to a more cemented solution then using UltFone iOS System Repair tool is your best choice. It is a professional system recovery and repair tool which guarantees better results than all the other methods. It has three primary features which you can use – Enter Recovery Mode, Exit Recovery Mode and Repair Operating System. And it is fully compatible with all iPhone/iPad/iPod models, including iPhone 12/11/X/8/7/6/5.
If your iPhone is displaying the "unable to activate touch id" notification, you can download the UltFone tool to resolve the issue instead of hitting the factory reset option which would risk you losing precious data.
Step 1: Download the UltFone tool on your PC and connect your iPhone. Activate the 'Repair Operating System' feature.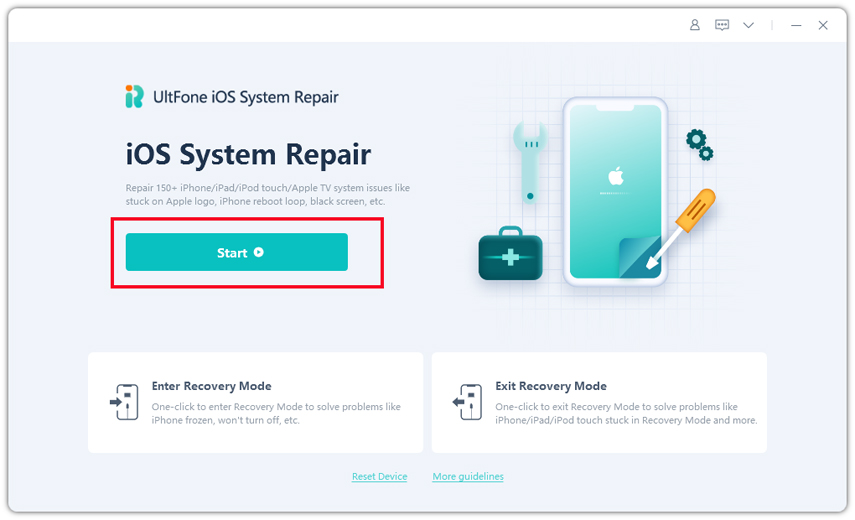 Step 2: Select the mode from Standard mode and Deep mode. And then it will direct to the next step. In case, iOS is unable to detect any device, the UltFone tool will guide through the steps to get your device in Recovery Mode. The Recovery Mode will use standard repair procedure to resolve all OS issues on your device.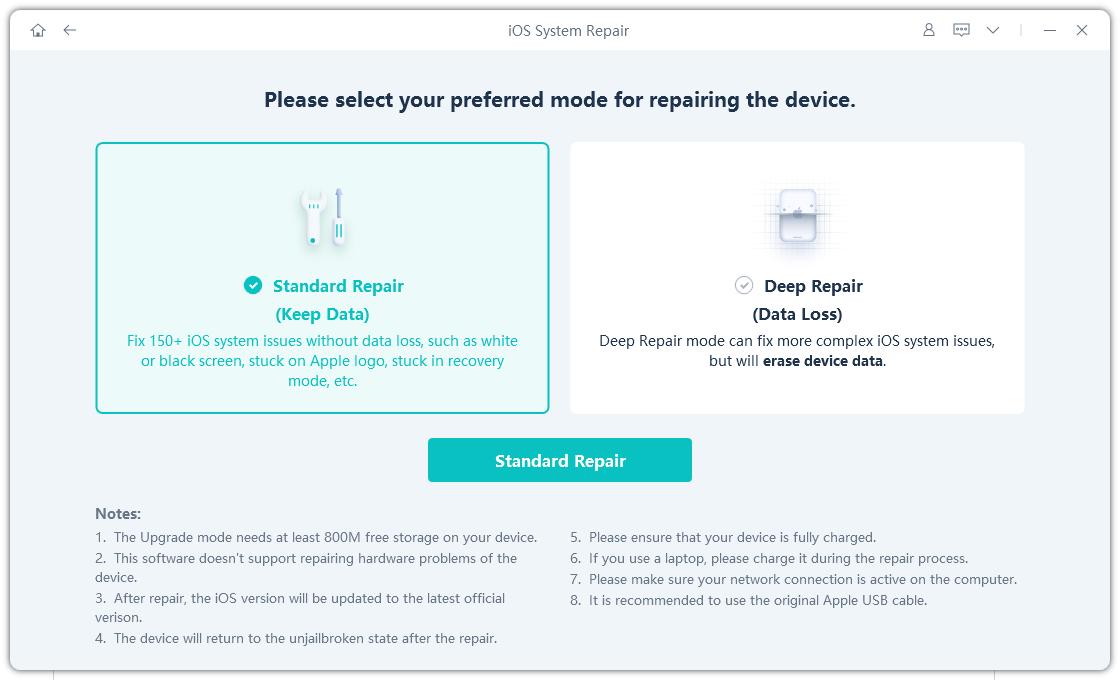 Step 3: The tool will recommend firmware option which you can download and activate by matching that with the glitch/system-malfunction at hand. You can also click on 'Browse' option to change the location where you want to place the firmware package.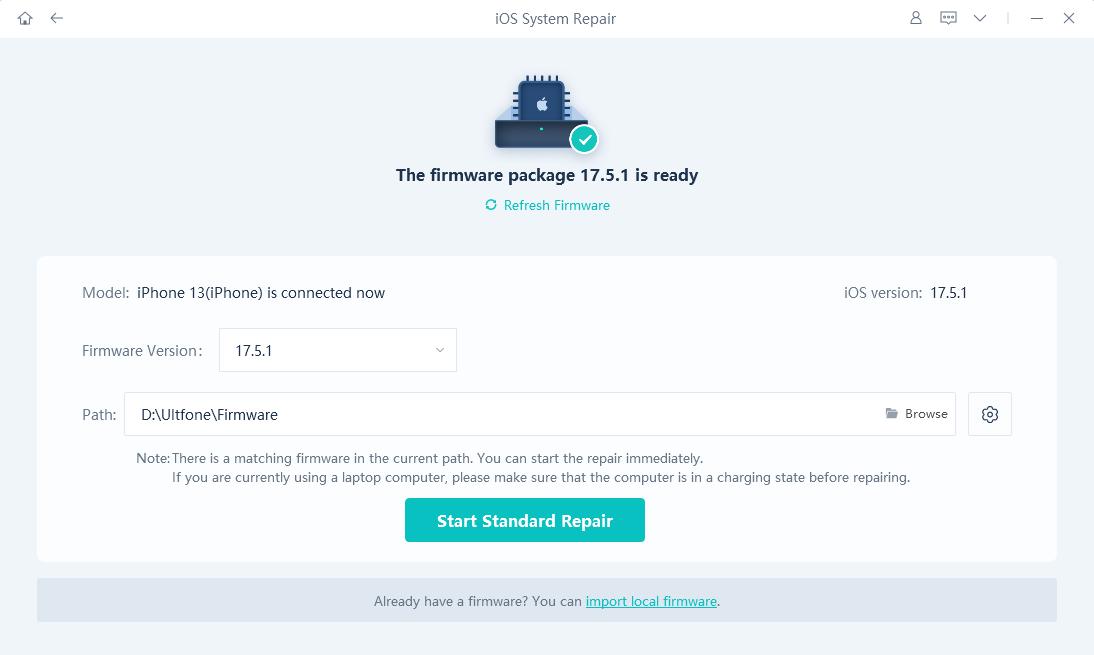 Step 4: Once the firmware has been installed, you can click on 'start standard repair' to begin the procedure for repairing your iOS.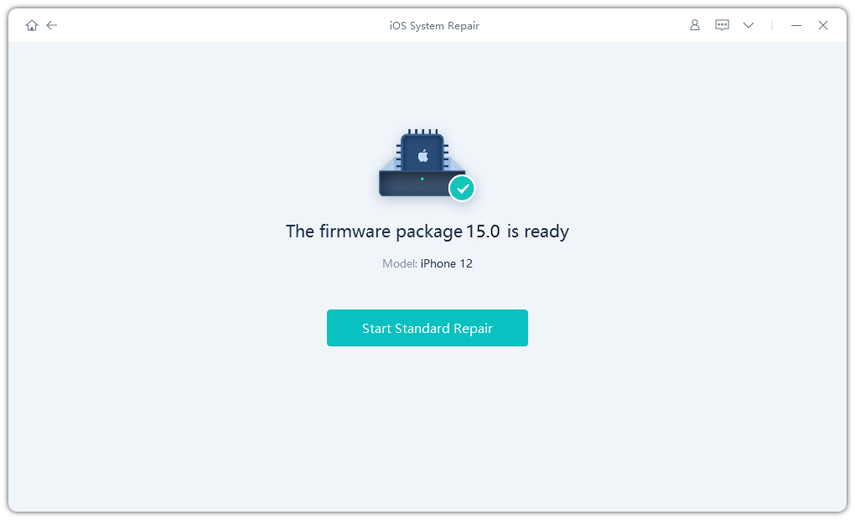 Step 5: At the end of the repairing procedure, your iPhone will automatically reboot and your device will be back to normal.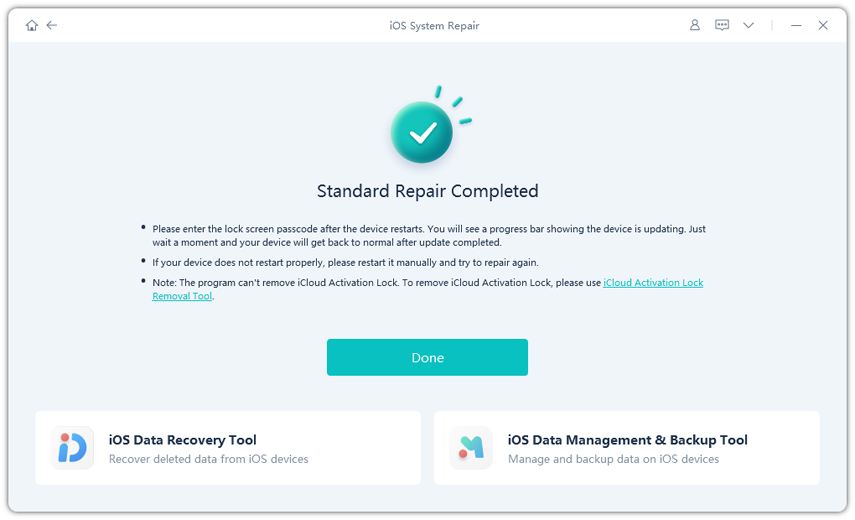 Part 3: Video Guide to Fix 'Unable to Activate Touch ID on This iPhone/iPad'
Sum up
After closely following the steps and tips mentioned in this article, your iPhone unable to activate Touch ID issue should be fixed. If not, then your device may be under some serious risk and not a random glitch. It is best to take your iPhone to your nearest Apple Support and keep your warranty card close to you. So far you can continue to use Touch ID and the mentioned methods are more than enough to trouble shoot any issues when notified with 'unable to activate touch id on this phone'.