[Solved] iTunes Says Enter the Password to Unlock Your iPhone Backup
I got a new iPhone 7 today and am trying to restore it from the backup of my old one (5S) (which I did this morning). I'm logged into iTunes, but when I select "Restore from backup" I'm prompted to "Enter the password to unlock your iPhone backup." This doesn't appear to be my iTunes password, or my iPhone password, so what is it?
Have you also been suffering from a similar problem? Are you also unable to restore your data from iTunes as it says "enter the password to unlock your iPhone backup"? Well, don't stress about it anymore! We've got this problem covered for you!
Part 1: Why iTunes Says "Enter the Password to Unlock Your iPhone Backup"?
Wondering why your iTunes asks you for a password when trying to restore your backup? Well, that's because backup on iPhone is end-to-end encrypted. iPhone has always been giving high preference to data security and hence your iPhone backup is always password protected. You need to enter the password for accessing your backup, iPhone takes into account data security as their priority and hence the only way to access your backup is by entering your password. Breaching iPhone security is almost known to be impossible and hence the brand is world-famous for its integrity.
Part 2: Fix "Enter the Password to Unlock Your iPhone Backup" When You Forgot the Password
If you're stuck in a problem where you're unable to access the backup because you don't remember the password, then stop cursing your memory, it isn't going to help. Instead, try and implement the ways given below. They may help you to try and retrieve your long lost backup whenever iTunes says "enter the password to unlock your iPhone backup".
Way 1: Try All Possible Password You May Have Ever Used
When you're blank about something, guesses often do wonders. So when you're unable to recollect the password for the backup you must try and enter all the possible passwords. Try inputting all the passwords which you think you might have kept. Enter all the common passwords such as:
Yourname123
123456789
Your Apple ID password
Your phone screen passcode
Numbers like 111, 000, 666
Your computer administrator password
Your birthday, anniversary, or any special day.
If it's your lucky day then maybe one of the guesses will work will do the trick. If you aren't lucky enough, don't fuss. Move to the next method!
Way 2: Ask Your Family Member or Friends
Many times it happens so that you tell your family member or a close friend your password. Try and recall if you remember telling any of your close ones about the password. If so, then go ask them if they remember the password. If you're lucky enough then they'll reveal the password to you and you'll be able to access the backup easily.
Way 3: Use iPhone Backup Unlocker Tool to Unlock the Password
Well, if none of the above methods seemed to have worked then you don't really need to worry, "Where there's a will, there's a way". You can use UltFone iPhone backup unlocker for accessing the backup whose password you're unable to remember. The UltFone iPhone backup unlocker will help you to recover your iTunes password very easily and quickly. The success rate of the UltFone iPhone backup unlocker is very high and hence, it is most likely to solve your problem in minutes.
Key features of UltFone iPhone backup unlocker software include:
It can efficiently help you to unlock the backup and retrieve your data!
Removes the screen time password very easily and unlock your phone again!
UltFone iPhone backup unlocker has 3 methods of attack. If one method to retrieve the password doesn't work, the other will!
Works securely and hassle-free.
Step by Step Tutorial:
Step 1: Firstly, launch the tool on your PC. After doing so, connect your iPhone with your PC. Now on the interface, you'll be able to see "Retrieve iTunes Backup Password", select this option.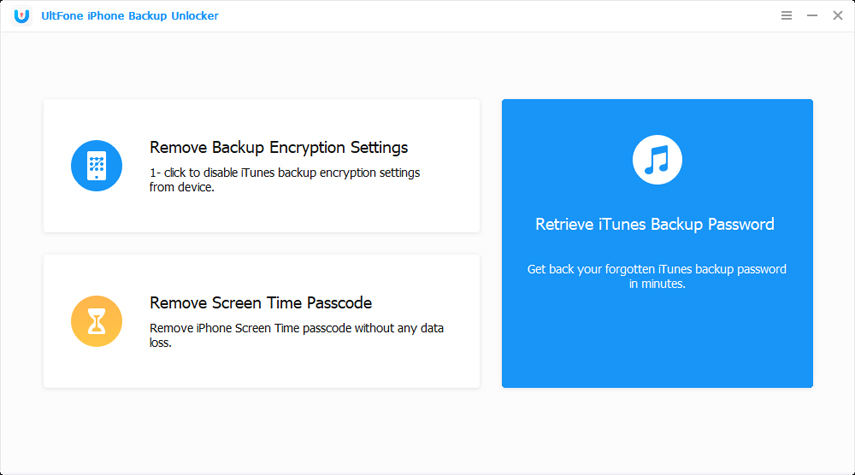 Step 2: After doing so, UltFone iPhone backup unlocker will automatically load all the backup files from your cloud database.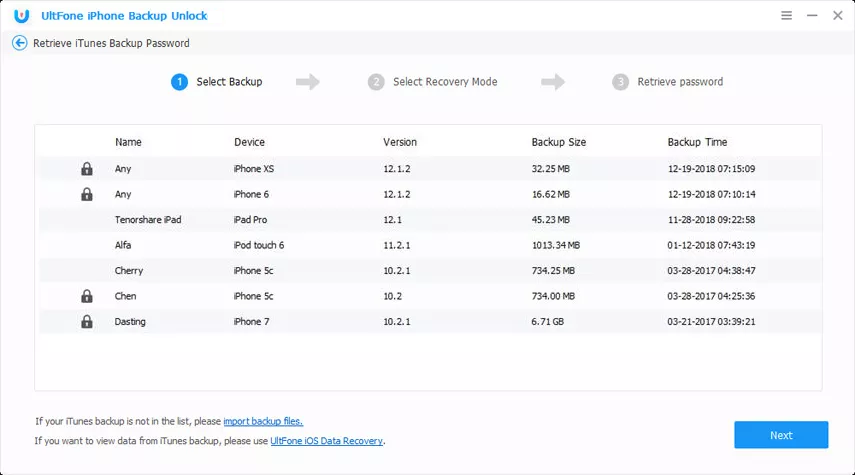 Step3: Now you'll have 3 options to select for attacking. Select any one of them based on the condition.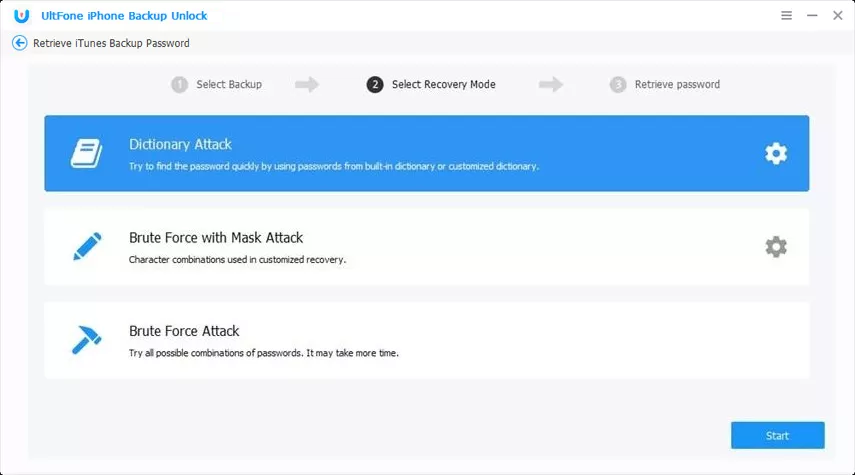 Step 4: Click on "Start" now and the recovery will begin.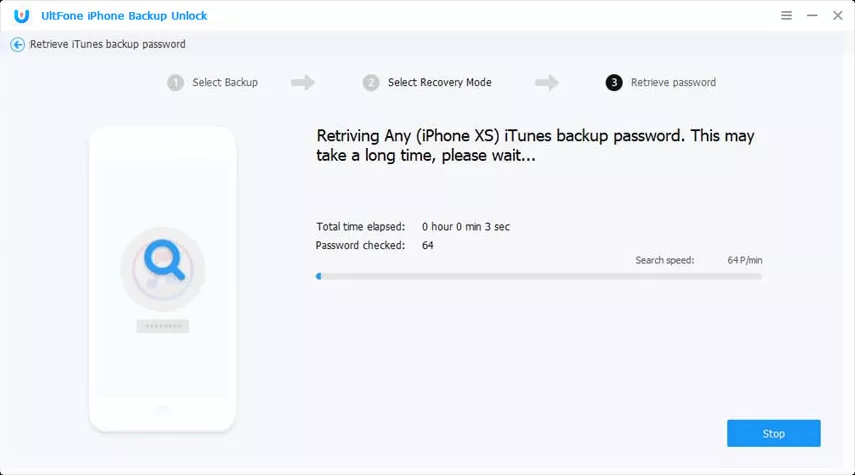 In a short span of time, the iTunes password will come up on the screen.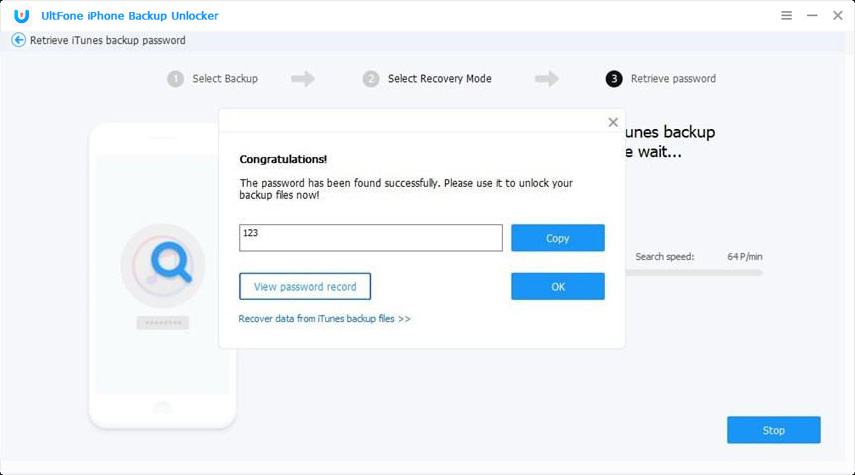 Bonus Tips: Backup iPhone/iPad/iPod Free using Other Tools instead of iTunes and Then Restore
Regularly backing up your iPhone data is very important. If in case, your iPhone breaks down all of a sudden, then you'll have a backup of the data. You can restore this backup onto your new phone and not lose your valuable data. Hence do not forget to backup your data using other tools as well. Using only iTunes for backing up your data is not recommended as you may tend to forget the password. Hence, you can use other tools with similar functionality.
Way 1: Use UltFone iOS Data Manager to Backup and Restore
You can use UltFone iOS data manager. The tool is an excellent method to backup and restore your data. This will totally eliminate the risk of you forgetting the password and losing your data. Having said all this, what makes it even better is that its backup feature is totally free. A tool with such high functionality and affordability makes it a real steal deal!
Key features:
Compatible with latest iOS versions and models.
The tool enables you to easily transfer data between your iDevices.
Over 30 types of files can be backed up with ease. No internet required.
With this, you can manage all the media files on your iPhone systematically.
Let's have a look on how to backup iPhone with UltFone iOS Data Manager:
Step 1: Launch the program on your computer device and connect your iPhone to your device using a USB cable.
Step 2: Click on "Backup & Restore" and select the files which you want to backup or you can select all files at once.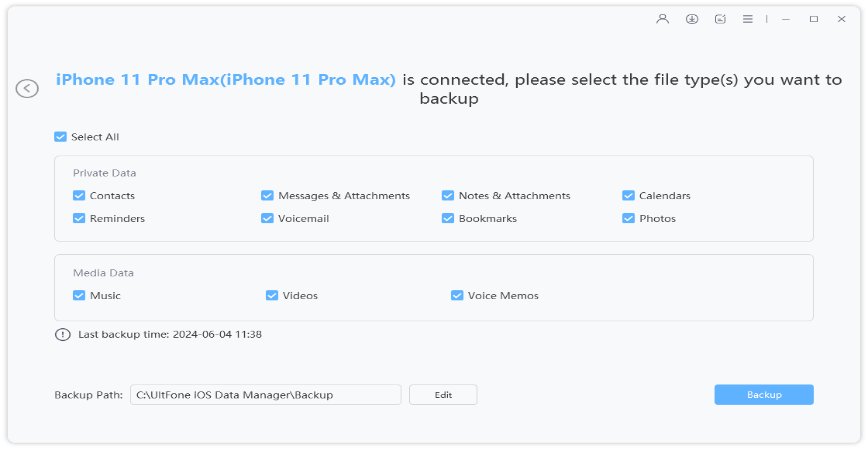 Step 3: After you're done selecting the files, click on "back-up". Upon this, the process would begin and your files would be backed up soon.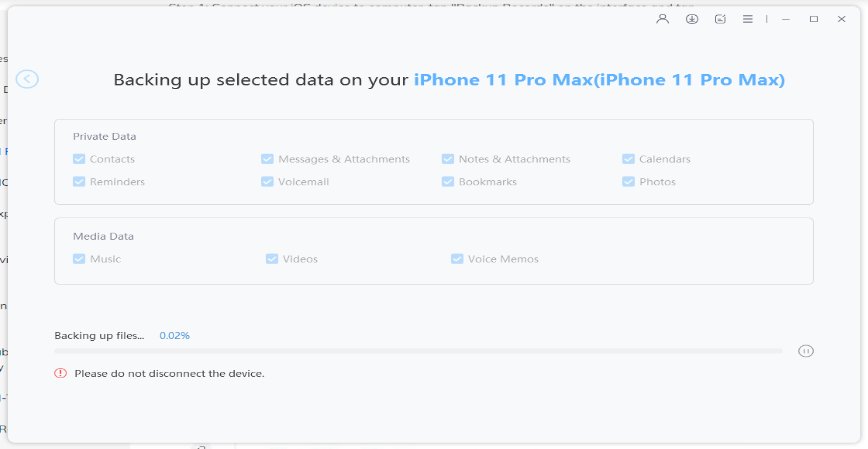 To confirm, you can check the backup list. You'll find the files which have been backed up in the list.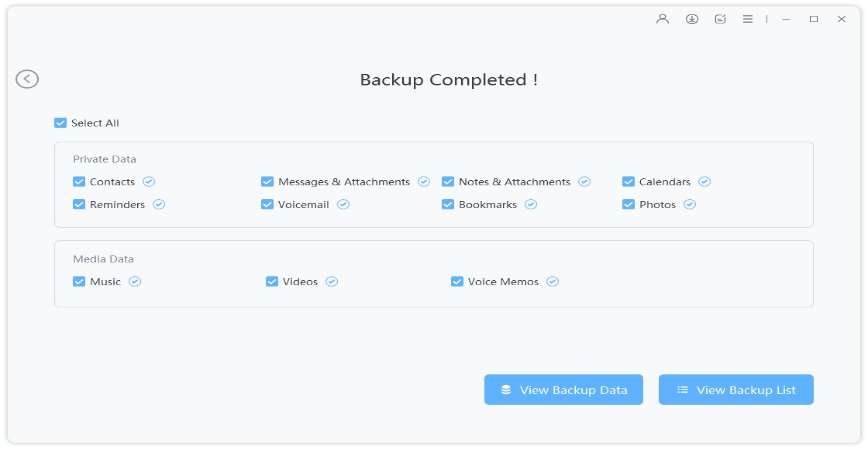 Step 4: Restore the files onto your iPhone.
When you want to restore the files onto another iPhone, launch it and connect the iPhone. Choose" To view or restore previous backup files" from the bottom link.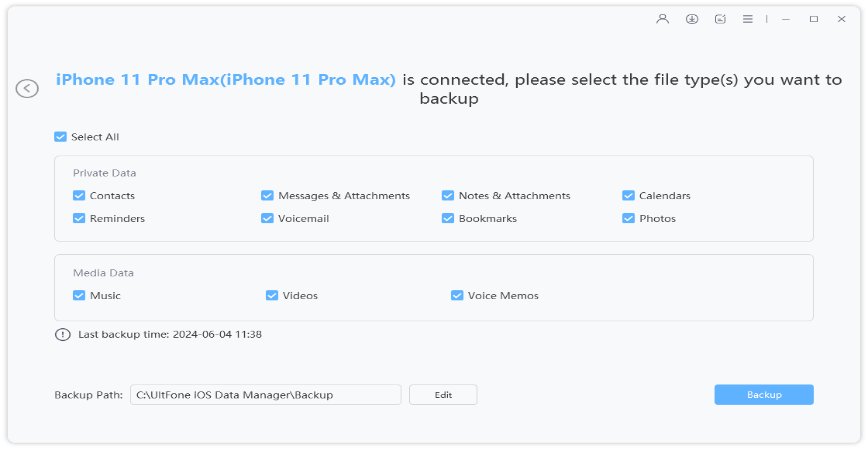 Step 5: Choose the previous backup and click on "View".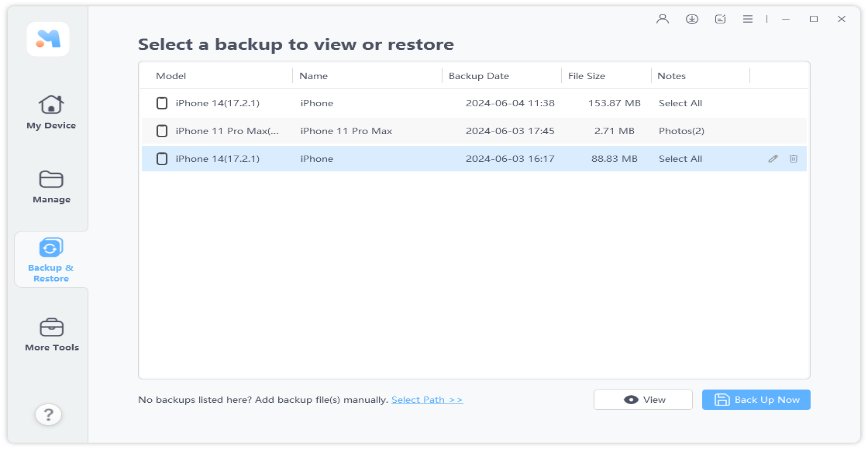 Step 6: Select the files which you want and click on "Restore to Device". Patiently wait until the selected files are restored to your device.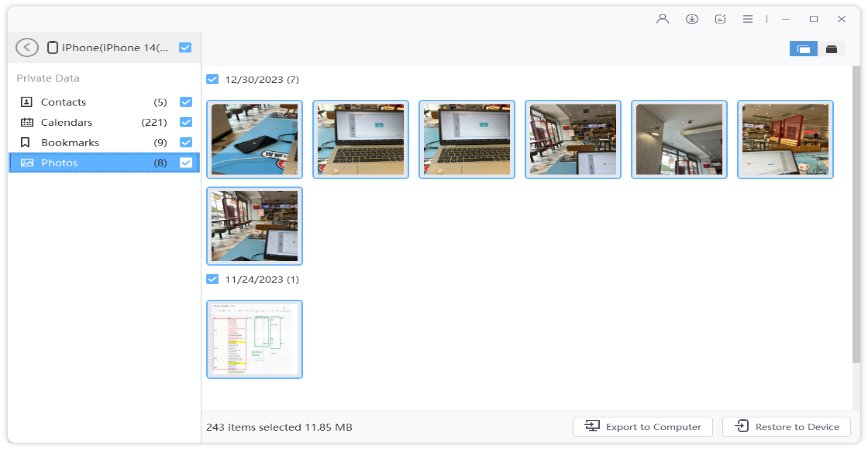 Way 2: Use iCloud to Backup and Restore
When it comes to backup, iCloud performs way better than iTunes. Therefore, another tip would be make sure to use iCloud to backup your data. This will bring you to a situation where you no longer need the password unlike the iTunes where it says enter the password to unlock your iphone backup. You can easily restore your iCloud backup when in need without the use of password.
Final Words
The article would have given you the complete solution to "Enter the password to unlock your iPhone backup". You no more need to worry about forgotten passwords. Every problem has a way out. If your iPhone says to enter the password to unlock your iPhone backup files and you have no memory of the password. Don't panic! Just use any of the given methods.