Top 4 Ways on How to Download Free iPod Music
Where Can I Download Free Music for My iPod?
Want thousands of wonderful songs on your iPod without paying hundreds of bucks? You are on the right track here. In this article, you will learn top 4 ways to get free songs for your iPod.

Part 1: How to Get Free Songs for iPod touch/Classic/Shuffle/Nano?
The methods introduced below to download free music are compatible with iOS 13, iOS 12, iOS 11, iOS 10 adn all available iPod, including
iPod touch 6
iPod touch 5
iPod touch 4
iPod touch 3
iPod classic 6
iPod classic 5
iPod classic 4
iPod classic 3
iPod classic 2
iPod classic 1
iPod shuffle 4
iPod shuffle 3
iPod shuffle 2
iPod shuffle 1
iPod nano 7
iPod nano 6
iPod nano 5
iPod nano 4
iPod nano 3
iPod nano 2
iPod nano
Top 1. Get Free iPod Music from iTunes
Every week, iTunes offers 3 free songs from artists as a single of the week, discovery download, and latin single of the week. You can hit that section of the iTunes Store every week and get 3 free songs each week.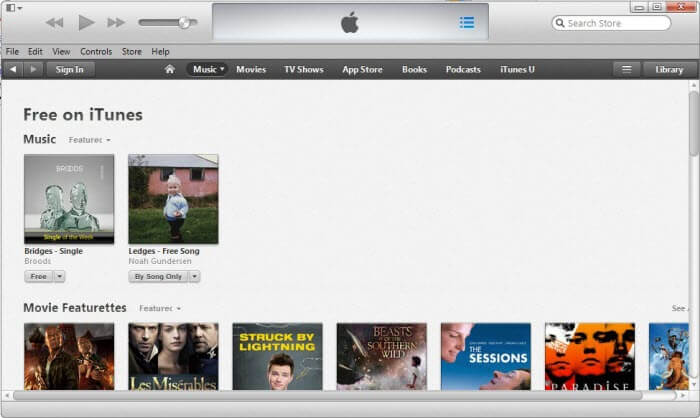 Alternatively, if you get a promo code from someone or are the recipient of an iTunes gift card, you can also get free iPod music from iTunes.
Top 2. Get a Free iPod Music Download App
If you have free iPod music download apps on your device, you can enjoy thousands of songs you've never heard before. Some free iPod music download apps like Deezer, 8Tracks, Free Music, Spotify, and Rdio are worth considering.
Top 3. Go to Free iPod Music Download Sites
There is a mass of free music on the Internet that is produced by artists just waiting to be discovered. Through those free music websites, you can listen, copy, share and even eurn the tracks to CD/DVD. Here is an essential selection that you can get iPod tracks for free.
Top 4. Download iPod Music from Other Sources without Charge
There are also lots of other great sources of music online. You can use the free online tool - download4.cc to download them. Just go to download4.cc, copy and paste the music source link to its search box, click the "download" button to choose audio format you need, right-click and "save link as" to download the music successfully.
Part 2: How to Transfer iPod Music without iTunes
iTunes is the tranditional method for transferring iPod songs to PC, now lots of people are seeking for an iTunes alternative to do this, as iTunes is tedious and causing lots of trouble. iOS Data Manager is the perfect tool to manage and transfer iPod songs to/from computer.
Oustanding Features of iOS Data Manager
1.Transfer iPod music to iTunes by one click.
2. Tranfer iTunes media to iPod with one click.
3. Add music to iPod from PC/Mac without iTunes.
4. Export iPod songs to computer without iTunes.
5. Manage other types of data in iPod without iTunes.
6. Selective backup and restore iPod data.
7. Fix iPod stuck on recovery mode, apple logo, etc. without data loss.
How to Transfer iPod Music to iTunes
1. Launch iOS Data Manager and select Transfer Device Media to iTunes. And select file types that you want ot sync to iTunes.

2. Click Transfer button and the media files will be synced to iTunes.
How to Sync iTunes Music to iPod
1. Launch iOS Data Manager and select Transfer iTunes Media Files to Device. And select file types that you want ot sync to iTunes.

2. Click Transfer button and iTunes songs has been synced to iPod successfully .
Last Words
No matter your iPod is on iOS 13/12/11/10 or below, you can pick out one or try some of those top ways to download iPod music for free. Then you can start to enjoy your loved songs from your device. If you want to sync iPod songs to iTunes, or add music to iPod, then you can use iOS Data Manager is an all-inclusive tool to do these jobs in a more straightforward way.