How to Fix Battery Drain on iPhone/iPad
I was very excited with the release of iOS 13, about the new features. But as soon as I updated my iPhone; the battery started draining too fast. I don't know why this happened. But, why is iOS 13 draining my battery?
Well, this is a terrible issue and a number of iOS users have reported about a draining battery on iPhone/iPad after iOS 13.6/14 update. There could be a lot of reasons behind the battery drain. But the solutions are pretty simple. Take a look at the article below. We have discussed the issue carefully alongside all the effective ways to get rid of it.
Part 1. Why is Draining My Battery on iPhone/iPad
Well, iPhone battery drainis mostly due to a glitch from the part of the new iOS update or the less obvious option is that there were a few system changes after the iOS update that is causing the battery drain on the iPhone. We have provided the fixes below,take a look.
Part 2. How to Fix iPhone Battery Draining Fast After iOS Update
We have mentioned a few tricks below that will help you to fix iPhone 7 battery draining fast after iOS 15/14 update.
So, read the steps are proceed carefully;
Method 1. Check for Update
Well, at the beginning you should update the iOS 13 to its latest version. This latest version may not be perfect but a lot of issues has been fixed by the company.So, if you are facing iPhone battery drain, check for available updates. The steps are pretty simple, take a look.
Step 1: So, on your iPhone, navigate to 'General' via 'Settings'.
Step 2: Then, tap on 'Software Update'.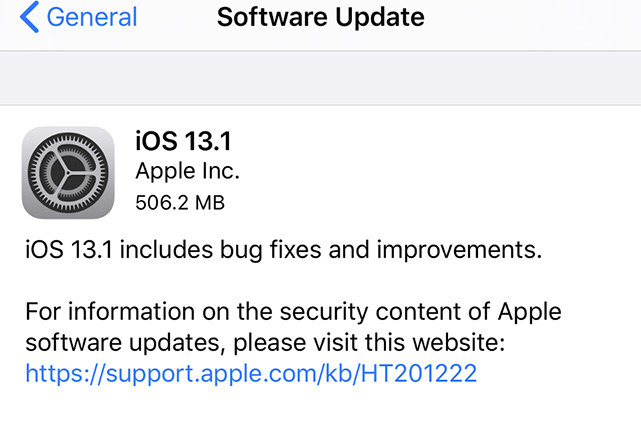 The iOS will start looking for potential updates, if there is any available, you will get the option to install it.
Method 2. Install App Updates
If iPhone battery draining fast with latest iOS, then you may also have to update the apps.
As you have already installed the latest iOS on your iPhone, you will be able to update apps directly from the App Store. Here are the steps.
Step 1: So, navigate to 'App Store' and then tap "Today" at the bottom of screen.
Step 2: Tap user profile icon on the right corner of the screen.
Step 3: Then you can see"Update All" or any app you want to update.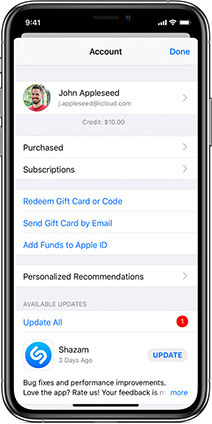 All the apps on your iPhones will be updated.
Method 3. Restart iPhone
Now, if you are still bothered by the high battery drain of your iPhone; making a restart might help to fix the issues with the iOS system.
So, if you are getting iPhone 7 battery drain, then use the following steps to restart the device.
Step 1: You need to press and hold the Side button until the Power Slider appears on the screen.
Step 2: drag the slider to the edge of the screen and the device will be turned off.
Now, wait for 30 seconds and turn on the device. This procedure works for iPhone 6, 7 and 8.
But if you are using the iPhone X or any version of the latest iPhone 11, then you need to follow different steps.
Step 1: You have to press and hold either of the Volume buttons and the Side buttons together at the same time.
Step 2: When the Power Slider appears, drag it to the edge of the screen and the device will be tuned off.
Now, just turn if back on, after waiting for a few seconds.
Method 4. Check Your Battery Health
If iOS 15 draining battery iPhone X after the update, then you have to check the health of your battery. You may have already realized this but the condition of your iPhone battery can be responsible for this draining issue, directly. So:
Step 1: Navigate to 'Battery' from 'Settings'.
Step 2: Then, tap on 'Battery Health'.
Step 3: Now, you can battery's maximum capacity, according to Apple "A normal battery is designed to retain up to 80% of its original capacity at 500 complete charge cycles when operating under normal conditions."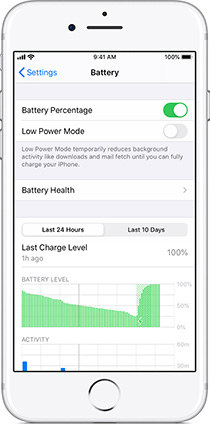 If the Maximum Capacity is getting displayed over 80% and the Peak performance Capability is showing, 'Your battery is currently supporting normal peak performance'. Then, you have nothing to worry.
Method 5. Check,What is Consuming iPhone Battery Life
If is also possible that iPhone battery draining fast after iOS 13 update due a specific application or a new feature. So, you need to check and figure out what is causing the battery drain.
Step 1: So, navigate to the 'Settings' of your iPhone and tap on 'Battery'.
Step 2: There will be a list. Go through it and find out which of the apps or services in the list consuming the battery.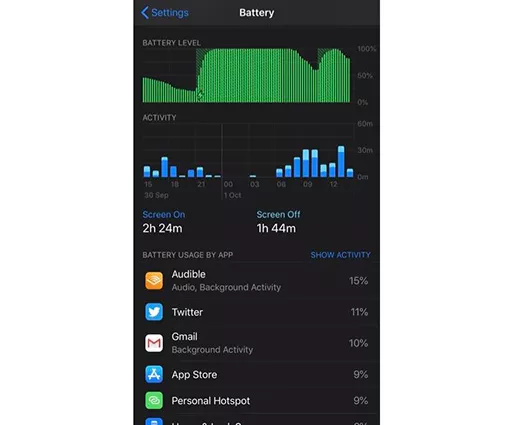 If you find an app that you don't use but draining the iPhone battery, then removing such app will be the most reasonable option.
Method 6. Disable Background App Refresh
One of the reasons your iPhone battery draining fast iOS 13, could be the Background App Refresh. While the feature makes it sure that the apps on your iOS device is running smoothly, it surely consumes too much battery.
So, simply disabling the feature will be of great help.
Step 1: Simply, navigate to 'General' under 'Settings' and tap on 'Background App Refresh'.
Step 2: Then, tap on 'Background App Refresh' again at the top of the screen and tap on 'OFF'.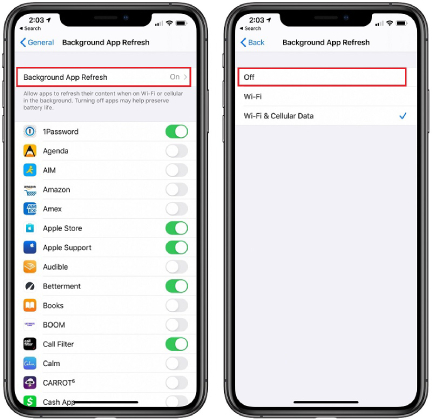 The said feature will be turned off completely.
Method 7. Adjust The Brightness to Lower
More often or not; users tend to use their iPhone on full brightness. Which makes the battery life bad after iOS 13. So, adjusting the brightness will be very helpful.
Step 1: Navigate to 'Settings' and tap on 'Display & Brightness'.
Step 2: There will be a brightness bar, turn it lower.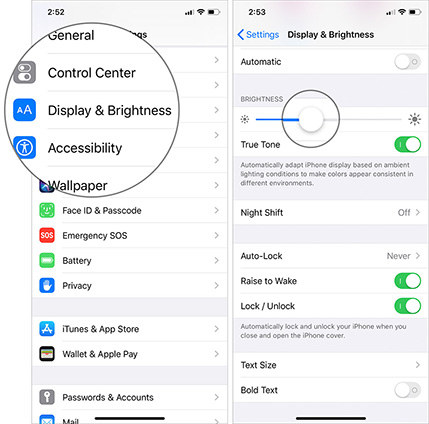 After you have lowered the brightness, the iPhone will consume less amount of battery life.
Method 8. Use Low Power Mode
Using the low power mode could effectively fix iOS 13 battery life bad. The steps are pretty simple:
Step 1: Navigate to 'Battery' under 'Settings'.
Step 2: You will find 'Low Power Mode' option. Toggle the switch beside it to enable the feature.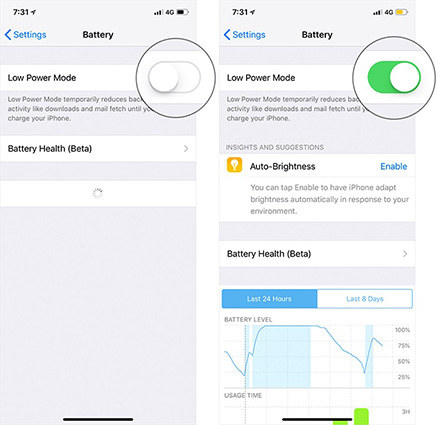 Enabling this feature will make the iPhone consume less amount battery life.
Method 9. Disable Unnecessary Location Services for Apps
Location service can also drain iPhone XS iOS 13 battery life. Simply, turning off the location service for apps will be a huge step towards saving battery life on an iPhone.
Step 1: Go to 'Settings' on your iPhone and tap on 'Privacy'.
Step 2: Then, tap on 'Location Services' and toggle the switch beside it to disable it.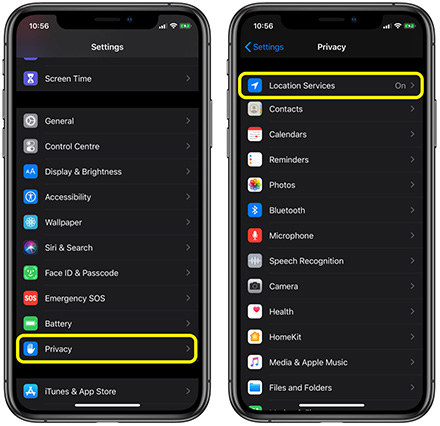 Method 10. Restore iOS System to Fix iPhone Battery Life Bad Without Data Loss
If any of these fixes are not working and you are still facing iOS 13 battery drain while charging, you need to use a system repair software for the instant repair of the system.
These sort of programs are easily available, effectively fixing the iOS system without data loss. The program we are recommending is called UltFone iOS System Repair and it is very convenient to use. Take a look:
Step 1Download and install the program on your computer and connect the iPhone. Open this iPhone system repair software and click on "Repair Operating System" feature.

Step 2In the following panel, click on "Fix Now".

Step 3Next, you will be directed to the firmware page. After finding the associated firmware, click "Download".

Step 4After the firmware is downloaded successfully, click "Repair Now" and theprogram will start repairing the operating system.

Step 5 After a few minutes the program will repair the operating system successfully.
This is the most effective way to fix iPhone battery drain issue without the risk of data loss.
Method 11. Reset iPhone to Factory Settings (Data Wipe)
Factory Reset is the official way to fix battery issue but it is also the method we would least recommend. This is a very risky method and it will also cause permanent data loss.
So, after considering all these should go for this solution.
Step 1: On your iPhone, navigate to 'General' via 'Settings' and tap on 'Reset'.
Step 2: There, choose 'Erase All Content and Settings'.

Step 3: You will be asked to provide the passcode and the Apple ID in order to confirm this action.
After the confirmation the device will be wiped clean, it will turn into a completely new device.
Conclusion
So; why does iOS 13.3 or 14 drain my battery? Well, there could be a lot of reasons behind it. But the good thing is the said issue can be fixed very easily. The tips and tricks we have discussed on the article, they are very effective.
But the most effective solution is to use UltFone iOS System Repair for the instant repair of the iOS system. But we won't recommend the Factory Reset method. It is effective but there are too many drawbacks.