How to Fix Bricked iPhone After iOS 14/13 Update
iOS 14 Beta 2 bricked my iPhone XS? I recently installed the iOS 14 Beta 2 on my iPhone XS which bricked my device and put it into an infinite boot loop. Restoring is not possible and gives an 4013 error. Apple Retail store ran diagnostics and said the motherboard is fine but don't know why it's unable to restore and since the device has been used to run the beta they don't have the resources to assist me. I tried to restore both iOS 13 and 14 via IPSW files via both Mac and Windows with no success. I read on other formus that I am not the only one. Any advice or suggestions?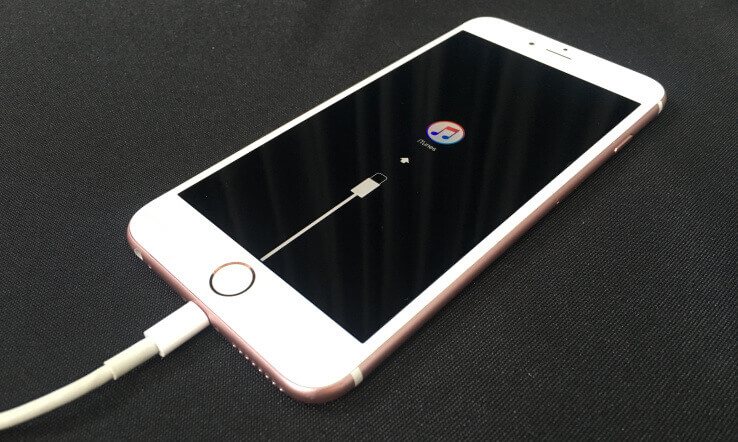 We may want to experience the new features in new iOS version. But it's really a disaster when the iPhone become bricked after iOS 14 beta update! Here in this article, we shall discuss about how to fix iPhone bricked after iOS 14/13 update.
Measure 1: Hard Reset Bricked iPhone
Actually you could also make a hard reset of your iPhone if iPhone turns to be bricked after you do iOS update. For how to do this, try to refer this way based on your specific circumstance.
Hard Reset Bricked iPhone 8 and Later
1. Press and realese Volume Up button.
2. Press and release Volume Down button.
3. Press and hold Side button. Hold the button until you see the Apple logo.
4. Release the Side button once you the Apple logo.
The steps above is suitable for iPhone models below:
iPhone 11 Pro Max, iPhone 11 Pro, iPhone 11, iPhone XS Max, iPhone XS, iPhone XR, iPhone SE 2nd generation, iPhone 8 Plus, and iPhone 8.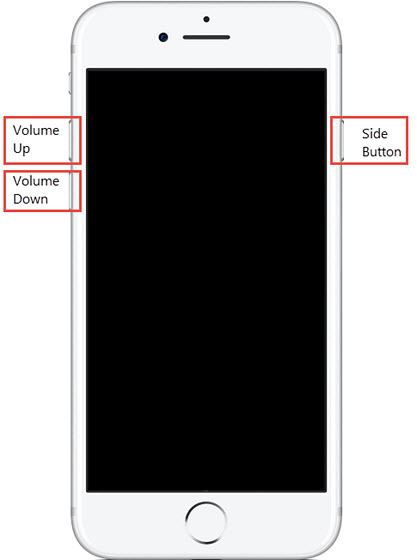 Hard Reset Bricked iPhone 7 and 7 Plus
1. Press and hold Volume Down button and also Sleep/Wake Button.
2. Hold the buttons until Apple logo appears.
3. Release the buttons once you see Apple logo.
Hard Reset Bricked iPhone 6/6s/6+/6s+ and iPhone SE 1st generation
1. Press Power button on the right side of the phone and also hold the Home button at the same time.
2. For about several seconds, you will see the screen appears a black Apple logo with the white background.
3. After that, it will turn off. Then you have to type the power button again until you see the main interface of it.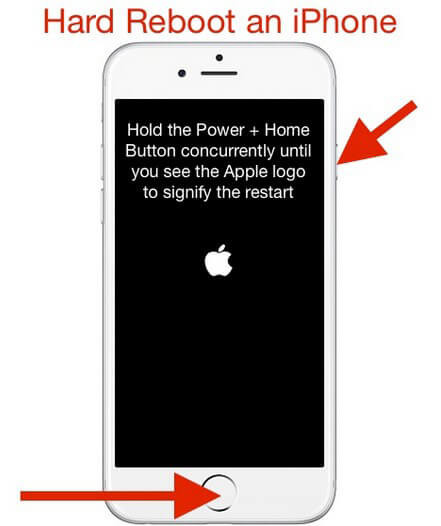 Measure 2: Fix iPhone Bricked After iOS 14/13 Update via iTunes
If the iOS 14 beta update results in your iPhone getting bricked, try to restore the broken device with iTunes.
1. Connect iPhone to computer and then start iTunes. Then it will pop up a screen as the screenshot shows. Click the "Restore" button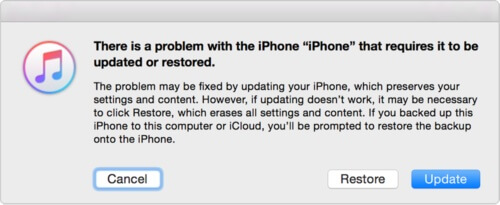 2. Then it will pop up a window that ask you to confirm about it. Just click "Restore and Update" button to be sure about it.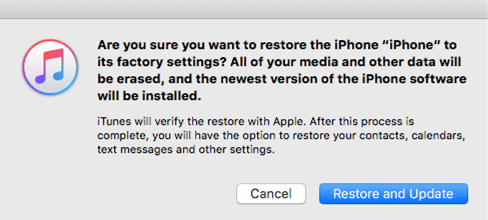 3. If you previously backed up the iPhone, click "Restore Backup" after the restore process completes.
Measure 3: Repair Bricked iPhone after iOS 14/13 Update by Software
If your system is damaged while upgrading iOS 14 beta, then the ultimate way is to take advantage of UltFone iOS System Repair, which is created to fix all kinds of iOS system issues and finally let your Apple device back to normal with only one click. It is just like a doctor to repair your system completely.
UltFone iOS System Repair software features:
Fix bricked iPhone, iPhone stucking on Apple logo, black screen within a few minutes.
Fix 150+ iOS update issues without data loss.
Efficiently downgrade iOS 14 plubic beta to iOS 13.6.
OS system includes iOS, iPadOS, and Apple tvOS.
All iOS versions are supported from iOS 7 to iOS 14.
Support Apple TV, iPad, iPod and iPhone.
• Step 1. Free download, install and launch UltFone iOS System Repair from Windows/Mac computer. Then you could totally glance at the entire blue user interface. Then click "Enter Recovery Mode", your iPhone will access to recovery mode.
• Step 2. After that, click "Exit Recovery Mode". Your iPhone will exit recovery mode.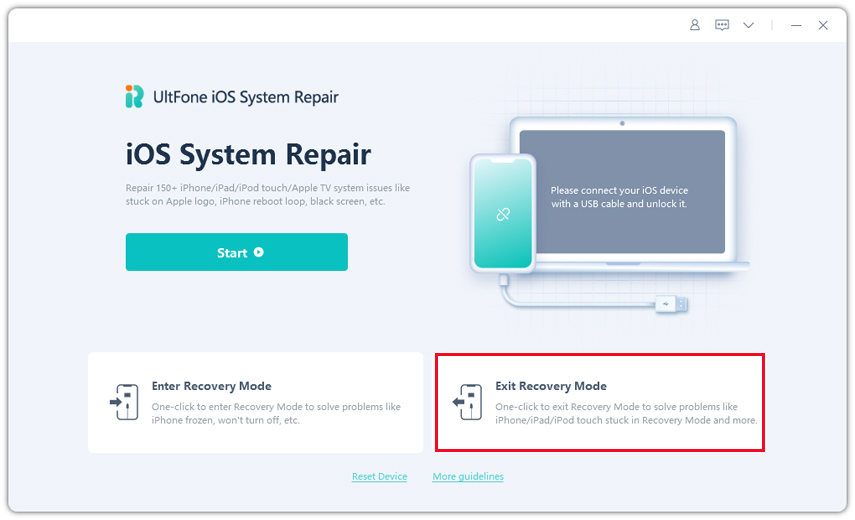 If recovery mode still cannot fix your bricked iPhone, you'll need a deeper repair to fix the operating system of your device.
• Step 1. Tap on "Fix All iOS Stuck" menu and then hit "Download" button to download firmware online and save it to target path.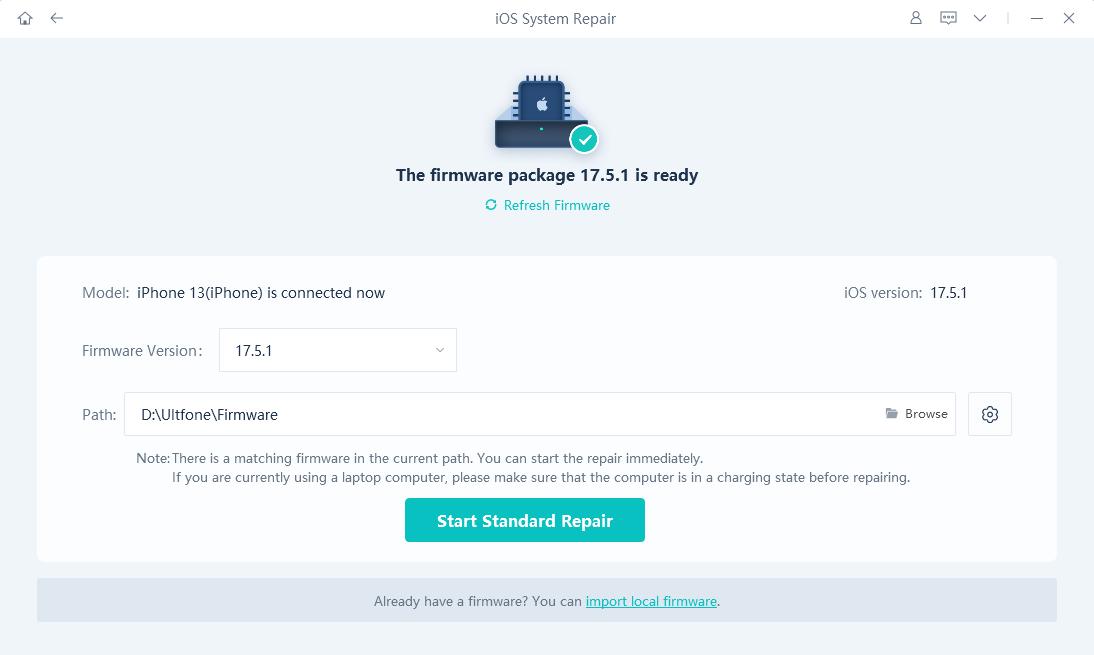 • Step 2. After a few minutes, your iPhone will be normal as usual running iOS 13.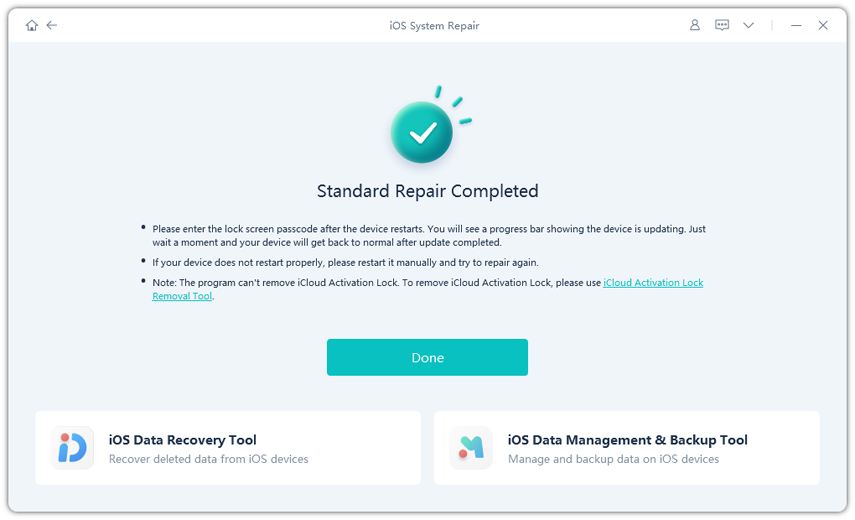 People Also Ask about Bricked iPhone
What Does "Bricked iPhone" Mean?
Bricked iPhone means that you can not use the phone as it is not responding, turning into a brick. So it is not able to power on as the normal phone. Electronic devices will be worth nothing when it is bricked.
Basically bricked iPhone can be caused by incomplet or improper iOS system update such as upgrading to the current iOS 14 public beta. For example, your iPhone may have less power during the upgrade process, so the upgrade process is not performed normally and bricked iPhone.
Will Apple Replace a Bricked iPhone?
Most Reddit users have experienced bricked iPhone after iOS upate and try to find a solution from Apple. But if users upgrade to a beta iOS version and bricked iPhone, Apple will suggest users to restore iPhone. If restore did not help, then this issue will be regarded as hardware issues not software issues. So we suggest you to try the software UltFone iOS System Repair mentioned above once you get bricked iPhone after iOS update.
Final Words
That's all for how to fix iOS 14/13 update bricks iPhone. Now if you are still willing to update iOS 14 beta on iPhone, please backup your data before doing this to prevent data loss. Otherwise, if you have regrets in upgrading to iOS 14 Beta, you can downgrade it to iOS 13.6 with UltFone iOS System Repair as well.