4 Best Ways to Fix iPhone 6 Stuck on Apple Logo
There are lots of reasons why iPhone 6 stuck on Apple Logo but in your case quite possibly it was the update. But don't panic, it is a very common iOS problem and there are several fixes that you can apply at your home without taking your device to the Apple Support Centre. Just follow the article below, and you will get to know the procedures very closely.
Part 1: Why My iPhone 6 Stuck on Apple Logo
Basically, your iPhone 6 is stuck on Apple Logo because something happened during the regular startup procedure. But, what could have gone wrong? There are a few possibilities:
iOS Updates and Restore: During such procedures, you have accessed the core functionalities of the said device. So, possibly the update wasn't installed properly or the something gone wrong during the restore which made the device stuck on Apple Logo.
Data transfer:The cause is more or less the same but even a faulty USB cable may interrupt the transfer procedure which can cause damage to the software.
Jailbreak:If you are jailbreaking the iPhone then you must have known the risks of this particular procedure. Anything could go wrong, and most of the times the users get stuck on Apple Logo screen.
Software Problems:Sometimes a simple software glitch can cause this problem. The iOS system is known for its own set of issues and this can be easily fixed with a system repair or a simple force-restart.
Hardware problems:This one is out of your hands if the hardware of the device is damaged then such a problem could occur.
Part 2: How to Fix iPhone 6/6s Apple Logo
1. Force Restart iPhone 6
So, if your iPhone 6 stuck on Apple logo screen, you can restart the device and see if it fixes the problem. It is very simple to restart iPhone, just
Step 1: Simply, tap and hold the Power button with the Home key.
Step 2: When you see the Apple Logo on the screen, leave the buttons. Force restart is complete.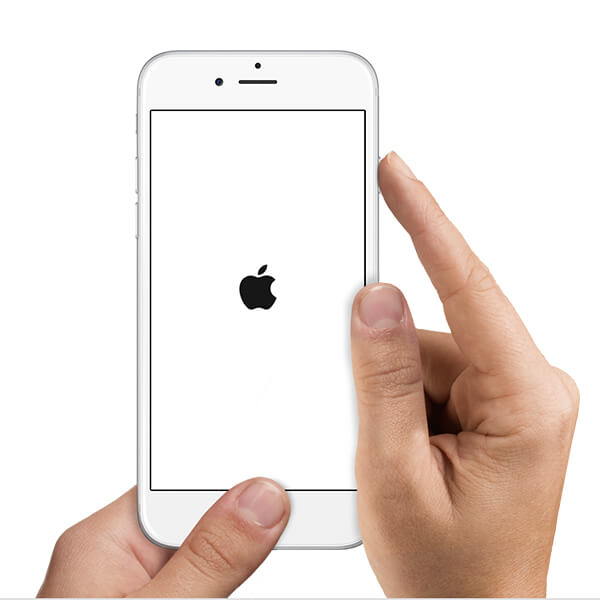 Hopefully, your iPhone 6 won't be stuck on the Apple Logo after it turns back on again but if it's still stuck there then put the device into Recovery Mode and follow the next procedure.
2. Fix iPhone 6 Apple Logo Loop by Recovery Mode
If a simple restart is not enough and your iPhone 6/6s still stuck on Apple logo then you can put the device into Recovery Mode and try to fix it. Putting the device into Recovery Mode has a greater chance of fixing the device but you won't be sending the device into Recovery Mode using the conventional method. You are going to use a free iPhone recovery mode tool to put iPhone 6 in recovery mode by one click.
This iOS recovery mode software is actually an iOS repair tool but it can also put the devices in and out of Recovery Mode with just a single click. So, here are the steps to put iPhone into Recovery Mode:
Step 1: First connect the device to the computer, where you have already installed this software.

Step 2: Now, go to the main interface of this software and click "Enter/Exit Recovery Mode" option.

Step 3: In the next screen, please click Enter button to put iPhone 6 in recovery mode.

Step 4: After this, click the Exit button to get iPhone 6 out of recovery mode.
This process of entering and exiting recovery mode can solve iPhone 6 stuck in Apple logo with big success.
3. Restore iPhone from DFU Mode (Data Loss)
Even after putting the device in Recovery Mode the result is the same, you are actually running out of options. Sadly, if still iPhone 6 frozen on Apple logo then you can try restoring the device in DFU Mode!
DFU Mode is capable of fixing a lot of problems. It is generally used by professionals from the Apple Support Centres for fixing iPhones. So, we recommend putting the device in DFU Mode and then restore it, but remember that implementing this procedure will erase all the files, data, and settings from your iPhone 6. So, back up the device before restoring it.
Step 1: So, connect iPhone 6 to the computer and then launch iTunes.
Step 2: After that, you have to put the device into DFU Mode. It is quite simple;
Hold the Power and Home buttons together for 8 seconds.
After that, release the Power button but keep pressing the Home button.
The screen of the iPhone 6 will go black completely.
Step 3: Your work is almost complete, the moment iPhone 6 goes into DFU Mode, you will get a message from iTunes. It will say that "iTunes has detected an iPhone in Recovery Mode".
Step 4: The dialog box comes with the "Restore" option, tap on it.

iTunes will take some time to restore the device but your iPhone 6 won't possibly be stuck on the Apple Log anymore.
4. Fix iPhone 6 Stuck on Apple Logo without Data Loss
Sadly, if the DFU Mode is unable to end the Apple Logo loop then, possibly the iOS in your device has suffered a massive damage for some reason and because of that iPhone is stuck on that Apple Logo. The last thing you can try is to fix the device with an iOS repair tool, you are going to be using UltFone iOS System Repair, as its performance is exceptional and it is also referred by a lot of users. Here's how to use it;
30% Coupon Code: VGS7-UJDG-8Y6G
Step 1 Go to the main menu of UltFone iOS System Repair and click "Enter" button under "iOS System Repair".

Step 2 On the next screen, please choose "Standard Repair" to fix iPhone 6 stuck on Apple logo white screen without data loss.

Step 3 Before system repairing, please download the latest IPSW file for your device. You can click the Downlaod button to get it online.

Step 4 After downloading the firmware, click "Start Standard Repair" to initiate the procedure.
Quite frankly, this is one the most capable iOS repair tools available. It will certainly fix the problems with the iOS and get your device out of the Apple Logo loop. The procedure takes only 10-20 minutes.
You can also check the video guide to know how to fix iPhone 6 Apple logo stuck with iOS system repair tool.
The Bottom Line
iPhone 6/6s stuck on Apple Logo is the most common iOS problem ever to occur and it can happen because of lots of reasons, like iOS update, data transfer and even during some very risky operations like jailbreak. Thankfully, there are a few simple fixes that you can apply at home. The procedures are discussed in the article above with intricate details which can also help you to get your device out of other problems like recovery mode, black screen, reboot loop etc. If you still have any questions, don't hesitate to contact us.