How to Download TinyUmbrella 9.3.4 Free
We all can agree that TinyUmbrella is one of the most powerful tools to get the application for jailbreaking the device and downgrading the software version. So, today, we will learn how to download TinyUmbrella and use it. Let's begin now.
What is TinyUmbrella?
Before you download TinyUmbrella, it is important that you know what it is. It is a tool that is often used for downloading Cydia app, fixing the devices stuck in Recovery mode, fixing iTunes errors, and much more.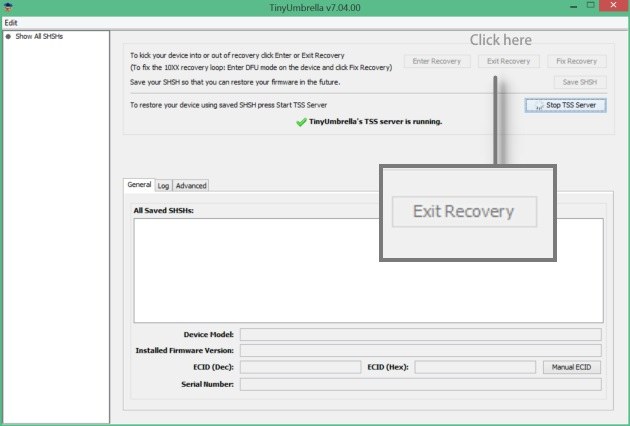 Where to Download TinyUmbrella Windows and Mac latest version?
TinyUmbrella is available in two versions, both for both Windows and Mac OS. And you can download it on your system easily. For both the systems, the minimum requirement for TinyUmbrella download is an up to date version of Java.
For TinyUmbrella download for Windows, use the link below:
For TinyUmbrella download on Mac, use the link- Mac App. Once you get the app installed on your system, you can use it right away. The application works in a very straightforward way. When you update your device, a small piece of information is saved on it. This data is known as SHSH blob, and it contains information related to the firmware and the specific devices.
TinyUmbrella can access this file and save these SHSH blobs in an external file. If you are wondering why this tool is used, then you need to know that Apple devices only keep the SHSH blobs for a week. After that, the files are deleted from the system that prevents the users from downgrading the system. Hence, TinyUmbrella is needed to extract those files and save them so that users can downgrade the iOS version as wanted.
TinyUmbrella Main Features
Now that we know how to download TinyUmbrella, it is time to explore its main features. The key highlights of this tool are:
1: Fix iOS Recovery Mode Stuck
With the help of TinyUmbrella, it will be easy for you to get out of the recovery mode. This tool ensures that you don't have to restore your device and risk loses every piece of data on the device.
2: Save SHSH Blobs
There is no other reliable tool available in the market that will allow the users to save the SHSH blobs.
3: Downgrade iOS
There is a number of reasons why you would like to downgrade the iOS version of your device. Whatever the reason is, TinyUmbrella is the tool that will help you to downgrade the software easily.
This tool is compatible with you through iOS 7 and iOS 12 with all Apple devices. It is easier to navigate and entirely free. That's why; Apple users prefer using this tool for downgrading, fixing iTunes errors, and getting your iPhone out of recovery mode.
Note: If you are running iOS 14 beta version and would like to downgrade to official iOS, there are several methods to remove iOS beta. Learn more
How to Remove Beta iOS 14/iPadOS 14
.
TinyUmbrella Not Working- Use Umbrella Alternative tool iOS System Repair
Usually, people find it easy to learn how to download and use TinyUmbrella. However, the conditions are not the same for everyone. There are many users who experience that TinyUmbrella is not working as expected and having trouble using it. Sometimes, it displays a message "TinyUmbrella.app is Damaged," and other times it crashes. Therefore, it will be better if you choose an alternative which is way more effective and efficient in fixing iPhone related issues. Luckily, we have iOS System Repair tool for this purpose.
This software has several advantages over downloading TinyUmbrella, which are mentioned below:
UltFone iOS System Repair has a one-click method to put iOS devices in recovery mode and exit it.
This tool is capable of resolving more than 50 different kinds of software related issues on iOS devices such as stuck at Apple logo, iTunes logo, DFU mode, black screen, white screen, etc.
One of the best features of using this tool is that it keeps the data intact, even after repair.
Users can even perform a factory reset with the help of this repair tool.
If you ever get stuck due to such issues on iPhone or iPad, then you can download the software from the official site. Here's how you can repair the iOS software using UltFone iOS System Repair tool.
1. Run the program and connect your device with it. Select the iOS System Repair feature and click the Start button to fix all iOS-related issues

2. This iOS repair tool offers two repair modes: Standard Repair and Deep Repair. You can choose the proper mode depending on whether you'd like to keep your data intact.

3. The software will provide you a firmware suitable for your device. Download the file and let the software verify it as well.

4. Finally, hit the Start Standard Repair button and allow the software to initiate the repair process. It will only take a while to repair the system, and you will have a system performing better than before.
As we mentioned earlier, one of the best things about UltFone iOS System Repair tool is that it keeps the device data intact while repairing the software. So, you never have to worry about losing data when there is an issue to resolve.
The Last Words
From all the information we have about TinyUmbrella download, its use, and its alternative, we can conclude that UltFone iOS System Repair is a better choice. So, from now on, whenever you face trouble with your iPhone while you are downgrading, updating, or restoring the device, there is a solution that is 100% safe for use.