iSpoofer Download 2023 for Pokemon Go Spoofing
When you love to play Pokemon Go, you can use a decent boost with iSpoofer for Pogo. iSpoofer comes in handy for adding a joystick to the game and even facilitate a free teleport. Other appealing features are IV checking, GPS tracking, auto walking, fast Pokemon catch trick, enhanced throw, etc. On top of all, you get a map to have a close eye on everything around you. In this post, we have covered all you need to know about iSpoofer download and its best alternative out there.
Part 1. About iSpoofer for Pogo
Before downloading iSpoofer for Pogo, let's first understand what it is. Well, iSpoofer is locating spoofing software for Windows PC and iOS devices. With the help of it, you can spoof Pokemon Go and enjoy catching more Pokémons. The best part is that it demands no jailbreaking of the device to spoof location for Pokemon Go on iPhone.
Part 2. How to Download and Install iSpoofer on PC
iSpoofer is known to do its magic without the assistance of a computer. However, it doesn't imply that iSpoofer doesn't work on PCs. You can iSpoofer pogo download and install on computers as well. To do that, follow the below steps to learn how to download iSpoofer on PC.
Step 1: Visit the official site of iSpoofer and you'll be welcomed with a screen just like below.
Step 2: Depending upon the type of your device, you can either tap on Download for Windows or Download for Mac.
Step 3: Once the download commences, you'll view the iSpoofer_Setup_1.1.5.exe file starts to download. Once it is done, run the file. Tap on Next and start the installation process. You'll be asked to take further steps.
Note:Ensure that you have ample space on your system as 137 MB of free storage is required. In the scenario if you're not able to install iSpoofer, it could be due to lack of storage space on your system or your executive file is damaged. The tip here is to get rid of unwanted files from your system, download the exe file again, and hopefully, you won't face any hassle this time.
Part 3. iSpoofer Download and Installation on iPhone
Well, it is a bit challenging to install Pokemon Go iSpoofer on iPhone but not impossible. By following the below steps, you can get the job done.
Step 1: Commence by tapping install on your device's browser (Safari).
Step 2: Your device will alert you that download.iSpoofer.com is trying to download files for Pogo iOS. Therefore, allow the installation.
Step 3: Upon successful installation, you'll see the iSpoofer icon on your device's home screen.
Step 4: Now, you have to head to your device's settings to do certain changes. So, go to "Settings">"General">"Device Management".
Step 5: Locate the installed Enterprise app Certificate. Your device asks your permission to allow any outside application in, warning you of bugs or malware. In that scenario, you need to only let only trustworthy files. iSpoofer is under the trusted list. Therefore, go for it and trust it.
Step 6: Once you trusted the application and your iPhone also considered your decision, the iSpoofer download will be successful and it is all set to launch.
Step 7: Launch the iSpoofer for Pokemon Go.
Part 4. Is iSpoofer Free?
iSpoofer has a free three-day trial period. After that, you need to get the iSpoofer activation key to enjoy using the software. In other words, you have to invest in the software to avail iSpoofer license key. You can get at $12.95 for three months.
Part 5. How to Use iSpoofer for Pokemon Go?
After learning how to install iSpoofer on your device, you must be wondering how to use it. Below is how to use iSpoofer for Pokemon Go:
Step 1: Upon successfully installing iSpoofer on your PC, run the application, and connect your iPhone to the computer. You'll see a map-like interface. You can search for any location you desire on the search bar and modify the pin to any place you desire.
Step 2: Tap on the "Move" button to change your device's location.
Step 3: After changing the location, you can disconnect your device from the computer. Open the Pokemon Go app on your device and enjoy the game. Your Pokemon Go app will believe that you're somewhere else and catch more Pokémons without any hassle.
Part 6. Is There Any Alternative for iSpoofer iOS?
If you're not able toiSpoofer Pokemon go download for iOS, no worries!! You're not alone. iSpoofer demands a lot of effort to download, install, and configure for Pokemon Go on PC. The good news is that we have a better solution for you to spoof location on iOS for Pokemon Go. It is none another than UltFone iOS Location Changer.
Use UltFone iOS Location Changer to change or spoof GPS location on your iPhone with ease and without jailbreaking your device. It works for all location-based apps you have on your device including Pokemon Go. The software is compatible with all leading iOS devices. What's more? It supports two-spot and multiple spot movement with customized speed. It will make your Pokemon Go app believe that you are actually walking or moving. Thus, it reduces the chances of getting caught to great extent.
Ready to learn how to use UltFone iOS Location Changer? Below is the step-by-step guide on how to use the software to spoof location on the iPhone.
Step 1: Open the software after installing it. From the main interface, hit the "Enter" button.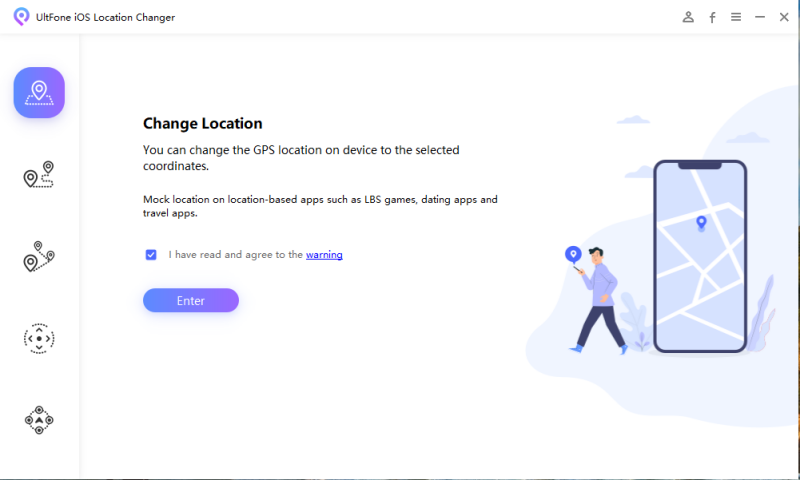 Step 2:Connect your device to the computer using a USB cable.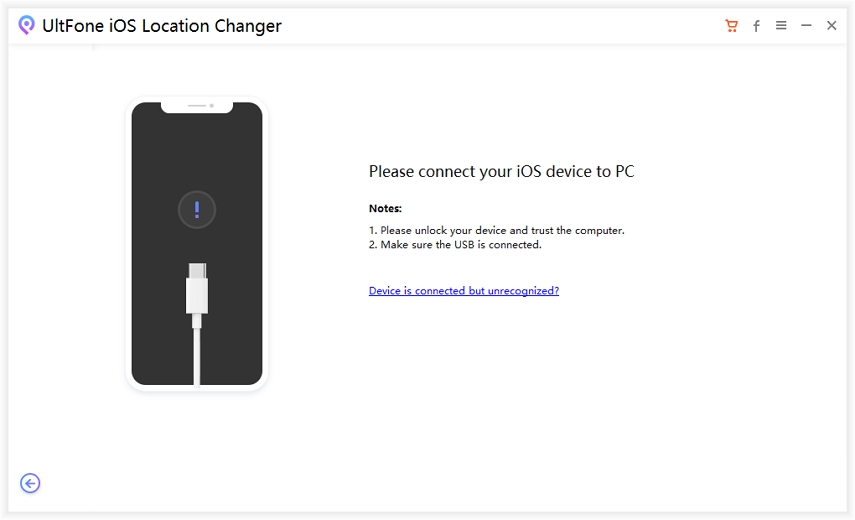 Step 3: Enter the desired location and then hit the search icon. Confirm the set location from the left panel and hit the "Start to Modify" button.
Now, all location-based apps including Pokemon Go on your iPhone will be modified to the location you have set using the software.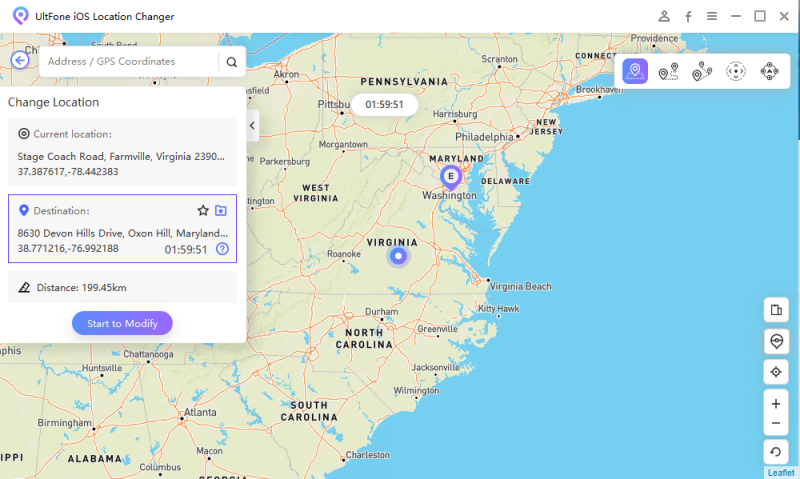 Step 4: If you want to simulate a path without leaving the confinements of your home between 2 points, go to the software main interface. Then, select the "Single-spot movement" tab and hit the "Enter" button.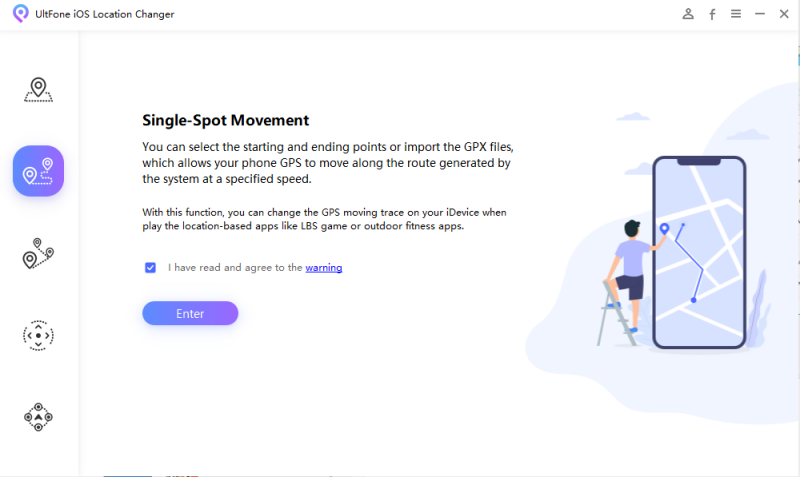 Step 5: Enter the destination address and the start point is your current location. Confirm the start and destination location, drag the speed bar to modify the move speed. Hit "Start to Move" to begin moving along the set two points.
In a similar way, you can simulate a path between multiple points and enjoy Pokemon Go without leaving the comfort of your home.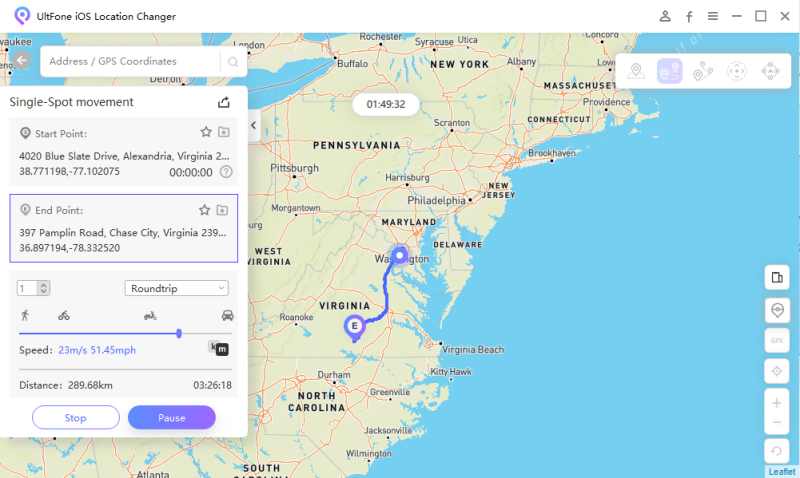 Wrap It Up
That's all on iSpoofer for Pokemon Go. As you can now see that there is a better alternative to iSpoofer to spoof location on iPhone for Pokemon Go. It's time to try UltFone iOS Location Changer yourself and enjoy catching more Pokémons.