The Safe Ways to Teleport Pokemon Go on iOS and Android [Safely]
Last month, I tried to teleport Pokemon Go using a GPS spoofing app with a great risk of losing my account. Therefore, how can I teleport in Pokemon Go safely
You are not alone. Lots of players want to try Pokemon Go teleport hacks and tricks to change their GPS location and capture more Pokémons. Unfortunately, Niantic is capable of detecting the sudden change in your location and ban your account. But that doesn't imply that there are no safe ways to try the Pokemon teleport hack. In this post, we have covered all different ways to teleport in Pokemon Go without putting your account at risk. So, continue reading!!
Part 1. What Does Teleport Mean?
Let's first know what does teleport implies.
In very simple terms, teleport means moving from one place to another without physically moving or walking between the two points. We all know that Pokemon Go requires players to move around numerous locations in order to catch Pokémons. Therefore, what if you don't have ample time to walk around but still want to capture Pokémons. That's when teleport comes into the picture. With the assistance of the Pokemon Go teleport app or hack, you can catch Pokémons without moving. In other words, you would be able to spoof your location in Pokemon Go.
Part 2. The Different Ways to Teleport in Pokemon Go [for Android and iOS]
If you do a quick Google search on how to teleport in Pokemon Go, then you'll find many hacks and tricks to get the job done. And you may get confused about which one to rely on. No worries!! Below are all different ways to teleport in Pokemon Go along with its pros and cons.
1. Location Spoofer for Pokemon Go
A location spoofer for Pokemon Go can be any desktop or mobile application that can help your device's current location. To get the job done, you would use the Pokemon teleport coordinates or location. All you have to do is to drop the pin at any desired location on the map. Some of the good location spoofers for Pokemon Go are Fake GPS GO Location Spoofer Free and Fake GPS Location – Hola to name a few. The good news is that all these locations spoofers don't require you to root your Android device. You can easily get these apps from Google Play Store if your concern is how to teleport in Pokemon Go Android.
Though you won't find any hassle while using location spoofers for Pokemon, the odds of detecting their presence by Niantic are high.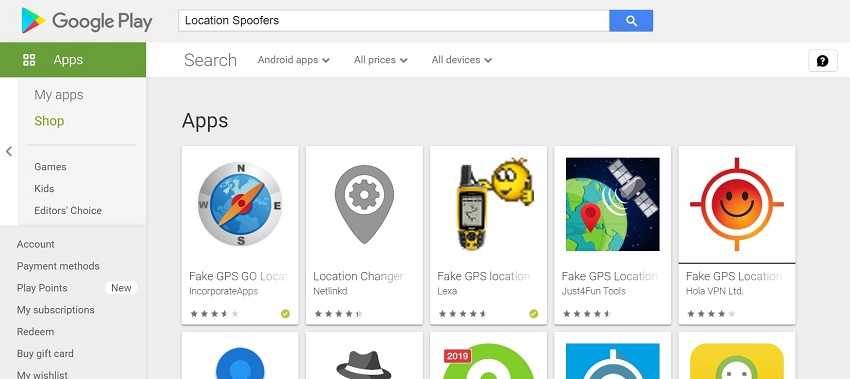 2. VPN Location Changer
You may or may not have used a VPN before. Indeed, Virtual Private Networks or VPNs have been around for over a decade as they come in very handy to use web security and discreetly. By adding an extra layer of protection on the device connected to a network, it can guard the original IP address. What's more? You can easily have access to the available locations in a VPN for the safe Pokemon Go teleport hack.
When you do a quick Google search for VPN for the Pokemon Go hack, you're going to find a lot of options and both free and paid for Android/iPhone. However, the recommended option is NordVPN and you can get it on your device from its respective app store.
As compared to location spoofers for Pokemon Go, VPNs are incredibly safe to use and Niantic cannot detect most of them. Of course, the only hassle you'll find while using a VPN is that you would be confined to limited locations offered by VPN in terms of its servers. In other words, you won't have the entire world to fake your device's location, unlike location spoofers.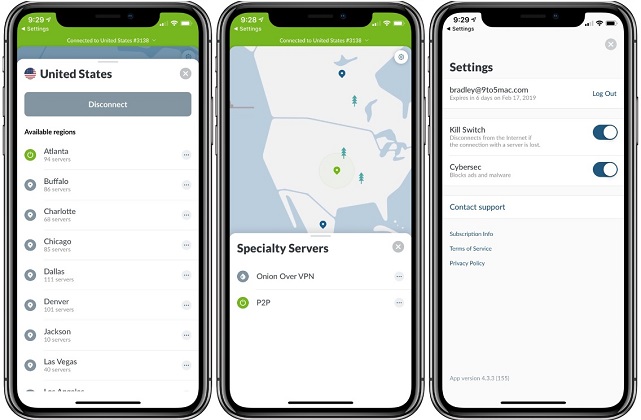 3. Pokemon Go Spoofing App – PokeGo++
PokeGo++ is a modded version of the Pokemon Go app that works on jailbroken devices. You can get the app from a 3rd-party installer such as Cydia or Tutu on your iPhone. In addition to the basic features and functionalities of Pokemon Go, PokeGo++ offers lots of hacks. For example, you'll be able to manually do Pokemon Go teleport, capture more eggs, and walk faster.
Coming to the pros of PokeGo++, it requires jailbreaking your device. What's more? Niantic can detect it and could ban your account.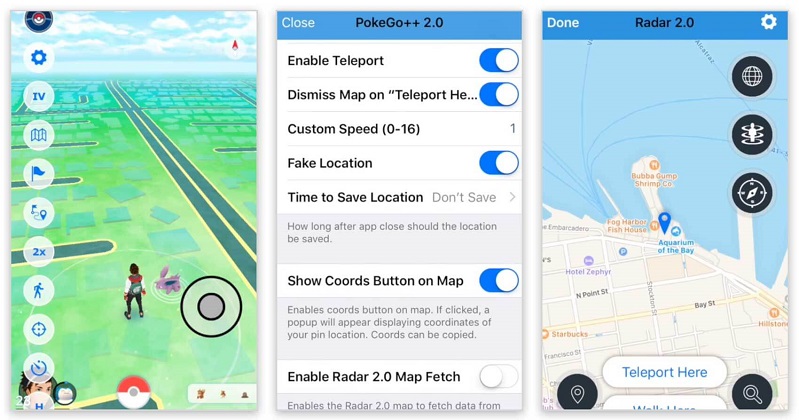 Part 3. How to Teleport in Pokemon Go on iOS?
So, how to teleport in Pokemon Go without getting banned? You can give a try to following methods. With these ways, the chances of getting banned are quite low.
1. Best Pokemon Go Teleport for iOS
You won't any better solution than UltFone iOS Location Changer to teleport in Pokemon Go for iOS. With the assistance of this tool, you will be able to teleport in a single click. What's more? It doesn't require you to jailbreak your device. With its map-like interface, you can spoof your location in Pokemon Go with ease. Besides changing location for Pokemon Go, it can even help you simulate movement between two or multiple locations with a customized speed.
Here's a quick guide on how to teleport in Pokemon Go for iOS using UltFone iOS Location Changer:
Step 1 Run the software and click on the "Enter" button.

Step 2 Connect your device to the computer with the help of a USB cable.

Step 3 You can now enter the desired location and hit the search icon to set it on the map. Finally, confirm the location from the left panel and hit "Start to Modify".
That's it. Pokemon Go app on your device will pick the location you set using UltFone iOS Location Changer and enjoy catching more Pokémons without moving.
2. Teleport in Pokemon Go using iTools
Another way to teleport in Pokemon Go without jailbreaking your device is by using iTools. It is also a desktop application from ThinkSky and compatible with iOS 12 or older. It is available for both Windows and Mac systems to help you change location.
Below is a quick guide on how to teleport on Pokemon Go using iTools:
Step 1: Install and run iTools on your system and connect your device to the computer.

Step 2: Click "Virtual Location" from the "Toolbox" tab.

Step 3: Enter the location you want into the text box located at the top of the map and hit Enter.

Step 4: Select "Move here" to teleport your device to that location and that's it.
You can now disconnect or unplug your device from the system and enjoy the spoofed location.
Part 4. Must-know Tips about Pokemon Teleport
Have a look at handy tips when it comes to Pokemon Go how to teleport.
1. Don't Ignore the Cooldown Time
Niantic comprehends that players can enjoy playing the game while moving or traveling. Although if your location would be spoofed, your account might get flagged. In order to avoid this, you can depend on the cooldown time scale of Pokemon Go. This means that how much time you have to wait before using the Pokemon Go app again once your location has been spoofed.
Of course, the farther your move from your actual location, the more you need to wait. Though there is no universal rule for this, experts suggest the below criteria for cooldown time.
900 - 13000 KMs: 90 to 120 mins
500 - 900 KMs: 65 to 90 mins
100 - 250 KMs: 30 to 45 mins
250 - 500 KMs: 45 to 65 mins
11 - 100 KMs: 10 to 30 mins
6 - 10 KMs: 3 to 8 mins
1 -5 KMs: 1-2 mins
2. Toggle Off Airplane Mode Before Teleporting
Now, enable Airplane mode on your device.
1. To teleport Pokemon Go hack safely, turn on/off Airplane mode on your device.
2. Close the Pokemon Go app if it's running in the background and ensure that you are signed in to your account.
3. Wait for a few minutes and turn off Airplane mode before you launch PokeGo++ on your device. If you encounter the error while the log-in process, wait for a few minutes to get the error fixed rather than logging out of your account.
4. Once the app is loaded, head to the map interface to change the location.
3. Log Out Of Pokemon Before Teleporting
Wondering how to teleport without soft ban in Pokemon Go? Sign out of your account in order to perform the Pokemon Go teleport hack successfully and safely. To do that, click on the Pokeball at the mid of your home screen and go to its settings. Scroll down and click on the Sign Out option.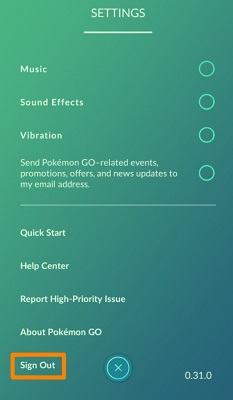 4. No 100% Guarantee
You must know that all the mentioned above may or may not work for you. In other words, there is no 100% surety that these ways would work for every player out there. It would greatly depend on the kind of device you own and what Pokemon Go version you are using. In case if you have already experienced a temp or soft ban on your account, then try these methods thoughtfully in order to avoid getting a permanent ban.
The Final Words
That's all on Pokemon teleport hack. As you can now see that there are several ways out there to help you teleport in Pokemon Go. You can give a try to these methods and might work for you. To be on the safe side, we highly recommend using UltFone iOS Location Changer and consider all the tips mentioned here while trying to teleport in Pokemon Go.