iTools Virtual Location Not Working? Find the Solution Here - iOS14/13 Supported
iTools is a powerful application that helps in managing and transferring files across iOS and Windows devices. One of its popular features, which is iTools Virtual Location, is used by many users because of the benefits it has to offer. The virtual location features allow the users to change their location and enjoy location-based games like Pokémon Go without moving outside.
Recently, users have been facing issues related to iTools virtual location not working or the feature not supporting other iOS devices. In this guide, we will tell you ways to troubleshoot these issues and recommend an amazing iTools Virtual Location alternative.
Part 1: Common Issues and Fixes for iTools Virtual Location Not Working
iTools is well-known to iOS users and its features are really great. But what to do if you are facing iTools not working? Follow the fixes below to solve the problems.
Issue 1: iTools Virtual Location Stuck at Developer Mode?
This is a common issue that leads to iTools virtual location not working. iTools gets stuck at the developer mode which further prevents your device from spoofing a location. This error might be caused due to the iTools application being outdated.
Solution: You can try to clear the cached data of iTools. If this doesn't work, then try updating iTools to the latest version, and this will definitely solve the error. You can get the latest update of iTools on their website.
Issue 2: iTools Virtual Location Map Not Showing?
There are many times when iTools can't load the map or the map starts crashing. The reason behind this is iTools fails to establish a successful connection with Google Map API. This might also happen if you don't have a stable internet connection.
Solution: Well, if this is the reason why your iTools virtual location is not working, not much can be done in this case because this issue can only be solved by a technical person. You can try to refresh iTools by re-launching it and redoing the spoofing process. You can also try switching to "Mapbox" and see if that solves the issue.
Issue 3: iTools Virtual Location Not Working for iOS 13?
iTools and iOS 13 are not compatible with each other. iTools is not built for iOS 13, which is why you will face a lot of issues running it on the said device. Temporary solutions have been provided by iTools but it only manages to work on some iOS 13 devices.
Solution: You can either download the previous version of iOS 13. Downgrading the iOS version seems to be the only solution for now. You can also try out other applications like UltFone iOS Location Changer that supports all iOS devices.
Issue 4: iTools Developer Image Load Failed?
Many users have complained about receiving the "iTools virtual location developer image load failed" error and most of them seem to be iOS 13 users. iTools either fails to load the location images or the screen keeps getting stuck.
Solution: Uninstall iTunes from your system. Then try rebooting it. Now install iTunes again from the App Store. Reboot your system again. Afterward, plug your iPhone into a PC and ensure that the device is unlocked.
Issue 5: iTools Stop Working?
This is a common error but it is a technical one. This technical issue doesn't have a solid solution but you can try the following things.
Solution: You can restart iTools. If the problem persists, then try rebooting the device. Another solution can be downloading iTools virtual location application again and reinstalling it.
Part 2: Better Alternative to iTools Virtual Location to Set Your Virtual Location Safely
If the above solutions can not fix iTools Virtual Location not working issue, you can search for a good iTools virtual location alternative, UltFone iOS Location Changer, as it allows you to change location without jailbreak.
UltFone iOS Location Changer is an iOS software that can easily spoof or fake your device's location. It allows you to select your desired route and speed so you can enjoy location-based games like Pokémon Go without moving an inch. This tool is also helpful when you want to hide your real location to avoid online tracking. With just a few clicks, you can easily change the location of your iPhone, which means the users don't have to go through the complicated process of changing GPS location.
Let's have the features of UltFone iOS Location Changer:
Users can have access to geo-blocked apps as the UltFone iOS Location Changer can easily bypass any GPS restrictions.
The tool has a "two-spot movement" feature that allows the users to select the start and end point of any GPS position.
The "multi-spot movement" feature allows selecting multiple spots on the map, and in this way, the users can customize their desired route.
Users can select the speed in terms of walking, cycling, or driving.
"Historical records" ensure to save the previously searched locations so you can easily access it whenever you want.
Let's go through the step-by-step process of how you can spoof your iPhone's location using the "Teleport" mode in UltFone iOS Location Changer.
Step 1Install UltFone iOS Location Changer

Start by downloading the UltFone iOS Location Changer from their website. Install the software and then open it.You will see the default interface which is the "GPS Change" mode. Tick mark the disclaimer displayed on the screen and then click on "Enter" to proceed with the next step.

Step 2Plug Your iPhone to the PC

Connect your iPhone to a computer with the help of a USB cable. Make sure you unlock your iOS device before plugging it into the computer.

Step 3Search the Location

Once you've connected your iPhone to the PC, your computer will display a search box where you can type in the address of the location that you wish to fake. After finalizing your desired location, click "Start to Modify" which will be displayed on the left side of the screen.
If you have followed the steps correctly, then UltFone iOS Location Changer will successfully spoof your device's location and you can enjoy any location-based app or game without a hitch.
Note:
1.You can easily check your original location by clicking the "Back" icon located in the bottom right corner.
2.You can also go through all of your previously used locations as they will be saved in "Historical Records". If you happen to like any location or you wish to use it again in the future, then you are given the option to bookmark it by adding it to "Coordinate Collection".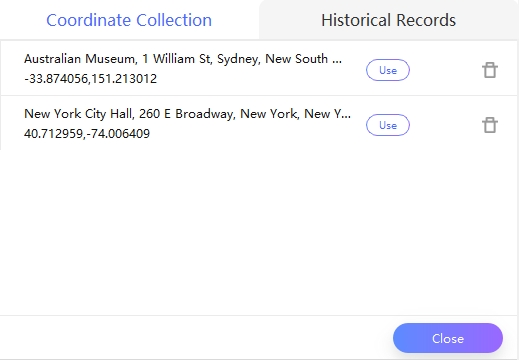 Part 3: Try UltFone iOS Data Manager- iTools Alternative to Manage iOS Devices
A great iTools alternative in terms of managing the iOS data is UltFone iOS Data Manager. It is a multipurpose file manager that does a brilliant job of backing up, transferring, and managing any sort of data on iOS devices. The file manager previews the previously backed up data, so you have the option to select only those files that you wish to restore/back up without overwriting the current ones.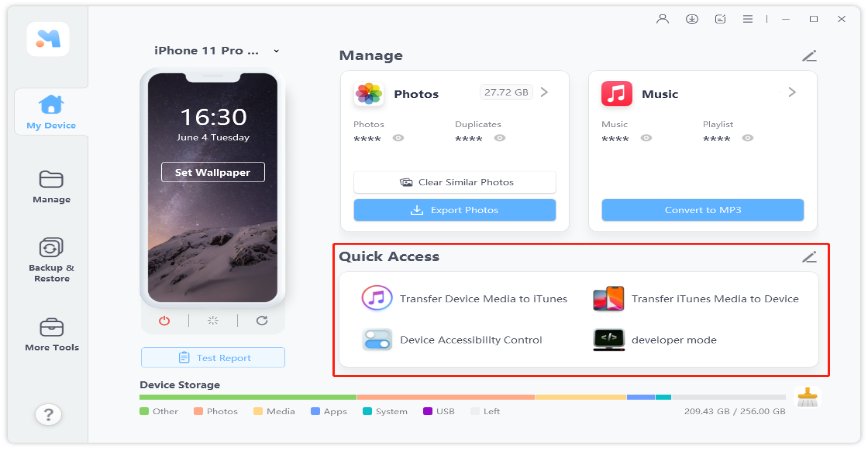 The following are some of the wonderful features of UltFone iOS Data Manager:
Offers "selectively back up" option wherein the users can easily back any specific data.
Users can save backup time as UltFone iOS Data Manager is time-efficient because it takes only half an hour to back up 50G files.
Backing up data on this file manager doesn't require any network. And also backup is 100% free.
Supports more than 30 file formats so the users will not face any restrictions while data transfer.
The management feature makes it easy to keep your iOS device neat and synced all the time. It can merge duplicate contacts as well.
Summary
In this article, we showed you many ways to solve the issue of iTools virtual location not working and also recommended a great alternative to iTools. It might be easy to spoof your device's location, but keep in mind that you do it safely and carefully. UltFone iOS Location Changer allows you to fake a location without jailbreak. The tool has many exciting features to offer at a very affordable rate.