Is PGSharp Safe/Free/Available on iPhone?
PGSharp is an Android software that may be used to spoof locations, teleport locations, and other functions in Pokemon Go. The iOS version of PGSharp is not accessible on the company's official website due to iOS constraints. Users of iOS have discovered other unauthorized methods to install PGSharp iOS, but do they work? Is it secure? We'll talk about these issues today.
Part 1: What is PGSharp iOS?
PGSharp is often available on Android devices to aid Pokemon Go players in hiding their location and playing stationary. Since Nintendo cannot detect it, it is common in Android smartphones. To find out whether there is an iOS version of PGSharp, some iOS Pokemon players may Google PGSharp iOS 2023.
Part 2: Features of PGSharp?
The functions that the app offers are as follows:
You do not need to install the fake GPS joystick again because it is already implanted.
You may alter your walking pace as you choose.
The PGSharp map features a teleport option.
It enables you to pinpoint the place using particular coordinates.
To create root in Pokémon Go using Pokestops, use an auto walk.
Enter how many Pokestops you wish to pass through in the updated app, and it will record your most recent location.
Part 3: Is PGSharp Safe & Free?
Is PGSharp safe? PGSharp is regarded as a secure and safe program for Pokemon Go mimicry. The likelihood of receiving a red signal on the app is quite unlikely if you utilize it. To prevent a soft ban on Pokemon Go, you should refrain from regularly moving your location.
Is PGSharp free? You may use the free version of PGSharp and download it for nothing. The premium version is required to access the more complex functions. Hence the free version has a limited feature set. The regular version of PGSharp includes most of its functionality (paid version).
Part 4: How to Download PGSharp iOS/Android?
PGSharp iOS:
Is PGSharp available for iOS? As with Android devices, there is no official PGSharp iOS download. However, an unauthorized method might assist you in downloading this program to your iPhone or iPad. On your iOS smartphone, though, you must download a lot of unnecessary apps.
Step 1: Do a Safari search for "applibero.com" to get started.
Step 2: Find the search box by opening this website and scrolling down. Click on search and type "PGSharp".
Step 3: Locate PGSharp iOS by scrolling down and selecting the install link.
Step 4: You will be prompted to validate your device by completing two app prompts. You must download these applications to your phone. And because it is so hard to accomplish online assignments, our test concludes this point. You can give it a try if you have the time.
We believe installing Pokémon pgsharp iOS is a fraud designed to trick you into downloading several pointless online applications.
PGSharp Android:
Step 1: You must register for a PTC (Pokémon Trainer Club) account to run PGSharp on Android to fake Pokémon Go.
Step 2: After that, remove the Pogo app from the Google Play Store.
Step 3: The new or updated software will not install if the Pokémon Go AR game is not uninstalled first. It prevents you from using a false GPS.
Step 4: Visit PGSharp.com and download the PGSharp APK to your smartphone to install.
Step 5: To use the app, enter your license key.
Note: To use PGSharp APK for free, you must enter the free beta key for it to work.
Part 5: PGSharp iOS Alternative: UltFone iPhone Location Changer [Unnecessary to Register A New Account]
If you use an Apple device, you can experience difficulties when faking your position in Pokemon Go. The approach we've already covered is similarly unreliable because it calls for installing extra pointless apps.
Additionally, there are no other Pokémon Go spoofing apps for iOS. Therefore UltFone iPhone Location Changer is the best PGSharp iOS substitute. For iOS devices, it is trustworthy, safe, and helpful. You may play Pokemon Go at home easily thanks to this reliable program, and there are no restrictions on its use.
Features:
With only one click, you may modify your GPS position.
Work with location-based applications like Facebook, WhatsApp, and Pokemon Go.
To start your chosen routes, add GPX files.
Easily control the direction of your movement with a joystick.
Steps to stimulate iOS move with a joystick:
Step 1

Start UltFone iOS Location Changer on your computer, then attach a wireless cable to your iDevice. From the left sidebar, select the fourth icon.

Step 2

Adjust the speed before dragging the ball to the circle and letting it go. When traveling, the direction may be changed 360 degrees. Two methods to halt the joystick movement are: click the "Stop" button or tap the orange square. The movement may be paused at any moment.
Note 1: First, in addition to moving the joystick, you may choose a place on the map or type it into the search field. Next, choose "Modify Positioning".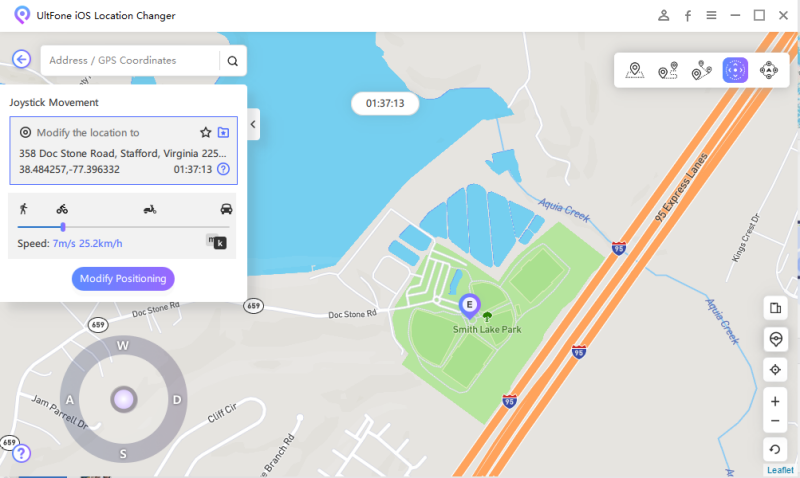 Note 2: To change your direction while moving, you may utilize the direction keys on your keyboard.
Part 6: People Also Ask about PGSharp
1. Is PGSharp Available on iPhone?
No! Android-only smartphones may use PGSharp. Due to technological limitations, Apple devices cannot use it. Furthermore, because it hasn't been released yet, you won't find an official version of PGSharp for iOS devices in the app store.
2. Is It Safe to Use Pokemon Main Account on PGSharp?
No, you cannot use your primary account since doing so will prevent you from downloading PGSharp and preventing you from using it. You must register for an ATC account to do this. Pokémon cheaters can use the modified Pogo app known as PGSharp. Niantic can identify your cheating and suspend your account if you utilize the main account.
Conclusion
PGSharp is the greatest location spoofing software for Android if you want to fake your GPS for Pokémon Go. Android users who enjoy the location-based game Pogo may use it to manipulate characters and catch more Pokémon faster. Although there isn't a PGSharp iOS version, there are various unauthorized ways to install it. Keep a watch out for those PGSharp iOS download techniques, though. UltFone iPhone Location Changer delivers all the fantastic spoofing features in Pokemon in a secure manner for your Apple device, so we highly advise you to give it a try to save your valuable time.