How to Walk in Pokemon Go? 100% Working Guides
As Pokemon is a location-based game, the player needs to walk physically to find and catch Pokemon cards and other items. But even avid Pokemon players cannot take out time from strict daily routine to go outside and play.
If you're also looking for ways to catch Pokemon without leaving the comfort of your home, then cheer up. In this article, you'll learn how to walk in Pokemon Go and explore new spots and regions full of Pokemon cards around the world.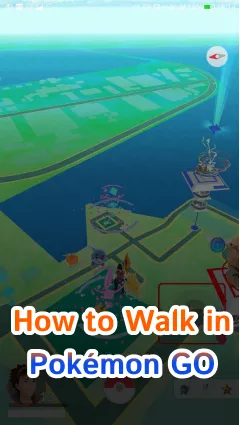 Part 1. How do you Walk Pokémon in Pokemon Go?
The first step in Pokemon Go is to walk around to find Pokemon items. Anyone wondering how to walk in Pokemon Go for beginners needs to:
Step 1: Install the game and set a username.
Step 2: Connect it to a stable internet connection
Step 3: Turn on GPS tracking
Step 4: Get off your chair and start walking. Now as long as you walk holding the phone, the player in the game also moves.
And this is how do you walk in Pokemon Go physically. You can walk, jog take a ride, to find rare and legendary Pokemon. However, avoid getting into fast moving trains or vehicles as it can lead to flagging of your account.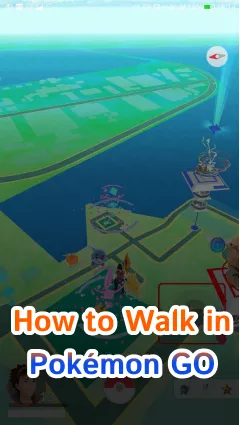 Not everyone wants to travel around the city just to fin some Pokemon. That's why the next sections will guide you how to walk in Pokemon Go without walking on both iPhone and Android.
Part 2. How to Walk in Pokemon Go on iPhone Without Moving?
Whether it's the bad weather or you just don't have time or energy to go outside, there're ways you can walk in Pokemon without moving an inch. What you need is a location spoofer tool like UltFone iOS Location Changer.
Using this amazing software, you can easily spoof your location and move around at a specific speed without being detected by the game. It allows you to change Pokemon Go walking speed regularly to make Niantic believe as if you are actually moving. Now you can play Pokemon GO without worrying about risking you phone and account's safety.
In addition, compared to its competitors, UltFone doesn't require jailbreaking the iOS device. And on top of that, it is super-easy to setup and use.
Check out how to walk around in Pokemon Go without moving on your iPhone
Step 1

Run the software on your PC and connect your iPhone to it.

Step 2

Next, select the Joystick Movement mode (last option) on the left tab and click Enter to proceed.

Step 3

Towards the top right corner - choose the speed that you would like.

Step 4

Tweak the location using the joystick. Click on the "Stop" button and tap the Orange square to stop your movement.

NOTE: Don't change your location too often as the game will flag your account. For this, you can use the cool down function so that you can get reminders about when you are burnt out.
Features of UltFone iOS Location Changer:
Offers a quick and simple procedure to walk in Pokemon Go without going outside.
It lets you use a joystick to move around for better user experience.
Users can switch their location to anywhere in the world to find more Pokemon cards.
Set a route between two or multiple points and walk at a specific speed to make it look real.
Part 3. How to walk in Pokemon Go without Moving for Android Users
If you are Android users and seeking how to walk in Pokemon Go without getting outside. Try using a trustworthy GPS mutator on your phone and start walking in Pokemon Go by sitting at home.
With a quick online search, you can find tons of these third-party GPS mutators. Choose any tool that you're satisfied with using. Here, we will go with a credible spoofing app named, PGSharp Pokemon Go.
This simple yet efficient tool lets you spoof your current location on an Android phone as well as use joystick to walk at a specific speed. Follow the below instructions to use this program:
Step 1: First, uninstall Pokemon Go from your Android phone.
Step 2: Next, install and launch PGSharp Pokemon Go. A new Pokemon Go will be installed on your phone. Login with your account.
Step 3: Now, use the virtual joystick to walk around anywhere you like.
Part 4: FAQ about walk in Pokemon Go
Give a read to the below common queries of users.
Q1: Why can't I walk in Pokemon Go?
If you are unable to walk in Pokemon Go, then implement the below tips:
1. Be sure your phone has a stable internet connection.
2. The GPS tracking is enabled on the device as Pokemon Go needs your current location in real-time.
3. Using an unreliable location spoofer can get your account flagged, making your unable to walk in Pokemon Go.
4. A minor glitch in the game or your device. Force exit Pokemon GO, restart your phone, and try walking again. Also, check if any Pokemon Go updates are pending.
Q2: What's Pokemon Go walking speed limit?
You can walk around at any speed as long as it's not too fast. Generally, travelling at more than 20mph or 32kmph can get ignored for moving too fast – and it also won't hatch your eggs.
Final Words
This article has provided a detailed guide on how to walk in Pokemon Go without moving physically. Now, you don't need to leave the comfort of your bed and still, explore your city or any part of the world. All you need is a reliable location spoofer like UltFone iOS Location Changerto get the job done.
Go ahead and start finding your favorite Pokemon without worrying about weather or anything.