What to Do When My iPhone Says It Has a Virus
You just got an alarming pop-up saying something like, "Virus has been detected on your iPhone!! All of your data will be erased permanently if no action is taken". But, the concern is, can iPhones get viruses or is it a scam? In this guide, we'll walk you through what to do when you get a pop-up saying my iPhone says i have a virus or virus detected on my iPhone.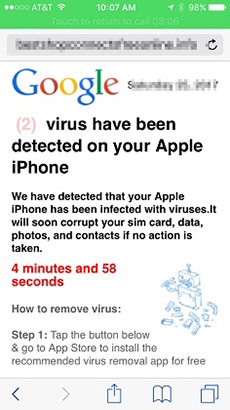 Part 1: My iPhone Says It Has A Virus, Is It Really or A Scam?
Before you learn what to do if my iPhone has a virus, it's important to know whether it is true or scam. Well, it depends whether your iPhone is jailbroken or not.
If your iPhone is jailbroken, then it can easily get infected with a virus or malware, a sort of software that could badly damage your device or harm its core functionality.
Even though rare, jailbroken iPhones can be virus attacked from insecure websites or bad apps. Indeed, iPhones that are jailbroken are at-risk as they have access to Cydia apps and some of these apps are notorious for damaging your iPhone with a virus.
On the other hand, if your iPhone isn't jailbroken, then an alert like Google says my iPhone has a virus is a scam. Scammers generally create pop-ups or alerts like these all the time. Their primary purpose is to access your credit card info or iCloud account details by scaring you to think something is very wrong with your device.
Part 2: What to Do If I Receive A "Virus Has Been Detected On iPhone" Pop-up?
For users wondering my iPhone has a virus what do i do, such types of alerts appear when you're using the Safari app. So, the first thing we recommend you do is to quite the app that you were using when you got this alert. And don't click Ok or interact with an alert at all and follow the below steps to get rid of alert with ease.
Step 1: Force Quit Safari App on Your iPhone
The first step to address my iPhone keeps saying i have a virus problem is to force quit Safari app on your iPhone. To force close Safari app on your iPhone, follow the below steps:
On an iPhone X or above, open the Home screen and swipe up from the bottom of the screen and then, pause slightly in the mid of the screen.
On iPhone 8 or earlier, open the Home screen and double-tap the Home button to view your most recently used apps.
Swipe left or right to locate the Safari app that you would like to close.

Swipe up on the preview of the Safari app to close it.

force quit safari
Step 2: Clear Safari Browser History
The next step is to clear your Safari browser history that could help you get rid of such alerts like my iPhone says it got a virus. This will also erase temporary cookies or files that might have been saved when the malware pop-ups occur.
Below is how to clear your Safari browsing history:
Open "Settings" on your iPhone. Click "Safari".
Choose "Clear History and Website Data".

If prompted, then click "Clear History and Data" to confirm the action.

clear safari browsing history
Step 3: Report This to Apple
The final step to address pop-ups like my iPhone has a virus on Safari is to report the alert you got to Apple's support team. And this step is imperative for two reasons. The first one is that it will protect you in case your info gets misused or stolen. Secondly, it will protect other users from dealing with the same wicked pop-up.
Part 3: How to Remove Virus from Jailbroken iPhone Safely
If you have come so far, then you now probably know that alerts like my iPhone says it has a virus mainly due to jailbroken device.
So, removing jailbreak and erasing Cydia would help you protect your iPhone from such alerts in the future. To remove jailbreak safely and erase Cydia, you need to repair your iOS system. For that, UltFone iOS System Repair tool comes quite in handy. The tool will repair your iOS system and install the latest official iOS on your iPhone. The great thing about using the software is that it removes jailbreak without causing any data loss.
Below is the step-by-step guide on how to remove jailbreak and Cydia using UltFone iOS System Repair:
Step 1 Run UltFone iOS System Repair and connect your iPhone to the computer with the help of a digital cable. From the main window of the software, click "Repair Operating System".

Select operating system

Step 2 Now, click the "Fix Now" button. Then, download the firmware package suggested by the software for your device.

download firmware

Step 3 After downloading the firmware package, click the "Repair Now" button and let the software repair your iOS system to remove jailbreak and Cydia.

The repair process is completed
Conclusion
That's all on what to do when you encounter alerts like my iPhone has a virus. An important thing to remember such alerts or pop-ups aren't real always, but rather an attempt to access your personal info. But, one thing is certain that your iPhone can get a virus if it's jailbroken. With UltFone iOS System Repair tool, you can remove jailbreak and Cydia to protect your iPhone from getting infected by a virus.