How to Erase Browsing History on iPad Permanently
When you visit a web page on iOS device via Safari or other browsing apps, like Chrome, your browsing history will be recorded and stored for better user experience. However, it will cause privacy leakage since your password and other sites that you want to keep them secret will be stored. The most secure solution is to delete browsing history permanently. This post will introduce 3 simple and effective ways to clear browser history on iPad Pro/Air/Mini, iPad 4/3/2/1 with iPadOS 14/iPadOS 13, iOS 12 or earlier.
Top 2 Ways to Delete Browsing History on iPad Permanently
Method 1. Selectively Delete Safari Browsing History from iPad within Safari App
Sometimes you just want to clear surfing history on iPad/iPhone during specific time. You can complete this within Safari app. You can delete Google history within Chrome app as well.
1. Open Safari>Tap bookmark icon on the upper left panel (iPad), bottom right on iPhone.
2. You will see three icons. Tap the clock icon on the right to open History.

3. Tap Clear at the bottom, then select 'The last hour', 'Today', 'Today and yesterday' or 'All time'.
You can choose to delete individual entry: slide from the right to the left on a URL and tap Delete.
Method 2. Clear All Browsing Data on iPad/iPhone via Settings
If you want to delete all browsing data on iPad/iPhone, there is another simple method you can adopt: clearing up all history using Settings. Go Settings>Safari>scroll down and click Clear History and Website Data.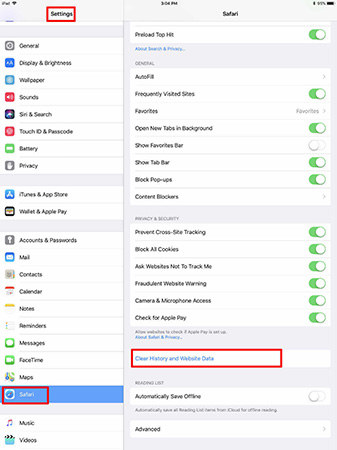 In addition, if you want to prevent from tracking by websites and clear cookies during further use, you can do following things
1. Set up Private Browsing Mode in Safari app.
2. Go Settings>Safari>turn on Prevent Cross-Site Tracking
3. Go Settings>Safari>tap Block All Cookies
4. Go Settings>Safari>switch on Ask Website Not to Track Me
After that, no browsing history will be stored.
Transfer Files from iPad to PC/Mac for Backup and Safety
iPhone has limited storage and the videos and photos may take a quite lot of space. We recommend that you backup important files to computer and then delete them from iPad regulary. iOS Data Manager is one of the best iOS transfer tool that can do much more than iTunes.
The outstanding features of iOS Data Manager
Backup iPhone/iPad/iPod touch data to computer. Flexible and free.
One click to export photos to computer.
Transfer files from iOS device to computer without iTunes.
One click to filter and remove duplicate contacts.
Restore iOS device from backup file.
Manage (add/edit/delete/export) photos, videos, contacts, apps, books, bookmarks, ringtones, etc.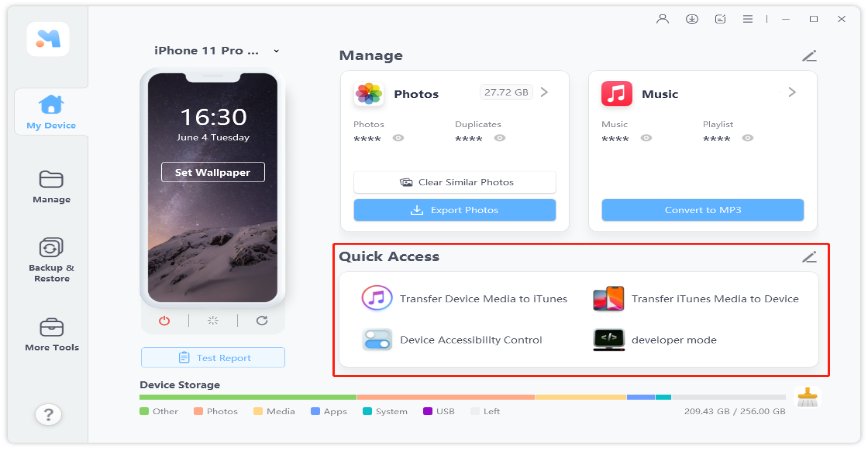 Related articles:
Last Words and Opinions
Deleting browsing history can be so easy with the methods mentioned above. If you'd like to remove other types of files from iOS device, a reliable iOS Data Manager can help you transfer and delete files easily.