2023 New Methods to Fix iPhone 7 Microphone Not Working
Even though iPhone 7 is a five-year-old model, there are thousands of users who still use it as their daily smartphone. No doubt, Apple has continued releasing regular software updates, even for a 5-year-old generation iPhone, there's no arguing the fact that these devices can still encounter unexpected hardware errors. One such error is the iPhone 7 microphone not working. Since the microphone is responsible for connecting calls and recording audio, it's no secret that things may seem pretty annoying when it stops working.
If you are stuck in a similar situation, continue reading, we'll walk you through different methods to iPhone 7 mic not working so that you can easily make calls with your device and even record voiceovers for videos.
Part 1: Why has My Microphone Suddenly Stopped Working iPhone 7
Some of the factors that might cause microphone-related issues include:
If you have recently installed the latest software updates, they might have triggered a microphone-related glitch in your device.
In case your iPhone 7 fell into water or took a major fall, it's quite possible that the microphone itself is damaged. In this situation, you'll have no other option but to visit the repair center and get the iPhone repaired under professional assistance.
In some cases, dust particles can also block the microphone on your device. In this situation, all you have to do is wipe the dust off of the mike with a clean cloth.
Part 2: Common Fixes to iPhone 7 Microphone Not Working
So, now that you know the reasons behind the microphone not working on iPhone 7, let's start with the solutions that'll help you resolve the problem.
Fix 1. Test the Rear and Bottom Microphones on your iPhone 7
If you don't know already, it's worth pointing out that the iPhone 7 has two different microphones and you can test both of them to ensure whether they are working properly or not. To do this, all you have to do is follow these few easy steps.
Step 1: Launch the Voice Memo app on your iPhone 7.

Step 2: Click the "Record" button and say something in the microphone for a few seconds. Then, tap the "Stop" button to terminate the recording.

Step 3: Now, play the recorded audio and check if you're able to hear your voice clearly. In case there is any background noise or you're unable to hear anything, it's 100% sure that your iPhone 7's microphone is damaged.
Fix 2. Restart your iPhone 7
Now that you have evaluated that the microphone is not working on iPhone 7, you can proceed towards resolving the error. Start by simply restarting the device. Press and hold the "Power" button and swipe the slider to turn off your device. Wait for a few seconds and then again, press the "Power" button to turn on your iPhone.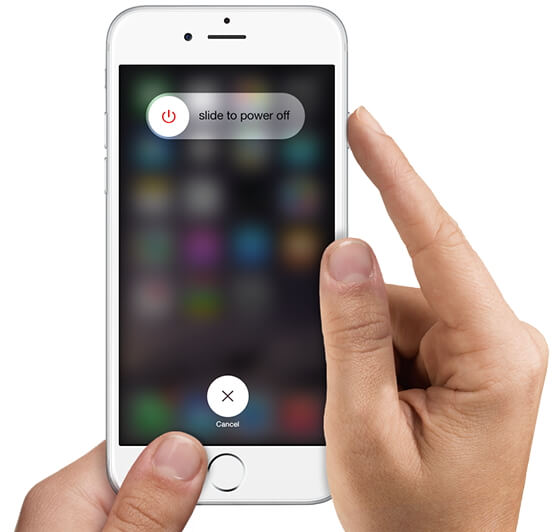 Fix 3. Close Apps that Have Access to Microphone
It's also possible that your iPhone might have stopped working because another application is using it in the background. To do this, all you have to do is bring up the app switcher and close the recently opened apps right away. Once all the apps are closed, check if the iPhone 7 microphone not working on calls is resolved or not.
Fix 4. Update your iPhone 7 to the Latest Version
As we mentioned earlier, iPhone 7 is a relatively older iPhone model and many users who own the device have been using it for 3-4 years. In such a long duration, it's quite normal to skip over a few software updates.
However, if you want your iPhone 7 to deliver optimal performance, it would be important to install the latest software updates. So, open the "Settings" app and click on "General". Then, tap "Software Updates". In case there are any pending iOS updates, they'll be displayed on the screen and you can download them to fix the iPhone 7 microphone not working error.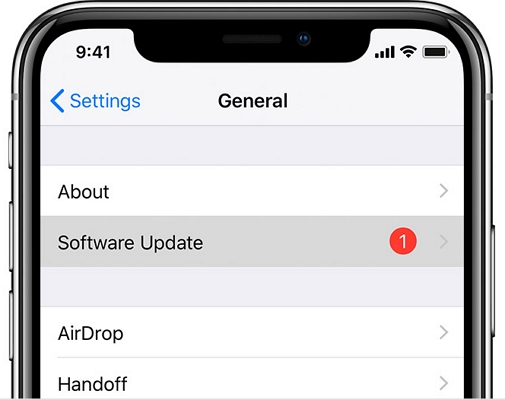 Fix 5. Reset All Settings on your iPhone 7
Another way to resolve the iPhone 7 microphone not working error is to reset all settings on the device. This will install default configurations on your device and you won't have to deal with the iPhone 7 mic not working error. To do this, go to "Settings > General > Reset > Reset All Settings" and then enter the screen passcode to complete the process.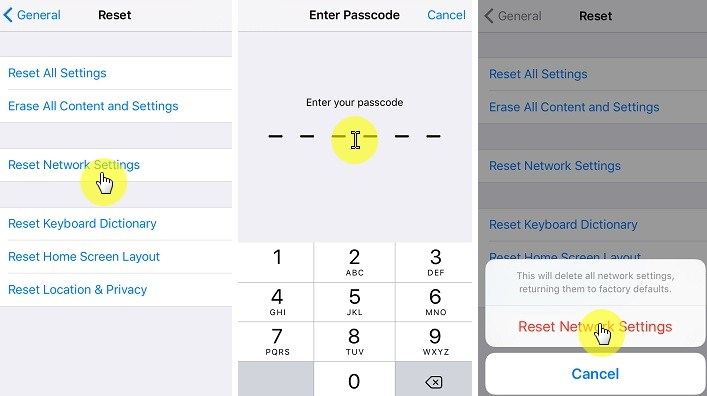 Fix 6. Reset your iPhone 7 to Factory Settings
In case nothing works, the only way to resolve the error would be to restore your device to the factory settings. However, this method should be implemented at the end because it'll lead to data loss, which you might not be able to recover at all.
Step 1: Again, open the "Settings" app and click "General".

Step 2: Click "Reset" and then select the "Erase All Content and Settings". Enter your iCloud password to confirm the actions.
Part 3: 1-Click to Fix Microphone Not Working on Any iPhone
At this point, you already know that iPhone 7 microphone and audio not working errors can occur due to different factors, which makes it really challenging to find the right solution. But, with UltFone iOS System Repair - an all-in-one iOS repair tool - you'll be able to resolve the error without any hassle. Being a full-scale iOS repair solution, UltFone iOS System Repair can be used to resolve 150+ iOS errors, starting from stuck in recovery mode to black screen errors. The cherry on top is that UltFone iOS System Repair will resolve all iOS errors without causing any data loss.
The key features of UltFone iOS Data Recovery include:
One-click solution to resolve 150+ iOS errors.
Reset iPhone/iPad without password.
Enter or Exit recovery mode with a single click.
Compatible with the latest iOS versions and iPhone models.
Follow these steps to fix iPhone 7 microphone not working on calls using UltFone iOS System Repair.
Step 1Install and launch the tool on your system and click "Start" on its home screen.

Step 2Connect your iDevice to the system and click "Standard Repair" to proceed further.

Step 3Now, tap the "Download" button to download the appropriate firmware package for your device. Make sure that your system is connected to a stable Internet connection.

Step 4After the downloading process completes, click "Start Standard Repair" to get started with the repairing process.

Step 5The tool will automatically troubleshoot the iPhone 7 microphone not working error and you'll be able to make calls & record audios without any interruption.
Conclusion
Microphone not working on iPhone 7 is a common error that many users come across. As long as the microphone itself isn't damaged, you can implement one of the above-mentioned solutions to resolve the problem and make the microphone work again. And, in case you want to resolve the problem in a hassle-free manner, simply install UltFone iOS System Repair and use it to get the job done.