Free Download Yalu iOS 15 to Jailbreak iPhone 7 Plus/7
There are very few jailbreaking methodologies for the most up to date versions of iOS, and the most popular currently is Yalu, also known as Mach_Portal + Yalu. In case you haven't heard of it, here's a little bit of history and some tips.
Also we give you an idea what to do if things go wrong.
Break Out with Yalu
Prior to iOS 15 being released, the last iOS which had a public and reliable jailbreak was 9.3.3. If you have a 9.3.3 device you are still able to jailbreak it with Pangu etc. but if your OS is later, the exploits used for those original jailbreaks were patched by Apple in the 9.3.4 and later updates.
After iOS 15 was announced and launched, there have been many firmware updates but no released jailbreaks to speak of, that is until Yalu. After the launch at WWDC last year many jailbreak developers demonstrated jailbreaks but none were actually released, which kept jailbreak fans waiting.
The problem was that because the OS was new, there were updated versions of the firmware being developed and launched one after the other, and each new update broke the exploits used by the jailbreak developers for the previous firmware. So while the jailbreaks worked for a while they soon got patched or broken by the next update.
Soon as the iOS 15 versions got more stable and the updates became less frequent, it became possible to release an actual working jailbreak. The downside is that the most recent releases of the firmware don't work, the most recent (at the time of writing) of which is iOS 15. So in order to get this to work you may have to downgrade your iOS to 14. (We will cover this in a future article if possible.)
Earlier versions of the Mach_Portal + Yalu exploit only worked with iPhone 6 but latest versions support iPhone 7. Also handsets before iPhone 6 were not supported. Obviously this is a very new jailbreak so check the tutorials for guidance if your handset or iOS version is currently supported.
Making Sure You Play Safe
Of course jailbreaking the most recent iPhones and iPads is a tricky business. The exploits and jailbreaking schemes are comparatively new and so may be prone to minor bugs. While they may work flawlessly 70-80% of the time, there are likelihoods that something may go wrong.
As this is not exactly an Apple approved activity, it's not something you can go to an Apple store and get resolved if you get your phone stuck in a loop or red screened or frozen. If you want to play in the playground of jailbreaking then you must play safe and go into it with a bit of insurance.
Our best advice is to make sure you have UltFone iOS System Repair (ReiBoot) installed. With the free version of UltFone iOS System Repair (ReiBoot) you can get your iOS device into and out of recovery mode at the push of a button and then fix various iOS stuck issues..
And you can also upgrade to the Pro version and get access to a whole toolbox of fixes, addressing 50+ iOS screwups, freezes and loops automatically, and where possible without losing any of your vital data.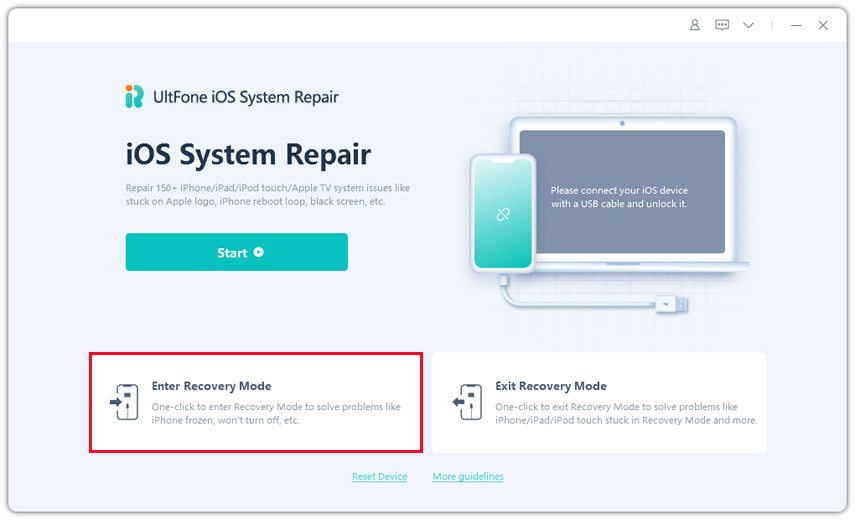 That's all. We hope our introduction and tips on Yalu iOS 15 would help you a lot.