iBooks not Working on iPad iOS 16? Find a Fix Now
If you like to read electronic books or PDF files on your iPad iPad/iPad Pro/mini 4/mini 2/Air 2, or iPhone, you may feel frustrated when the iBooks gets crashed, frozen, extremely slow, or would not open, sync, or download. Sometimes the iBooks issue is related to an iOS (like iOS 16) update, and at other times iBooks issues can be attributed to other unknown causes. But after you've read this article on how to solve different iBooks problems, you won't get panic next time your iBooks fails you.
Part 1: How to Fix iBooks not Opening on iPad/iPhone?
When iBooks cannot be opened on your iPad or iPhone when you tap on the icon, the best chance you can solve this issue is to force restart your device. Here is how:
Force restart iPad with Face ID such as iPad 2018 iPad Pro, you need to:
Press and quickly release the Volume Up button.
Press and quickly release the Volume Down button.
Press and hold the Top button until your iPad restarts.
Force restart an iPad with Home button such as iPad Air, you need to press and hold both the Home and Side (or Top) buttons for at least 10 seconds, untile you see the Apple logo.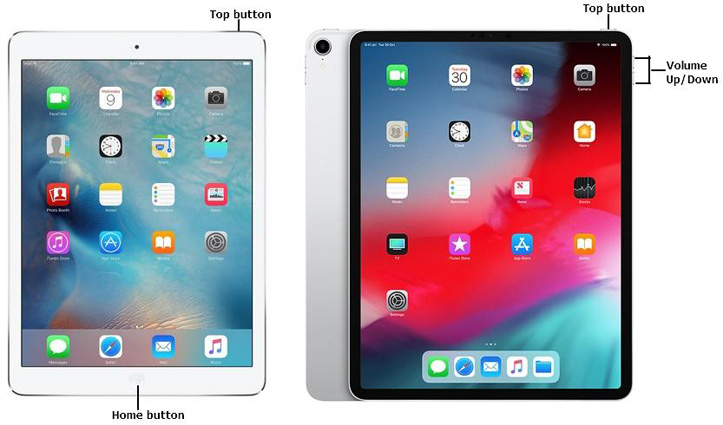 Part 2: How to Troubleshoot iBooks App Crashing on iPad?
iBook may keep crashing back to the menu interface every a few minutes every time after you open and reopen it. In this case, iPad reboot normally can't fix the issue. We may try another trick to turn your iBooks app back to normal: deleting the iBook app and then re-downloading it from the App Store. Although it is said that the deleted system apps are just hidden on the device, but not actually removed, but since you have to go through the whole process of deleting and downloading, it will still do the trick.
This method will also remove all the downloaded books from your iPad. So you should download books again from iBooks Store.
Part 3: Guidance on Resolving iBooks not Downloading on iPad
Among all possible iBooks downloading issues, there are two that are more common than others: downloading the wrong books or book pages are missing or completely blank, despite the downloading process is properly processed. Try the following ways if you have the same iBooks downloading issues.
For those users with multiple Apple IDs, chances are that they log in their iPhone and iPad with different ID, and that could lead to the wrong book downloading problem, when you want to read with iPad books that you have downloaded on your iPhone. In this case you may follow the steps to check your Apple ID.
1. Go to Settings >> iTunes & App Store and check your Apple ID.
2. Tap on the ID displayed and then tap on Sign Out, if that ID is not what you wish to use on iPad.
If you still have such issues after changing the Apple ID, just delete the wrong books or the books with blank pages and then go to iBooks Store to download them again.
Part 4: How to Solve iBooks not Syncing on iPad?
When you download PDF or ePub files from other places instead of iBooks Store on iPhone or Mac Book, and you wish to open it on iPad, you may find that the books cannot be synced from other iDevices to iPad. This is common among many iPad users. But the following trick will help you sync books between your Apple devices.
Step 1: If it's your iPad that the books cannot be synced, go to Settings >> iCloud, and turn off iCloud and then turn it on again after a while.
Step 2: You may also switch off and on the iBooks under the iCloud settings if the first step won't help.
Step 3: After the first two steps, your saved files on both devices will be refreshed.
Part 5: Fix all iBooks Issues on iPad with UltFone iOS System Repair
With an impressive record of troubleshooting different iOS app and system problems, UltFone iOS System Repair is a powerful tool that you can trust in solving your iBooks freezes after iPadOS 15 update, iBooks not opening, not syncing, not downloading as well as crashing and lagging problems within one click.
How to Fix iBooks Not Working on iPad without Data Loss
Download and install this iPad system repair software to a PC or Mac computer, and follow the steps to fix iBooks problems effectively.
Step 1 Connect your iPad to computer via the original Apple USB cable, and choose "Repair Operating System" feature from the main interface.

Step 2 Click "Fix Now" to continue.

Step 3 Download firmware package prior system repair.

Step 4 Click "Repair Now" when the download is completed. This software will start fixing the iPad problem using the firwmare package.
The Final Words
To fix iBooks issues on iPad, you may either try the tricks within the device or use UltFone iOS System Repair to simply reboot your device or fix the system within a few steps.