How to Find Pokéstops Near Me?
Pokéstops are numerous geographical points of vital significance that are spread arbitrarily on the map. You can garner all types of items from a Pokestop, such as eggs, Pokeballs, and more to build up your inventory. So, using Pokéstops can completely transform your Pokemon Go experience, offering you all the essential things you need to excel at the game. In this guide, we'll walk you through all the ways you can use to find Pokemon Go Pokéstops near me. So, let's deep dive in!!
Part 1. What Places has the Most Pokéstops?
It's generally on the basis of the big cities where they have the most places of interest. So, the places where you can come across the most Pokéstops include San Francisco (due to its countless attractions) in the middle of Waltham, Massachusetts, etc. In short, if you're visiting a big city, you'll find a lot of Pokéstops.
Part 2 . Where Can I Find Pokéstops in My Area?
Let's now have a look at some tips to find the best Pokéstops near me. You can try all!!
Tip 1. Explore Your Area
To commence with, we would recommend discovering your area and nearby places often. Let's take an example: suppose if you're traveling, then you can simply launch the app to look for different Pokéstops in your area. While using the app, pay attention to the blue icon utilized to depict Pokéstops. You might have several Pokéstops near you, so all you have to do is discover your area to locate them.
Tip 2. Add Friends
To find Pokéstops and gyms near me, you can seek other Pokemon Go players in your city. For that, you can join different forums, IGN groups, Facebook groups, and more. You can even visit different local events to connect with other Pokemon Go players.
Once you find some friends, you can then add them by following the below steps:
1. To add friends, open the Pokemon Go app and click on your avatar.
2. Go to the "Friends" tab and click on the "Add Friend" button.
3. Enter a unique trainer code of the Pokemon Go player you want to add to send them a request and wait for approval.
Now, your friends can tell you about Pokéstops near me and vice-versa.
Tip 3. Take the Advantage of Various Pokemon Go Maps
There are numerous Pokemon Go maps and online sources that you can take advantage of to find Pokéstops near me. Some of the highly recommended options that really work are:
1. PoGoMap for Pokemon Go
PoGoMap is a one-stop solution if you're looking for a Pokemon Go live map of all gyms, nests, and Pokéstops. Its map-like interface comes in very handy to check several Pokemon-related items in any location you desired.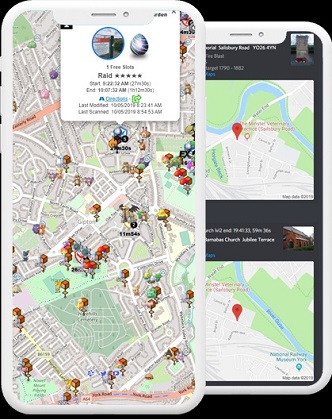 2. GO MAP for Pokemon Go Tracker
Go Map is another real-time map you can take advantage of to check Pokéstops and much more. It even comes in handy for other scenarios, such as it has interactive Pokedox with comprehensive details and statistics about Pokémons.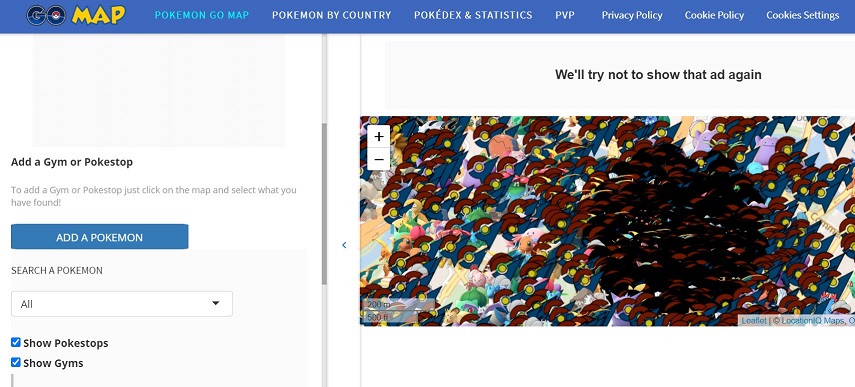 3. NYC Pokemon Map
NYC Pokemon map is our recommendation for players seeking a Pokemon Go Pokestop map for NYC. With the assistance of it, you can locate Pokéstops near me, quests, and recent raids. It even has filter functionality to look for any specific Pokemon.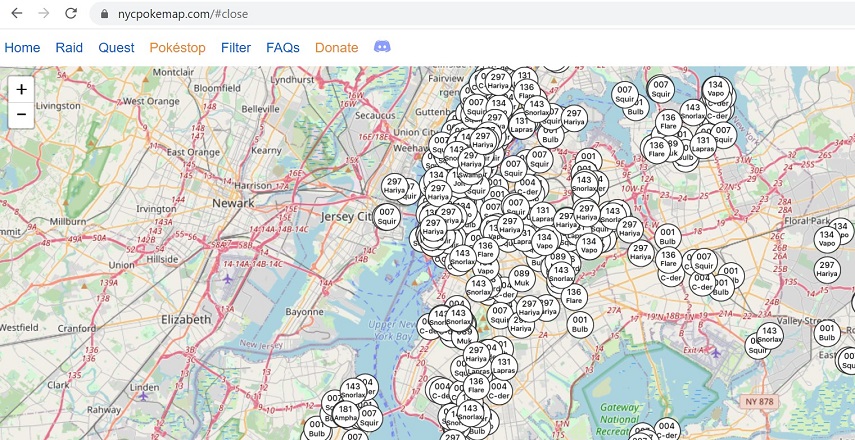 Besides these Pokemon Go maps and radars to find good Pokéstops near me, other options that we recommend are The Silph Road, Poke Hunter Web Source, and Poko Radar Android app.
Tip 4. Find Pokemon Go Pokéstops Near Me Via Quora, Reddit
In addition to dedicated forums, FB groups, and other sources available online, Reddit is one of the incredible platforms to share information related to Pokemon Go, such as the list of Pokéstops near me. You can sign up for the Pokemon Go sub-reddit, which has hosted a lot of info about the game.
Here are some key highlights of the Pokemon Go sub-reddit:
It currently has 2+ million users; therefore, you can find local players with ease there.
It has filters you can use to locate specific threads of your preference or use the search bar to search for particular Pokéstops in your region.
The platform can help you find coordinates of numerous gyms, nests, Pokéstops, and much more in numerous districts.
One thing to keep in mind is that ensure to go through the rules and guidelines of the Pokemon Go sub-reddit platform before you post anything unwanted on the forum. In addition to Reddit, you can even join Quora spaces.
Part 3. How to Find Pokéstops In Other Places?
Besides the above tips to find Pokéstops near me for Pokemon Go, you can also take the assistance of Pokemon Go spoofers. These Pokemon Go spoofers are highly recommended to find Pokestop locations in other cities. As it's not possible for us to always physically move to other cities in order to visit Pokéstops, we can simply spoof/change our location instead.
1. Use UltFone iOS Location Changer to Spoof iPhone Location
When it comes to spoofing iPhone location, UltFone iOS Location Changer serves the purpose best. This desktop-based location changer for iOS works for all iPhone models without the need for jailbreaking the device. You can spoof your location to any place where Pokéstops are present. In addition, to help you change the location, the tool can simulate the movement between two or multiple points. This, in turn, will help you enjoy the Pokemon Go game without leaving the comfort of your home.
Here's how UltFone iOS Location Changer can help you spoof the location of your iPhone:
Step 1 Launch the program on your PC or Mac and then hit the "Enter" button.

Step 2 Connect your device to the computer with the help of a digital cable.

Step 3 You can now enter the desired location in the search bar and hit the search icon to teleport to your target location. From the left panel, confirm the location and click "Start to Modify."

Step 4 If you want to simulate the movement, then go to the "Single-spot movement" tab and hit "Enter."

Step 5 Now, click on the map to select a destination location. Once confirming the start and target location, you can even tailor the move speed and then hit "Start to Move."
2. Android Location Spoofer Tool
If you're using an Android device, there are many fake location apps available on the Google Play Store to help you spoof your device's location.
Here's how to find and use the Android location spoofer tool:
Step 1: Go to Google Play Store and search for the fake location spoofer tool. You'll come across so many options, so select the one with the higher rating.

Step 2: Before you can use a fake locations spoofer app, you need to turn on Developer Options on your phone. So, visit "Settings">" About Phone">" Tap Build Number several times."

Step 3: Now, go to "Developer Options">" Select a mock location app." Here, you can choose the app you downloaded from the play store on your phone.

Step 4: Finally, open the fake location app you downloaded and then spoof your location to any Pokestop, and that's it.