The Best Pokemon Go Maps and Radars That Really Works in 2022
When Pokemon Go first released, lots of players invested resources and time into setting up radars and maps that help them find everything in the game, from Pokéstops and Gyms to rare Pokemon spawns. Though it was handy for everyone, it is also a concern for Niantic about cheating. That's why changes were introduced to the back end of the Pokemon Go game that makes it more challenging for Maps and Radars to work. Most of them have since gone shut down but some still remain. This post is all about exploring the best Pokemon Go radars and maps that still work in 2022.
Part 1. What is a Pokemon Go Raid Map or Pokemon Go Radar?
Pokemon Go raid map or radar is an application or website that has information about the Pokemon Go app. Ideally, the Pokemon Go raid map or radar will display details about the Pokémons spawning in different regions. Ultimately, players can check which Pokemon is spawning at any specific locality and visit it in order to catch it.
In addition to that, some Pokemon Go radar or map sources even display real-time spawning details. On some sources, you can even find out information about Pokemon nests, gyms, Pokéstops, and other game-related details.
However, it's important to use a Pokemon Go Map or radar application or website wisely as it can lead to your account ban. We recommend using a Pokemon Go radar Android app/website on another device.
Part 2. The Pokemon Go Maps and Radars That Still Works
Unfortunately, Niantic has found some top Pokemon radar apps/websites and tried to shut these apps down. Though some of these apps may not work anymore, you can yet find the below Pokemon Go radar or map sources working.
This part will write the top Pokemon go maps and trackers that still work. Please give each map/radar a detailed introduction, its website, features, working principle, etc.
1. GO MAP for Pokemon Go Tracker
Go Map is a real-time map that shows Pokéstops, Pokemon spawns, and gyms. The website depends on players for reporting spawns and locations. That's the reason you may find the website handier in some regions than others.
So, if you're looking for a Pokemon GO map live that lists Pokéstops and much more, look no further from Go Map.
Link: https://www.pokemap.net/
Key Features:
List down Pokéstops, Pokemon spawns, and gyms.
An interactive Pokedox with detailed statistics and details about each Pokemon.
PVP guide entailing step-by-step instruction and a breakdown of Pokemon for PVP battles.
Sorting Pokemon by city and country.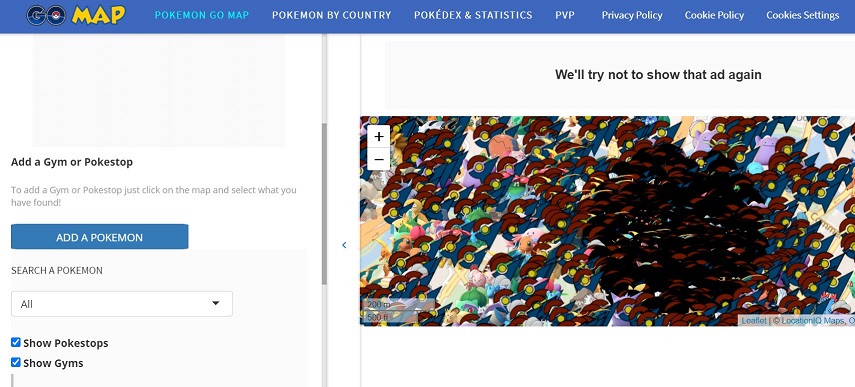 2. PokeHunter for Pokemon Go Gym Sniping
If you're looking for a Pokemon GO raid finder, then you can give a try to PokeHunter. It can help you explore raids, stops, and gyms in the game. Though the web source is not accessible all over the world right now, it is yet available in the United States.
Link: https://pokehunter.co/
Key Features:
In-depth information on Gyms, raids, and stops.
Details about each major city in the US.
Comes in handy to catch new Pokémons and determine recent spawns.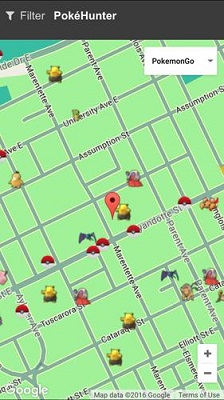 3. PoGoMap for Pokemon Go
Are you seeking Pokemon Go live map of all Pokéstops, Gyms, and Nests? Look no further from PoGoMap. You can take advantage of its map-like interface to see numerous Pokemon-related things in any locality.
Link: https://www.pogomap.info
Key Features:
List things like newly spawn Pokémons, gyms, Pokéstops, nests, and much more.
Add a source to its atlas.
A map is available for Harry Potter Wizards Unite players as well.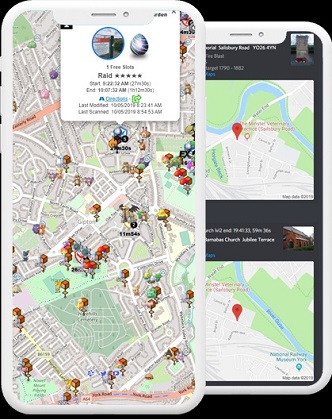 4. The Silph Road
Looking for a Pokemon Go nest map? Look no further from The Silph Road. It is indeed one of the best-organized websites for Pokemon Go Players for collaboration. Take advantage of its map to find all the Nest locations with both rumored and confirmed Nest Spawns.
Link: https://thesilphroad.com/
Key Features:
Comprehensive Pokedox and unlimited guides on Pokemon Go.
Dedicated global atlas of Pokemon Go nest coordinates.
The website is updated on a regular basis.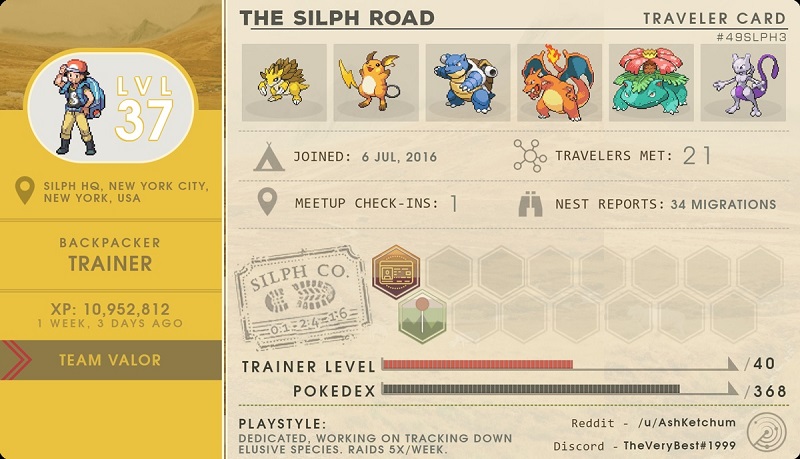 5. Pokemon Go Radar for Android
For Android users, we recommend this Pokemon Go radar app. The app is not available to download from Google Play Store. However, you can download it from a 3rd-party source. It comes in handy to determine any specific Pokemon and much more.
Link: https://www.malavida.com/en/soft/poke-radar/android/
Key Features:
Find any Pokemon.
Map to help you determine spawn points as well as nest coordinates for numerous Pokémons on your phone.
Filter or sort the Pokémons shown.
6. Pokemon Go Map Singapore -SG Poké Map
If you're looking for the real-time Pokemon Go map scanner for Singapore, look no further from SG Poké Map. Before, there used to be a dedicated SG Poké Map application for Android. However, it has been taken down. Though the app is down, you can access its website.
Link: https://sgpokemap.com/
Key Features:
Explore recent raids, quests, and Pokéstops
Spawning of Pokémons in the region.
Filter option to look for a specific Pokemon.
Zoom in on its map to find out the exact coordinates, location, and other info about the Pokemon.
Show de-spawn timing to determine whether it's worth the spot.
7. NYC Pokemon Map
Looking for a Pokemon Go Pokestop map for NYC? Look no further from NYC Pokemon Map. It is similar to the one listed above - SG Poké Map. It has similar features to one for Singapore. The difference is just that NYC Pokemon Map is designed for NYC.
Link: https://nycpokemap.com/
Key Features:
Find recent raids, Pokéstops, and quests.
Pokémons spawning in the area.
Filter functionality to search for any particular Pokemon.
Part 3. A Useful Tool to Catch Pokémons without Walking/Moving/Remotely?
No doubt, you can easily obtain Pokemon live locations with the assistance of the Pokemon GO regional map. However, moving to that live locations so quickly might not be possible. No worries!! To fix this, you just have to spoof the location of your device. If you're using an iPhone, then look no further from UltFone iOS Location Changer to spoof your device's location.
This tool can help you teleport location to anywhere you want. Most importantly, it can help you simulate your movement without actually moving or walking. The best part is that it supports simulating movement between two and multiple spots with customized speed. You don't have to jailbreak your device and need any technical knowledge to get the job done. Isn't, it amazing? Get ready to catch or evolve more Pokémons remotely.
Here's a quick guide on how to use UltFone iOS Location Changer:
Step 1 Run the program and connect your iPhone to the computer. From the software main interface, go to the "Single-spot movement" tab and then hit the "Enter" button to proceed further.

Step 2 The start point displayed on the left panel is your real location. To choose your destination location, click on the map.

You can confirm your start and destination location from the left panel and then use the speed bar to set the customized speed and simulate cycling, driving, or walking speed. Finally, hit the "Start to Move" button to begin moving between two points.

Step 3 To simulate between multiple spots, choose "Multi-spot movement" from the software main interface, and then hit the "Enter" button.

Step 4 Tap on the map to choose different locations and these selected locations will define a path in the order you select. Finally, hit the "Start to Move" button and that's it.
The Bottom Line
So, as you can now see that there are still many great Pokemon Go radars and maps that work. But the catch is that they are not just enough. You have to rely on tools like UltFone iOS Location Changer if you want to catch more Pokémons from the comfort of your home.