SOLVED: Why is my iPad Charging Slowly since iOS 15/14 Update
Recently many users have complained about iPad charging issues. There can be many reasons why your iPad is charging very slowly. Sometimes, it happens when you update your device software. No doubt, new iOS version brings a lot of features, but it also brings various issues like you are now facing. Maybe there is a hardware problem or it can be a software issue. However, whatever the reason is, we come up with some useful tips that you can try out to resolve iPad charging slow problem.
Part 1: Tips to Charge iPad Faster
Here, we are going to mention tips for charging iPad faster and if these tips do not work for you, then you can try out the fixes to solve the problem.
Tip 1: Use official lightning cable
Use Apple lightning cable to charge your iPad. Generally, you face charging issues when you are not using an official lightning cable and that's why it is recommended to use Apple cable that will charge your iPad faster as compared to another company cable.
Tip 2: Use wall chargers
The power supply of wall chargers is most suitable for iDevice like iPad. Thus, don't charge your iPad with a computer using a USB cable as it will slow down charging speed as well as your iPad system performance. Make sure to use wall chargers whenever you want to charge your iPad.
Tip 3: Don't use iPad while charging
Generally, device charging speed becomes slow when you use your device while charging and you may have also heard that it is not good to use the device while charging. Using iPad during charging slow down iDevice performance and creates many other issues. Thus, when you put your iPad in charging, let it charge first then use it. This tip is really effective to charge iPad faster.
Tip 4: Clean the charging port
Do you ever clean your iPad charging port? Usually, users don't do that and dust particles present in the charging port can also cause charging issues. Thus, use cleaning tool to clean your iPad charging port and this will definitely improve your iPad charging speed. Be careful while cleaning the charging port. Otherwise, you can damage your iPad charging port.
Part 2: Tips to Fix the iPad Charging Slow iOS 15/14
Tried all above tips, but does not help in charging iPad faster? Try below-mentioned tips to fix iPad Pro slow charging issue.
Tip 1: Force Restart iPad
The first thing you can try is restarting your iPad forcibly and it will start your device from scratch. If charging issue you are facing is due to software issues then performing force restart will certainly solve the problem for you.
Force restart iPad with Face ID such as iPad 2018 iPad Pro, you need to:
Press and quickly release the Volume Up button.
Press and quickly release the Volume Down button.
Press and hold the Top button until your iPad restarts.
Force restart an iPad with Home button such as iPad Air, you need to press and hold both the Home and Side (or Top) buttons for at least 10 seconds, untile you see the Apple logo.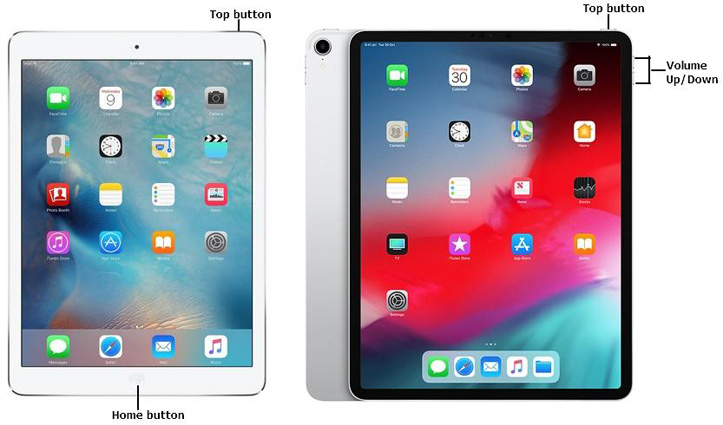 Tip 2: Repair iPad System to Fix iPad Won't Charge or Charge Slow
If force restart does not work for you, then try UltFone iPad System Repair to recover iPad system. Its Repair Operating system function can fix many common iOS issues such as iPad stuck on Apple logo, iPad black screen, iPad frozen,iPad stuck in recovery mode and many more. Thus, you can use tool to fix iPad charging slowly problem.
Here is the detailed step-by-step guide on how to recover iPad system to resolve the charging problem on iPad:
Step 1 Download and install this iPad repair software on your computer. After that, run it and then, connect your iPad to the computer using a digital cable. Then, click the "Start" from the software main interface.

Step 2 Thereafter, the software will download the firmware package that matches with your iPad operating system and wait for a minute until the download process is not completed.

Step 3 Once firmware package is downloaded successfully, click on "Start Standard Repair" button to fix charging issue and the software will reboot your iPad automatically.
Tip 3: Restore iPad
If you don't want to use a third-party tool to fix iPad won't charge issue then you can restore your iPad with iTunes. However, this method will erase your device existing data and thus, if you are ready to take risk of losing data then you can try this method. Or you can also backup your iPad data to the computer before proceeding with this method.
Here are simple steps on how to restore iPad with iTunes:
Step 1: To begin it, open iTunes on your PC and make sure that you have the latest version of iTunes. Then, connect your iPad to the computer using an official lighting cable.

Step 2: After that, click on Device icon and then, go to the "Summary" tab. Here, click on "Restore iPad" to begin the restore process.

Step 3: Now, follow the instructions to restore your iPad and within a few minutes, your iPad will reboot automatically.
The Bottom Line
That's all on how you can fix iPad not charging to iPad charging slow problem. UltFone iPad System Repair is most recommended to use if it is an iPadOS system issue. With this tool, you can resolve iPad battery charging very slowly without losing any data. However, if nothing helps in fixing charging problem on your iPad then it is a hardware issue. So, either contact Apple or visit Apple store for battery replacement.