Top 10 Tips to Fix iPhone, iPad, iPod touch Text Messages Not Delivered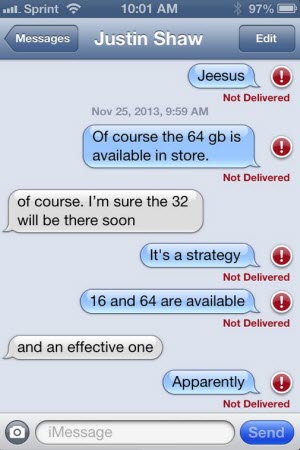 Text Messages Not Delivered
"Since I've upgraded to iOS 7, it seems I'm seeing a lot more of my text messages not being delivered to my recipients."
"When I send a text to another iPhone, I get a message that says the message is not delivered. Why is that and how to fix it?"
It seems that many iPhone 5 users can't deliver messages. In fact many of you may have met the issue that iPhone, iPad or iPod touch messages not delivered when texting, especially when you updated to iOS 10 or iOS 9. It is irritating when text communications are blocked and you cannot receive or send regular text messages. Still, there are many useful tips for you to fix this "messages not delivered" issue on iPhone 5, iPhone 5S/5C or on other device.
You may also find iMessages not working on your iOS device. In fact, it is the similar problem with text messages not delivered. Therefore, the methods to fix the iMessages not delivered issue are similar to the tips below.
Why Messages Can't Be Delivered on iPhone, iPad or iPod touch?
There are many possible reasons for text messages delivery failure. The SMS messages may be delayed in some system along the way, and may be delivered shortly. There may be some routing problems between the SMS providers, or it is because of the end-user or the aggregator.
How to Fix Text Messages not Delivered on iPhone, iPad, iPod touch - Top 10 Tips
Text messages not delivered on iOS 7 or iOS 7.1 is not a big problem. In fact, the messages not delivered issue can be fixed with those tips below, along with the issues that you can't send photo messages on iPhone or can't text pictures. You can try them on your iOS devices, including:
iPhone: iPhone SE, iPhone 6s, iPhone 6s Plus, iPhone 6, iPhone 5S, iPhone 5C, iPhone 5, iPhone 4S, iPhone 4
iPad: iPad Air, iPad mini 2 (iPad mini with Retina display), iPad 4 (iPad with Retina display), iPad mini, iPad 3 (the new iPad).
iPod: iPod touch 5/4
Here are the 10 best tips below. You can try one of them, or even try multiple ones till you can solve the messages not delivered problem. Stay patient when you read thought those tips.
1. Make sure your device is under the following conditions:

A strong cellular network connection through a cellular network provider.
A domestic SMS plan from your cellular provider. You may need an international messaging plan to send messages to an international contact. Contact your carrier for more info.
A roaming message plan when you use a cellular provider's network different from your billing cellular provider's network.

2. Ensure the airplane mode is off. Go to Settings and turn airplane mode off.
3. Restart your iOS device. If you can't reboot it with buttons, go to get UltFone iOS System Repair (ReiBoot), which is the free software to one-click reboot your iPhone, iPad and iPod without damage.
4. Reset network settings. Go to Settings > General > Reset > Reset Network Settings on your device.
5. Remove your SIM card and insert it again.
6. Make sure the contact who's trying to message you isn't blocked in Settings > Messages > Blocked.
7. If you are using a "Pay as you go" message plan, contact your carrier to make sure your SMS plan has enough available balance.
8. Backup your iDevice and restore it as a new with iTunes. To restore: connect iDevice to computer, select it when it appears in iTunes, choose the Summary tab, click "Restore iPhone", and click "Restore" button.
9. If the text messages not delivered issue occurs with a specific contact or contacts, delete and recreate the contact from the Contact app. Send a new message to the contact.
10. Contact your carrier to verify that you've provisioned for sending SMS text messages and are in an area with cellular coverage. You should also make sure there are no blocks or filters placed on your wireless account preventing you from sending text messages.
After you fix this issue, you can start to text others. Messages are important to connect with others. But you could easily lose chats, such as you accidentally deleted conversations, iOS update or jailbreak erased your messages, factory settings restore wiped off all your chat history. Luckily you can easily find your lost messages.