How to Fix Pokemon Go Keeps Crashing after iOS 16 Update
I updated my iPhone XR yesterday, and since then, Pokémon Go crashes abruptly. Is someone else experiencing the same problem can help me out?
Pokémon Go is a prevalent augmented reality game loved by millions. Even though it's loved by many, the app often gives a hard time to the players due to bugs, glitches, and crashes. And since the iOS 16 update, the crashing issue has become quite common for Pokémon Go. If you happen to be among those users who want to know "why does my Pokémon go keep crashing," we have all the answers.
With this article, we will give you the reasons and solutions for Pokémon Go crashing on iPhone. Let's begin!

Part 1. Why Does Pokémon Go Keeps Crashing
The two reasons for why does Pokémon Go keeps crashing are explained here.
1: Check Compatibility
Understand that not all iPhone models are compatible with Pokémon Go. Hence, if your iPhone doesn't meet the requirements, the app won't work properly, even if you somehow manage to install it.
iPhone 5s and later models
iOS 10 and later
Enable location service
No Jailbroken device
Fulfilling these requisites will ensure that the app works fine, whereas failing to do so will negatively impact the user experience of Pokémon Go.
2: If You Are Updating to A Beta Version, It Might Not Work
We didn't include this reason in the requisites because it's far too important. If you have a beta version of iOS 16, then Pokémon Go won't work on your iPhone. It'll either crash while you are playing or won't start at all.
Part 2. How to Fix Pokémon Go Crashing iOS 16 on iPhone/iPad?
If you've recently updated to iOS 16 and found that Pokemon Go crashing when catching pokemon, or sometimes Pokemon Go crashing on startup, here are some tips that we've tested to help relieve the issue.
Tip 1. Change the Region of iOS device
To prevent Pokémon Go crashing on iPhone, try changing the region of the device. The steps are:
1. Go to Settings app on your iPhone, iPad.
2. Tap on your name.
3. Select iTunes & App Store, and tap on Apple ID.
4. Tap View Apple ID and sign in if asked.
5. Then, tap on Country/Regin.
6. Change the location to any other.
7. After this, please restart your device.

8. And then, switch the Country/Region back to original with the same steps above.
After the restart, you can again switch to the original country/region.
Tip 2. Update Pokémon Go App
If your device is compatible and still Pokémon Go is crashing on startup, there are chances that your app needs an update. The old version may have compatibility issue with new iOS. With the official version of iOS 16 released, most of the Apps developer are releasing update to support the new iOS. Please have a check.
Please go to App Store, and tap on Profile icon. Scroll down to the Pokemon Go to check whether there is an update. If have, click the Update button.
Tip 3. Update iPhone Software
If you can't figure out how to stop Pokémon Go from crashing, try checking for an iPhone software update. Go to Settings app > General > Tap Software Update and install the update right away. If there is no pending update, move to the next tip.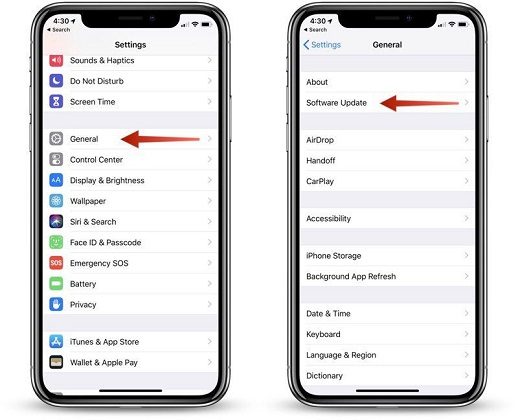 Tip 4. Force Quit Pokémon Go App
In case you can't figure out why Pokémon Go crashes on iPhone, try closing the app and relaunching it. Force quitting the app will clear its cache and minor glitches. With iPhone that has a home button, press it twice to open the recent apps screen. With the iPhone without the home button, gently swipe your fingers in an upward motion from top to middle, and the recent apps will appear.
Find the Pokémon Go app and swipe up to force quit it. Re-launch the app after a minute or better, restart your device and see if the app starts working.
Tip 5. Reduce Motion on iPhone
We all know that games require high-end graphics for smooth gameplay. So, if Pokémon Go freezes when catching Pokémon, it is a sign that you need to tweak the Motion & Graphics in the device.
Open Settings> Accessibility > Motion > Enable Reduce Motion feature. Once the feature activates, see if the app runs normally or continue having the problem.
Tip 6. Quit the Background Apps
One more possible reason for Pokémon Go hack crashing on startup could be the plethora of apps running in the background. Pushing any device beyond its limit will impact the performance. And in a day, we use more than 15 apps that occupy a significant amount of processor memory. Clearing these apps from the background will free up the processor, and the Pokémon Go app might start working again.
The process of quitting these apps is the same as force closing. So, you can get to follow the same steps as Tip 4.
Tip 7. Reset Network Settings
Another reason why Pokémon Go freezes when catching Pokémon is network instability. The app runs when the network is available and cause issues when the connection isn't stable. So, whether you are using mobile data or Wi-Fi, be sure that everything is working fine.
If the network is fine, open Settings > General > Reset > and Reset Network Settings.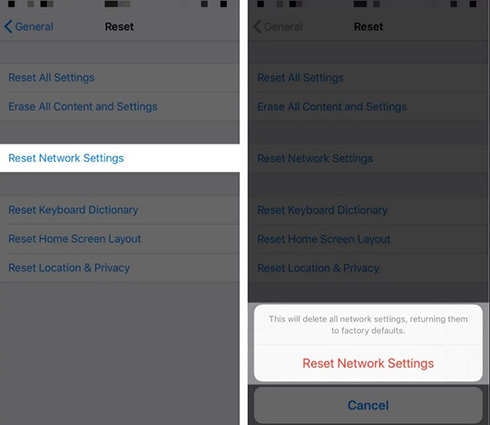 reset network settings on iphone
When you can't outline what to do about the Pokémon Go app crashing, the best idea is to delete the app and reinstall it.
Just touch and hold the app, and tap on Delete App option.
Restart the iPhone after deletion and go to the App Store to download Pokémon Go once more.
Tip 9. Repair iPhone System to Fix Pokémon Go Crashing on iPhone/iPad
If nothing else works when Pokémon Go keeps crashing iPhone 7, the last resort for Apple users is the UltFone iOS System Repair tool. With this professional tool, you can resolve over 150 different software-related nuisances like app crashing, freezing issues, stuck problems, etc. What's even better is that this software comes in handy to downgrade the beta software too. So, try this software to fix the app crashing issue without losing data.
Step 1 Launch UltFone iOS System Repair after connecting your iPhone with the system. Select the Repair Operating System function and choose Standard Mode for repair.

Step 2 As you start the fix, the software will ask you to download the firmware package that suits your device. Press "Download" and wait as the file is downloaded.

Step 3 Finally, the Repair Now button will become active. Press it to initiate the repair and wait patiently as UltFone resolves all the issues in the device.
After repair, the iPhone will reboot, and the crashing problem will also disappear. And not to worry because, during all this, the data stored on the device will stay intact.
Last Words and Tips
We hope that with this guide, we aided you in finding out how to fix Pokémon Go crashing problems. While you can try all these tips one by one, we must recommend using UltFone iOS System Repair right away to minimize your time and efforts. Let your other friends know that there is a tool in the market that can fix all the iOS issues.