How to Fix iPhone 13/7 Won't Turn On
The flagship handset by Apple, iPhone 7, iPhone 7 Plus, is one of the most favorite device among the users. After all it is the first iPhone that got the dual rear camera system. But nowadays, people are complaining that their iPhone is not performing well. One of the complaints that users are having is: my iPhone 7 won't turn on. Well, we have some solutions that can help you, but first let us see the reasons as to why users face these issues.
Why iPhone 13/7 Won't Turn On?
There are a number of factors as to why users face "iPhone 13/7 won't turn on shows red battery" issue. Below are the most common reasons for this issue.
Software Problems
Software issues might be present anywhere in your iPhone 13/7. They can be present in the one of the installed apps. Or they might be present in the operating system update. These software issues may lead to iPhone 13/7 not turning on issue.
Battery Issues
A dead battery is as good as a dead phone. Hence, check if the battery of your device is working properly or not. If the battery is dead, then your iPhone 13/7 plus won't turn on.
Hardware Problems
Most of the time, a short circuit between the components internally or a loose connection in the wires can also result in situations where your iPhone won't turn on.
Having said that, now you have a general idea as to why users face this issue. Let us have a look at the solutions that can help you solve the issue.
How to Fix iPhone 13/7/7 Plus Not Turning On?
Solution 1: Force Restart your iPhone
Force restarting is the most common solution that you can try on almost any issue, including this one. Follow the given steps below to know how to solve the issue.
Step 1: Press and hold the Volume Down and the Sleep button of iPhone for almost 8–10 seconds.
Step 2: Hold the combination till the screen will go off and the Apple logo appears on the screen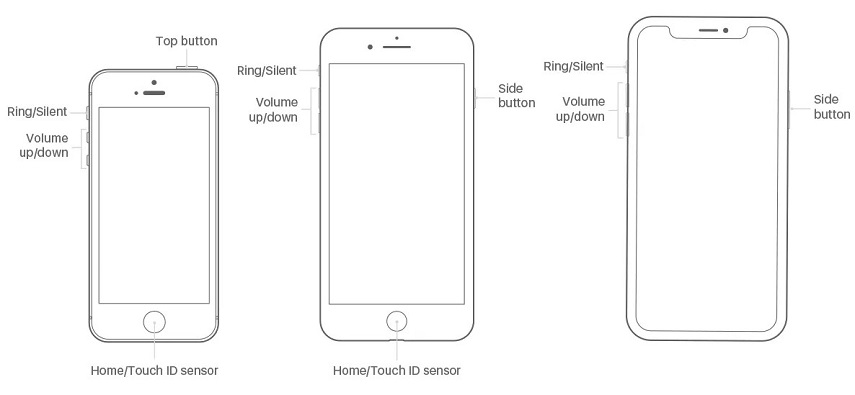 Solution 2: Look for damaged Hardware
This may be one of the factors that can lead to the users to face the issue. A small damage to the hardware accessories or the components may lead to severe consequences. Therefore, if you find any damages in the handset's hardware, then it may accountable for this issue. Even though the iPhone 13, 7 and 7 Plus are resistant to water, water damages can damage the device to a great extent and cause this issue. Hence, handle your device with care and look out for any damages to the accessories or hardware.
Solution 3: Charge your iPhone
As childish as it may sound, this solution may play a huge role in solving the issue. Users often complain about their iPhone not turning on and forget to check the battery status. If enough amount of battery is not available in the iPhone, then it is certain that your device will not turn on. Hence, before moving to bigger solutions, try charging the device.
Solution 4: Reboot iPhone 13/7 via Recovery Mode
If your device is still not turning on after trying the above methods, you can try to pur it into recovery mode and then exit to reboot it. It is recommended to use Free UltFone iPhone Recovery Mode. This tool offer you an one-click solution to enter and exit recovery mode on iPhone to boot up a frozen or hang iPhone with ease. Download and intsall the software on your computer and then follow the steps below:
Step 1 Run the software once you have connected your device to the computer. Choose "Enter/Exit Recovery Mode" from the main interface.

Step 2 Now, click on the Enter button to put your iPhone 13/7 into recovery mode.

Step 3 Then, click on the Exit button to get your iPhone 13/7 out of recovery mode.
This process will force restart your iPhone 13/7 and thus solve the device won't turn on.
Solution 5: Restore iPhone 13/7 to Factory Setting
Restoring iPhone to factory setting can also be helpful. All you need to do is follow the steps given below.
Step 1: Open iTunes and connect your device to the computer.
Step 2: Select your device when it appears in iTunes.
Step 3: Select "Restore iPhone" option. This will restore your iPhone to factory settings.
Solution 6: Repair iPhone iPhone 13/7 from Apple
If none of the solutions are yielding success and you think that the hardware damages to the iPhone are beyond your limits to resolve, then you must take it to the nearest Apple Service Center.
The Bottom Line
You just had a look on the best 6 solutions that could help you if your iPhone 13/7 won't turn on even when plugged in. If the article was help, you can let us know your feedback by commenting below.