Touch ID Failed After Screen Replacement? Fix It Easily
Touch ID failed after screen replacement when you get your iPhone repaired from an outer mobile shop without contacting iPhone care. It happens to a lot of people and we always recommend using iPhone customer care for touch id failed and other such events. You can severely damage your iPhone if you get it repaired with a cheap screen. However, there can be many other underlying causes of this damage. So, we have researched for touch id failed error and collated it all for you to fix it easily. Let us explore how!
Part 1: Why Touch ID Failed After Screen Replaced?
It always comes to the original component that goes missing after getting it fixed from outside. This is where the problem lies and sometimes there can be a touch ID failed to the home button and sometimes the touch id loses its connections.
This is why your touch id is failing after you got your screen replaced. This can also happen at a service center of Apple but with that, you can complain and get it fixed again. So, this is the only way the damage happens in your iPhone regarding iPhone touch ID failed. But, we have some of the cool software that can help you fix the issue by following a few steps. These things mostly work in most cases, so let's learn how to do it.
Part 2: Fix Touch ID Failed After Screen Replacement with UltFone iOS System Repair
UltFone iOS System Repair is one of the most used tools on the internet by professionals to fix the failed touch ID issue. This software helps enter into recovery mode and fix some of the most stubborn errors in iPhone. These are some of the key features of UltFone iOS System Repair:
System Repair – Repair your system easily with UltFone iOS System Repair as the software is pretty expert in it.
Downgrade/Upgrade – Downgrade or upgrade your software easily with this tool on your iPhone or Mac.
iTunes Error – Thousands of error on iTunes pop every day and this software have solution to all of them. You can get it all fixed with this software.
Step 1: Download and Install. Once you have installed the software on your device, open it and you will see the dashboard. Click on "Repair Operating System" feature to get started with the process.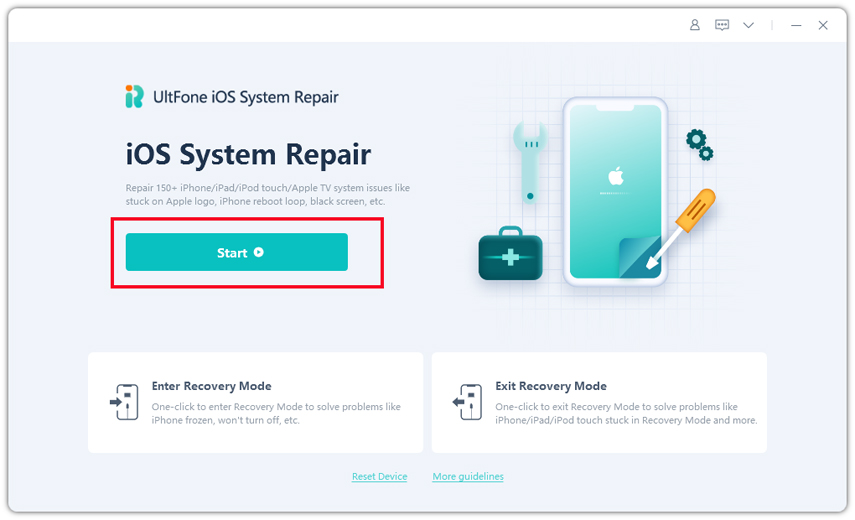 Step 2: Start Repair. On the next page, you will see a lot of options. Make sure you have your device connected and recognized by the device. So, select the repair mode standard or deep for fixing iPhone touch ID failed after screen replacement on your PC to start with the recovery process.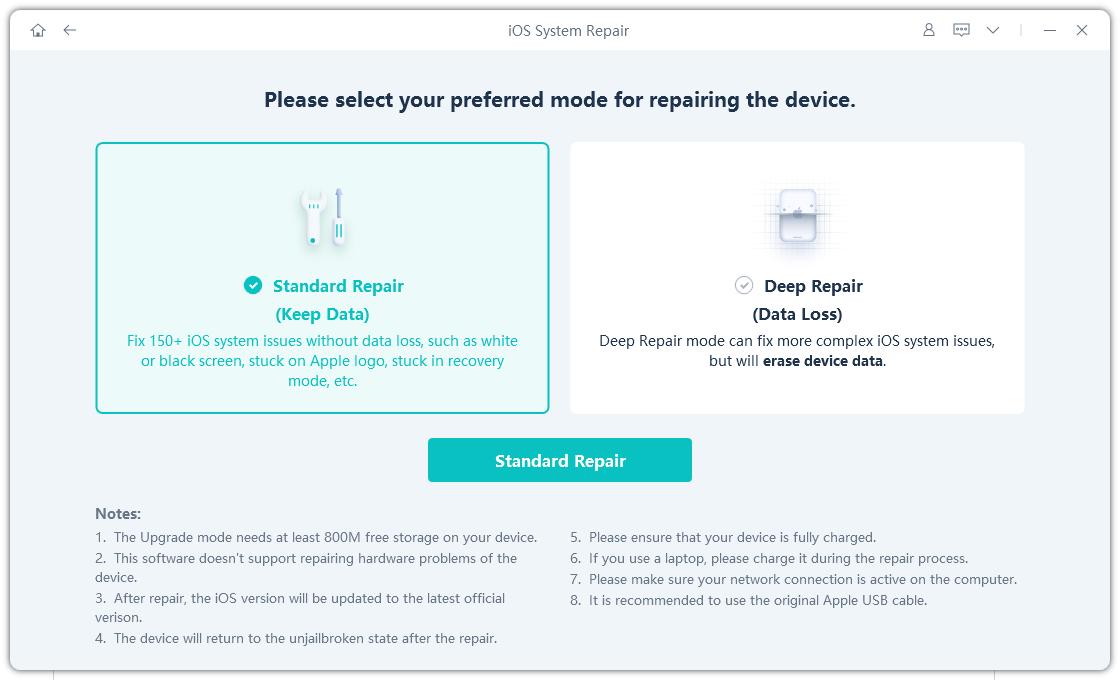 Step 3: Download Firm Package. Once your iPhone is discovered by the software, you can start with firmware package. You will have to download the package first. If you already have the package, you can add it manually. Both ways, this will proceed with system recovery.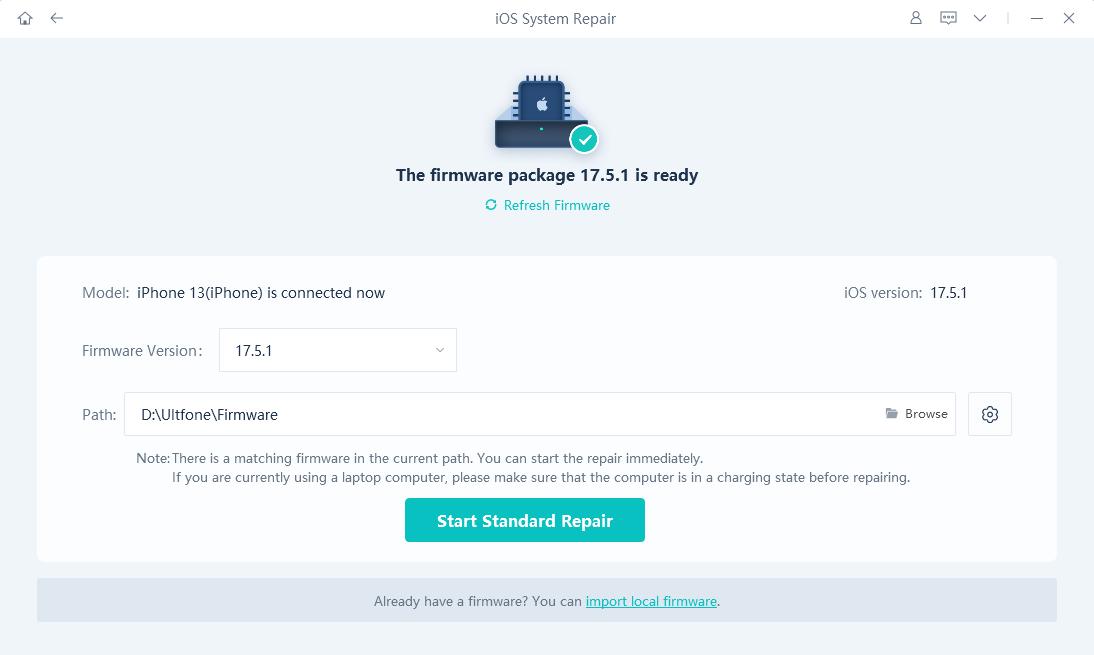 Step 4: Start Repairing Operating System. Now that you have downloaded the Firmware package successfully, this is the time to fix touch ID failed after screen replacement. Start with clicking on the "Start Standard Repair" button to start recovery and boom, you are done with iphone touch ID failed error while creating repairing iPhone.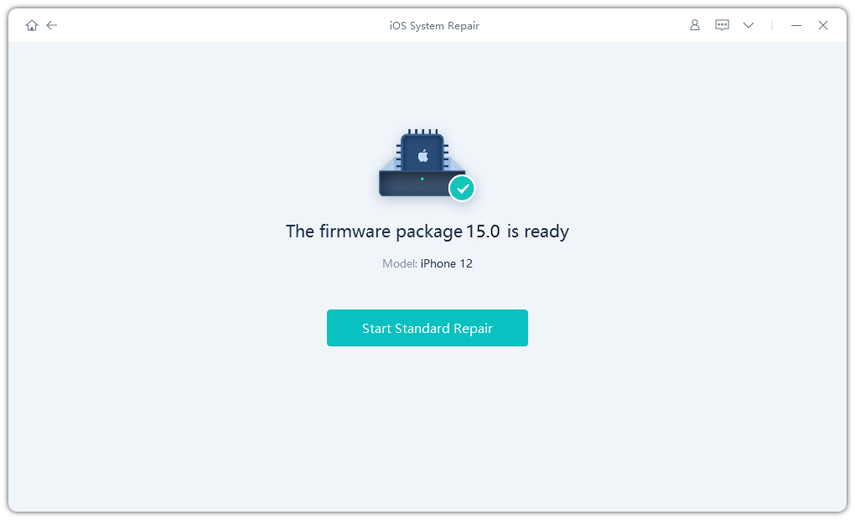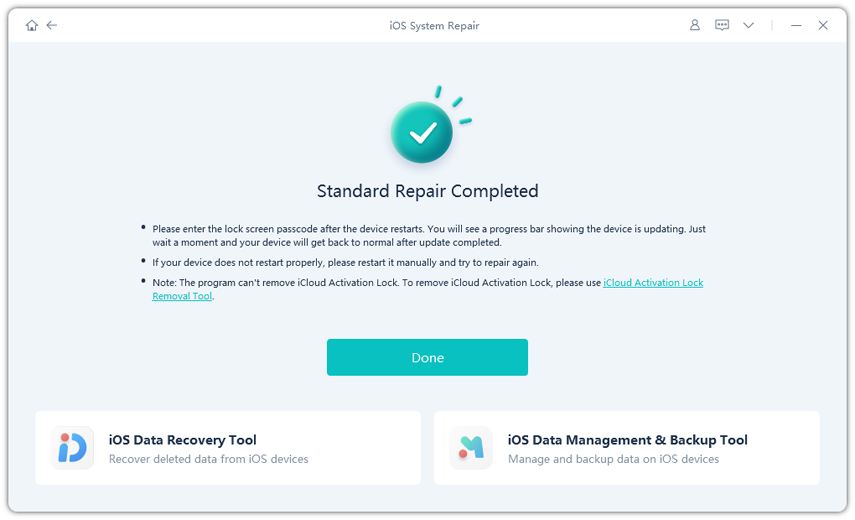 Part 3: Other Common Solutions to Solve Touch ID Failed Issue
There are common ways to fix touch ID failed after screen replacement issue, but there methods will have a lower success rate compare with UltFone iOS System Repair. Wish you good luck for trying the methods below. Let's continue.
Way 1: Reboot iPhone
To reboot your iPhone, here are the steps you need to find the solution to iPhone 6 touch ID failed after screen replacement:
Press the Power key for a few seconds.
A power slider will appear. Drag it.
Use the side button and power button to press the side button.

For iPhone 8 and latest versions (Phone 12/11/X/8):

Quick press volume up button and then volume down button.
Release it and then long press the power button until Apple logo comes.
For iPhone 7 and 7 Plus:

Press Volume Down and Power buttons simultaneously until Apple logo appears.

For iPhone 6 and previous versions:

Press Home button and Power button together. Release when Apple logo comes.
Way 2: Restore iPhone in iTunes
Restoring your iPhone can do wonders and be it a Touch ID or a system problem, this will fix it all in less than a moment. Here's how you can do it.
Get the latest version of iTunes on your device.
Connect your iPhone with the computer with high quality USB cable.
Once the iTunes detect your device, go on to select your device icon on the dashboard.
Now click on Restore iPhone button and then finish the onscreen instructions to restore your button.
Bonus Tip: What Should You Do before Screen Replacement?
So now if you have not got screen replaced, read these tips before going to the repair shop, so that you can avoid touch ID failed after screen replacement issue.
1. Remove SIM card
This is always preferred to remove your SIM card as it can get damaged while replacing your screen. It is all you need to protect the SIM card while doing the screen replacement thing. This will surely protect the card and sometimes people left it inside and it can even result in damaged SIM port.
2. Remove Security Locks on iPhone
Remove the security locks on your iPhone while doing the screen replacement. As the customer care person might need to check in the settings and all. So, make sure you remove locks on important settings and keep the lock on your personal data and chats. Just secure your images and important data before giving out your iPhonefor Screen Replacement.
3. Backup iPhone
Another tip is to backup your iPhone. And for this, UltFone iOS Data Manager is really a beneficial software as it helps to create a backup of your data with ease. This amazing software provides a lot of benefits and here are the features you get with UltFone iOS Data Manager:
Backup Data – You can create a backup data from your device to keep it secure in your PC somewhere.
Export Files – You can do it all with this software as it allows you to export your files directly from your phone.
Merge contacts – Merging contacts is hard when it comes to just using your phone. With this software, it is all possible with this software.
Whatsapp Backup – Be it an image or your chat, you can back it all up with UltFone iOS Data Manager on your PC.
Here's the guide you need to follow for iphone 6 touch id failed after screen replacement as to create a backup of your iPhone easily :
Step 1: Install the software on your PC and launch it to start with backup. Connect the respective iPhone to your PC and make sure you use original USB for the same.
Step 2: Choose Backup and Restore from all the options from the dashboard and proceed with the same.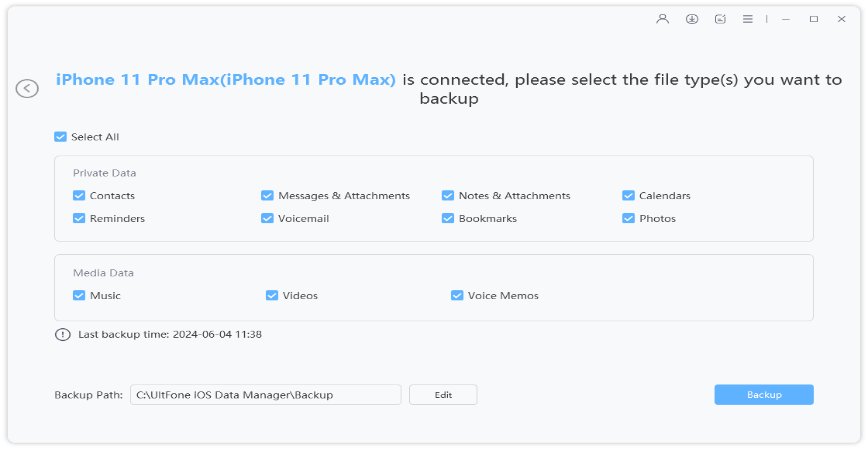 Step 3: After that, you can view the files on the screen. Make sure to select the ones you want to backup. Hit on "Backup" once the selection is over.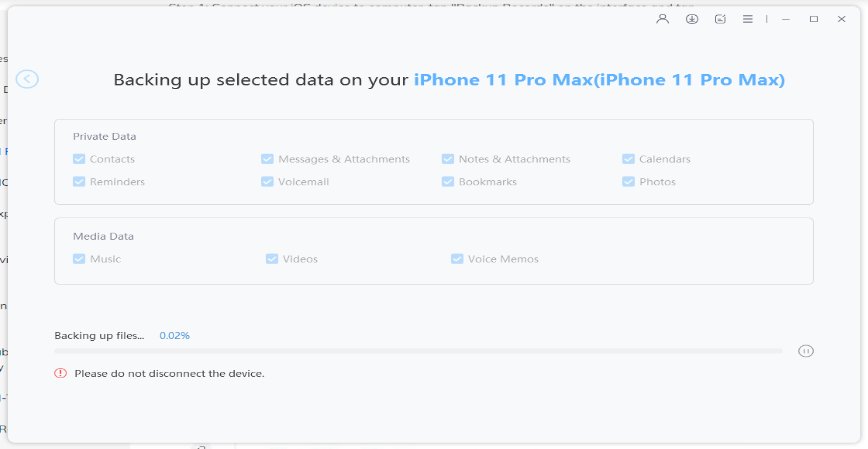 Step 4:Wait until the backup gets done.
Conclusion
Now that you have gone through all the steps you need to follow after touch ID failed after screen replacement error on iphone, you can take actions yourself when such thing happens in future. Also, we hope that we helped you create a successful backup for your iPhone as well.