[Solved] How to Fix iPhone 7/8/X/11/12/13 Stuck on Updating iCloud Settings
"Q: Updating iCloud settings - won't quit
Got my new 7 today to replace my 6S. Updated everything on the 6S before doing an encrypted backup to my laptop. BUT when I go to do a restore from backup to the 7, the screen shows "Updating iCloud settings" and is stuck there for more than an hour. How long should that take? Acts like it's frozen. "
- Apple Communities
If you are meeting with the same problems as the user we mentioned before. And don't know how to fix by yourselves, you then can follow our tips to get out of iPhone 7/7 Plus frozen in updating iCloud settings on iOS 15/14/13/12/11.

Solution 1: Restart or Force Restart Your iPhone
The first thing you should do to fix iPhone 7/7 Plus iOS 11 update stuck on "updating iCloud settings" is to restart your device. Just press and hold Power button until "slide to power off" appear. And swipe to turn off your iPhone. Then press Power button to start your iPhone 7/7 Plus again and check whether your device is still stuck or not.
If you are asked to set up iCloud, you are recommend to skip this step. If it still get stuck, we suggest you to try to force restart your iOS device again.
Press and hold down the Sleep/Wake button and Home button (Volume Down button on iPhone 7/7 Plus) at the same time. Keep holding the buttons for 10 seconds and release the buttons when the Apple logo appears.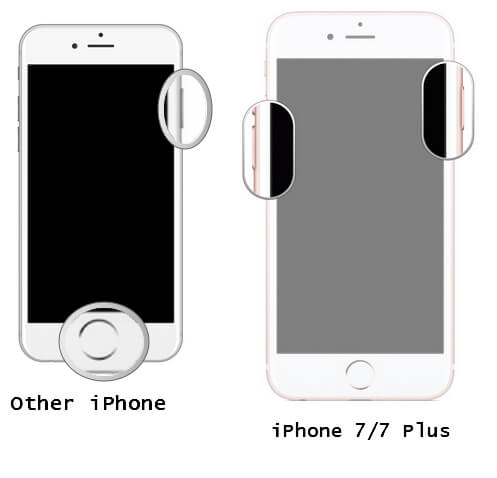 Solution 2: Check Apple Servers and Network Connection
Sometimes when Apple first open firmware verification, the servers may be busy, and users should patiently wait for a while, Apple will soon get this problem repaired.
Besides, you can check then network you use is available or not. Make sure you have a workable network connection. You can use other device to check this.
Solution 3: Fix Updating iCloud Settings Will Not Quit on iPhone 7/7Plus with Recovery Mode
If you have try the fixes before, but iPhone still stuck in updating iCloud settings, we here recommend you to try a useful free tool, UltFone iOS System Repair (ReiBoot), which can help to fix various iOS stuck issues in only one-click.
Connect your iPhone 7/7 Plus with computer via USB, and click "Enter Recovery Mode" on the main interface, when iTunes and USB icons appear on your iPhone screen, then you have successful get into recovery mode.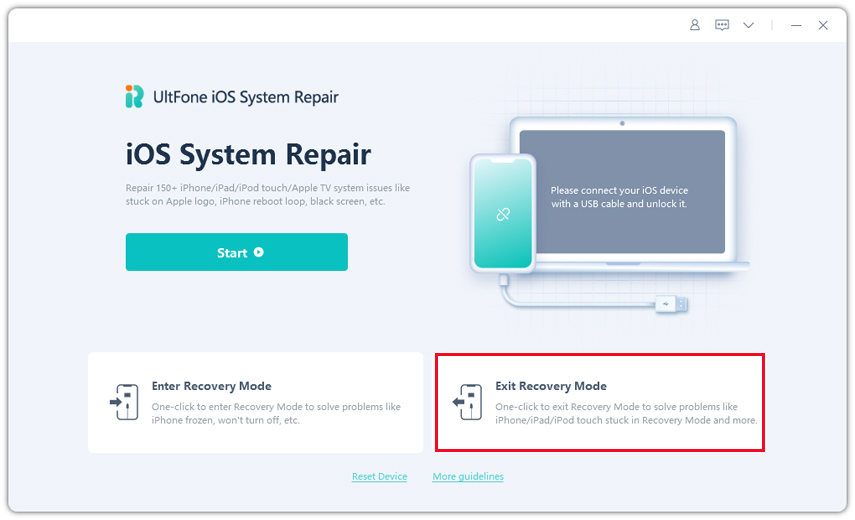 When "Exit Recovery Mode" is highlighted, you are required to click it and wait for your iPhone 7/7 Plus restart.
After that you will find your iPhone get back to normal and no longer stuck on updating iCloud screen. What's more, this process will never let you lose data and files, you can take it easy to try when iPhone 7/7 Plus stuck on updating iCloud settings after restore.
Further Options
For users who always meet with iPhone/iPad/iPod stuck, like the situation of stuck on updating iCloud settings, Apple logo, reboot loop or other kinds of iOS issues. Except for using enter/exit recovery mode to fix, you can also try to use UltFone iOS System Repair (ReiBoot) for repairing the operating system of your iOS device. This feature of UltFone iOS System Repair (ReiBoot) can easily get you out of trouble as well as optimize your device without any data loss.