How to Recover Permanently Deleted Files from Google Drive
Google Drive is a cloud storage service, which becomes a popular online service that many peoples use it to sync data, back up and transfer. What if one day you delete your important files but you want to recover, how should you do? Don't worry, this post offers you 4 ways to recover permanently deleted files from Google Drive.
Part 1: Is it Possible to Recover Permanently Deleted Files from Google Drive
Yes. Deleted videos, photos and presentations are automatically added to Google Drive Trash, which can restore about 30 days. If you empty the recycle bin, there are still other ways to recover permanently deleted files on Google Drive, such as using the third-party software.
Part 2: 4 Ways to Recover Permanently Deleted Files from Google Drive
Here are 4 ways to help you restore permanently deleted files from Google Drive no matter you have backup or not.
Way 1: How to Recover Deleted Files from Google Drive Trash?
The easiest way to retrieve permanently deleted files on google drive is by restoring it from the Trash folder. How long does Google Drive Trash keep deleted files? All erased files are temporarily stored in Trash within 30 days. Here are the steps to restore deleted files from Trash:
Step 1. Just go to Google Drive.com, click the "Trash" option on the left side.
Step 2. Select the files you need.
Step 3. Right click the files and choose the "Restore" option.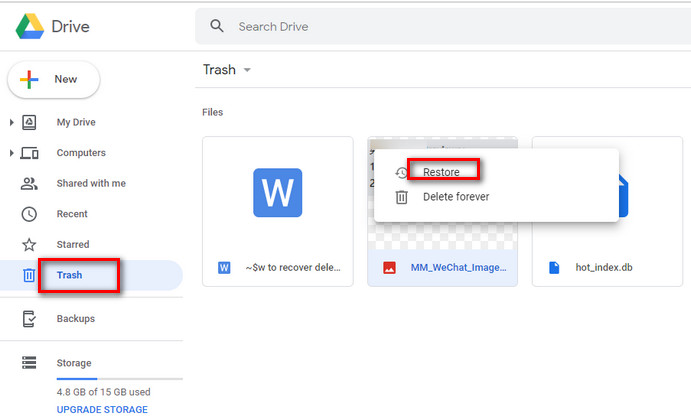 Way 2: Try Software to Restore Permanently Deleted Files Google Drive
If you have installed Google Drive on computer before and have synced your files on computer to Google drive, then you can try to use the professional tool -Windows Data Recovery to retrieve deleted files by scanning the folder where Google Drive is placed on the computer.
Step 1Launch Any data recovery software on your computer and choose a location where Google Drive sync your files. Click "Scan" to scan lost files

Step 2After the scan is finished, you can check if the lost files are displayed in file view.

Note: If the lost files are not found, you can try the deep scan mode.

Step 3Preview lost files and then click "Recover" button. And choose a location to save.
Way 3: Restore Permanently Deleted Files in Google Drive Via Administrator
If your Google account is linked with your company or a group, you can ask the administrator for help. But remember that administrator can only restore files that deleted no more than 25 days.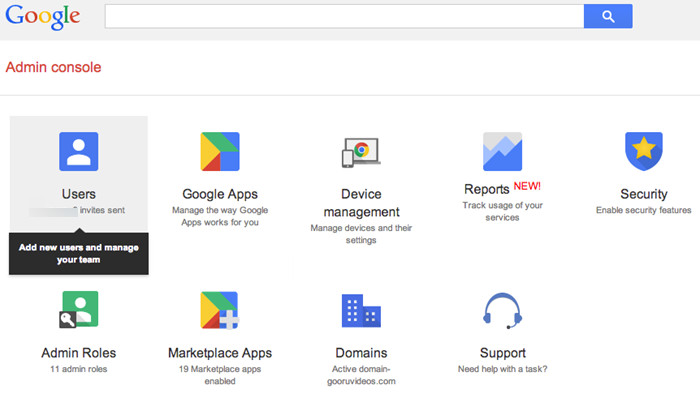 Here are steps how the administrator recovers:
On Gmail, sign in and go to Management Settings
Choose user firstly and double-click to open the user's profile.
Click on "Menu" in the upper right corner.
Select "Restore Data", then choose the lost files to recover.
Way 4: Contact Google Drive Support to Get Permanently Deleted Files from Google Drive
This is another method of recovering permanently deleted files from Google Drive. You should use this method if you are having difficulty recovering your deleted files via other methods.
1. Open Google Drive website and click on the "?" icon.
2. Click on the "Send feedback".
3. Fill in the form stating your requirement and submit it. Google Drive support team will contact you later, and you can tell them you wish, they will help you recover the lost files
Bonus Tip: How to Use Google's Backup and Sync
Google has some applications that can performs a backup. Although these apps are not very professional, they can help users preserve the Google Drive data for an unlimited time period or back up Google Drive to an external hard drive.
How to download your Google Drive folders with Backup and Sync Client? Here are steps:
Step 1

Go to Google drive website to download the Backup and Sync app.

Step 2

Launch the app and log in with your Google account. Once you sign in successfully, a window will pop up, in which you can choose the folders to continuously back up to Google Drive. Then Click "Next" button.

Step 3Click on the "Got it" button.

Step 4

Choose the option "Sync My Drive to this computer"

Step 5

Select a local folder to place your downloaded Drive files.

Step 6Tick "Sync everything in My Drive" if you need to sync the whole Drive; If not, select "Sync only these folders" to back up selected folders.

Step7

Click the "START" button. After that, you can copy all the downloaded files and save in another folder or device.
Conclusion
There are 4 ways to restore permanently deleted files on Google Drive . You can get deleted files back from Trash, ask the administrator for help, or contact Google's support team. But if you have installed Google Drive on your computer, using Windows Data Recovery can help you recover permanently deleted files with ease.
You may also like: How to Restore WhatsApp Backup from Google Drive to iPhone