2 Ways to Restore WhatsApp from Google Drive to iPhone
It'll be challenging to move WhatsApp data if you're switching from Android to iPhone, as Android uses Google Drive for WhatsApp backup, while iPhone uses iCloud. Thus the problem arises-how can I restore WhatsApp backup from Google Drive to iPhone? This article will help you find out the answer and eventually achieve to restore WhatsApp from Android to iPhone.
Part 1: Can I Restore Whatsapp Messages from Google Drive to iPhone?
Definitely No! You can not directly restore WhatsApp backup from Google Drive to iPhone. Google Drive is an excellent backup platform where you can manage and share data. The backup stored on Google Drive can be accessed from anywhere in the world by any Android device, but not iPhones. The encryption protocols of Google Drive are not compatible with iOS. Hence, it is impossibble to do WhatsApp restore from Google Drive to iPhone.
Nevertheless, the good news for you there're still many free and feasible ways to transfer, backup and restore WhatsApp between Android and iPhone without Google Drive. Read on and pick one that fits you the most.
Part 2: How to Restore WhatsApp Backup to iPhone without Google Drive
There are two methods to transfer WhatsApp messages directly from Android to iPhone. Let me introduce them to you one by one.
Method 1: Transfer WhatsApp from Android to iPhone with UltFone WhatsApp Transfer
UltFone WhatsApp Transfer ensures easy WhatsApp backup, transfer, and restore. Thus you can move WhatsApp data from Android to iPhone on one place with only a few clicks. Here's how you can transfer WhatsApp from Android to iPhone directly using UltFone WhatsApp Transfer.
Step 1. Download and install the UltFone WhatsApp Transfer tool on your computer or laptop.
Step 2. Launch the software and connect both Android (source phone) and iPhone (target phone) to your computer via a USB cable.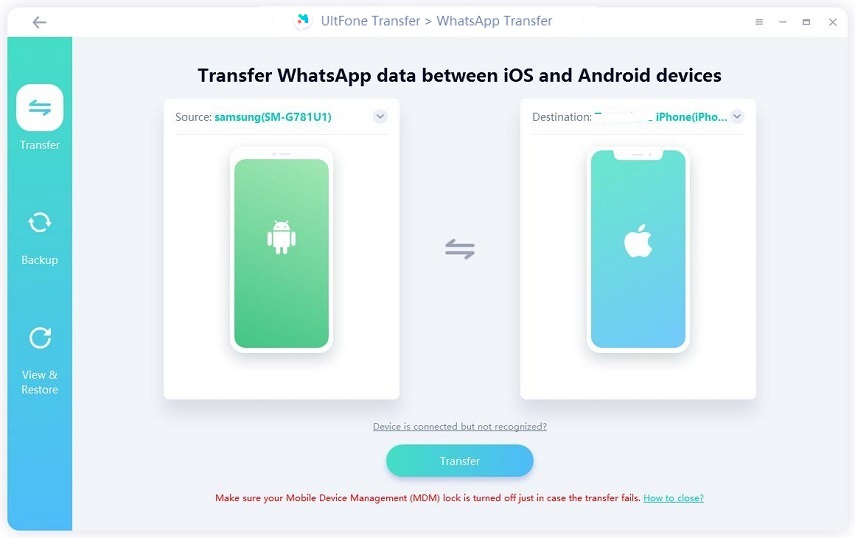 Step 3. Before you start to transfer the data, follow the onscreen instructions to make a new WhatsApp backup in your Android phone. After completing the steps, click Continue to proceed.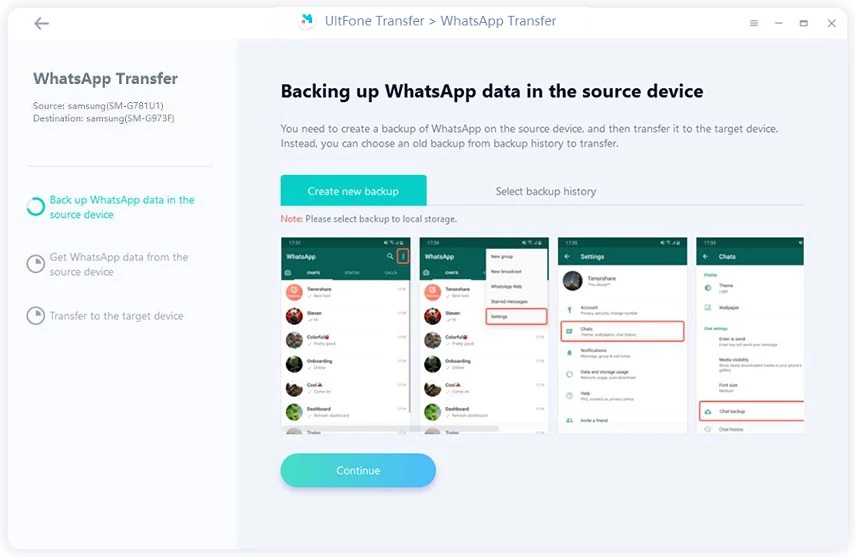 Step 4. Wait for the program to get WhatsApp data from your Android device.
Step 5. To ensure data security, the program will ask you to verify the WhatsApp account by sending you verification code.
Step 6. During the verification process, the software will log you out from the WhatsApp account on your Android device. Please do not log in to it again and enter the verification you have received. Then click Verify to continue.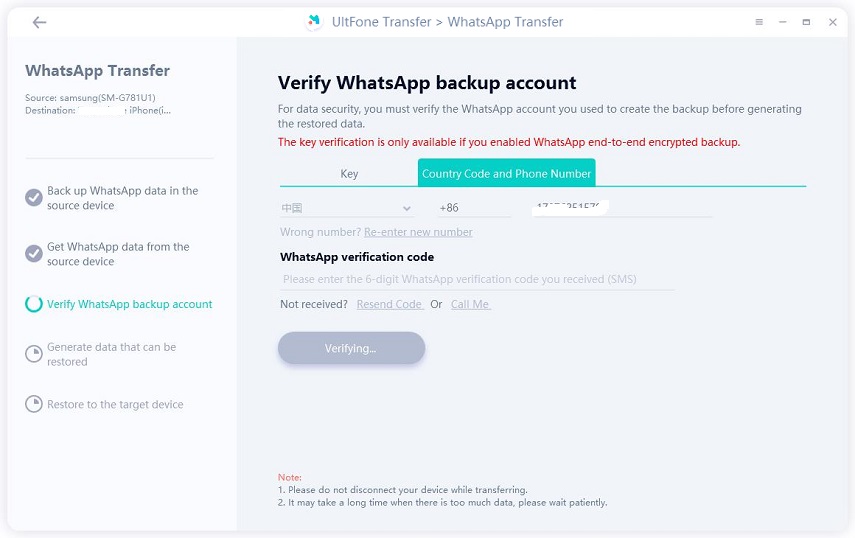 Step 7. Once verification is succcessfully, this program will automatically enter the next step to generate data for transfer.
Step 8. Log in to WhatsApp on your iPhone.
Step 9. The program will start transferring WhatsApp messages from Android to iPhone.
Step 10. Voila! WhatsApp data has been successfully transferred to your iPhone.
Method 2: Transfer WhatsApp from Android to iPhone Using Email
You can easily transfer your WhatsApp data from your old Android phone to iPhone through emails.
1. Open WhatsApp on your Android phone.
2. Choose the chat or group chat you want to export.
3. Once the chat interface open, tap the three-dot menu and then tap More.
4. Then you will find Email chat option.
5. The system will call up your email application. Enter the email address of yourself or the person you want to share, then tap Send to send WhatsApp via Email.
6. Log into the same email address if you send to yourself on iPhone and check inbox to find the WhatsApp txt in your email.
This method is provided by WhatsApp itself and totally free. However, this method has its limitations as it can export only one chat at a time and only the latest 40,000 messages will be exported. Also, you can only view the messages as a text document on your phone and not in the WhatsApp app.
Final Words
If you're looking for how to restore WhatsApp backup from Google Drive to iPhone, the above methods will surely help you out of the trouble. With UltFone WhatsApp Transfer program, you can easily transfer WhatsApp from Android to iOS without Google Drive. If you still have any query about WhatsApp backup, restore or transfer, leave your comment below.