How to Fake Location on Find My Friends without Computer?Here's Real Fix
Spoofing Location on Find My Friends is a very common topic on some forum sites. To help you spoof location on Find My Friends, we present you this article to let you know if it's possible to fake GPS location on Find My Friends and how to fake locations on Find my Friends without jailbreak. Let's begin.
Part 1: About Find My iPhone App
1. What Is Find My iPhone?
Find My iPhone is an application that was primarily designed to track the location of Apple devices remotely. It is available for all different devices, including iPhone, iPad, iPod, Apple TV, Apple Watch, and Mac computers. Besides this, another application called Find My Friends was used to share the location of a device with their friends and family.
After the iOS 13 update, the app was changed to "Find My" without any device name association as the Find My iPhone and Find My Friends app features were integrated. Due to this, you can access all the people and devices linked with your account within the same application.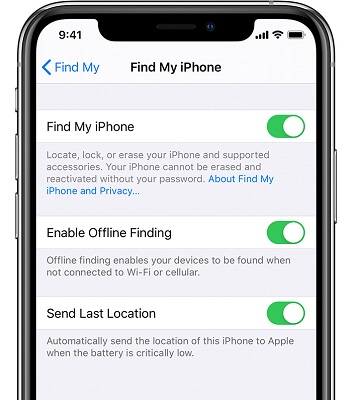 2. The Necessity of Changing Location on Find My Friends
Before we move forward to how to change location on Find my friends, let's dig what reasons people usually have to do this.
To not let your friends find out your exact location as it sometimes can be considered as a privacy breach
When you see unknown requests due to location access of the application
To prevent others from misusing your original location
When you are planning to surprise your friends or family members
Faking your location is not an immoral thing and usually done due to privacy concerns. So, regardless of the reason, we can help you successfully change Find My Friends' location.
Part 2: How to Fake/Alter/Modify Your Location on Find My Friends?
Video guide on how to fake/change location on Find My Friends[ No Jailbreak Required]
Here are the methods that will work to modify your location as per needs.
Method 1. Use a Secondary iPhone to Fake Location on Find My Friends
Yes, it's possible to learn how to show a fake location to Find My Friends if you have a secondary iPhone. It often serves as a backup plan to keep your location private without letting your friends know.
Start by signing out of Find My Friends on your official device. Log in to the secondary iPhone using the same Apple ID and leave the device into the location.
With this, no one will detect location change on your device, and you'll be able to share it with any of your friends without hesitation.
Method 2. Use UltFone Location Changer to Fake Find My Friends Location on iPhone without Jailbreak
The best way to change the iPhone location without jailbreak is by using UltFone iOS Location Changer. It is a location spoofing app that works 100% efficiently. You can alter the device location anytime you want with few clicks and enjoy many more benefits. For instance, you can modify Find not only My Friend's location but also access apps and geo-restricted features.
Get the software today and use the guide below to trick your friends on Find My Friends.
Step 1 Run this iPhone Location Changer tool and agree with the disclaimer policy. You will see the Change Location tab by default. Hit the Enter button to move forward.

Step 2 The software will prompt you to connect the iPhone. Use a lightning cable to establish the connection, and once you are connected, the software will take you to the map screen.

Step 3 From the map screen, enter the coordinates or addresses. Relevant results will appear, and you can select the exact location. Tap on the "Start to Modify" button, and the device location will switch to the specified one.

Step 4

Now, you can change back to the original location whenever you want.
Method 3. Use FMFNotifier to Show a Fake Location on Find My Friends (Jailbreak Required)
The users who already have a Jailbroken device can use FMFNotifier to tap into a different location easily. The Location Spoofing feature of this application is quite handy. Here's how to fake location on Find My Friends after iOS 16 jailbreak using FMFNotifier.
Step 1: Install the app from a genuine source and enable the Location Spoofer option inside the menu. You will have to choose a label among the options to put on a fake location. You can also add labels as you want.

Step 2: Specify the location into the label and lock it. After this, the app will notify you that an app is trying to request location through the Find My Friends app. Confirm the action, and now you can fool others with that fake location.
Method 4. Spoof Find My Friends Location with iTools Virtual Location
By far, iTools have gained a significant number of users with the Virtual Location feature. You can download the software suite from the official site. As you navigate the site, you can quickly find a guide explaining how to make a fake location on iPhone when using Find My Friends in detail.
Also read: Fix iTools Virtual Location Not Working
Here is a brief one.
Step 1: Run iTools and choose the Virtual Location feature from the interface. Connect your iPhone and when the map screen appears, type any location that you want to use.

Step 2: Tap on Move Here, and iTools will instantly alter the current location. You can change back to the original location by tapping on the center icon.
Method 5. Use Nord VPN to Spoof Find My iPhone Location
We even have an alternative for people who can't access a computer or laptop all the time. There is a mobile app for Nord VPN that works as an iPhone GPS spoof without jailbreak. Once you install this app, you can mock the location with a few clicks.
Step 1: Download the app from the App Store and sign in to get server access. Tap on the Quick Connect button to link the app whose location you wish to modify.
In this case, it's Find My Friends as you need to allow the application to override your location.

Step 2: Configure the application, and the location you specify on the map will appear with a green header.
Part 3. A Useful Tip: How to Turn Off Share My Location on Find My iPhone App
Aside from knowing how to fake location on iPhone Find My Friends, we have another tip that would be useful to you. People don't usually do this to avoid offending their friends and family. But if you turn off the sharing feature for privacy and security reason, then it is certainly acceptable.
Step 1: Run the Find My or Find My Friends app and choose "Me." Tap on the Share My Location button and exit.

Step 2: Now, go to device settings > Location Services > Find My Friends >, and as you see the Share My Location button, toggle to turn it off.
By doing this, you can assure others that the sharing is enabled, yet they won't be able to view your location.
The Final Words
Use these tips whenever you need to. Don't hesitate to tell others how to fake your location on Find My Friends. Or you can refer this guide to them. With all these tips and the robust UltFone iOS Location Changer, we can assure you that you won't run out of options to try.