How to Fake GPS Location on iPhone without Jailbreak
Changing location and using iOS GPS spoofer is not an easy task. We all know that most of the applications installed on our smartphones require location-access. And the games we love also restrict features due to geolocations. To overcome this, finding out how to fake your location on iPhone is a must. Hence, we have compiled a guide with details that you need to know about spoofing and apps that will allow you to do so.
Part 1. FAQS about iOS Fake GPS
1. When Do We Need to Fake Location on iPhone?
Typically, a user wants a mock location iPhone app to play games or get access to geo-restricted content. The popular reasons for faking location include:
To modify location on dating apps
Get access to restricted content in apps like Netflix, CW, Animeflix, Hulu, etc.
To play location-based games like Pokemon or Harry Potter Wizards Unite
Get access to features that are accessible only with different locations
To enter check-in details of some other place
Hide real location to protect privacy
If you only want to access websites, then you can also choose a VPN service.
2. Is there any risk to fake GPS on iOS?
In general, some location-based apps restrict spoofing GPS on iPhone as it contradicts their policies. You must have seen such examples with Pokemon Go and some other games. As a result, your account might get banned temporarily or permanently. However, if you are using a trustworthy or effective tool to enter a fake location on iPhone, you can avoid such consequences.
Part 2. One-click to Fake GPS Location on iPhone without Jailbreak
A perfect solution to spoof location on iPhone is UltFone iOS Location Changer. It is software that is designed solely to fake GPS location on iPhone without jailbreak. While most of the methods claim to enable location change, they usually fail in practical. But UltFone lives up to the promises and satisfy customer's needs 100%. It contains additional features to customize your movements along the map to ensure that you don't get detected by app developers. Regardless of the reason you choose to use this app, we can guarantee that it is 100% safe and effective.
One-click modification of current location to anywhere on the map
Simulate GPS movements over multiple spots
Stay safe and prevent the risk of a ban for using spoofer
Support iOS 14 and iPhone 12, iPhone 11 and earlier
No iOS jailbreak required
So, here is a systematic guide on how to spoof location on iPhone by using UltFone. There are two ways you can control your location, and we are explaining both of them.
Feature 1: One-click to Change iPhone Location
Step 1: Install and run UltFone and connect your iPhone with the system. From the home interface, choose the Change Location tab and hit the Enter button.

Step 2: As the map opens up, you can either tap on the map to locate a virtual location where you want to move, or enter an address in the search bar. Select the correct option from the results, and hit the "Start to Modify" button below.
And that's it; the location of your iPhone will change to the specified one.
Featire 2: Simulate Location Between Two Spots
Step 1: From the home screen, switch to the Single-Spot Movement tab and again hit the Enter button.

Step 2: In this tab, you'll start with a spot as your current location. You can modify the current location as in the first method. After that, search for the destination spot and tap on the "Start to Move" button.

Step 3: After specifying the destination spot, you can adjust the speed of your movement with walking, cycling, or driving simulation.
Continue moving, and the location of your iPhone will keep on changing accordingly. You can pause or stop whenever you want and disconnect your device after you are done.
Feature 3. Simulate GPS Move Along a Route with Multiple Spots
This iOS Spoofer tool also supports customizing a route and then the iOS GPS will move along these spots.
Select the Multi-Spot Movement on the main interface, and tap on the map to select different locations. These selected locations will automatically draw a path in the order you choose. Drag the speed bar to set up movement speed and select the number of rount trips, click Start to Move. Your iPhone is moving even when you are walking at home.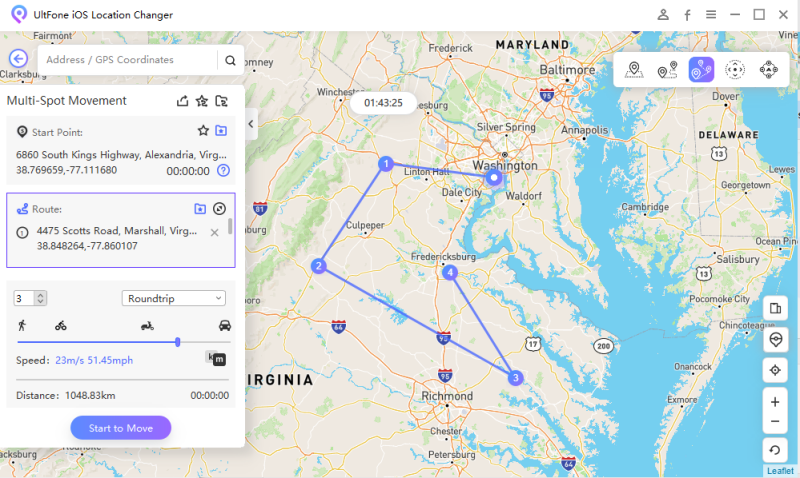 Here is a video guide:
Part 3. Other Solutions To Spoof Location on iPhone
1. Mock Location on iPhone by jailbreaking
If you don't mind jailbreaking iOS, there are many iOS spoofing apps that can be used to change location on iPhone. The pros and cons of this method are:
Advantages:
You have more choices on iPhone spoof after jailbreak
You have full control of your iPhone and install apps from anywhere, not just from App Store
Disadvantages:
Your iPhone warranty will be ruined
Your iPhone might be bricked after jailbreak
Your security is compromised
Not all iOS versions support jailbreaking
Here we will recommend "The Anywhere" app and write a guide about how to use it to spoof iPhone location. After jailbreak finishes, use the steps here to fake the iPhone location.
Download The Anywhere from Cydia and run it. Navigate the location to the spot where you want to move. Tap on the screen, and a red pin will appear on the new address.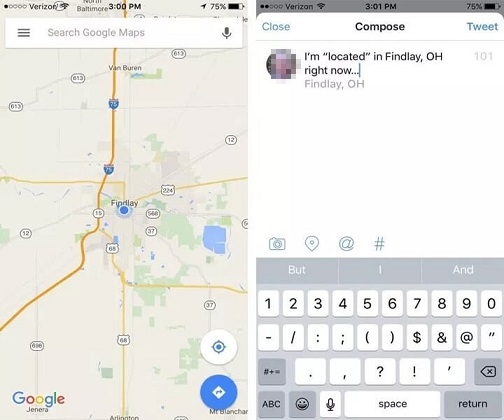 As you do this, a blue tab will open, and you will be able to select the apps you need to use the spoofer. Select the app, open it, and see that it detects the new location right away.
2 iTools Virtual Location
Another option to learn how to fake location on iPhone is using iTools. It is a set of tools meant for different purposes, and tricking the iPhone location using the Virtual Location tool is one of them. Due to this tool's competency, it is widely used for spoofing the location of games like Pokémon, Harry Potter Wizards Unite, Jurassic Park Alive, etc.
This is a desktop software. You can download this program from iTools website and connect your iPhone to computer.
From the Toolbox of iTools, choose the Virtual Location tool. And then enter the virtual location to start simulation.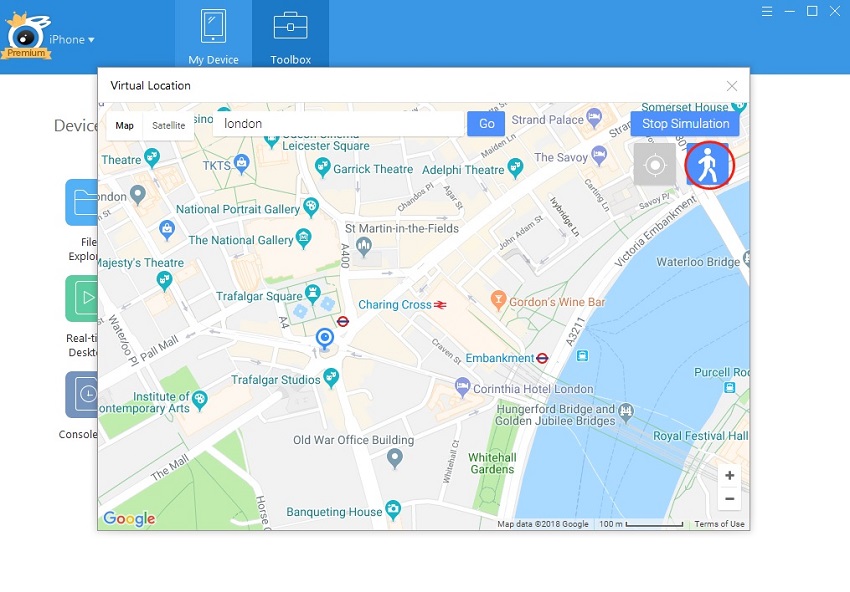 3 Use VPN to Spoof GPS
Nord VPN is also a big name in the world of spoofing for desktop and laptop. Luckily, a mobile app version of this software is also available to the users. It means whenever you need to fake location on iPhone, you can use this app.
Here is a brief guide to using the Nord VPN.
Download the app from the official site and install it carefully on your iPhone. Launch the app and press the "On" button to activate it. Now, all you need to do is adjust the location, and all the apps will consider the fake location as the original one.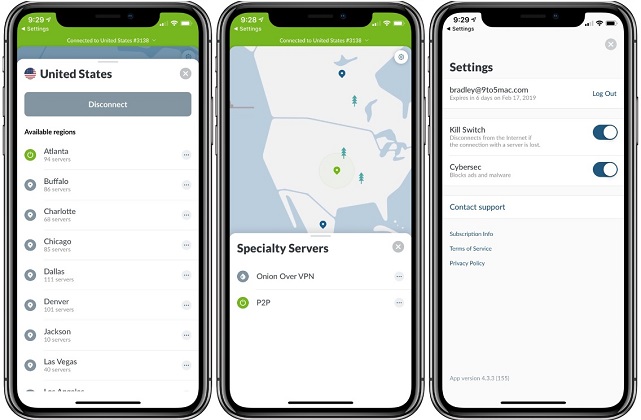 You can turn the location spoofer on and off whenever you want.
Last Words
Here we covered four methods on how to fake location on iPhone successfully. You can choose any method that you prefer. But our top recommendation is UltFone iOS Location Spoofer without any doubt. It is the most reliable tool for tricking the iPhone location, and you won't have to worry about getting banned or detected. Get the tool and start having fun with the features that were once restricted!