Fly GPS for iOS Alternative and Review [2020 New]
Imagine this. You are a hardcore fan of a location-based game, say Pokemon Go. Now, you know that you can only enjoy it so much at your location. What if you want to level up quickly? This is where GPS spoofing apps like Fly GPS play a crucial role. Besides, location-based games also offer special features for players of a certain location.
So, what's Fly GPS? Fly GPS is a location spoofing toll that, in a way, tricks your device or rather GPS into thinking that you are in a different location than your real one. Fly GPS for iPhone can be extremely helpful when you are playing location-based games like Pokemon Go. Having said that, it still isn't the perfect choice. It has its pros and cons.
Part 1: Where to Download and How to Use Fly GPS for iOS?
But before we get into the details abouy Fly GPS, let's look at where to download Fly GPS for iPhone and how to use Fly GPS for iOS. Fly GPS is easily accessible for Android users and iOS users. You can directly download it. Follow this link to download Fly GPS for iPhone and this if you are an Android user. But this section is not just about how to download Fly GPS for iPhone now, is it?
We will look into the step-by-step process of how to use Fly GPS iOS to spoof your location for Pokemon Go. Let's begin!
Step 1: Once Fly GPS for iPhone is downloaded to your device, install, and then launch it.
Step 2: Go to your iPhone settings, navigate to the Developer options, and tap on "Mock Locations".
Step 3: Go to the search bar, search for "Location Options" and then choose the "GPS, Wi-Fi, and Mobile networks" option.
Step 4: Open Fly GPS on your iPhone and choose a location you want to navigate to. Tap on the "GPS Service Run" option and then select "Joystick Location Mode - (Pokemon)".
Your location is now changed and you can now use your new virtual/fake location to enjoy Pokemon Go.
Part 2: Fly GPS for iPhone Reviews and Limitations
As mentioned earlier, Fly GPS for iOS is a decent choice to spoof your location but it has many limitations and drawbacks. If you really want to know how good a tool is, you can ask in many gaming communities out there and we observed many complaints by gamers while using Fly GPS for iOS.
In this section, I am going to list out the 5 limitations of Fly GPS for iOS and why you should use better alternatives for location spoofing. Here we go!
1. Fly GPS has a lot of ads. This is the most common user complaint we observed in the community.
2. When you are using location spoofing apps like Fly GPS, you expect a smooth user experience. After all, one of the reasons you are using it in the first place is that you don't want to go there. So, if you face bugs and unexplained behavior when using the app, it sure is a drawback. Fly GPS for iOS users complain about these bugs in the community quite often.
3. Installing the Fly GPS app and successfully using it to spoof location for Pokemon Go or any other app is a long process.
4. Fly GPS for iOS is not a free location spoofing tool.
5. Sometimes, Fly GPS for iOS fails to actually change your location as you want it to. So, this can be counted under the performance issues of this tool.
Now that we know that Fly GPS for iOS has its limitations, it's time to find better alternatives for GPS spoofing. Why go somewhere else when we have found the best alternative to Fly GPS for iOS? Yes, you read that right.
Part 3: Best Alternative to Fly GPS for iOS if Fly GPS Pokemon Go Not Working
The best alternative to Fly GPS for iOS is UltFone iOS Location Changer. UltFone iOS Location Changer is a widely used location spoofing tool used by thousands of users worldwide. Besides the trivial location spoofing features of other apps, UltFone iOS Location Changer has many other cool features as well.
Some of the features of UltFone iOS Location changer are:
It allows you to genuinely fake GPS on the go by overwriting your current coordinate without jailbreak.
You can set fake routes and navigate around using this tool. Simply set the route and moving speed, you can not only go anywhere in the world but also move around a preset route.
You can use it to access geo-blocked games and apps anywhere in the world.
Here is its best feature. UltFone iOS Location Changer supports the very latest iOS 14 and iPhone 12 Mini/12/12 Pro/12 Pro Max. How cool is that!
In the next part, we are going to list out simple steps on how to use the best alternative of Fly GPS for iOS - UltFone iOS Location Changer to simulate movement in a virtual location easily. Note: To just change your location, select "Change Location" and follow the on-screen instructions to spoof your location. Follow these steps to continue.
Step 1: Download the tool on your Windows PC, install, and then launch it. Connect your iOS device using a USB cable and wait for the tool to detect it.
Step 2: Select the "Single-Spot Movement" (2nd in the left panel) and click on the "Enter" button".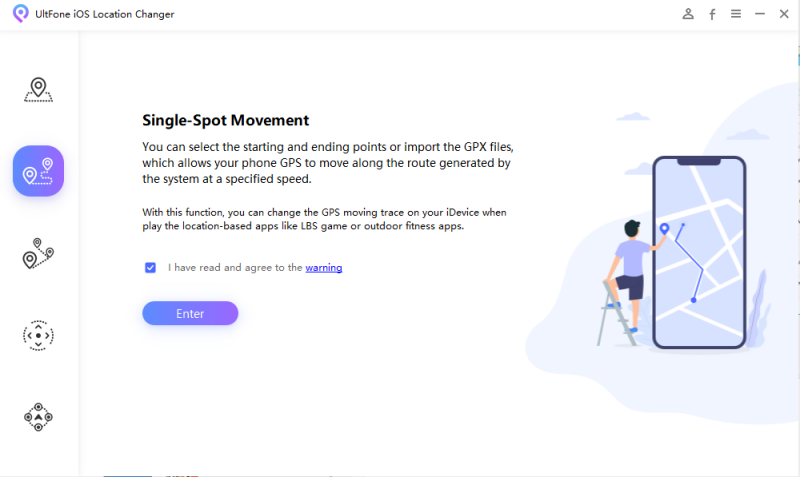 Step 3: You can see your current location under "Start Point". You can either tap on any location on the map you want to move to ("End Location") or search for it using the search bar.
Step 4: Once you have selected the location you want to move to, choose your moving speed with "Speed" and click on "Start to Move" to start your movement at custom speed.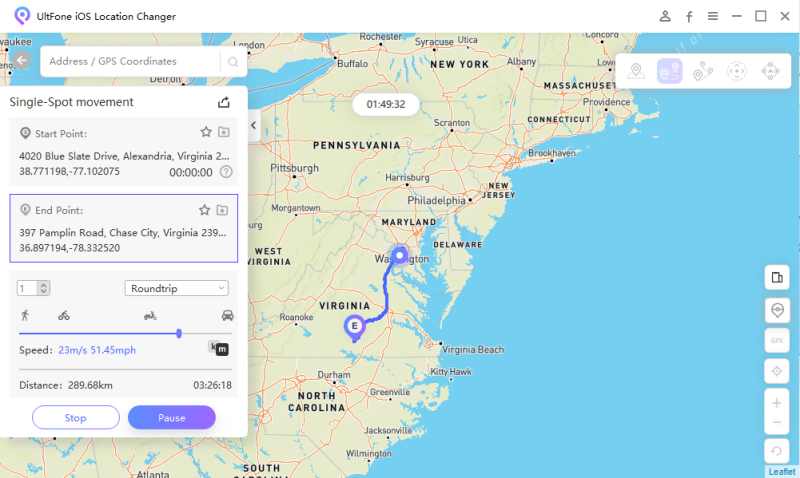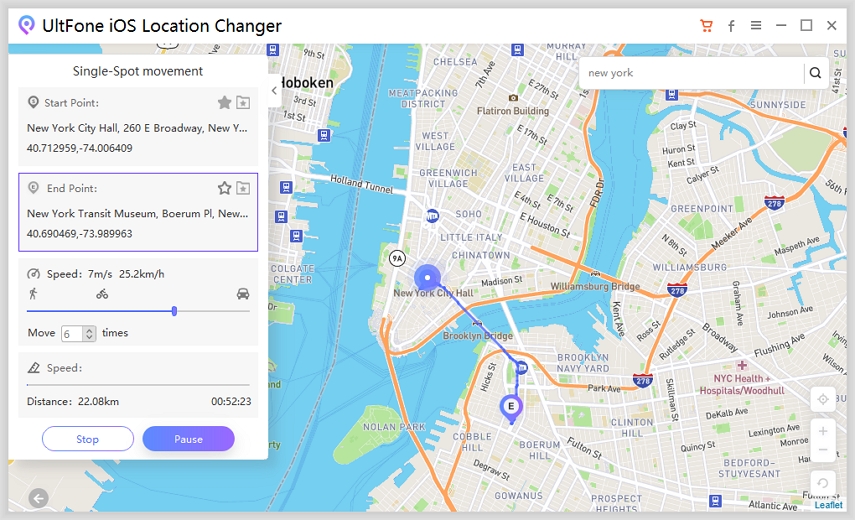 Note: We recommend you close any other location-based apps while using this tool. Also, make sure to simulate believable movement to avoid getting flagged when using the best alternative to Fly GPS for iOS - UltFone iOS Location Changer. And if you want to change to real location, just restart your iPhone.
Our Verdict
While Fly GPS for iPhone is used by many to spoof their location, Ultfone iOS Location Spoofer outperforms it in every field. You can safely use it to spoof your GPS safely for every location-based app out there. What are you waiting for? Download UltFone iOS Location Changer and start location spoofing today!