Top 5 Ways to Recover Deleted, Formatted or Lost Office Documents Free
Shift deleted Word files you didn't mean to? Hitting Delete instead of Save when you are saving an important excel spreadsheet? Worse still, lost all Office documents after a hard-drive crash. Microsoft Office is so widely used for today's work, study, entertainment. But a careless deletion, format, power failure, etc. can cause Office documents loss. Here we list the top 5 ways to help you recover MS Office files (Word, Excel, PowerPoint and Access) for free.
Top 1: Recover Deleted Office Documents Free from Recycle Bin
If you accidently deleted some important Office documents you didn't mean to, go directly to the Recycle Bin to search your deleted files.
Open the Recycle Bin. On the View menu, click Details.
Click Arrange Icons and click by Delete Date.
When you find the document that you are looking for, right-click on it, and click Restore.
Top 2: Recover Word Documents from Word Backup Files
Microsoft Office Word includes a number of ways to back up and recover your documents. If you have set create backup copy setting (Tools > Options > Save tab) to automatically create a backup copy of their files, Follow steps below to recover lost Word files from back.
Start Word 2013/2010/2007. Click the File menu, click Open, click Computer, and then click Browse.
Locate the folder in which you last saved the missing file.
In the Files of type list (All Word documents), click All Files. The backup file usually has the name "Backup of" followed by the name of the missing file.
Click the backup file, and then click Open.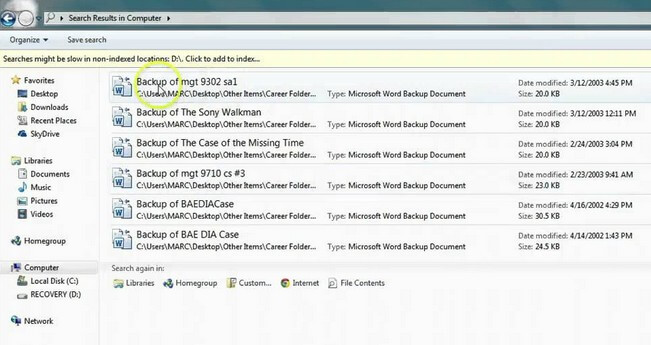 Top 3: Recover Unsaved Office files from Temporary Files
Microsoft Office enables us to recover data from the various temporary files that are created by Office while you are working on the document.
Click Start, click Search, and then click For Files or Folders.
In the Search for files or folders named box, tap *.tmp files (temporary files).
If you are not sure which file is the missing file, save all .tmp files to a location.
Start Word. Click File > Open.
Browse to the location that you saved the .tmp files, and then click All Files *.*. If you do not click All Files *.*, the .tmp files may not be displayed.
Open .tmp files one by one.
If you find the missing file, save it immediately.
Top 4: Recover Office Files from AutoRecover files
Microsoft Office has a built-in AutoRecover options in Word, Excel, PowerPoint, Publisher, and Visio to help you avoid losing work. When you re-open your office file, it will display these AutoRecover files in the Document Recovery task pane. Just double-click the files and then save.
If the Recovery pane does not open, manually search for AutoRecover files (.asd files) in following steps:
For Word 2013, on the File menu, click Open, and then click Recent Documents. For Word 2010, On the File menu, click Recent. Click Recover Unsaved Documents.
Scroll to the end of all recent documents, and then click Recover Unsaved Documents.
If you find the Word document that you are looking for, double-click it to open it.
Save it immediately.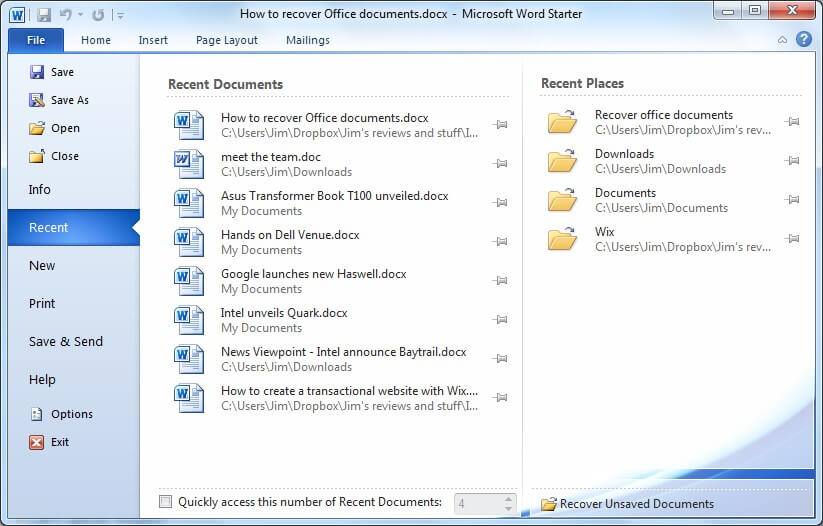 Top 5: Recover Lost Office Files with Free Office Data Recovery Software
Cannot find the file by all methods above? Don't worry. A powerful Office file recovery program can easily save you out. Here, I highly recommend Free MS Office File Recovery. With it, you can easily recover deleted, formatted, lost, or even corrupted Word, Excel, PowerPoint and Access due to careless deletion, format, power failure, saved over files, system crash, accidentally shut down, software error, etc.
Note: Not to save or install the program to the partition on which you lost data.
Step 1. Run Free MS Office File Recovery. Select the "Document" and then click Next to proceed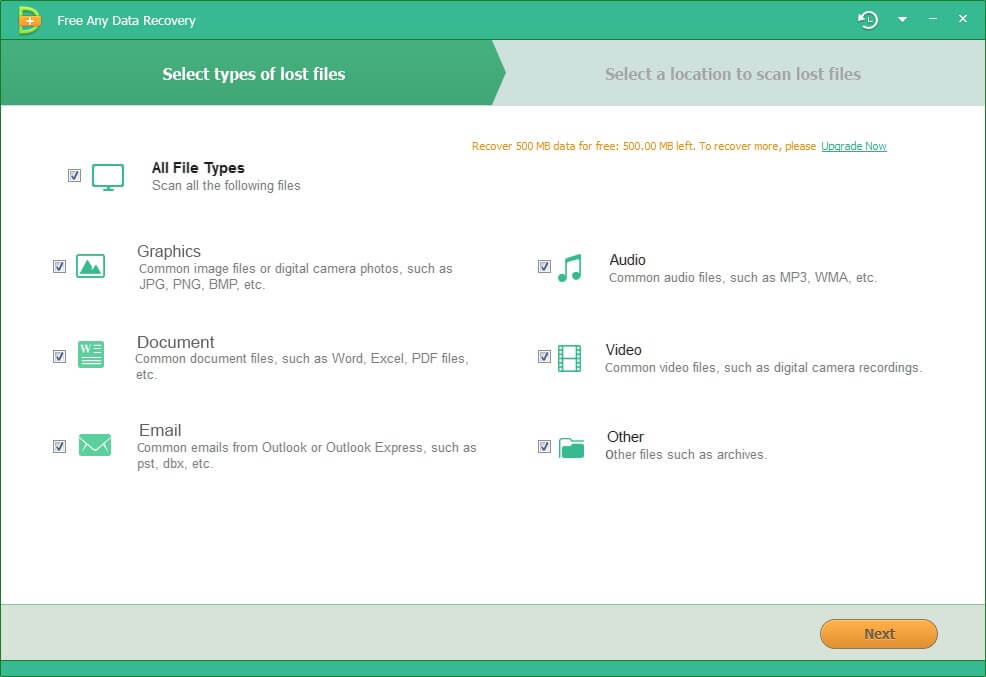 Step 2. Select the disk where your lost files stored. Click "Scan" button, the software will quickly scan the selected disk to find all your target files.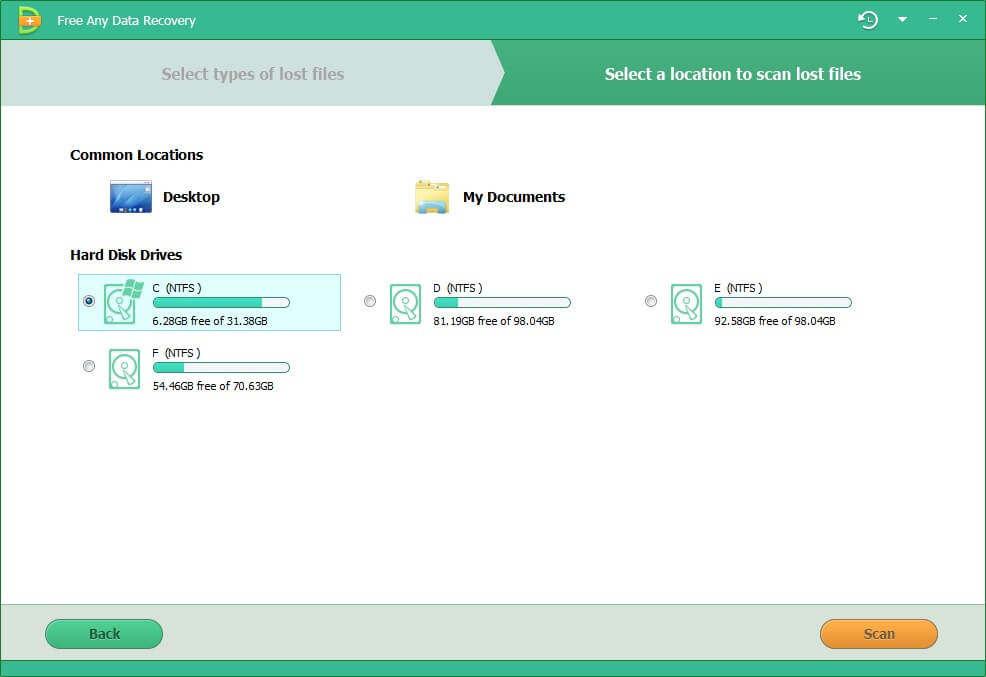 Step 3. After scan, the program will list all your lost files by file type, folder structure and time; you can preview them before recovery.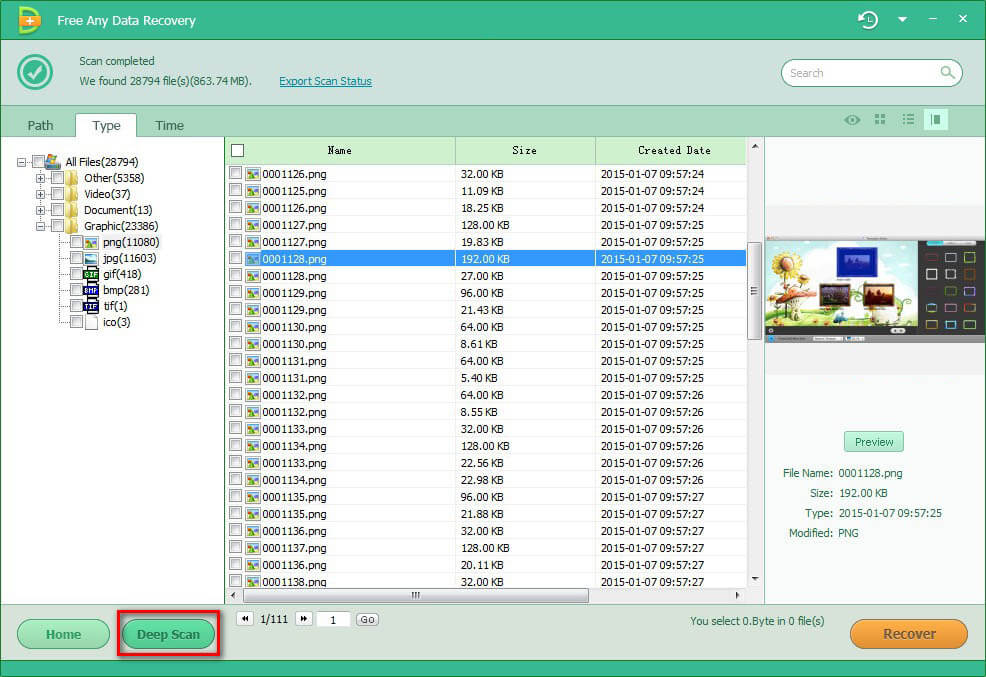 Step 4. Finally select out those you want. Then, click "Recover" button to get them back. Remember to save all the recovered files on another disk to avoid data overwriting.