How to Fix iPhone X Flashing Apple Logo
If your iPhone keeps flashing/blinking Apple logo, it would prevent the system from booting normally. The situation can be really frustrating when you can't use your iPhone at all. So, today, we'll explore why is your iPhone flashing Apple logo and what we can do to fix it.
Part 1: Why Is My iPhone X/XS/XR/10 Flashing Apple Logo
If you are among the people who are searching "why is my iPhone flashing Apple logo", then you must read this section. Most users experienced this problem while their device is charging. However, there are many other reasons associated with the problem. Let's take a look at them:
Update Errors
The Apple logo can start repeatedly flashing if you have accidentally installed corrupted software updates. It can also be the case that the updates were fine, but they got corrupted later and interrupted the system from booting up.
Jailbreak
Users often end up having one or another issue while they try to jailbreak their iPhones. There is no doubt that jailbreaking opens up a lot of options for the users. But at the same time, it can cause various problems by modifying the operating system. And the flashing Apple logo is one of them.
Hardware Malfunction
Another plausible reason behind the Apple logo flashing issue is that a hardware component of the iPhone is malfunctioning. This malfunction leads to many problems and the flashing logo is the first one that incurred.
External Device
It is possible that your device could have perceived an external device as a threat to the system and hence halting the booting process automatically.
Well, whatever the reasons are, we must know how to resolve these issues immediately after they pop up.
Part 2: How to Fix iPhone/iPad Flashing Apple Logo
Here are the fixes that you can try to fix the iPhone X and any other iPhone/iPad Apple logo flashing issue.
Method 1. Force Restart iPhone X/XS/XR
The first method to try in an attempt to fix the iPhone X flashing Apple logo problem is perform a force restart.
Press the "Volume Up" button of your device and quickly release it. Press the volume down key and quickly release it as well. Then press the power button and keep on pressing it until the Apple icon pops up on the screen.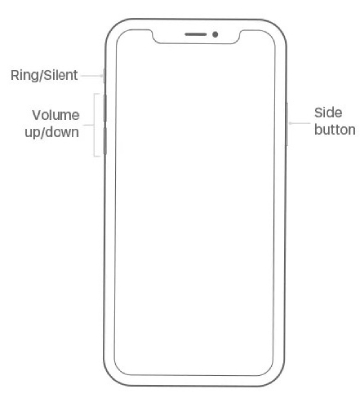 Wait a minute for your iPhone to restart, and when it does, the problem will be hopefully resolved.
Method 2. Fix Any iPhone/iPad Keeps Flashing Apple Logo with UltFone iOS System Repair
If your iPhone X is flashing Apple logo on and off not showing on iTunes, then you need to use a reliable third-party software to fix the problem. And to minimize the damage to your phone, we recommend you using UltFone System Repair. With the help of this software, all iPhone/iPad users can fix the flashing logo in just no time. Furthermore, the software won't even cause any data loss during the repairing process.
Features:
Repair more than 150 iOS system issues such as Apple ID password not working, the reboot loop, hotspot not working ios 14, Apple logo, and blank screen without losing data.
Single Click to enter and exit recovery mode on iPhone/iPad/iPod.
Reset iPhone/iPad/iPod Touch even if you don't have password/iTunes/Finder
Downgrade from iOS 15 without iTunes.
Support all iOS versions and iPhone models, including the latest iPhone 13 series and iOS 15.
Here is the guide that you need to follow to fix the iPhone won't turn on and stuck on Apple logo issue.
Step 1 Get the software from the official site and finish the setup. After installation, launch the program and click on "Start" under the "iOS System Repair" module.

Step 2 Choose "Standard Repair" to fix flashing logo without data loss.

Step 3 Before the final repair, the software will ask you to download a firmware package file that will be used for the repair process. Hit the "Download" button and wait for the download to complete.

Step 4 Finally, when the firmware is ready for use, click on the "Start Standard Repair" button and begin the repairing process. The whole process will only take a while, and then your device will reboot automatically.
Throughout the process, make sure that your iPhone is firmly connected, and the problem will disappear shortly.
Method 3. Restore iPhone in iTunes
The last option to get rid of the iPhone X flashing Apple logo issue is to perform a DFU restore. The Device Firmware Update mode is designed solely to repair and update the firmware. It will remove the problem that has been causing the issue, but it will also wipe the data from your device. So, you need to use this method only when there is no other fix left to try.
Step 1: Connect your device to a computer on which iTunes is installed. Perform forced reboot on your device, and when the screen goes black, press the volume down button and the power button simultaneously for five seconds. Then let the power button go and continue holding the volume down button for five seconds.

Step 2: The moment you enter DFU mode, iTunes will recognize the device in recovery mode and prompt you to restore the device before you can use it with iTunes.
Click the "OK" to confirm the restore and wait for the process to finish. Once the restore finishes, you will have access to your device. Set it up carefully to avoid installing apps from unreliable sources.
Wrap It Up
Up to now, hopefully you've already known what you need to do when your iPhone/iPad keeps flashing Apple logo. If something like this happened to you, then it is apparent that you will like to save your device data while fixing the problem. Therefore, we recommend using UltFone iOS System Repair software to resolve Apple logo flashing and other software related problems on your iOS device.
You Might Also Be Interested In: