How to Fix iPhone X Stuck In Boot Loop
Long story short, my iPhone X just decided to reboot one day, and then it kept restarting the boot process before it could finish, over and over.
It is a bummer that it's not been long since iPhone X was released, and it is already having issues. Well, such software related problems are not usually that serious. Still, they can be frustrating. So, we have compiled a guide for the users whose iPhone X is stuck in boot loop, won't restore or update. Let us help you to resolve the problem effectively.
Why Is My iPhone X Stuck in Boot Loop?
Before we narrow down the solutions, let's gather some information about why the iPhone X got stuck in boot loop in the first place. Only after you understand the reasons, you'll be able to avoid the same mistakes in the future.
The reasons are listed below:
Software Update
While software update seems easy for many users, a slight mistake in software update can lead to this problem. It can happen due to bad internet connection or halted process, or maybe the update had bugs.
Jailbreak
Every iPhone user knows that jailbreaking is a double edge sword. You might acquire some additional features on your iPhone, but the risks are far too great. Jailbreak will make your device susceptible to viruses and malware that could cause the reboot loop issue.
Hardware Malfunction
The worst-case scenario would be the hardware malfunction. There is a possibility that your device has a broken or damaged component that is interfering with the boot loader. And unless that component is repaired or replaced, the problem will continue.
As long as the problem is linked with jailbreak or software, you can quickly resolve the issue without data loss. However, in rare circumstances, you might have to take some serious action to fix the problem.
No Data Loss Solutions to Fix an iPhone X That is Stuck in a Boot Loop
At first, to fix the iPhone X stuck in a reboot loop, we will discuss the methods that will keep your data safe. Here are your options.
Solution 1. Update iOS on your iPhone X
Keeping your device up-to-date is essential for its optimal functioning. So, if your iPhone XR is stuck in boot loop at Apple logo, then try updating the iOS version. Follow steps as:
1. Connect your iPhone with the system in which iTunes is installed, and you've synced your device already. As you connect the device, launch iTunes, and go to the Summary tab.

2. Click on the Check for Update option and install the latest iOS version on your device.
Make sure that you don't disrupt the process; otherwise, you'll be back at square one. You can also update via OTA, just go to Settings app on iPhone and then General and then tap Software Update.
Solution 2. Force Restart iPhone X
In case your iPhone X is stuck in boot loop after update as well, then it's time to try force restart. The process isn't that complex, which means you can easily try it out to see if the problem gets resolved.
Press the Volume Up button and quickly release it. Then press the Volume Down button and immediately release it as well. Finally, hit the Power button and hold it until you see the Apple logo on the screen.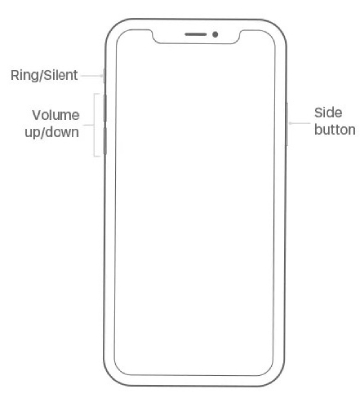 Let your iPhone shut down and then restart it by pressing the Power button. Hopefully, this will fix the boot issue.
Solution 3. Remove SIM Card
It more like a tryout method that has worked for several users to fix the iPhone stuck in reboot loop. But we can't say no to a technique that has considerable chances of resolving this problem.
So, take out the SIM card from your iPhone, plug into a charging point, and then try rebooting it. There is a chance that it's just a coincidence or a hack that works randomly.
Solution 4. Efficient Tool to Fix iPhone X Stuck in a Boot Loop without Data Loss
In case you can't decide how to fix an iPhone X that's stuck in a boot loop, we recommend UltFone iPhone System Repair as the answer. Even though Apple devices have a reliable OS, they are still vulnerable to software issues. So, whether your iPhone XS is stuck in boot loop or have problems like black screen, blue screen of death, etc. this software will perform repair like a pro.
Look at the key features of the software and decide if you want to use it.
1-click method of entering and exiting the recovery mode
Resolve iOS software related issues such as boot loop stuck, Apple logo, connect to iTunes, etc.
Fix the device stuck after iOS downgrade
Perform repair without causing data loss
Factory reset function to help users restore default settings even without password
Here's the guide to figure out how to repair the operating system to fix iPhone X stuck in boot loop.
Step 1 Visit the official UltFone site and install the software on your computer. Once the software setup finishes, launch it and connect your iPhone with the computer. Select the "iOS System Repair" function and choose the Standard Repair Mode for the process.

Step 2 The next step is to download the firmware package file that is suitable for your device. UltFone will detect the firmware version of your iPhone automatically and prompt you to download the file. So, make sure that you have a stable and fast internet connection to pace up the downloading process.

Step 3 Once the file is ready, hit the "Start Standard Repair" button and the process will be initiated. Let the repair run its course, and after the process finishes, your device will reboot.
Now when the iPhone turns on, it won't get stuck on the boot loop, and the performance will also improve. And all this can be done without even risking your device data.
Here is a intuitive video guide of how to repair iOS to fix iPhone keeps restarting, iPhone blank screen,and more problems.
Part 4. Risky and Data Lost Solutions to Fix iPhone X stuck on Boot Loop
In this section, we will focus on resolving the issue by using the methods that are risky and results in data loss.
Solution 5. Perform a Recovery Mode Restore on Your iPhone X
A method with maximum chances of being successful is the recovery mode restore. It can eradicate even the complicated system error from iOS devices. And hopefully, the iPhone X stuck in a boot loop will also be able to work again.
1. Connect your iPhone with the system and perform force reboot while the device is connected. As your device shuts down, iTunes will recognize it and notify you that a device in recovery mode has been detected.

2. Click on the Restore button and let your iPhone sit for a while as the process finishes.
After restore, you'll have to set up your device from scratch as all data and settings will be erased.
Solution 6. Contact Apple Support to Check Hardware
If nothing seems to fix the iPhone stuck in boot loop, it is a sign that there might be something wrong with the hardware. Don't hesitate and contact Apple Support right away. Let them know about the problem, and they'll guide you through the solutions. At last, you might have to visit Apple Care Center to get the problem fixed.
The Bottom Line
Now you know that typing "my iPhone x is stuck in a boot loop" isn't going to work. We can only hope that you come across UltFone iPhone System Repair before other unreliable software available on the internet. It is perfectly capable of resolving over 50 kinds of software issues on iOS devices. Hence, this is the best option you have to fix software issues without data loss.