UltFone Windows Data Recovery Review, Features and Coupon Code
Every Windows user has been in a situation where he/she has accidentally deleted an important file from his/her PC. Of course, if you simply drag the files to Recycle Bin, you can easily restore them back. But, the real problem will come when you have even emptied the recycle bin. Then you'll need to look for a data recovery tool to get back the deleted files. UltFone Windows Data Recovery is one such data recovery software that's specifically tailored to recover files on your PC. So, let's check out the detailed UltFone Windows Data Recovery review and find out if it's a scam or not.
Part 1: Full Review on UltFone Windows Data Recovery
When data is permanently deleted from a PC, it's quite challenging to recover it. The first thing that you should do is to avoid adding any new data to the hard drive as this will overwrite the deleted files and use a data recovery tool to recover the data. So let's now talk aout UltFone Windows Data Recovery.
What is UltFone Windows Data Recovery?
UltFone Data Recovery is a dedicated recovery tool for Windows that'll help you recover deleted files from almost every storage device. Whether you've accidentally formatted a USB device or deleted files from your PC's internal storage. UltFone will recover them without any challenges at all.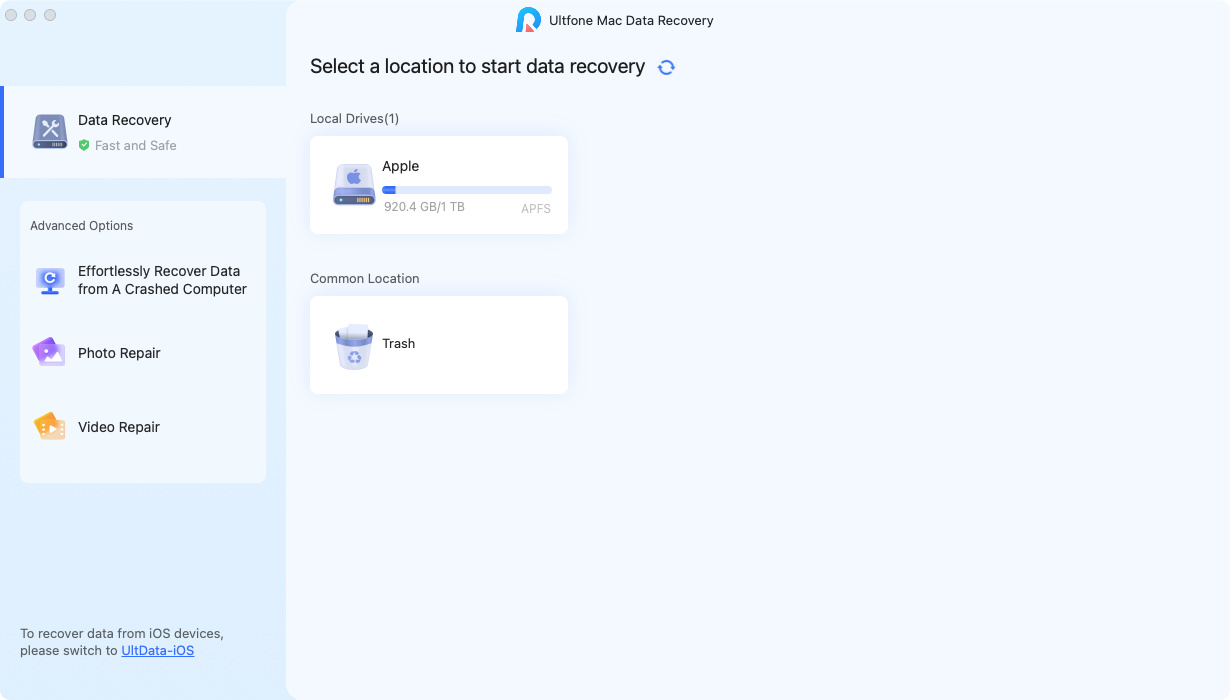 You can even use UltFone Windows Data Recovery to recover files from a corrupt hard drive that's not responding at all. Additionally, the software supports 1000+ file formats, which means you'll be able to recover everything with UltFone Data Recovery.
We tested the software on both the internal hard drive and an external SD card from a camera. And, it worked like a charm both times. It only took a couple of minutes to recover the deleted files in both cases. You can download it for a try.
What separates UltFone Windows Data Recovery from other recovery tools is that it has two different scan modes, i.e., Quick Scan and Deep Scan. The former can be used to scan your storage device briefly to find the deleted files. This method will be suitable when you haven't added new data to the device. However, if Quick Scan doesn't work, you'll have to use Deep Scan. In this case, UltFone will thoroughly scan the storage device for deleted files.
UltFone Windows Data Recovery Features
So, now that you know what is UltFone Windows Data Recovery, let's take a look at its features that make it a reliable option for recovering lost files.
Recover files from different storage devices including Hard Disks, SD Cards, USB Drives, etc.
Solve all system update issues like software update failed, stucking on checking for update, preparing update.
Supports 1000+ file formats such as videos, music files, pictures, PDF documents, etc.
Recover data from even corrupt/damaged storage devices.
Two separate recovery modes: Quick Scan and Deep Scan for 100% data recovery.
Pros and Cons of UltFone Windows Data Recovery
Like any other data recovery tool, UltFone has its share of pros and cons.
Pros:
Easy-to-Use Interface.
A quick scanning process will ensure fast data recovery.
Provides free preview before recovering the file.
It supports to scan a specific location on the hard drive.
It has both Windows and Mac version, and Windows version including Windows XP to Windows 10.
Cons:
UltFone Windows Data Recovery is not a free tool. Its license starts from $39.95/month.
It doesn't support to scan Mac file system files.
Is UltFone Windows Data Recovery a Scam? Safe to Use?
The answer is No! UltFone Windows Data Recovery is not a scam and completely safe. It protects your data from potential threats and doesn't share it with anyone whatsoever. Moreover, UltFone Windows Data Recovery is free of viruses and malware, which means it won't infect your PC like many other scam recovery tools in the market. In a nutshell, UltFone is a genuine data recovery software that simply delivers as promised. It'll help you recover all the deleted files without hampering your personal information. And you can easily find their support which provides 24-7 customer service.
Part 2: How to Use UltFone Windows Data Recovery?
As we mentioned earlier, UltFone Windows Data Recovery has a pretty straightforward interface. So, you won't find it challenging to restore deleted files using UltFone. To make your job much easier, however, here's the detailed step-by-step process to use the software for recovering lost files from your PC.
Step 1Choose the Location for scanning

After installing, launch the software on your PC. In its home screen, choose the location from where you want to recover the files. If it's an external storage device, connect it to the PC and select it under the "External Drives" tab. After you've selected the location, click "Scan".

Step 2Scan the Files

At first, UltFone will perform a quick scan to find the deleted files. Keep in mind that the scanning time will vary for each user, depending on the size of the selected drive. After the scanning process completes, UltFone will list all the scanned files on your screen. You can switch between different file formats from the left menu bar to locate a specific file. In case, you still can't find the file you're looking for, click "Deep Scan" to initiate a thorough scan.

Step 3Preview Files

Before recovering the files, you can even watch their Preview. To do so, click the "Windows" icon in the bottom-right corner and tap the "Preview" button.

Step 4Recover Data

If you think that the preview is fine, simply tap "Recover" and choose a destination folder to restore the selected files on your PC.
That's how to use UlFone Windows Data Recovery to restore deleted files from a storage device.
Bonus: UltFone Windows Data Recovery Coupon Code
Ready to use UltFone Windows Data Recovery? If yes, then we've got a special surprise for you. You can use this UltFone Windows Data Recovery coupon code to grab a discount on your purchase.
20% OFF Coupon code: WDR-ART-20OFF
Simply copy the code and follow the below-mentioned steps to get UltFone Windows Data Recovery for a cheaper price.
Step 1: Go to the product page of UltFone Windows Data Recovery and select a dedicated plan as per your preferences.
Step 2: You'll be prompted to the checkout page. Here click the "Redeem Coupon Code" option.
Step 3: Now, paste the code in the text bar and click "Update". The coupon code will be applied and the total checkout price will automatically reduce.
That's it; complete the remaining checkout process by making the payment and enjoy recovering deleted files without any hassle.
Conclusion
That concludes our comprehensive UltFone Windows Data Recovery review. If you've also accidentally deleted files from your PC or stuck with a corrupt storage device, you can use UltFone Windows Data Recovery to retrieve the lost files easily. Since the tool works with almost every storage device, you'll be able to recover files in every case. So, install the software now and never deal with accidental data loss again.