Top 4 Methods to Recover Adobe Illustrator File after Crash
Recently I was working in a pretty large Illustrator file and suddenly something weird happened the Illustrator CS 6 crashed. How do you manually recover an Illustrator CS6 file after a crash?
Nobody likes getting crashed when they are working with Illustrator but it happens every now and then due to a number of reasons. Maybe you run lots of programs on you computer or the Illustrator file is too large and cause errors. Or maybe you plugged in a new hardware and it is not compatible with your system and made your PC crashed.
More often than not, PC crashes often lead to losing files, and especially if you've been working on a project for a long time and it got lost due to a crash, you will certainly feel bad about it. There are a number of designers who've lost their design files in Adobe Illustrator after the app or their PCs got crashed.
Fortunately, you still do have options to try to recover the files that you lost. While these methods do not guarantee you will get your file back, at least you have some hope and something to do about your important files and you may even successfully get the files back on your PC. Below is about how to recover the lost Illustrator file after crashing.
How to Recover Adobe Illustrator File after Crash
Method 1. Save the Recovered File
If the Adobe Illustrator app got crashed, you can relaunch it on your PC and try to save the recovered file. The app is built in such a way that it gives you a chance to save the recovered file to your PC.
Just relaunch Adobe Illustrator on your PC and click on OK when a dialog box appears. Then, you will see your file in the app but with the [Recovered] suffix meaning the file has been recovered from the crash. You can choose the Save as option to save a copy of the recovered file to then work on it again in the app.
Method 2. Restore Illustrator file Using the Diagnostics Option
If Adobe Illustrator suddenly crashed, you can relaunch it and you will get the option to diagnose the problem. When the app relaunches, you see a dialog box that shows two options: Launch Illustrator and Run Diagnostics. You need to choose the latter option as it will allow you to find out the cause of the issue so you can fix it and have the app run without any issues on your PC.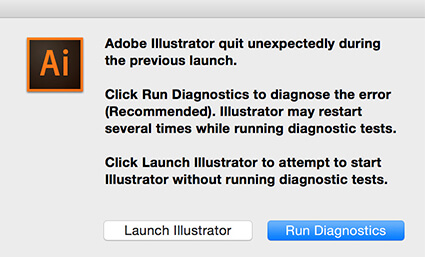 Method 3. Recover Lost Adobe Illustrator File Using the Safe Mode
Just like how you access the safe mode on your Windows PC to troubleshoot issues, Adobe Illustrator also has a similar mode that lets you debug issues in the app on your PC.

Once you've chosen the diagnostics option in the software as described above, the app will launch in the safe mode allowing you to see the possible causes of the issue and it also shows what can be done to fix those issues in the app.
You need to follow what it says, such as updating drivers on your PC, and then you can relaunch the app and it should work fine.
Method 4. Recover Crashed Adobe Illustrator File with Windows Data Recovery
If the above methods of recovering the Illustrator file did not work for you, you may want to give a try to data recovery apps that can help you recover the lost file on your PC. While there are a number of apps that help you recover data, not all of them work as good as they claim to be. One of the working apps though is Windows Data Recovery that helps you recover the data that you've lost on your PC.
No matter how you lost the data, the app can help you get it back on your PC with a few clicks of your mouse. You can download the app from their official website and give it a try and see if it helps you get your Adobe Illustrator file back.
Step 1 Launch the program on your Windows, and choose the hard drive as that's where the Illustrator files were stored. Choose it and click on Next.

Step 2 Click on Scan to retrieve your lost Illustrator file. After a while, the files that can be recovered will be shown in the app. Checkmark all the files that you wish to recover and click on Recover to begin recovering those files.
Good luck with recovering the lost Illustrator file after crashing. If you have any other recommended solutions, please share with us at the comment area.
Conclusion
That is the feasible ways to recover Adobe Illustrator file after crash. Among the available methods, Windows Data Recovery is the top effective method to recover file data after a crash in Illustator.