How to Fix iOS 16 iTunes is Downloading the Software for This iPhone Stuck
Hi, I have been trying to update my iPhone through iTunes and it is stuck on "iTunes is downloading the software for this iphone". Can anybody help?
This problem of the iPhone being stuck in between downloading updates has been shown in many devices. Users have faced difficulty updating software from iTunes: the phone notifies to take 15 minutes to download but exits from recovery mode. This thing is creating an issue for users who want to try new updates from Apple. In this article, we have summarily discussed why this problem is causing it and how to fix it by understanding the main issue.
Why iTunes is Stuck on Downloading Software for iPhone/iPad/iPod
Before directly exploring possibilities of fixing the issues, let's give a quick view of the reasons that might be liable for causing the problem.
Reason 1: This might be due to the poor availability of internet connection.
Reason 2: Due to unstable internet or other reasons- iPhone has failed to connect with Apple servers.
Reason 3: An unknown reason has interrupted the downloading of software.
Reason 4: Your iPhone may have some hardware problems.
Reason 5: Malfunctioning of iOS system.
After knowing these, you can now take a quick review and know which reason- it is with you.
Basic Tricks to Fix iTunes is Currently Downloading Software for the iPhone
Trick 1: Check iTunes System Status
In downloading or restoring the software in the iPhone using iTunes, you will have to ensure first that the iTunes system status is stable. For that, you can visit the Apple system status page, where you can check whether the item system is available.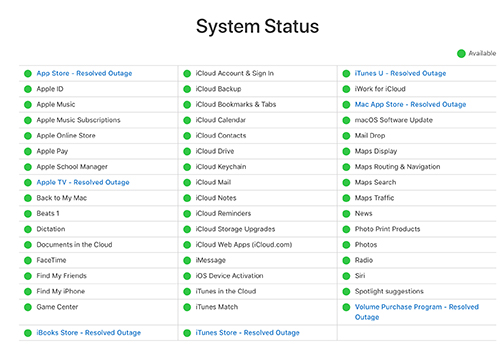 Trick 2: Perform a Hard Reset
One of the most efficient ways to fix this problem in your iPhone is performing a hard reset. To do a hard reset, there are steps upon the different models of the iPhone. Below are the instructions regarding hard reset for different models:
For iPhone 6 or earlier devices
Press the power and home button simultaneously; keep holding them together until you see the Apple logo on the screen.
For iPhone 7 and iPhone 7 Plus
Press the power and volume down button at the same time; keep them pressing together until the device shows up the Apple logo on the screen.
For iPhone 8 or later device
To begin, press and hold the volume up button for a few seconds before releasing it. Then repeat the process with the volume down button; Now, press and hold the power button until the Apple logo appears on the screen.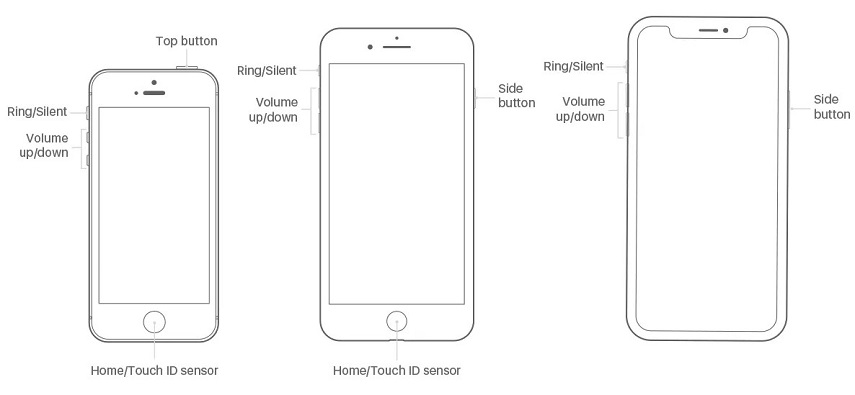 Trick 3: Update iTunes
You must check once if iTunes on the device is updated or it needs to update. After that, download the latest version of iTunes on your computer. To check on windows, click on help > then click check for update. In the case of Mac, you can check it from the App Store. If there is a new version available, then download it and try to resolve your problem with that.
Trick 4: Uninstall Third-Party Apps
Many of the 3rd party apps nowadays can influence the connection between the Apple server and your device. This may lead to distracting the connections, which don't let the software update. The only solution for such a problem is by uninstalling those third-party apps.
Step 1: Find the app you require to delete from your iPhone, causing an issue with the software update process.
Step 2: After selecting the app, gently tap and hold that app's icon, now all the applications in your iPhone will start floating. You will see a small "x" icon next to every application that is floating.

Step 3: Click this "x" icon to delete that application
Once successfully deleting this app you can try to download the software from iTunes. You can now re-install this deleted application from the Apple Store.
100% Working Fix to iTunes is Downloading the Software for this iPhone
The only method that works 100% to fix this issue is the UltFone iOS System Repair tool. This tool is recommended by professionals that are into this work of repairing iOS systems.
UltFone iOS System Repair is made both for Windows and Mac operating systems and it can perform many functions:
Enter/Exit recovery mode for free with only one click.
Reset iPhone/iPad/iPod without the need for a password/iTunes/Finder.
Fix 150+ iOS system issues and 200+ iTunes errors.
Update to/Downgrade from iOS 16 without data loss.
Step 1 Download UltFone iOS System repair on your Windows PC or Mac, and install it. Now launch the application and click on the Start button.

Step 2 Connect your iPhone to the computer and see if it is recognized successfully. Go for the Standard Repair mode and proceed with the process. If the device doesn't get recognized, the tool will automatically ask for an option to put it in recovery mode.

Step 3 The next process is to download the firmware for your device. You can select from the packages available or import from outside if you have downloaded one already.

Step 4 As you have successfully downloaded the firmware, click on Start Standard Repair to initiate the process of automatically repairing and updating your device.

Step 5 A confirmation message will show up after the process succeeds.
People Also Ask About Update/Restore iPhone with iTunes Stuck
1. How do I know if iTunes is downloading iPhone update?
iTunes shows the notification that "iTunes is downloading a software update for this iPhone/iPad/iPod and will install" with a process bar. If you are in a dilemma that iTunes is downloading a software update for this iPhone and no progress bar is showing, you can go to Settings > General > Software update on your iPhone, all the details about software update and download will be shown up there.
2. How long does it take for iTunes to download software for iPhone/iPad/iPod?
Usually, it'll take about 15 minutes for iTunes to download the software on your iPhone. After downloading, it automatically initiates the installation of software which takes the next 15 to 30 minutes to restore and update. It depends upon different iPhone models and the availability of internet connection with the device. It is common when your iPhone takes one hour to download and update the software. But if it takes more than 2 hours, there might be a problem with iTunes getting stuck.
Conclusion
All the above mentioned steps are doable only when things are not that messed up in your device. If you didn't get any result even after applying all these methods, the only way bequeathed is to use the UltFone iOS System Repair tool. This will save time, money and you don't need to understand all these complex statements to bother yourself.