How to Recover Deleted Items in Outlook 2013
Microsoft Outlook is a personal information manager from Microsoft, which is mainly used as an email application by a lot of people. While working on MS Outlook, it might occurs that some important items like Emails, contacts, tasks, etc. have been deleted by accident from the mailbox. If you are running into such a situation, is there any way can help you out?
Now, just go through this post to learn the methods in which deleted emails, appointments, events, contacts, and tasks can be recovered and restored in MS Outlook 2013.
Part 1: Can the Deleted Contents Be Recovered in MS Outlook 2013?
When you delete an item from your Outlook 2013 mailbox, then it will be moved to the deleted items folder first. You can recover deleted contents if they are still in your Deleted Items folder. As for permanently deleted items, they will be held on the server for 14 days, during this limited period, you are allowed to restore them in Outlook, but if you hard-deleted a folder, then you will only see items from that folder in the Recover Deleted Items.
Part 2: Top 3 Ways to Restore the Deleted Email, Appointments, Events, Contacts, and Tasks in MS Outlook 2013
The following 3 methods focus on recovering deleted Emails, tasks, messages and other contents in Outlook 2013 for Windows 10/8.1/8/7/Vista/XP.
Way 1: Recover Recently Deleted Items in MS Outlook 2013 from Deleted Items folder
If the items were deleted not long ago, you have great to get them back. Just use the steps below to recover deleted Emails, tasks or calendar items in Outlook 2013
Launch the Outlook first, then go to your email folder list and select Deleted Items on the left side.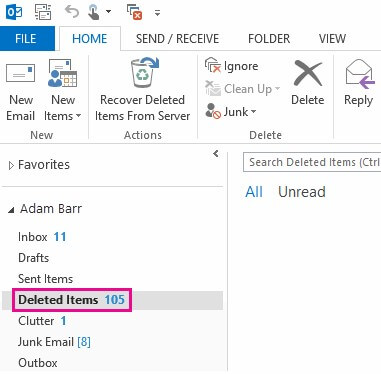 Once located the message, just right-click on it and select Move > Other Folder.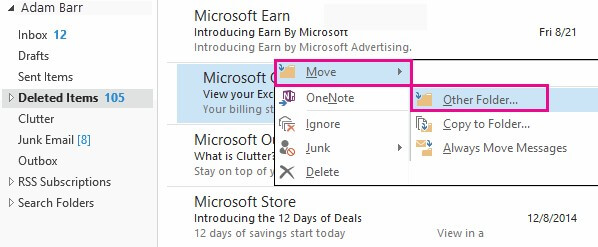 To transfer the message back to your inbox, you just need to click Inbox, and then hit OK to confirm.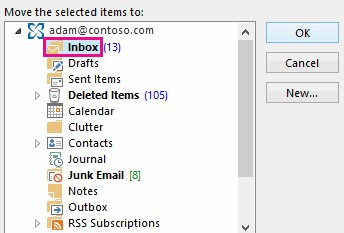 As to recover deleted calendar/ contact/ task in outlook 2013, all you need to do is right-click it, and hit Move > Other Folder, and then choose the folder correspondingly.
This is the easiest and fast way to find what you deleted back, but the worst scenario is that your deleted item are not in the Deleted Items folder after the folder has been cleared, what would you do? No worries, just read on to learn how to recover permanently deleted items in Outlook 2013.
Way 2: Retrieve Deleted Outlook 2013 Items from Recoverable Items folder
If an item you deleted was not shown in the Deleted Items folder, then you have to check the Recoverable Items folder where your item might be moved to. After that, follow the exact steps below:
First of all, head to the email folder list, and then click Deleted Items.
Select the Home from the subject line, move the mouse to the Recover Deleted Items From Server and click on it.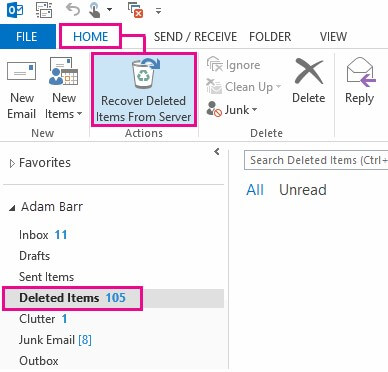 From the deleted items list, select the item you want to recover and check Restore Selected Items, then click on Ok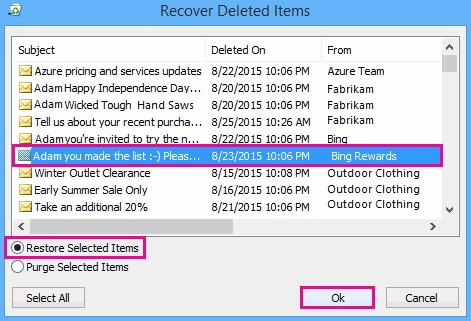 One thing I want to emphasize is that these two methods can only be used to recover those items stored on Microsoft server, for those you stored on your computer, you have to use a third party program to help you get them back.
Way 3: Recover Permanently Deleted Items in Outlook 2013 with Any Data Recovery
"Recover deleted items" option is grayed out? To recover deleted items when Outlook 2013 greyed out, here we highly Windows Data Recovery, an excellent data recovery program helping you recover emails, PST files permanently removed from the Deleted Items folder, files originally deleted using Shift + Delete keys or items cannot be recovered from server. Below is how it works:
To begin with, have Any Data Recovery downloaded and installed to your PC, then launch it.
Step 1: Select the Email you want to recover from the main interface. Then click on Next to proceed.
Step 2: Next you need to choose a location and hit the Scan button to start files scanning.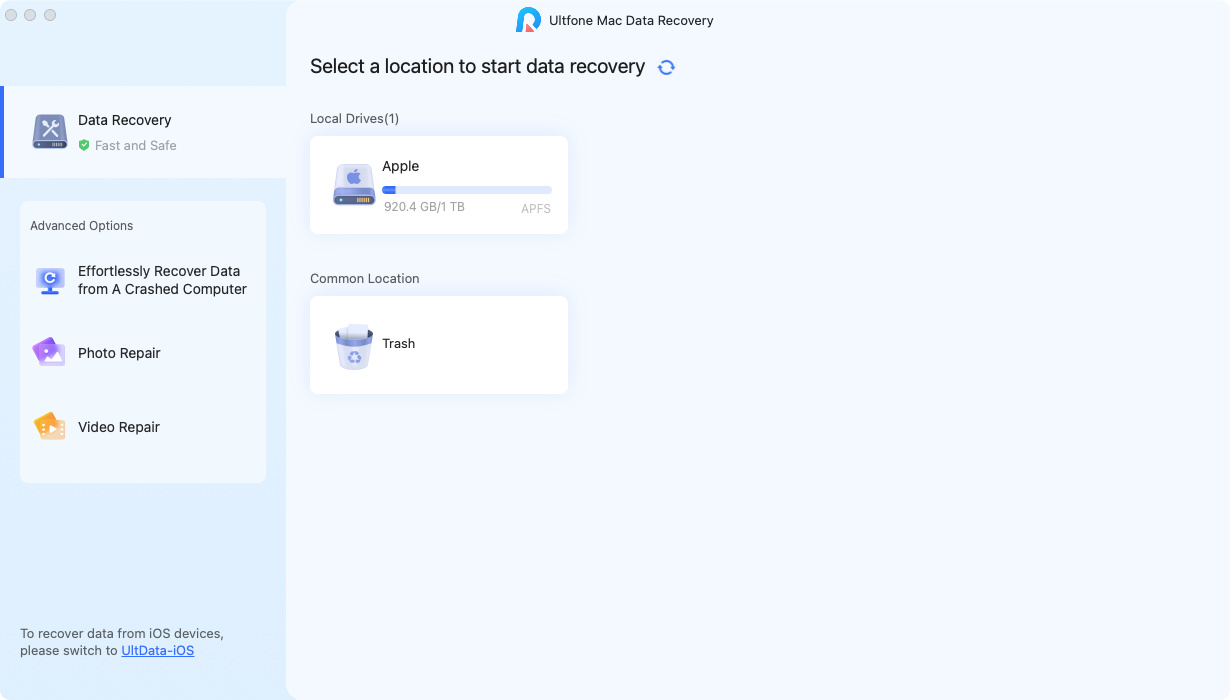 Step 3: You can then preview the recoverable Outlook 2013 items, after that, just check the files and click on Recover. Then choose a location to save the recovered files properly.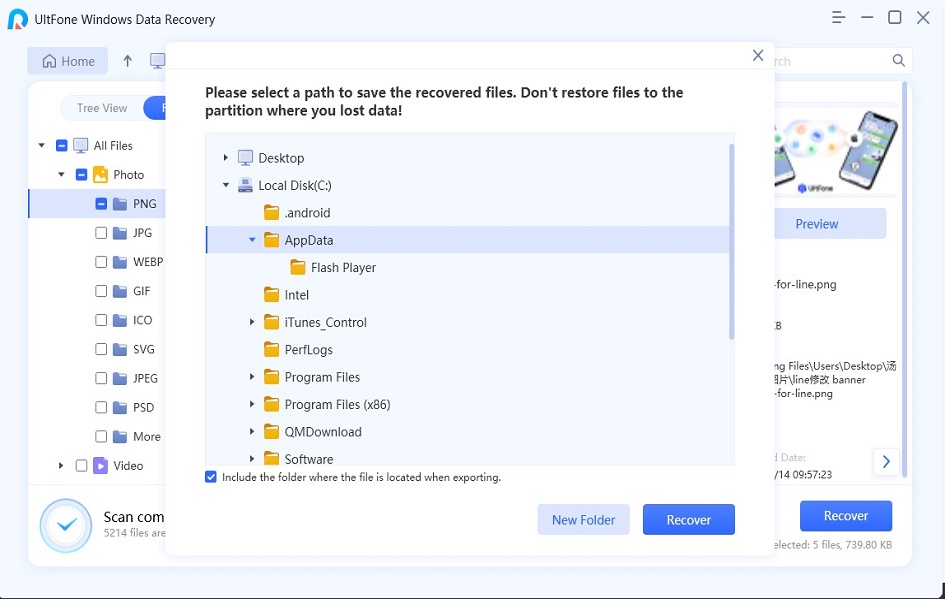 Part 3: How to Recover Deleted Items in Outlook Web App 2013
The first thing you need to do after accidentally deleting emails, calendars and other files from the Outlook 2013 Web App is to check whether the Deleted Items folder is there, If the deleted item is still in the Deleted Items folder, then follow the steps below:
Sign into the Outlook Web App and look for the folder marked Deleted Items. When the target file is found, simply right-click on it and then select Move>Inbox.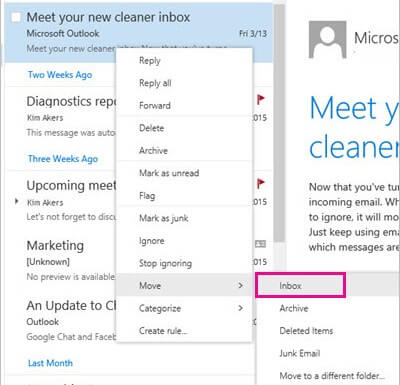 Part 4: How to Retrieve Deleted Items in Outlook.com 2013
For web-based version user, you can recover the mistakenly deleted email from your inbox with the exact steps below:
Login into Outlook 2013 Web Access, then go to the left pane of the Outlook.com window, click the Deleted Folder. At the bottom of the window, click recover deleted messages.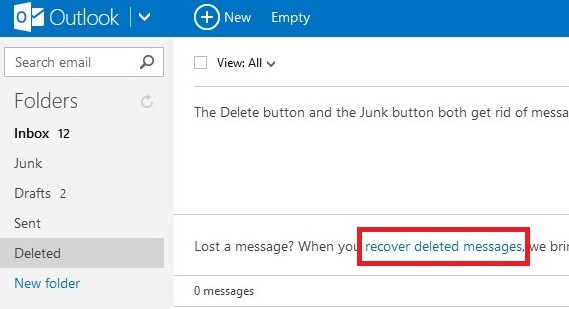 This is all about how to recover deleted sent items in Outlook 2013 including emails, message, calendars, appointments, etc. in Outlook 2013. If you have any other better solutions, just leave comments below and we will update this article to include some of tips we received.